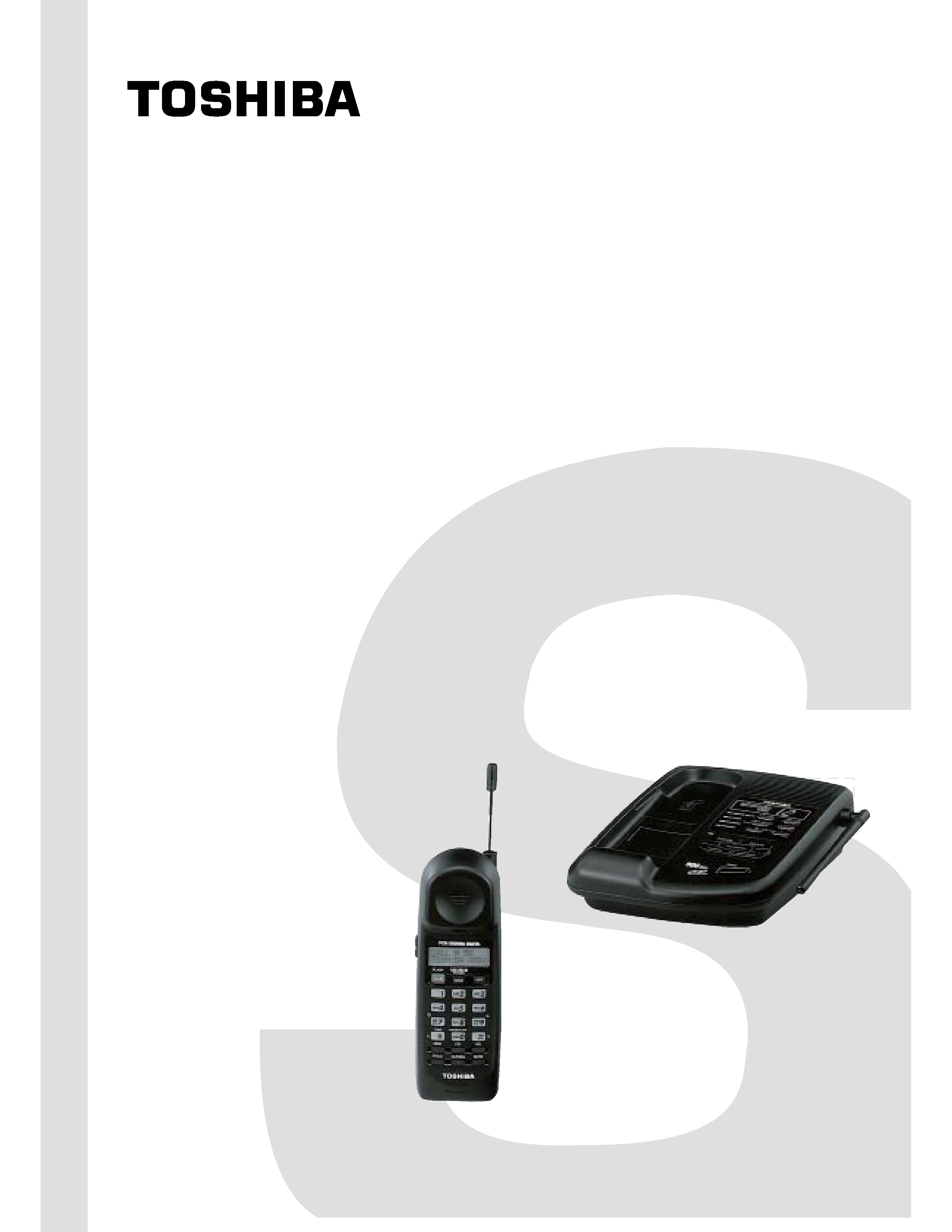 PUBLISHED IN HONG KONG, JUNE, 1999
---

IC AND TRNASISTOR VOLTAGE CHART
SEMICONDUCTOR LEAD IDENTIFICATION
ELECTRICAL PARTS LOCATION
EXPLODED VIEW AND DISASSEMBLY INSTRUCTION
Before returning any FT-X988 to the customer, a safety check of the entire instrument should be made.
The service technician must be sure that no protective device built into the instrument by the
manufacturer has become defective or inadvertently degraded during servicing.
Alterations of the design or circuitry of these models should not be made.
Any design changes or additions such as, but not limited to, circuit modifications, auxiliary speaker
jacks, switches, grounding, active or passive circuitry, etc. may alter the safety characteristics of these
models and potentially create a hazardous situation for the user.
Any design alterations or additions will void the manufacturer's warranty and will further relieve the
manufacturer of responsibility for personal injury or property damage resulting therefrom.
Many electrical and mechanical parts in this chassis have special characteristics. These characteristics
often pass unnoticed and the protection afforded by them cannot necessarily be obtained by using
replacement component rated for higher voltage, wattage, etc. Replacement parts that have these special
safety characteristics are identified in this manual and its supplements; electrical components having such
features are identified by a
In the schematic diagram and the parts list. Before replacing any of these
components read the parts list in this manual carefully . The use of substitute replacement parts that do
not have the same safety characteristics as spectified in the parts list may create shock, fire or other
---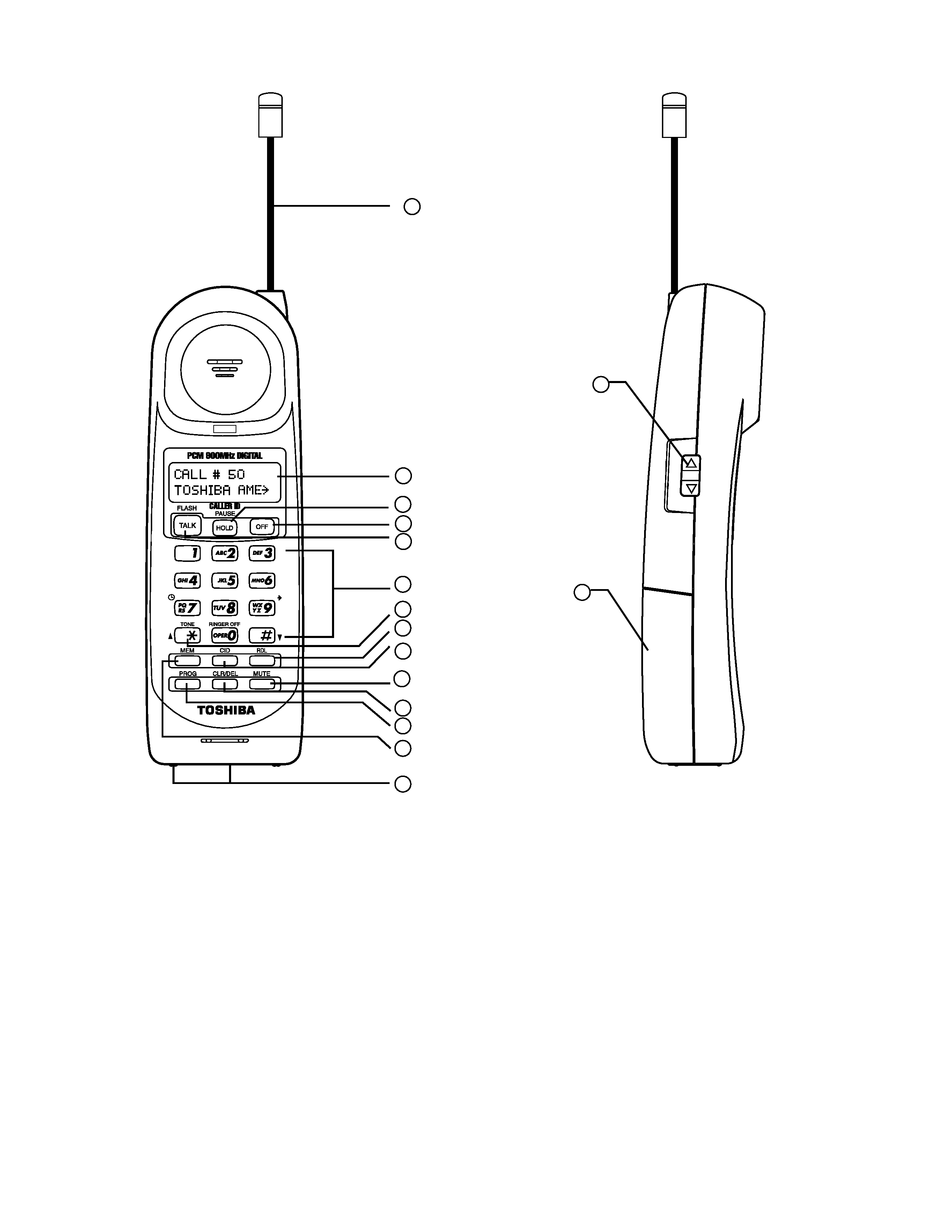 1. Retractable Antenna - Durable high-gain antenna.
2. Volume up / down Control - Control the loudness of the receiver.
3. Battery Compartment - Compart and protect space batt.
4. Display - Display information on the LCD.
5. HOLD/PAUSE Key - To put a call on hold or to inset a pause in a phone number.
6. OFF Key - Places the handset into standby mode.
7. Phone Key - Places the handset into talk mode when used away from the base unit.
8. Dialing Keys - Used for dialing numbers, storing numbers in memory.
9. TONE - Temporary set the telephone into TONE mode.
10. REDIAL - Radials the last number dialed.
11. Call ID(CID) - To display incoming information in memory.
12. MUTE - Temporarily turn off the microphone.
13. CLR/DEL - To clear the last digit entered on the display and to delete Call ID records, memory dial records.
14. PROG - Used when storing numbers in memory.
15. MEM - To dial a number from memory.
16. Charging Contacts - Provides power to charge the handset when it is placed on the base unit.
---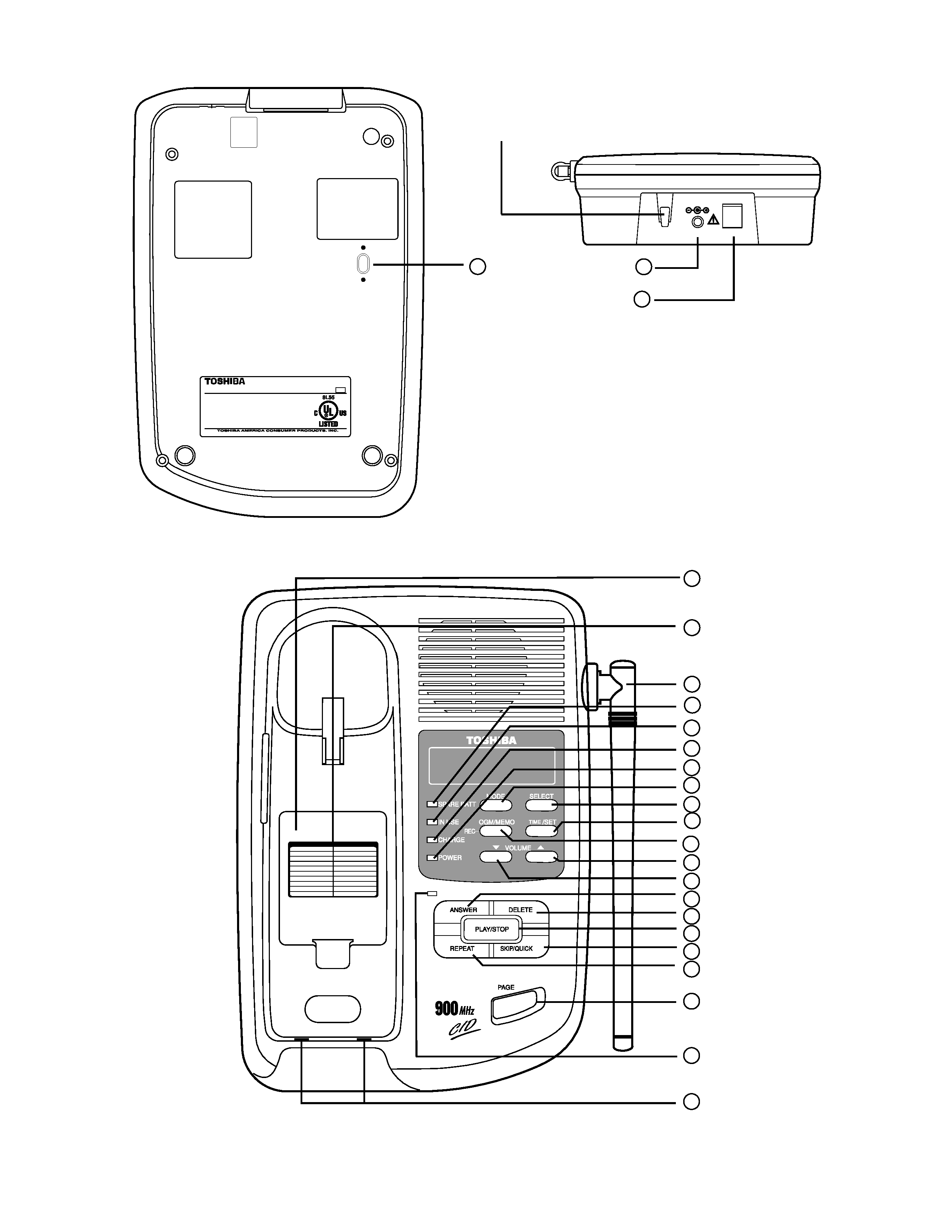 PRODUCT CONTAINS NICKEL-CADMIUM
BATTERY: MUST BE RECYCLED OR
DISPOSED OF PROPERLY. DO NOT BURN
OR PUNCTURE BATTERY. LIKE OTHER
BATTERIES OF THIS TYPE. IF IT IS
BURNED OR PUNCTURED. IT COULD
RELEASE TOXIC MATERIAL WHICH
THIS DEVICE COMPLIES WITH PART 15
OF THE FCC RULES. OPERATION IS
SUBJECT TO THE FOLLOWING TWO
CONDITIONS: 1)THIS DEVICE MAY NOT
CAUSE HARMFUL INTERFERENCE, AND
2) THIS DEVICE MUST ACCEPT ANY
INTERFERENCE RECEIVED, INCLUDING
PRIVACY OF COMMUNICATIONS MAY
NOT BE ENSURED WHEN USING THIS
82 TOTOWA ROAD, WAYNE, NJ 07470
COMPLIES WITH PARTS 68, FCC RULES
FCC REGISTRATION NO.: AJXCHN-23894-WD-E
DC11V 500mA, CLASS 2 POWER SOURCE
USE TOSHIBA AD ADAPTOR TAC-988 OR TAC-988BK ONLY
900 MHz CORDLESS TELEPHONE
---

DC POWER JACK - Plugs one end the power adaptor cord into the jack and
the other end into an electrical outlet.
PHONE CORD JACK - Plugs one end of the telephone line cord into standard
RJ11C telephone line jack and the other end into this jack for connecting the base
unit to the telephone line.
TONE/PULSE SWITCH -Control whether the unit will dial out using DTMF tones
SPARE BATTERY DOOR - Compartment for space battery.
MEMORY DIALING CARD - Memory Location recording.
ANTENNA - Durable high-gain rod antenna.
SPARE BAT INDICATOR(RED) - Lights when the space battery is installed in the
IN USE INDICATOR(GREEN) - Lights when the handset is in the talk mode.
CHARGE INDICATOR(RED) - Lights when the handset is in the cradle to indicate
that the handset battery is being charged.
POWER INDICATOR(RED) - Lights when the power adaptor is plugged in and
power is applied to the base unit.
MODE KEY- used for programming various answering machine features.
SELECT KEY - Used to select the items in program mode.
TIME/SET KEY - Press in idle mode will announce the current time & check
the remaining recording time . Press in program to exit.
OGM/MEMO KEY - Used to record an OGM in program mode or record a
VOLUME UP KEY - Used to increase BASE unit speaker playback Volume. To
select different items in program mode.
VOLUME DOWN KEY - Used to decrease BASE unit speaker playback Volume.
To select different items in program mode.
ANSWER KEY - Used to turns the answering device on and off.
DELETE KEY - Used to deleting individual or all the massages.
PLAY/ STOP KEY - Used to play back all/new incoming message. Stop the
playback of messages. Use with VOL.UP to fast playback.
SKIP/QUICK KEY -Used to skip forward a message during playback. For fast
playback if button is pressed and held.
REPEAT KEY - Used to turn to
beginning of the message during message
PAGE KEY - Used to page the handset from the Base.
ANSWER ON/OFF INDICATOR(RED) - Lights when the answering device is set to
CHARGING CONTACTS - Provides power to charge the handset when it is
MAIN FEATURES ON BASE UNIT
---