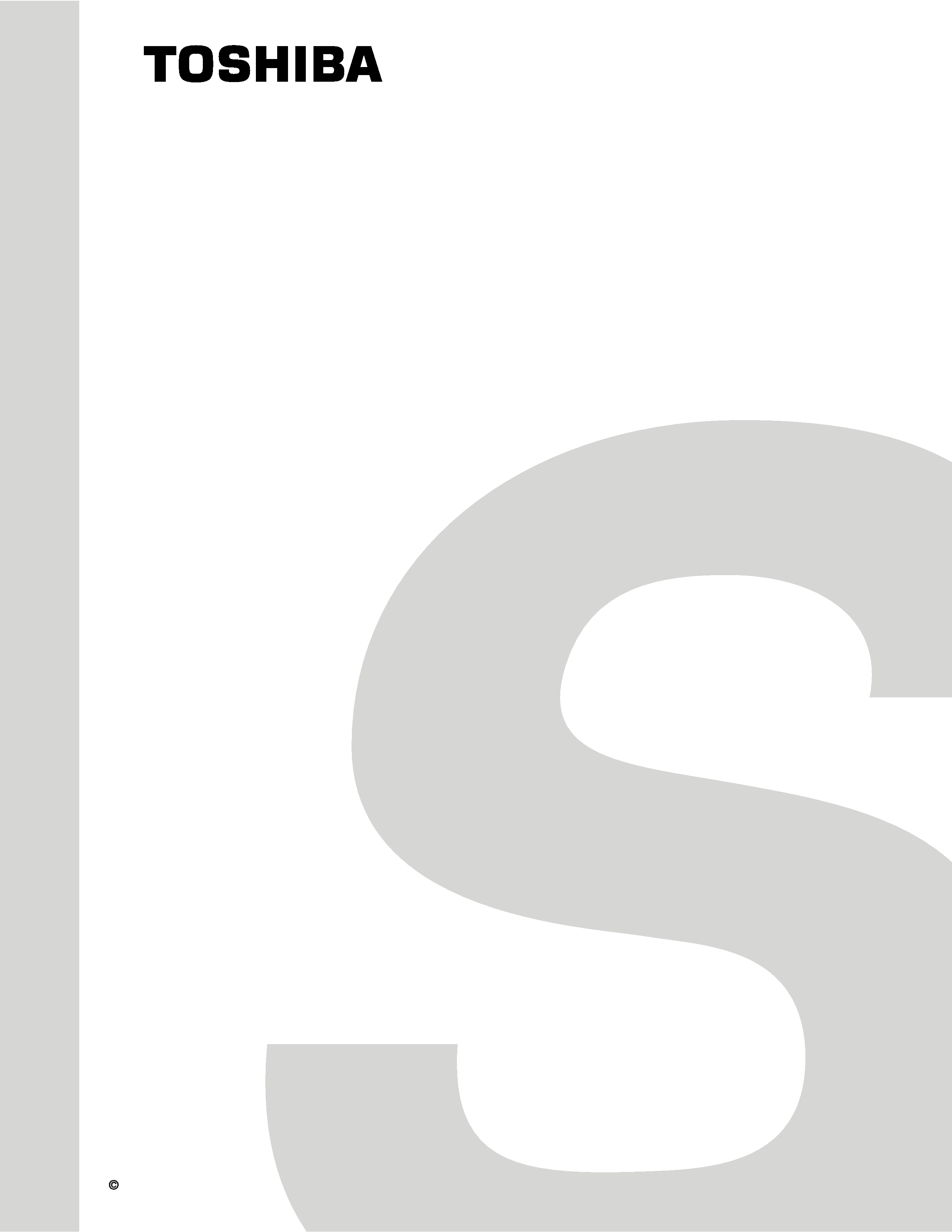 Published in Japan Sep. 2005 (YC)
52HMX95/62HMX95 is the same as 62HM95 (REVISED.3) except for the parts
tabled on back of this sheet.
Use this service manual together with the service manual of 62HM95 (File No. 020-
The above models are classified as green products (*1), as indicated by the underlined serial numbers. This Service Manual
describes replacement parts for the green products. When repairing these green products, use the parts described in this
manual and lead-free solder (*2).
For (*1) and (*2), see the next page.
---

GREEN PRODUCT PROCUREMENT
The EC is actively promoting the WEEE & RoHS Directives that define standards for recycling
and reuse of Waste Electrical and Electronic Equipment and for the Restriction of the use of
certain Hazardous Substances. From July 1, 2006, the RoHS Directive will prohibit any
marketing of new products containing the restricted substances.
Increasing attention is given to issues related to the global environmental. Toshiba Corporation
recognizes environmental protection as a key management tasks, and is doing its utmost to
enhance and improve the quality and scope of its environmental activities. In line with this,
Toshiba proactively promotes Green Procurement, and seeks to purchase and use products,
parts and materials that have low environmental impacts.
Green procurement of parts is not only confined to manufacture. The same green parts used in
manufacture must also be used as replacement parts.
This product is manufactured using lead-free solder as a part of a movement within the consumer
products industry at large to be environmentally responsible. Lead-free solder must be used in
the servicing and repair of this product.
This product is manufactured using lead free solder.
DO NOT USE LEAD BASED SOLDER TO REPAIR THIS PRODUCT !
The melting temperature of lead-free solder is higher than that of leaded solder by 86
°F (30°C to 40°C). Use of a soldering iron designed for lead-based solders to repair product
made with lead-free solder may result in damage to the component and or PCB being soldered.
Great care should be made to ensure high-quality soldering when servicing this product
especially when soldering large components, through-hole pins, and on PCBs
of heat required to melt lead-free solder is high.
---

REPLACEMENT PARTS LIST DIFFERENCES
76092730 CERAMIC CHIP, 16V B 0.1UF K
76011102 CHIP, 1/20W 1K OHM J
76011681 CHIP, 1/20W 680 OHM J
76011471 CHIP, 1/20W 470 OHM J
76011331 CHIP, 1/20W 330 OHM J
76011681 CHIP, 1/20W 680 OHM J
76011102 CHIP, 1/20W 1K OHM J
76011681 CHIP, 1/20W 680 OHM J
76011471 CHIP, 1/20W 470 OHM J
76011331 CHIP, 1/20W 330 OHM J
76011681 CHIP, 1/20W 680 OHM J
76011102 CHIP, 1/20W 1K OHM J
76011102 CHIP, 1/20W 1K OHM J
76011473 CHIP, 1/20W 47K OHM J
76011473 CHIP, 1/20W 47K OHM J
76011101 CHIP, 1/20W 100 OHM J
76871750 CHIP, 1/8W 75 OHM J
76871750 CHIP, 1/8W 75 OHM J
76871750 CHIP, 1/8W 75 OHM J
76011330 CHIP, 1/20W 33 OHM J
76011330 CHIP, 1/20W 33 OHM J
76011330 CHIP, 1/20W 33 OHM J
76000445 CHIP JUMPER, 1608TYPE
76000445 CHIP JUMPER, 1608TYPE
76000445 CHIP JUMPER, 1608TYPE
23103230 INDUCTOR, BEAD, TEM2134AD
23103230 INDUCTOR, BEAD, TEM2134AD
23103230 INDUCTOR, BEAD, TEM2134AD
23085869 IC, OPE AMP, TA75358PG(5)
23085635 TRANSISTOR, 2SC3437-Y(TE85L,F)
23085635 TRANSISTOR, 2SC3437-Y(TE85L,F)
23085635 TRANSISTOR, 2SC3437-Y(TE85L,F)
23085635 TRANSISTOR, 2SC3437-Y(TE85L,F)
23205506 TRANSISTOR, 2SC4081 Q
23357765 DIODE, ZENER, MA8100-M
23357765 DIODE, ZENER, MA8100-M
23103840 FERRITE CORE, TFE1013
23103778 FERRITE CORE, TFE1008
23103778 FERRITE CORE, TFE1008
23103778 FERRITE CORE, TFE1008
23103840 FERRITE CORE, TFE1013
23103839 FERRITE CORE, TFE1012
23103840 FERRITE CORE, TFE1013
23389360 FFC, P0.5-50P-L80(GOLD)
23103327 CORE, FERRITE W33X6.5X12 TFE1023
23389360 FFC, P0.5-50P-L80(GOLD)
23103327 CORE, FERRITE W33X6.5X12 TFE1023
23103840 FERRITE CORE, TFE1013
23103840 FERRITE CORE, TFE1013
23023128 JACK, PHONE J YKB21-5290N
23757180 CONNECTOR, FH12-50S-0.5SV(55)
23757180 CONNECTOR, FH12-50S-0.5SV(55)
23023438 JACK, PIN 6/6P JALCO YKC21-4617N
23713710 SOCKET, D-SUB 15P, KRD-8622
23764386 PC BOARD ASSY, BACK AV PU PD2141B-1
23764387 PC BOARD ASSY, IR BLASTER PU PD2141B-2
23148443 SIGNAL, DSB-SUM070B2
23148445 MODULE, SEINE/D-TUNER DSB-SHU154B-
#1 23946771 PACKING, TOP PACKING
#2 23946772 PACKING, TOP PACKING
#1 23946768 PACKING, BOTTOM PACKING
#2 23946769 PACKING, BOTTOM PACKING
#1 23067694 CARTON, BASE TRAY
#2 23067695 CARTON, BASE TRAY
#1 23946774 PACKING, SUPPORT POST
#2 23946775 PACKING, SUPPORT POST
23566726 OWNERS MANUAL, ENGLISH/FRENCH
23533363 COVER, DOOR LAMP PURCHASE
23469392 INSULATOR, 05_LENS_GASKET
#1 23533335 COVER, BEZEL PURCHASE ASM
#2 23533339 COVER, BEZEL PURCHASE ASM
#1 23533337 COVER, BACK COVER PURCHASE
#2 23533341 COVER, BACK COVER PURCHASE
#1 23533521 COVER, PEDESTAL ASSY
#2 23533523 COVER, PEDESTAL ASSY
#1 23433357 DECORATIVE, DECO TRIM ALUM
#1 23940431 PIECE, TOUCHPAD TRIM PIECE
#2 23940430 PIECE, TOUCHPAD TRIM PIECE
#2 23940466 PIECE, PIECE SIDE RIGHT
#2 23940467 PIECE, PIECE SIDE LEFT
#1 23405474 OPTICAL ENGINE, LV-672 TB 0B
#2 23405476 OPTICAL ENGINE, LV-672 TB 0D
#1 23433355 DECORATIVE, DECO FRAME, BEZEL
#2 23433359 DECORATIVE, SCREEN DECO FRAME
23533334 COVER, REAR COVER PURCHASE
23533367 COVER, REAR COVER, DLE
E271S #2 23447220 OTHER BLOCK, SERVICE BLK 62ENG
#1 23311160 SCREEN, 52K5L2 LENTI 0.265MMP
#2 23311149 SCREEN, 62K5N LENTICULAR SHEET
#1 23311072 SCREEN, 52K4M FRESNEL SHEET
#2 23311158 SCREEN, 62K5NF
#1 23405453 MIRROR, 52G4M3
#2 23405455 MIRROR, 62G4M3
---

---

Published in Japan Jul. 2005 (YC)
DOCUMENT CREATED IN JAPAN, July, 2005
---