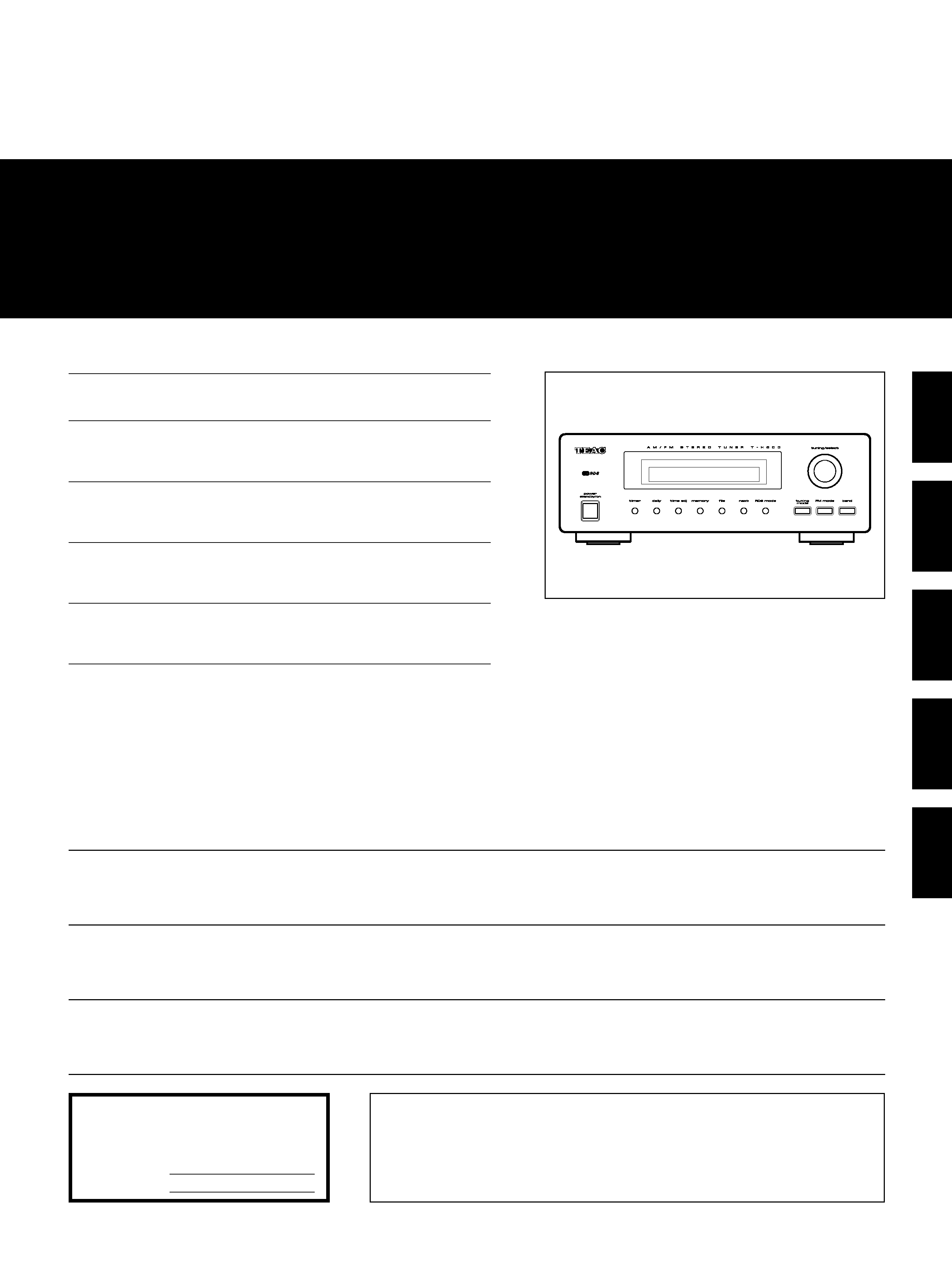 This appliance has a serial number located
on the rear panel. Please record the model
number and serial number and retain them
WARNING: TO PREVENT FIRE OR SHOCK
HAZARD, DO NOT EXPOSE THIS
APPLIANCE TO RAIN OR MOISTURE.
The exclamation point within an equilateral triangle is intended to alert the user to the
presence of important operating and maintenance (servicing) instructions in the literature
accompanying the appliance.
The lightning flash with arrowhead symbol, within equilateral triangle, is intended to alert
the user to the presence of uninsulated "dangerous voltage" within the product's enclosure
that may be of sufficient magnitude to constitute a risk of electric shock to persons.
CAUTION: TO REDUCE THE RISK OF ELECTRIC SHOCK, DO NOT
REMOVE COVER (OR BACK). NO USER-SERVICEABLE PARTS INSIDE.
REFER SERVICING TO QUALIFIED SERVICE PERSONNEL.
Thanks for buying a TEAC. Read this manual carefully to get the
best performance from this unit.
Nous vous remercions pour l'achat d'un appareil TEAC.
Lire ce manuel avec attention pour obtenir les meilleures
performances possibles de cet appareil.
Vielen Dank für den Kauf dieses TEAC-Geräts.
Bitte lesen Sie diese Anleitung sorgfältig durch, um die Leistungs-
fähigkeit dieses Geräts optimal nutzen zu können.
Grazie per aver acquistato un prodotto TEAC.
Leggere attentamente questo manuale per ottenere le migliori
prestazioni da questo apparecchio.
Enhorabuena por la adquisición de un TEAC.
Lea detenidamente este manual a fin de obtener el mejor
rendimiento de esta unidad.
OWNER'S MANUAL .................... 3
MANUEL DU PROPRIETAIRE ...... 12
BEDIENUNGSANLEITUNG........... 21
MANUALE DI ISTRUZIONI .......... 30
MANUAL DEL USUARIO ............. 39
---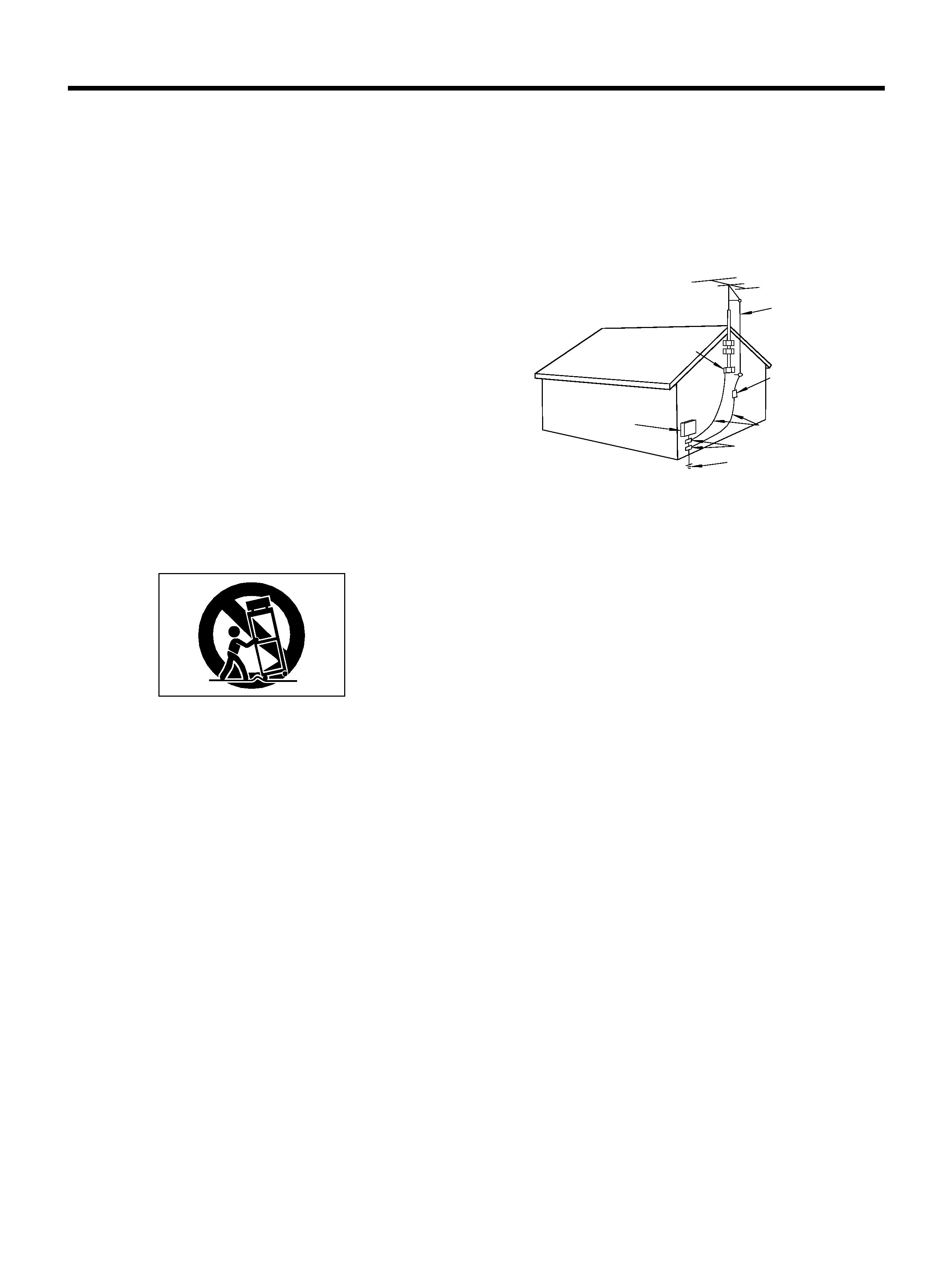 Important Safety Instructions
·· Read all of these Instructions.
·· Save these Instructions for later use.
·· Follow all Warnings and Instructions marked on the audio
1) Read Instructions -- All the safety and operating instructions
should be read before the product is operated.
2) Retain Instructions -- The safety and operating instructions
should be retained for future reference.
3) Heed Warnings -- All warnings on the product and in the
operating instructions should be adhered to.
4) Follow Instructions -- All operating and use instructions should
5) Cleaning -- Unplug this product from the wall outlet before
cleaning. Do not use liquid cleaners or aerosol cleaners. Use a
6) Attachments -- Do not use attachments not recommended by
the product manufacturer as they may cause hazards.
7) Water and Moisture -- Do not use this product near water _ for
example, near a bath tub, wash bowl, kitchen sink, or laundry tub; in
a wet basement; or near a swimming pool; and the like.
8) Accessories -- Do not place this product on an unstable cart,
stand, tripod, bracket, or table. The product may fall, causing serious
injury to a child or adult, and serious damage to the product. Use
only with a cart, stand, tripod, bracket, or table recommended by the
manufacturer, or sold with the product. Any mounting of the product
should follow the manufacturer's instructions, and should use a
mounting accessory recommended by the manufacturer.
9) A product and cart combination should be moved with care.
Quick stops, excessive force, and uneven surfaces may cause the
product and cart combination to overturn.
10) Ventilation -- Slots and openings in the cabinet are provided
for ventilation and to ensure reliable operation of the product and to
protect it from overheating, and these openings must not be
blocked or covered. The openings should never be blocked by
placing the product on a bed, sofa, rug, or other similar surface.
This product should not be placed in a built-in installation such as a
bookcase or rack unless proper ventilation is provided or the
manufacturer's instructions have been adhered to.
11) Power Sources -- This product should be operated only from
the type of power source indicated on the marking label. If you are
not sure of the type of power supply to your home, consult your
product dealer or local power company. For products intended to
operate from battery power, or other sources, refer to the operating
12) Grounding or Polarization -- This product may be equipped
with a polarized alternating-current line plug (a plug having one
blade wider than the other). This plug will fit into the power outlet
only one way. This is a safety feature. If you are unable to insert the
plug fully into the outlet, try reversing the plug. If the plug should still
fail to fit, contact your electrician to replace your obsolete outlet. Do
not defeat the safety purpose of the polarized plug.
13) Power-Cord Protection -- Power-supply cords should be
routed so that they are not likely to be walked on or pinched by
items placed upon or against them, paying particular attention to
cords at plugs, convenience receptacles, and the point where they
14) Outdoor Antenna Grounding -- If an outside antenna or
cable system is connected to the product, be sure the antenna or
cable system is grounded so as to provide some protection against
voltage surges and built-up static charges. Article 810 of the
National Electrical Code, ANSI/NFPA 70, provides information with
regard to proper grounding of the mast and supporting structure,
grounding of the lead-in wire to an antenna discharge unit, size of
grounding conductors, location of antenna-discharge unit,
connection to grounding electrodes, and requirements for the
"Note to CATV system installer:
This reminder is provided to call the CATV system installer's
attention to Section 820-40 of the NEC which provides guidelines
for proper grounding and, in particular, specifies that the cable
ground shall be connected to the grounding system of the building,
as close to the point of cable entry as practical.
NEC - NATIONAL ELECTRICAL CODE
Example of Antenna Grounding as per
National Electrical Code, ANSI/NFPA 70
15) Lightning -- For added protection for this product during a
lightning storm, or when it is left unattended and unused for long
periods of time, unplug it from the wall outlet and disconnect the
antenna or cable system. This will prevent damage to the product
due to lightning and power-line surges.
16) Power Lines -- An outside antenna system should not be
located in the vicinity of overhead power lines or other electric light
or power circuits, or where it can fall into such power lines or
circuits. When installing an outside antenna system, extreme care
should be taken to keep from touching such power lines or circuits
as contact with them might be fatal.
17) Overloading -- Do not overload wall outlets, extension cords,
or integral convenience receptacles as this can result in risk of fire
18) Object and Liquid Entry -- Never push objects of any kind into
this product through openings as they may touch dangerous voltage
points or short-out parts that could result in a fire or electric shock.
Never spill liquid of any kind on the product.
19) Servicing -- Do not attempt to service this product yourself as
opening or removing covers may expose you to dangerous voltage
or other hazards. Refer all servicing to qualified service personnel.
20) Damage Requiring Service -- Unplug this product from the
wall outlet and refer servicing to qualified service personnel under
the following conditions:
a) when the power-supply cord or plug is damaged.
b) if liquid has been spilled, or objects have fallen into the product.
c) if the product has been exposed to rain or water.
d) if the product does not operate normally by following the
operating instructions. Adjust only those controls that are covered
by the operating instructions as an improper adjustment of other
controls may result in damage and will often require extensive work
by a qualified technician to restore the product to its normal
e) if the product has been dropped or damaged in any way.
f ) when the product exhibits a distinct change in performance _
this indicates a need for service.
21) Replacement Parts -- When replacement parts are required,
be sure the ser vice technician has used replacement par ts
specified by the manufacturer or have the same characteristics as
the original part. Unauthorized substitutions may result in fire,
electric shock, or other hazards.
22) Safety Check -- Upon completion of any service or repairs to
this product, ask the service technician to perform safety checks to
determine that the product is in proper operating condition.
23) Wall or Ceiling Mounting -- The product should be mounted
to a wall or ceiling only as recommended by the manufacturer.
24) Heat -- The product should be situated away from heat sources
such as radiators, heat registers, stoves, or other products
(including amplifiers) that produce heat.
---

AI Function..................................................... 3
Connections and Rear Panel Overview .... 4
Antenna Installation ..................................... 5
Their Functions............................................ 6
Display ............................................................ 6
Listening to Radio Broadcast...................... 7
How to Preset Broadcasting Manually..... 7
How to Preset Broadcasting
Automatically............................................... 7
Sleep Timer .................................................... 7
Adjusting Current Time ................................ 8
Daily Timer ..................................................... 8
Filing................................................................ 8
RDS (Radio Data System) ............................ 9
Major Reception Symbols of RDS Data .... 9
RDS Display ................................................. 10
PTY Search .................................................. 10
Specifications.............................................. 10
Troubleshooting .......................................... 11
Read This Before Operating
For more information, see the owner's
OIf you press the following buttons with AI
function of the amplifier on, you can
listen to radio broadcasting easily.
If you press the following, without pressing
the stop button while listening to a tape,
you can listen to radio broadcasting.
band button (preset tuning mode)
Remote control unit: RC-613
preset call button ( or ¥)
OPlace the unit on a hard flat surface.
OAvoid placing it in direct sunlight or
close to a source of heat. Also avoid
locations subject to vibrations and
excessive dust, heat, cold or moisture.
ODo not open the cabinet, as this might
result in circuitry damage or electrical
ODo not attempt to clean the unit with
chemical solvents, as this might damage
the finish. Use a clean, dry cloth.
IMPORTANT (for U.K. Customers)
DO NOT cut off the mains plug from this
equipment. If the plug fitted is not
suitable for the power points in your
home or the cable is too short to reach
a power point, then obtain an
appropriate safety approved extension
lead or consult your dealer.
If nonetheless the mains plug is cut off,
remove the fuse and dispose of the plug
immediately, to avoid a possible shock
hazard by inadvertent connection to the
If this product is not provided with a
mains plug, or one has to be fitted, then
follow the instructions given below:
IMPORTANT. DO NOT make any
connection to the larger terminal which
is marked with the letter E or by the
GREEN or GREEN-and-YELLOW.
The wires in the mains lead on this
product are coloured in accordance
As these colours may not correspond
with the coloured markings identifying
the terminals in your plug proceed as
The wire which is coloured BLUE must
be connected to the terminal which is
marked with the letter N or coloured
The wire which is coloured BROWN
must be connected to the terminal
which is marked with the letter L or
When replacing the fuse only a
correctly rated approved type should
be used and be sure to re-fit the fuse
---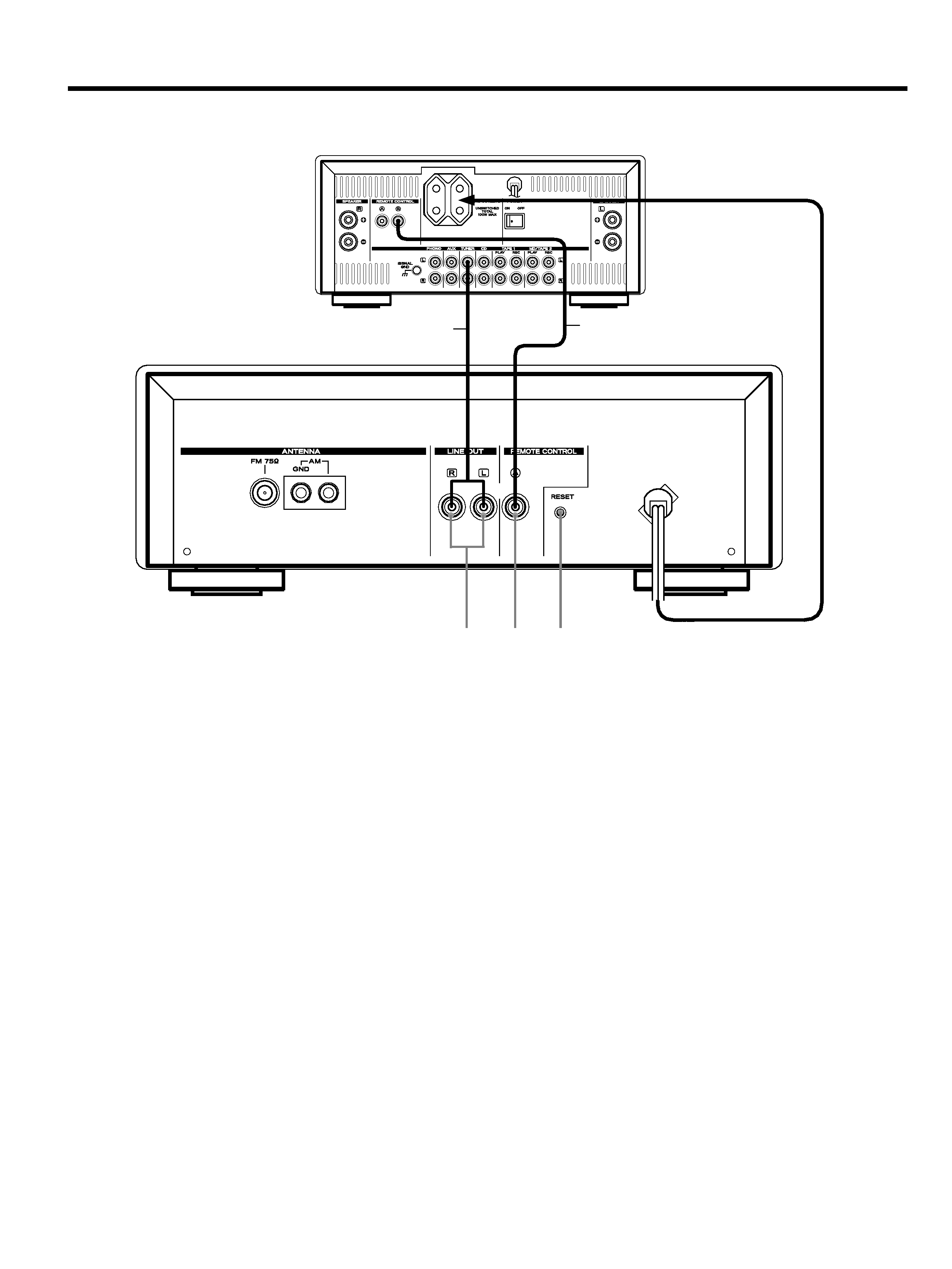 Connections and Rear Panel Overview
Connect these jacks to the TUNER jacks on
White pin-plug T White jack (left)
Red pin-plug T Red jack (right)
These jacks are used for the connection of
the system for the purpose of operating the
system by means of the remote control
transmitter or system control signals.
Connect this jack A to jack A (or B) on
other unit either on or beneath this unit.
The remote control transmitter is not
OIn the following cases, function buttons
may not often work or may work
1) When the system is damaged by some
2) When the power is irregular or has
In these cases, try as shown on the
Press the RESET switch once or twice
with a pencil or a ball-point pen lightly.
* If you press this RESET switch, all the
memories will be erased. In this case, try
to preset stations again.
---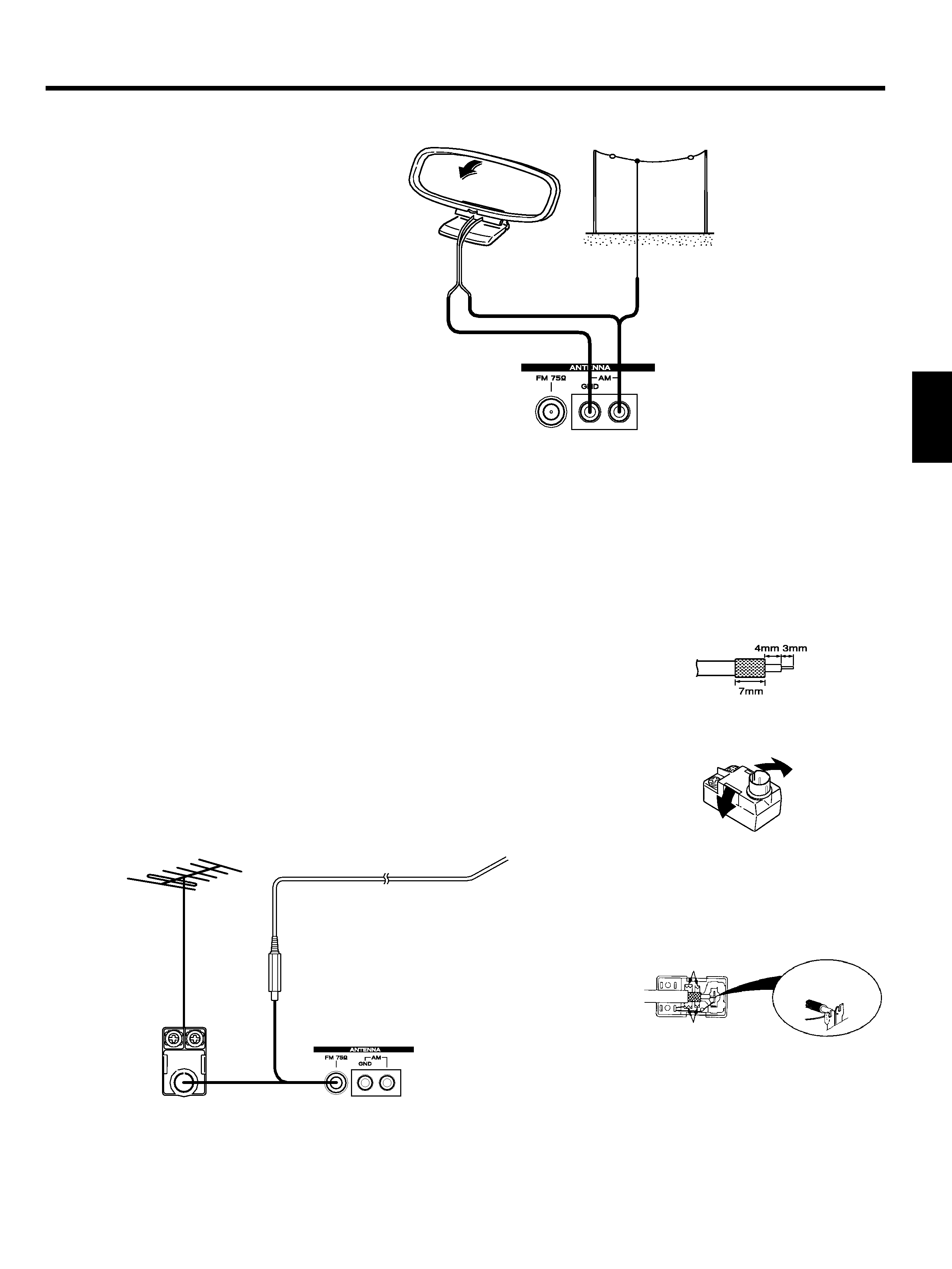 Installation of FM antenna
If you live reasonably close to a transmitter
and want to use the provided lead-type FM
antenna, you will have to connect it direct
" socket. Fit the metal sleeve
of the lead-type antenna over the core
(center) conductor of the "FM 75
extend the lead and fix it to a window
frame or wall with thumbtacks, or the like,
Installation of AM antenna
Connect an AM antenna to the AM
antenna terminal on the rear panel.
Without an AM antenna, you cannot
When you install an AM outdoor antenna,
it is recommended that you should avoid
high-voltage cables, materials of metal,
roadside and so on (mountains or places
near a building) near the antenna.
It is better to install an antenna far away
from high-voltage cables, valleys, or
How to assemble AM antenna
OInstall it after assembling an antenna as
How to connect a coaxial cable to the
1 Strip the cable and dress it as shown.
2 Press both side tabs outward to remove
3 Wrap the core conductor around the
central metal fixture as shown. Crimp
the jagged metal fixtures so they hold
the braided portion using pliers, etc. Put
Generally, a 3-element antenna will be
sufficient; if you live in an area where the
FM signals are particularly weak, it may be
necessary to use one with 5 or more
elements. Connect the coaxial cable of the
antenna to the matching transformer as
shown. After completing connection, plug
the transformer into the "FM 75
It is recommended that an outdoor antenna
should be installed by an antenna expert.
---