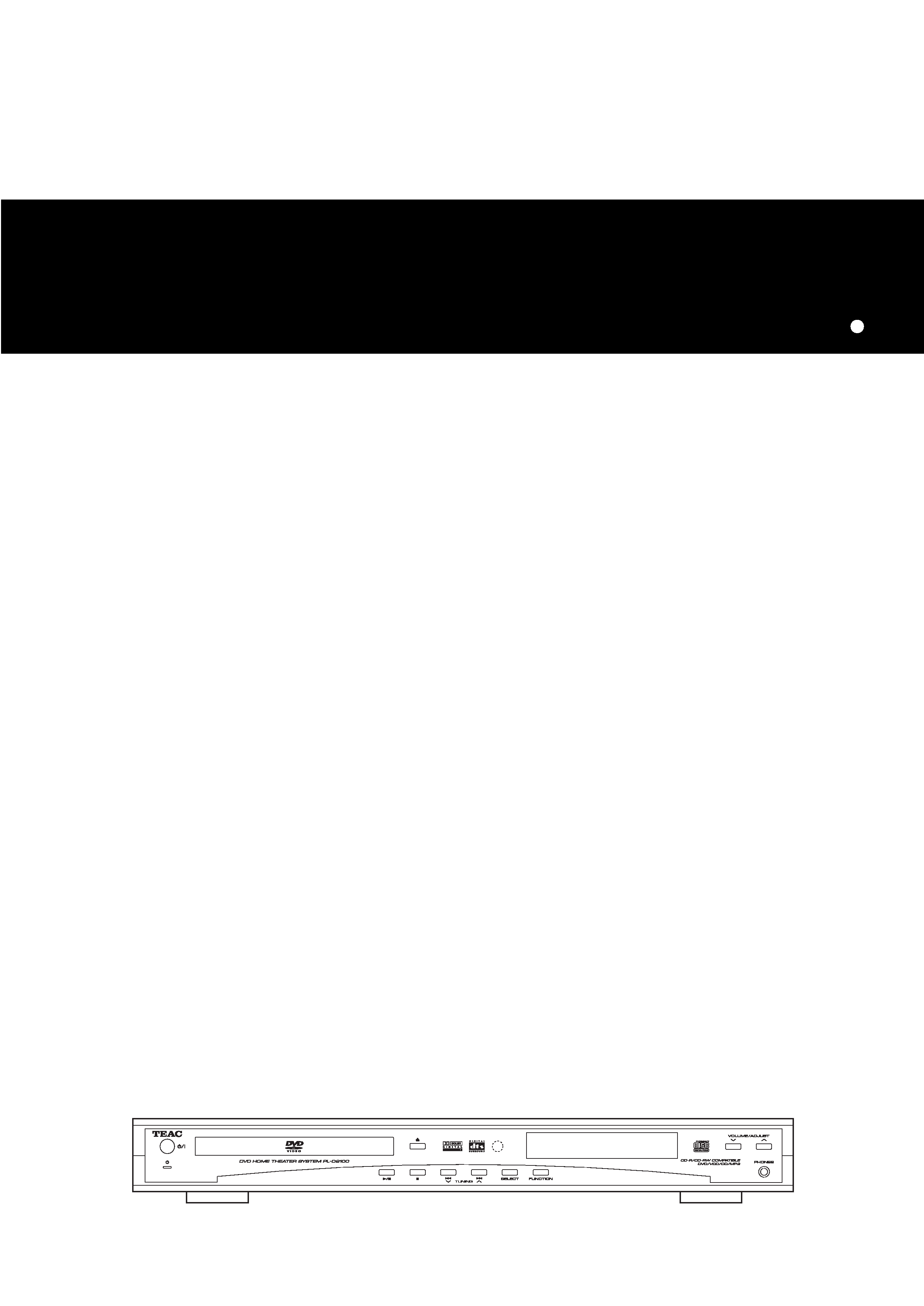 ---

Thank you for choosing TEAC. Read this manual carefully to get the best performance from
Before Use . . . . . . . . . . . . . . . . . . . . . . . . . . . . . . . . . . . . . . . . . . . . . . . . . . . . . . . . . . . . . . . . . . . . . . . 3
Discs . . . . . . . . . . . . . . . . . . . . . . . . . . . . . . . . . . . . . . . . . . . . . . . . . . . . . . . . . . . . . . . . . . . . . . . . . . . . 4
Remote Control Unit . . . . . . . . . . . . . . . . . . . . . . . . . . . . . . . . . . . . . . . . . . . . . . . . . . . . . . . . . . . . . . 6
Connecting Antennas . . . . . . . . . . . . . . . . . . . . . . . . . . . . . . . . . . . . . . . . . . . . . . . . . . . . . . . . . . . . . . 7
Connection . . . . . . . . . . . . . . . . . . . . . . . . . . . . . . . . . . . . . . . . . . . . . . . . . . . . . . . . . . . . . . . . . . . . . . . 8
Speaker Connections . . . . . . . . . . . . . . . . . . . . . . . . . . . . . . . . . . . . . . . . . . . . . . . . . . . . . . . . . . . . . 10
Positioning of the Speakers. . . . . . . . . . . . . . . . . . . . . . . . . . . . . . . . . . . . . . . . . . . . . . . . . . . . . . . . 11
Names of Each Control . . . . . . . . . . . . . . . . . . . . . . . . . . . . . . . . . . . . . . . . . . . . . . . . . . . . . . . . . . . 12
Basic Operation. . . . . . . . . . . . . . . . . . . . . . . . . . . . . . . . . . . . . . . . . . . . . . . . . . . . . . . . . . . . . . . . . . 14
Surround Mode . . . . . . . . . . . . . . . . . . . . . . . . . . . . . . . . . . . . . . . . . . . . . . . . . . . . . . . . . . . . . . . . . . 16
Playback . . . . . . . . . . . . . . . . . . . . . . . . . . . . . . . . . . . . . . . . . . . . . . . . . . . . . . . . . . . . . . . . . . . . . . . . 17
To skip to a specific chapter/track. . . . . . . . . . . . . . . . . . . . . . . . . . . . . . . . . . . . . . . . . . . . . . . . . . 19
Search for a part of a chapter/track . . . . . . . . . . . . . . . . . . . . . . . . . . . . . . . . . . . . . . . . . . . . . . . . 19
Slow-Motion Playback . . . . . . . . . . . . . . . . . . . . . . . . . . . . . . . . . . . . . . . . . . . . . . . . . . . . . . . . . . . 19
Single Stepping Playback . . . . . . . . . . . . . . . . . . . . . . . . . . . . . . . . . . . . . . . . . . . . . . . . . . . . . . . . . 19
Direct playback (except DVD/MP3) . . . . . . . . . . . . . . . . . . . . . . . . . . . . . . . . . . . . . . . . . . . . . . . . . 20
Picture Zoom . . . . . . . . . . . . . . . . . . . . . . . . . . . . . . . . . . . . . . . . . . . . . . . . . . . . . . . . . . . . . . . . . . . . 20
Change the Angle . . . . . . . . . . . . . . . . . . . . . . . . . . . . . . . . . . . . . . . . . . . . . . . . . . . . . . . . . . . . . . . . 20
Select a Subtitle Language . . . . . . . . . . . . . . . . . . . . . . . . . . . . . . . . . . . . . . . . . . . . . . . . . . . . . . . . 20
Select an Audio Language . . . . . . . . . . . . . . . . . . . . . . . . . . . . . . . . . . . . . . . . . . . . . . . . . . . . . . . . 21
Audio Channel Selection . . . . . . . . . . . . . . . . . . . . . . . . . . . . . . . . . . . . . . . . . . . . . . . . . . . . . . . . . . 21
Programmed Playback . . . . . . . . . . . . . . . . . . . . . . . . . . . . . . . . . . . . . . . . . . . . . . . . . . . . . . . . . . . 21
Title and Chapter Select. . . . . . . . . . . . . . . . . . . . . . . . . . . . . . . . . . . . . . . . . . . . . . . . . . . . . . . . . . . 22
Time Select . . . . . . . . . . . . . . . . . . . . . . . . . . . . . . . . . . . . . . . . . . . . . . . . . . . . . . . . . . . . . . . . . . . . . 23
Repeat Playback . . . . . . . . . . . . . . . . . . . . . . . . . . . . . . . . . . . . . . . . . . . . . . . . . . . . . . . . . . . . . . . . . 24
A-B Repeat . . . . . . . . . . . . . . . . . . . . . . . . . . . . . . . . . . . . . . . . . . . . . . . . . . . . . . . . . . . . . . . . . . . . . . 25
Display. . . . . . . . . . . . . . . . . . . . . . . . . . . . . . . . . . . . . . . . . . . . . . . . . . . . . . . . . . . . . . . . . . . . . . . . . . 25
Settings . . . . . . . . . . . . . . . . . . . . . . . . . . . . . . . . . . . . . . . . . . . . . . . . . . . . . . . . . . . . . . . . . . . . . . . . . 26
TV Display . . . . . . . . . . . . . . . . . . . . . . . . . . . . . . . . . . . . . . . . . . . . . . . . . . . . . . . . . . . . . . . . . . . 27
TV Type. . . . . . . . . . . . . . . . . . . . . . . . . . . . . . . . . . . . . . . . . . . . . . . . . . . . . . . . . . . . . . . . . . . . . . 27
Video Output . . . . . . . . . . . . . . . . . . . . . . . . . . . . . . . . . . . . . . . . . . . . . . . . . . . . . . . . . . . . . . . . . 27
Angle Mark . . . . . . . . . . . . . . . . . . . . . . . . . . . . . . . . . . . . . . . . . . . . . . . . . . . . . . . . . . . . . . . . . . 27
Selecting the Language for OSD . . . . . . . . . . . . . . . . . . . . . . . . . . . . . . . . . . . . . . . . . . . . . . . . 28
Screen Saver. . . . . . . . . . . . . . . . . . . . . . . . . . . . . . . . . . . . . . . . . . . . . . . . . . . . . . . . . . . . . . . . . 28
Delay Time (Center/Rear) . . . . . . . . . . . . . . . . . . . . . . . . . . . . . . . . . . . . . . . . . . . . . . . . . . . . . . 28
Test Tone . . . . . . . . . . . . . . . . . . . . . . . . . . . . . . . . . . . . . . . . . . . . . . . . . . . . . . . . . . . . . . . . . . . . 28
Audio Out . . . . . . . . . . . . . . . . . . . . . . . . . . . . . . . . . . . . . . . . . . . . . . . . . . . . . . . . . . . . . . . . . . . . 29
Dynamic Range Compression . . . . . . . . . . . . . . . . . . . . . . . . . . . . . . . . . . . . . . . . . . . . . . . . . . 29
Setting the Language. . . . . . . . . . . . . . . . . . . . . . . . . . . . . . . . . . . . . . . . . . . . . . . . . . . . . . . . . . 29
Defaults . . . . . . . . . . . . . . . . . . . . . . . . . . . . . . . . . . . . . . . . . . . . . . . . . . . . . . . . . . . . . . . . . . . . . 29
Parental Control. . . . . . . . . . . . . . . . . . . . . . . . . . . . . . . . . . . . . . . . . . . . . . . . . . . . . . . . . . . . . . . . . . 30
Tuner . . . . . . . . . . . . . . . . . . . . . . . . . . . . . . . . . . . . . . . . . . . . . . . . . . . . . . . . . . . . . . . . . . . . . . . . . . . 31
Preset Tuning. . . . . . . . . . . . . . . . . . . . . . . . . . . . . . . . . . . . . . . . . . . . . . . . . . . . . . . . . . . . . . . . . . . . 32
Troubleshooting. . . . . . . . . . . . . . . . . . . . . . . . . . . . . . . . . . . . . . . . . . . . . . . . . . . . . . . . . . . . . . . . . . 33
Specifications . . . . . . . . . . . . . . . . . . . . . . . . . . . . . . . . . . . . . . . . . . . . . . . . . . . . . . . . . . . . . . . . . . . 34
---

Conventions about This Manual
Instructions in this manual describe the controls on the remote
control. You can also use the buttons on the front panel if they
have the same or similar names as those on the remote.
The types of functions and operations that can be used for a
particular disc vary depending on the features of that disc. In
some cases, these functions and operations may differ from
the descriptions given in this Owner's Manual. In this event,
follow the instructions given on the screen. This Owner's
Manual only covers basic disc operations.
For some operations, the PROHIBIT icon "
the screen. This indicates that the operation described in this
Operations Manual is not permitted for the current disc.
The drawings about the TV screen and front panel display
used in this Operations Manual are purely for the purposes of
explanation. The actual displays may differ slightly from what
Read this before operation
As the unit may become warm during operation, always leave
sufficient space around the unit for ventilation.
The voltage supplied to the unit should match the voltage as
printed on the rear panel. If you are in any doubt regarding this
matter, consult an electrician.
Choose the installation location of your unit carefully. Avoid
placing it in direct sunlight or close to a source of heat. Also
avoid locations subject to vibrations and excessive dust, heat,
Do not place the unit on the amplifier/receiver.
Do not open the cabinet as this might result in damage to the
circuitry or electrical shock. If a foreign object should get into
the unit, contact your dealer or service company.
When removing the power plug from the wall outlet, always
pull directly on the plug, never yank the cord.
To keep the laser pickup clean, do not touch it, and always
Do not attempt to clean the unit with chemical solvents as this
might damage the finish. Use a clean, dry cloth.
Keep this manual in a safe place for future reference.
DO NOT MOVE THE UNIT DURING PLAYBACK
During playback, the disc rotates at high speed. Do NOT lift or
move the unit during playback. Doing so may damage the disc
When changing places of installation or packing the unit for
moving, be sure to remove the disc and return the disc tray to
its closed position in the player. Then, press the power switch
to turn the power off, and disconnect the power cord. Moving
this unit with the disc loaded may result in damage to this unit.
The product shall not be exposed to dripping or splashing and
that no object filled with liquids, such as vases, shall be placed
Do not install this equipment in a confined space such as a
book case or similar unit.
Please confirm that the following accessories are in the box
Front/Center speaker cable (5 m x 3)
Surround speaker cable (10 m x 2)
Subwoofer RCA pin cord (5 m)
Batteries (AA, R6, SUM-3) x 2
Settings (such as preset stations, speaker configuration, DVD
settings) are stored almost permanently, even when power is
turned off and the unit is unplugged.
---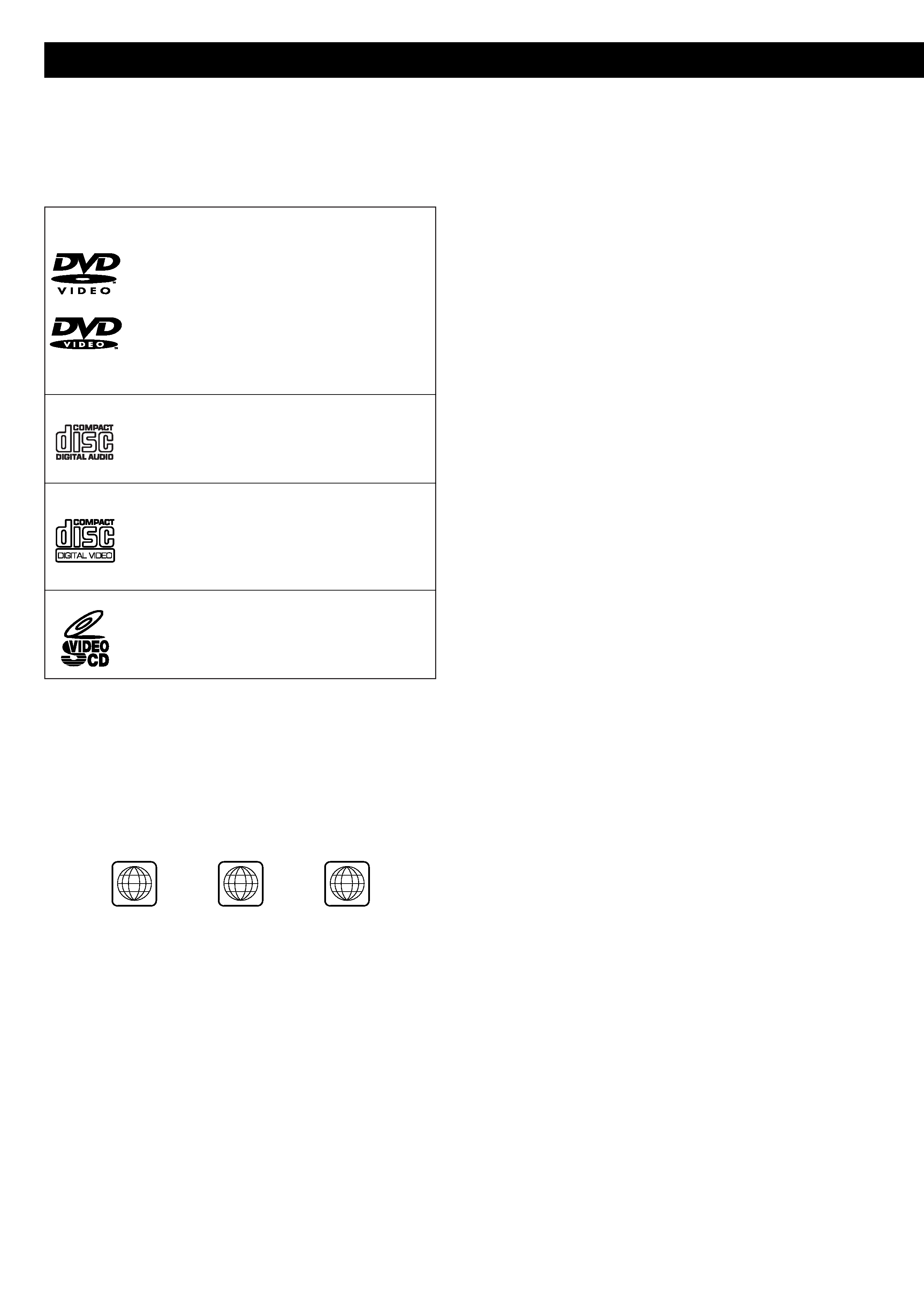 Region Number of DVD Video discs:
DVD players and discs are designed with region numbers that
dictate the regions in which a disc can be played. If the region
number on the disc you want to play does not match the region
number of your DVD player, you will not be able to play the disc.
In that case, an error message will appear on the screen.
The region number is printed on the rear panel of this unit.
· Single-sided or double-sided discs
· Single layer or dual layer discs
· Dolby Digital, DTS, MPEG or Linear PCM digital
· This unit can play DVD-R/DVD-RW/DVD+R/
DVD+RW discs recorded in DVD video format.
Discs are generally divided into one or more titles.
Titles may be further subdivided into chapters.
· Linear PCM digital audio
Audio CDs are divided into tracks.
Video CDs are divided into tracks.
Type of Discs That Can be Played on This
This player can playback discs bearing any of the following logos:
DVD-RW discs that were recorded with copy-once only
permission cannot be played. The message, "COPY PROTECT
PROGRAM, UNPLAYABLE" appears in the display during these
When playing a DVD-RW disc that was edited on a DVD
recorder, the screen may momentarily black out at the edited
When playing a DVD-RW disc that was edited on a DVD
recorder, you may see scenes from just before the edited
Up to 20 characters of a title name can be displayed.
CD-R/RW discs recorded in Audio CD format and finalized
correctly are playable. But depending on the quality of the disc
and/or the condition of the recording, some CD-R & CD-RW
discs may not be playable.
This player is compatible with CD-R, CD-RW and CD-ROM (Kodak
picture CD, etc.) discs that contain MP3 audio tracks or JPEG
File names of MP3/JPEG should be alphanumeric characters.
This unit cannot display symbols and full-size or 2 bytes-wide
characters (such as Japanese, Chinese, etc.) correctly. Also,
be sure to use the file extension ".mp3", ".jpg" or ".jpeg".
Only the first 8 characters of folder and track names
(excluding the ".mp3" extension) are displayed.
Use CD-R or CD-RW media for recording your MP3 files. The
disc must be finalized in order to play.
The CD-ROM must be ISO 9660 compatible.
Mono or stereo MPEG-1 Audio Layer 3 format, 44.1 or 48kHz,
fixed bit-rate. Incompatible files will not play and
"UNPLAYABLE MP3 FORMAT" will be displayed.
Not compatible with variable bit-rate (VBR) files.
This player is not compatible with multi-session discs. If you
try and play a multi-session disc, only the first session will be
Audio encoded at 128Kbps should sound close to regular audio
CD quality. Although this player will play lower bit-rate MP3
tracks, the sound quality becomes noticeably worse at lower
When more than 250 MP3 files or folders are recorded on the
disc, the unit might not be able to play it correctly.
If you record a disc using a personal computer, even if it is
recorded in a compatible format, there are cases in which it
may not play because of the settings of the application
software used to create the disc. (Check with the software
publisher for more detailed information.)
Unfinalized DVD-R/RW discs cannot be played.
---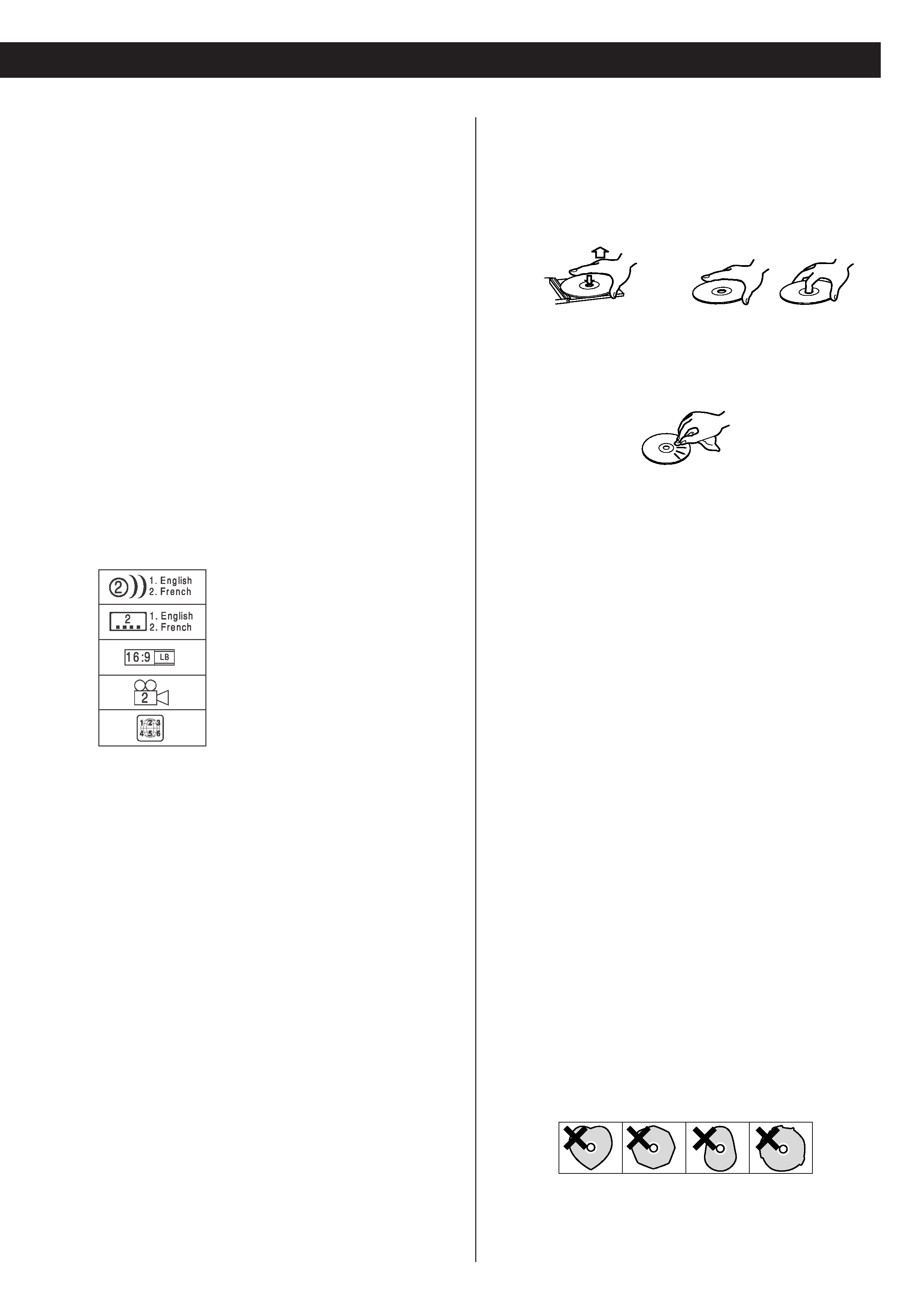 Following discs cannot be played with this
· CD-G, Data part of CD-EXTRA, PHOTO CD, CD-ROM, SACD, DVD-
Audio, DVD-RAM and DVD-ROM discs
· discs recorded in a color system other than PAL or NTSC
· illegally produced discs
· discs that are dusty, soiled or marked with fingerprints
If you attempt to play back such discs, there is a risk that sudden
loud noise can blast over the speakers at full volume and cause
damage to the speakers and your hearing.
Copy-protected discs and other discs which do not conform to
the CD standard may not play back correctly in this player. If you
use such discs in this unit, TEAC Corporation and its subsidiaries
cannot be responsible for any consequences or guarantee the
quality of reproduction. If you experience problems with such
non-standard discs, you should contact the producers of the disc.
number of audio tracks recorded
number of subtitles recorded on
disc recorded with multiple
Example of Icons used on DVD discs:
Always place the disc on the disc tray with the label side
uppermost. (Compact discs can be played or recorded only on
To remove a disc from its storage case, press down on the
center of the case and lift the disc out, holding it carefully by
Should the disc become dirty, wipe the surface radially (from
the center hole outward towards the outer edge) with a soft,
Never use such chemicals as record sprays, antistatic sprays
or fluid, benzine or thinner to clean the discs. Such chemicals
will do irreparable damage to the disc's plastic surface.
Discs should be returned to their cases after use to avoid dust
and scratches that could cause the laser pickup to "skip."
Do not expose discs to direct sunlight or high humidity and
temperature for extended periods. Long exposure to high
temperatures will warp the disc.
Do not play any disc that is warped, deformed or damaged.
Playing such discs may cause irreparable harm to the playing
CD-R and CD-RW discs are more sensitive to the effects of
heat and ultraviolet rays than ordinary CDs. It is important that
they are not stored in a location where direct sunlight will fall
on them, and which is away from sources of heat such as
radiators or heat-generating electrical devices.
Printable CD-R and CD-RW discs aren't recommended, as the
label side might be sticky and damage the unit.
Do not stick papers or protective sheets on the discs and do
not use any protective coating spray.
Use a soft oil-based felt-tipped pen to write the information on
the label side. Never use a ball-point or hard-tipped pen, as
this may cause damage to the recorded side.
Never use a stabilizer. Using commercially available CD
stabilizers with this unit will damage the mechanisms and
cause them to malfunction.
Do not use irregular shape CDs (octagonal, heart shaped,
business card size, etc.). CDs of this sort can damage the unit:
If you are in any doubt as to the care and handling of a CD-
R/CD-RW disc, read the precautions supplied with the disc, or
contact the disc manufacturer directly.
---