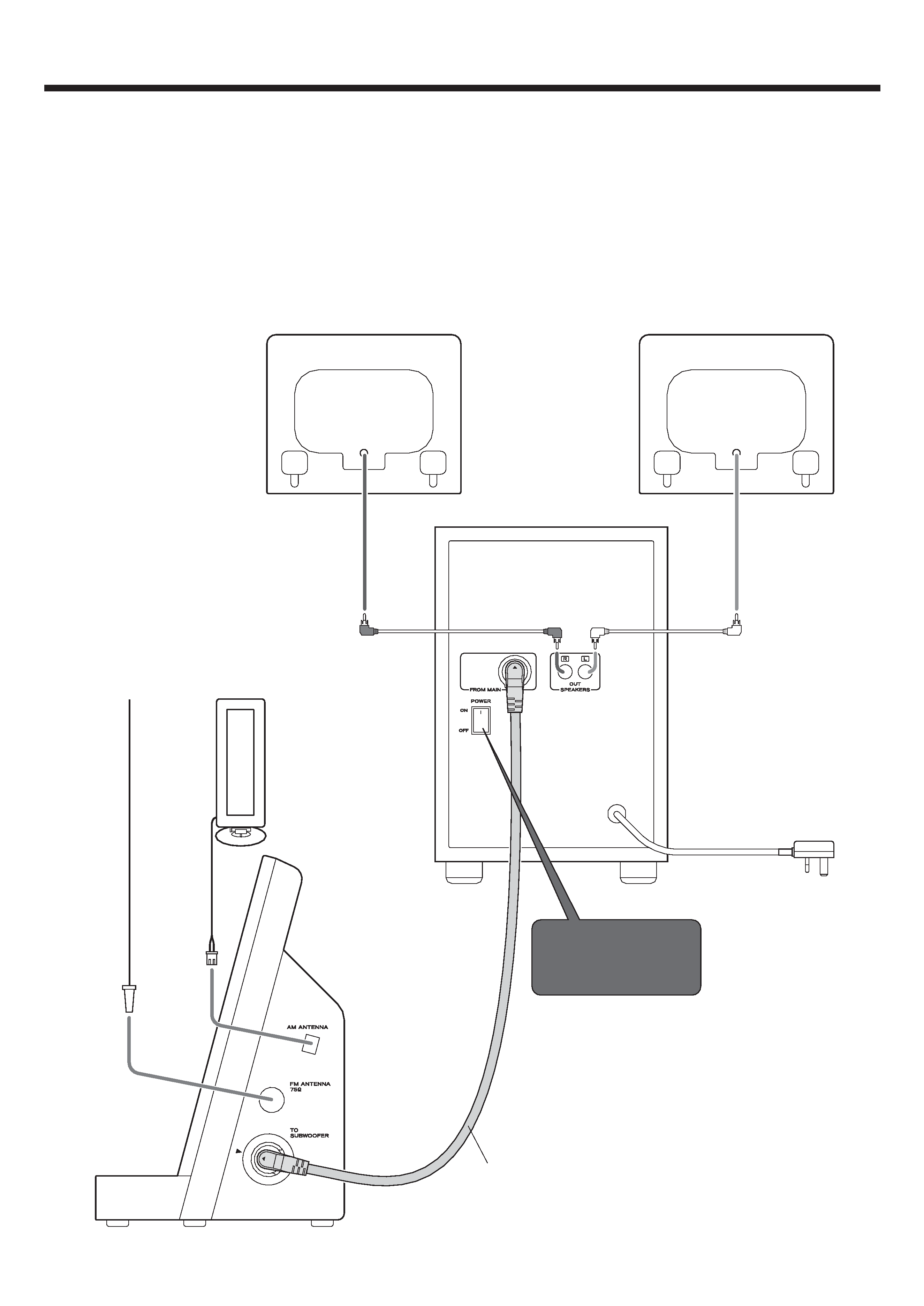 Quick Guide for Connection
Consult the Owner's Manual for complete details and important safety information.
Turn off the power of all the equipment before making connections.
Read instructions of each component you intend to use with this unit.
Be sure to insert each plug securely. To prevent hum and noise, do not bundle the connection cords with the power cord.
Side panel of the main unit
Subwoofer Connection Cable
Insert the Connectors in the
---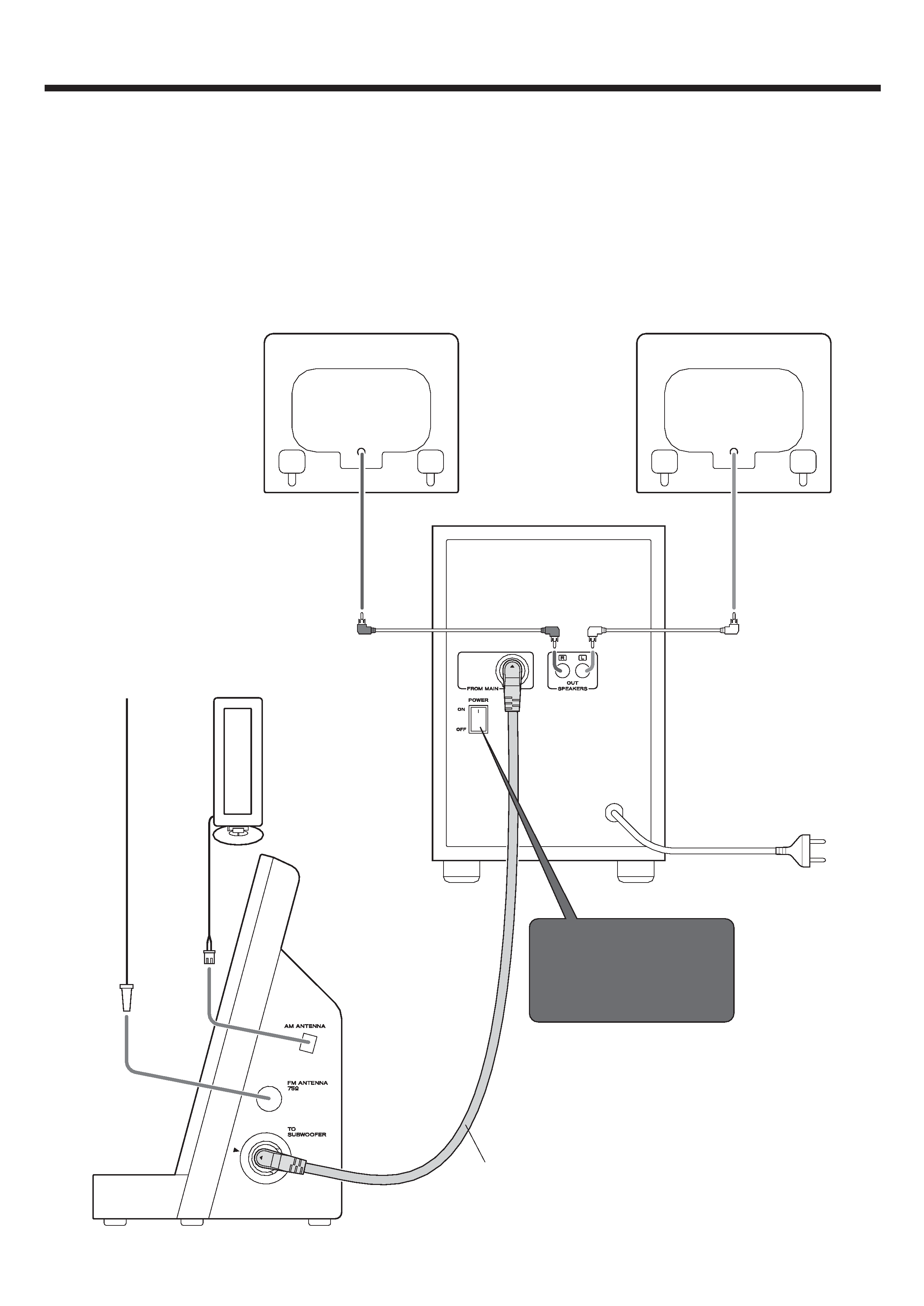 Guide rapide de connexion
Consultez le Guide de l'utilisateur pour avoir tous les détails et les informations de sécurité importantes.
Eteignez tous vos équipements avant de faire toute connexion.
Lisez les instructions de chaque élément que vous envisagez d'utiliser avec cet appareil.
Veillez à bien enfoncer chaque fiche de connexion. Pour éviter les bruits et les ronflements, ne
regroupez pas les câbles de modulation (pour le signal) et le cordon d'alimentation.
Face latérale de l'unité centrale
Câble de caisson de graves
Connectez les connecteurs
dans la direction indiquée.
Cordon d'alimentation secteur
Branchez-le sur une prise secteur
Interrupteur d'alimentation
Utilisez cet interrupteur
pour allumer ou éteindre le
---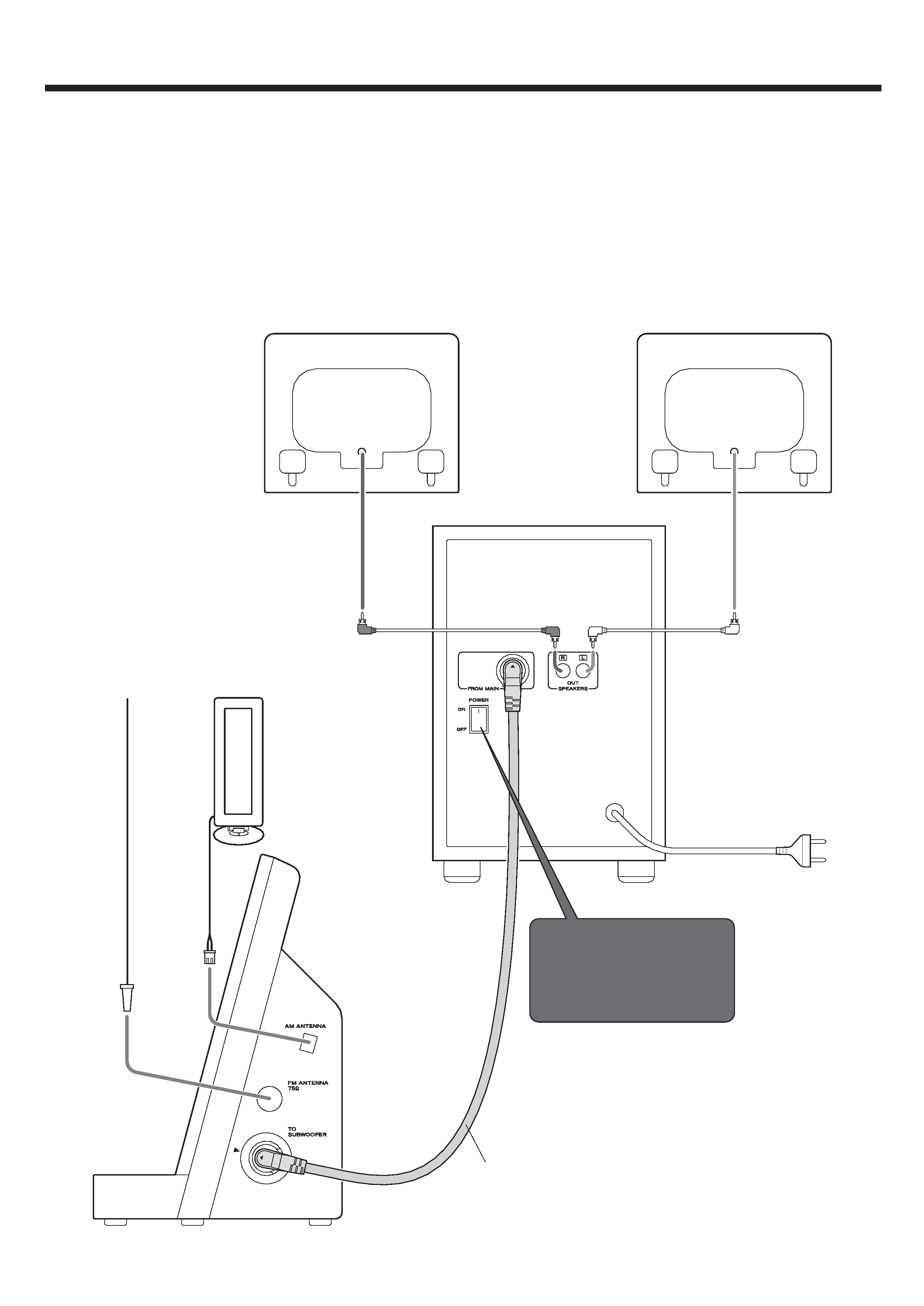 Guía rápida para conexión
Consulte el manual del propietario para todos los detalles e informaciones importantes de seguridad.
Apague todos los equipos antes de realizar ninguna conexión.
Lea las instrucciones de cada uno de los componentes que tiene intención de usar con esta unidad.
Inserte correctamente los conectores. Para evitar zumbidos y ruidos, no tienda los cables de conexión en el mismo mazo del
Realice la conexión en la
Enchufe en una toma de CA.
Use este interruptor para
Panel lateral de la unidad principal
---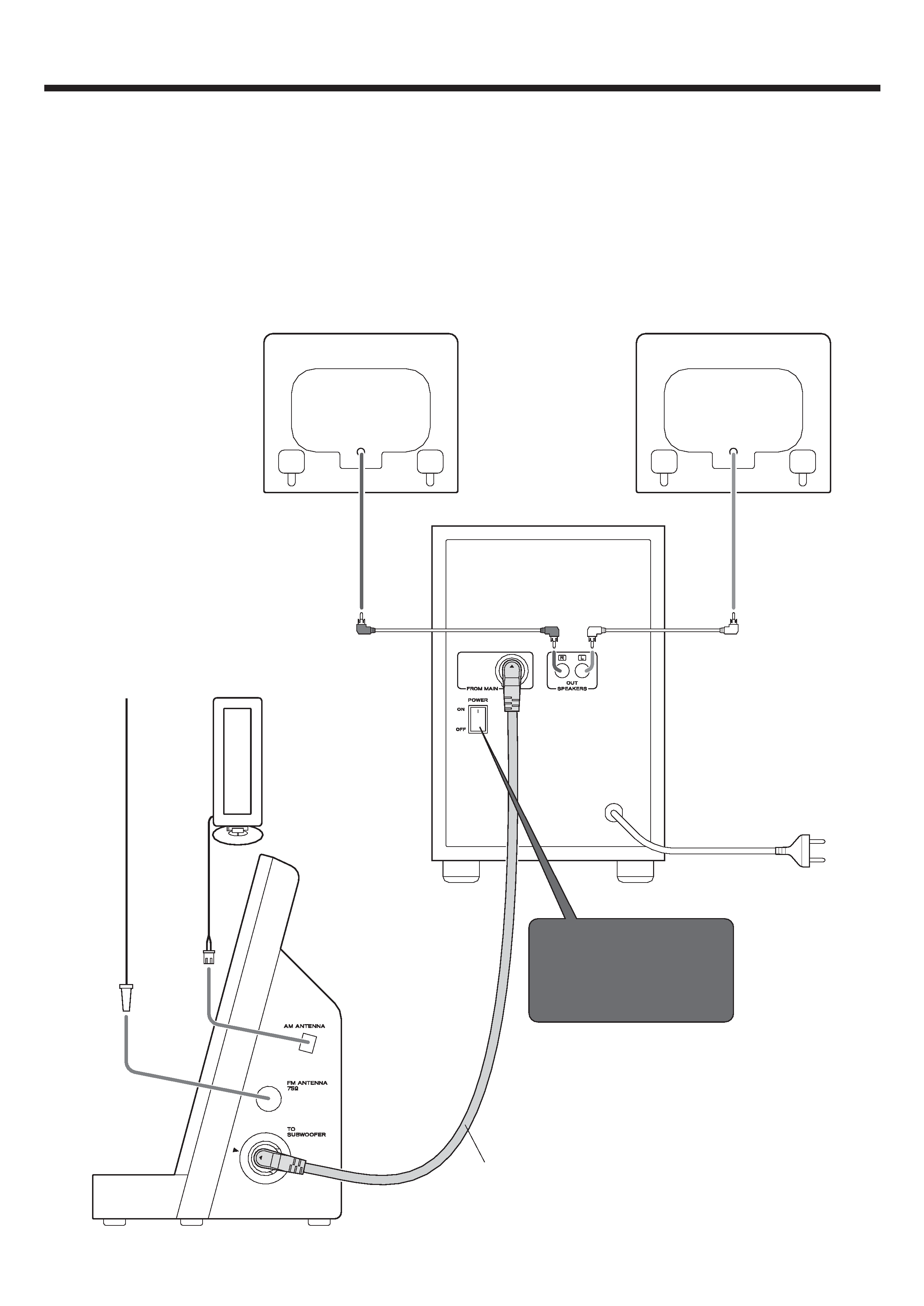 Anschluss-Schnellanleitung
Einzelheiten zu den Anschlüssen und wichtige Sicherheitshinweise finden Sie in der Bedienungsanleitung.
Schalten Sie alle anzuschließenden Komponenten aus, bevor Sie diese mit dem MC-DX220i verbinden.
Lesen Sie die entsprechenden Passagen der Bedienungsanleitungen jeder einzelnen Komponente, die Sie am MC-
DX220i betreiben möchten, aufmerksam durch.
Achten Sie auf korrekten und sicheren Sitz der Steckverbindungen. Zur Vermeidung von Brummen oder Rauschen
sollten Audio-/Videoanschlusskabel niemals parallel zu oder gebündelt mit Netzkabeln verlegt werden.
Schließen Sie die Stecker in
der angezeigten Richtung an.
Schließen Sie das Netzkabel an
Netzschalter des Subwoofers
können Sie das System ein-
Seitenansicht der Hauptkomponente
---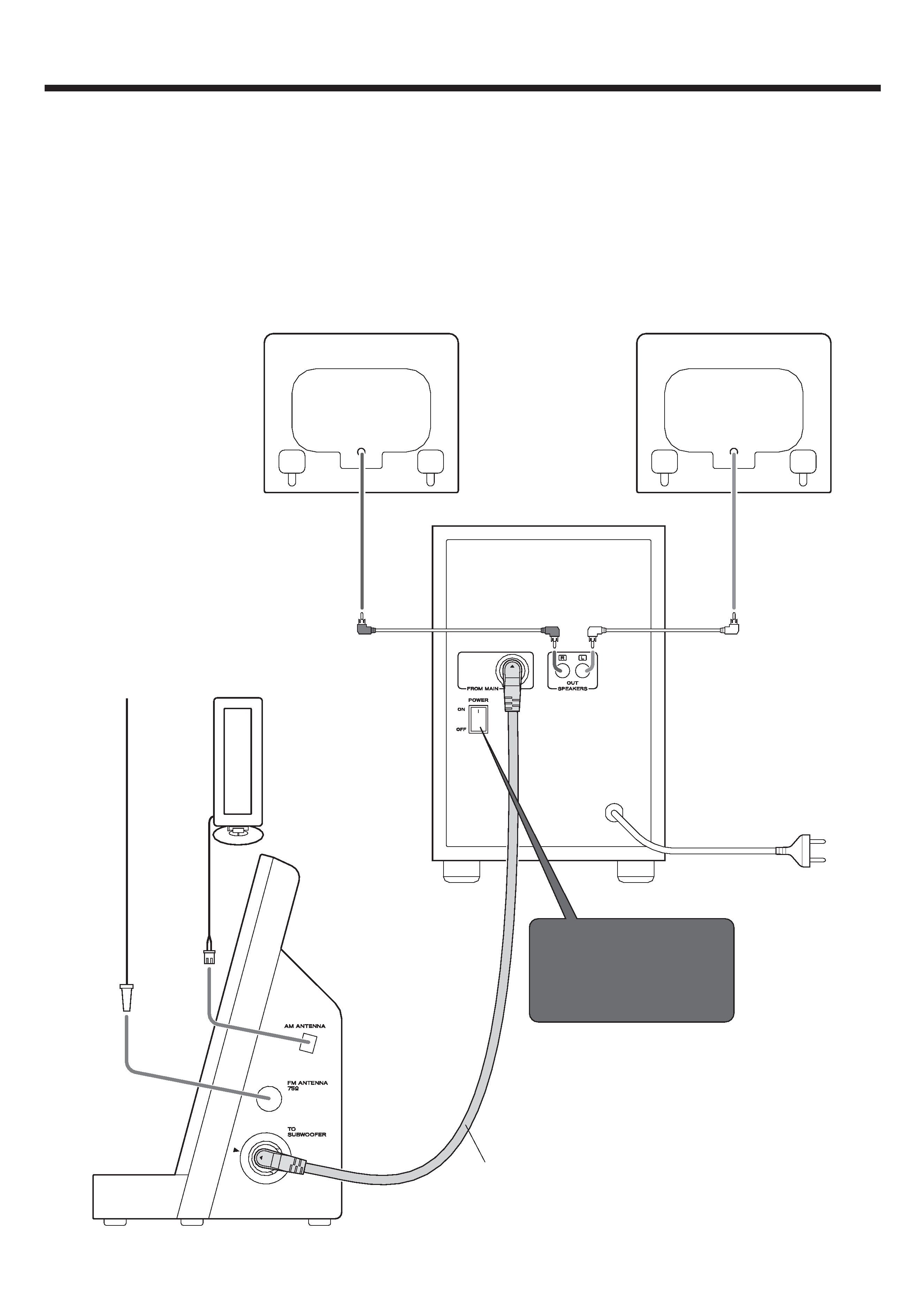 Guida rapida ai collegamenti
Per dettagli completi e informazioni importanti sulla sicurezza si prega di vedere il manuale dell'utilizzatore.
Prima di effettuare i collegamenti, spegnere tutte le apparecchiature.
Leggere le istruzioni di ogni componente che viene utilizzato con questo apparecchio.
Assicurarsi d'inserire ogni spina fino in fondo. Per evitare ronzii e disturbi, non avvolgere i cavi di
collegamento insieme a quello di alimentazione.
Per il collegamento dei connettori si
raccomanda di rispettare le direzioni
Da inserire in una presa di rete.
Commutazione alimentazione
commutatore per accendere
Pannello laterale dell'apparecchio principale
---