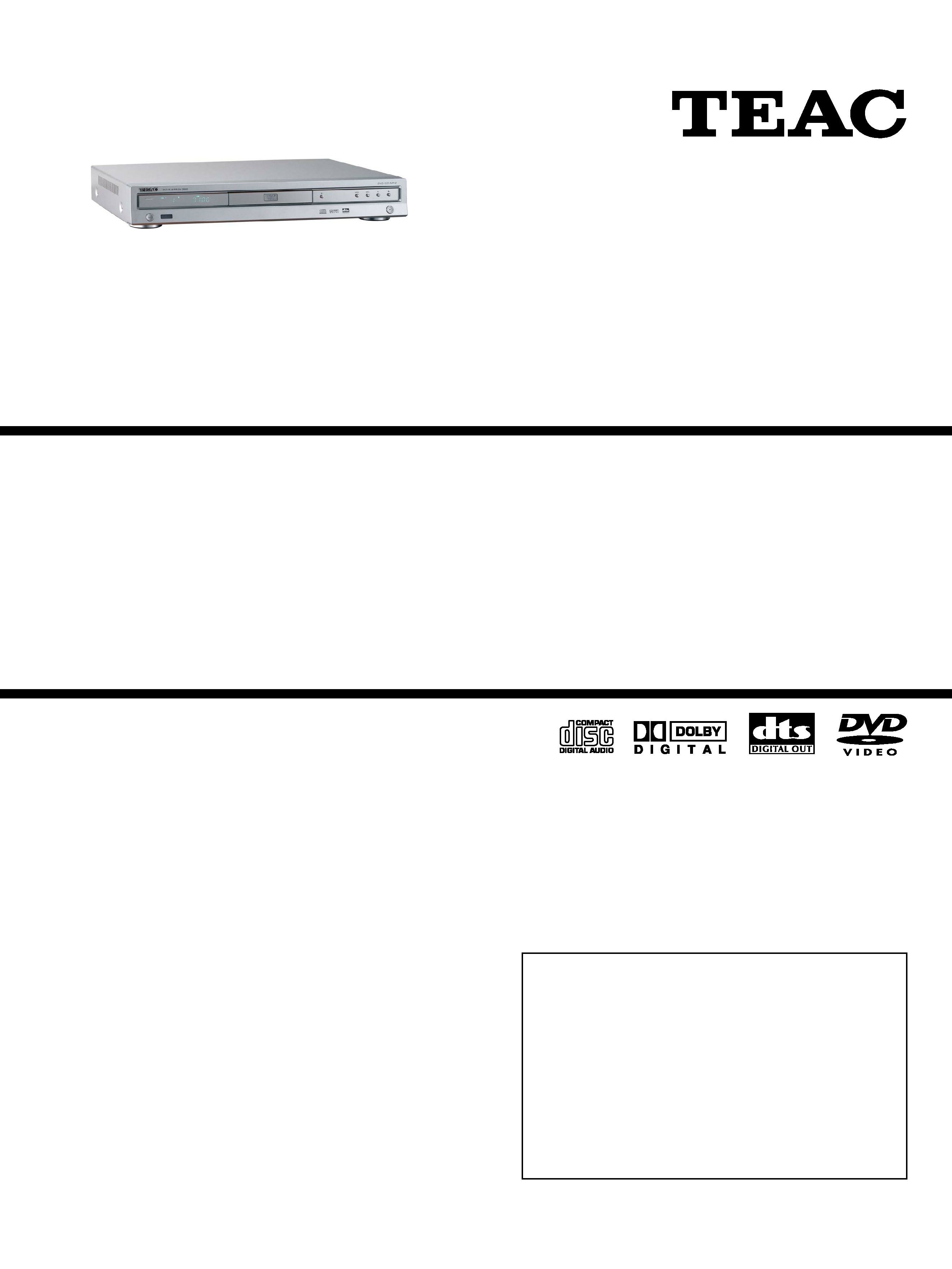 Effective : December, 2002
PC boards shown are viewed from parts side.
The parts with no reference number or no parts number in the
exploded views are not supplied.
As regards the resistors and capacitors, refer to the circuit diagrams
contained in this manual.
Parts marked with this sign are safety critical components. They
must be replaced with identical components - refer to the appropriate
parts list and ensure exact replacement.
3 EXPLODED VIEWS AND PARTS LIST
4 PC BOARDS AND PARTS LIST
---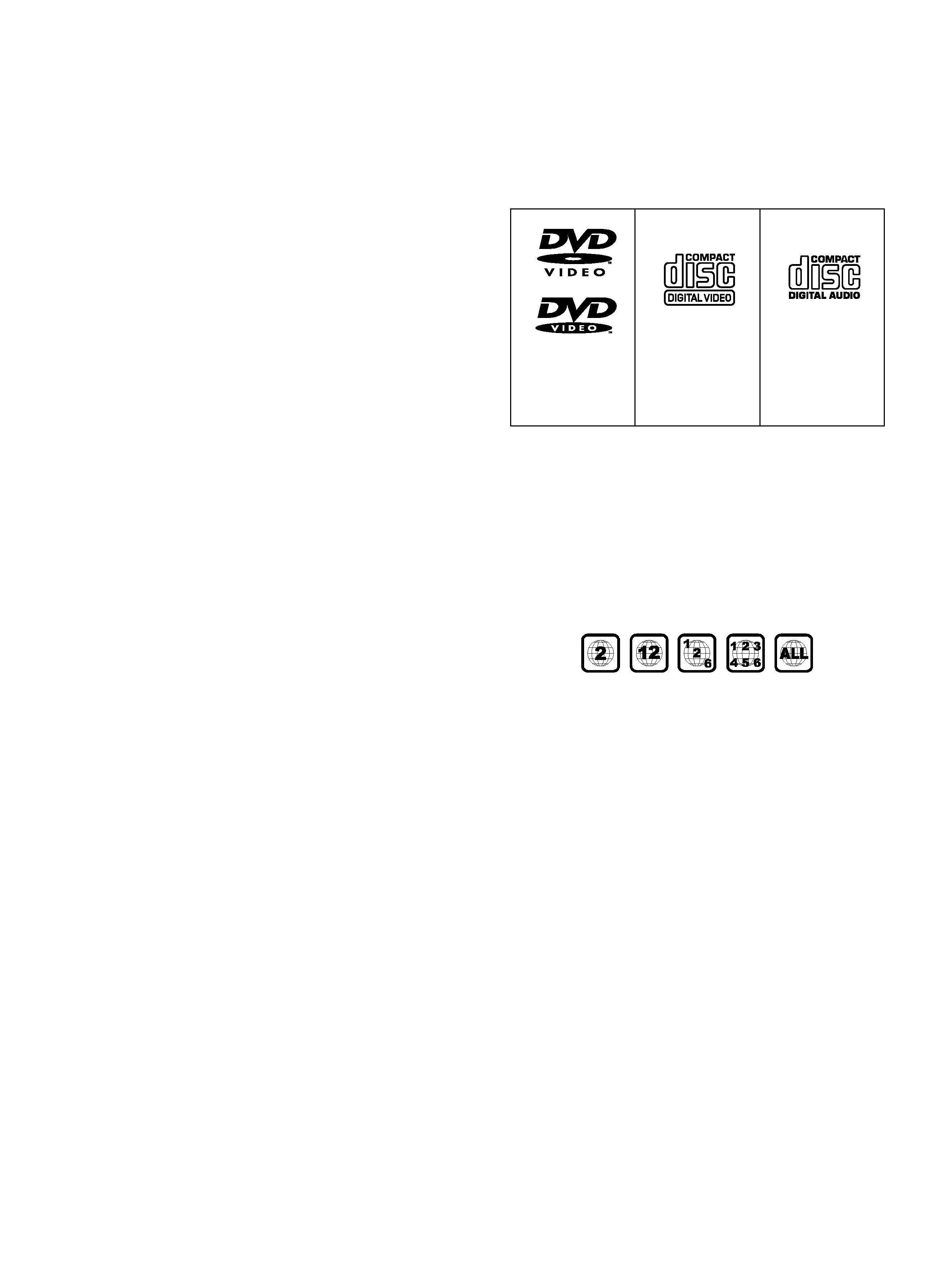 Signal system: NTSC / PAL
Laser: Semiconductor laser, wavelength 650 nm
DVD : 4 Hz to 22 kHz (fs:48kHz)
4 Hz to 44 kHz (fs:96kHz)
Signal-to-noise rating (DVD): 106 dB
Audio dynamic range (DVD): 106 dB
Harmonic distortion (DVD): 0.002%
Below measurable level (less than ± 0.001% (W.PEAK))
Operation status: Horizontal
1.0 V (p-p), 75 , negative sync.
(Y) 1.0 V (p-p), 75 , negative sync.,
Audio output (digital audio):
RCA jack x 1, 1.15 V (p-p), 75
Audio output (analog audio):
RCA jack x1, 2.0 Vrms (1 kHz, 0 dB)
Power supply: AC 230V, 50 Hz
External dimensions (W x H x D):
· Design and specifications are subject to change without notice.
· Weight and dimensions are approximate.
Type of Discs That Can be Played on This System
This player can playback discs bearing any of the following
DVD players and discs are designed with region numbers that
dictate the regions in which a disc can be played. If the region
number on the disc you want to play does not match the region
number of your DVD player, you will not be able to play the disc.
In that case, error message will appear on the screen.
The region code is printed on the rear panel of this unit.
Discs having following region code can be played with this unit :
The specific playback functionality for some DVD and video CD
discs is determined by the disc manufacturer. Because this DVD
player plays disc data in accordance with the disc manufacturer's
guidelines, some functions may not be available on some discs.
Be sure to read the instructions provided with the disc.
The PROHIBIT icon "A" displayed during DVD player operation
indicates that such manufacturer imposed restrictions apply.
The audio on a DVD disc recorded in MPEG version 2.0 format
maybe cannot be played (MPEG-2 is an image only format).
File names of MP3 should be alphanumeric characters. This unit
cannot display symbols and full-size or 2 bytes-wide characters
(such as Japanese, Chinese, etc.) correctly.
Also, be sure to use the extension ".mp3".
When more than 200 MP3 files are recorded on the disc, the unit
might not be able to play it correctly.
---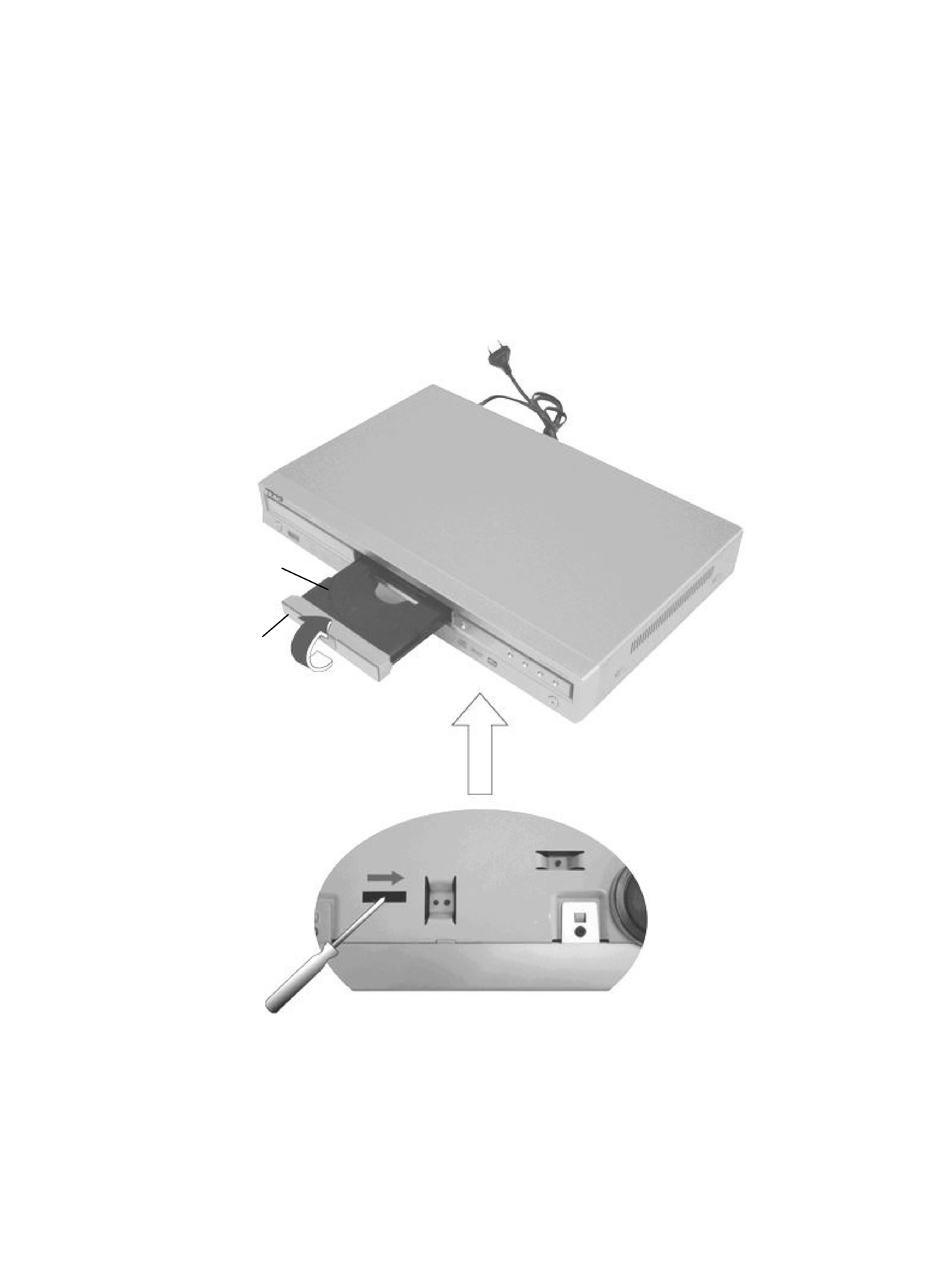 1. Supply Power and open Tray 1.
2. Disassemble the Door Tray 2 in direction off arrow "A".
3. Close Tray 1 and power off.
Note : If Tray doesn't open, insert a sharp point into emergency hole, and then push the tap in the hole in direction of arrow,
After then open tray manually.
---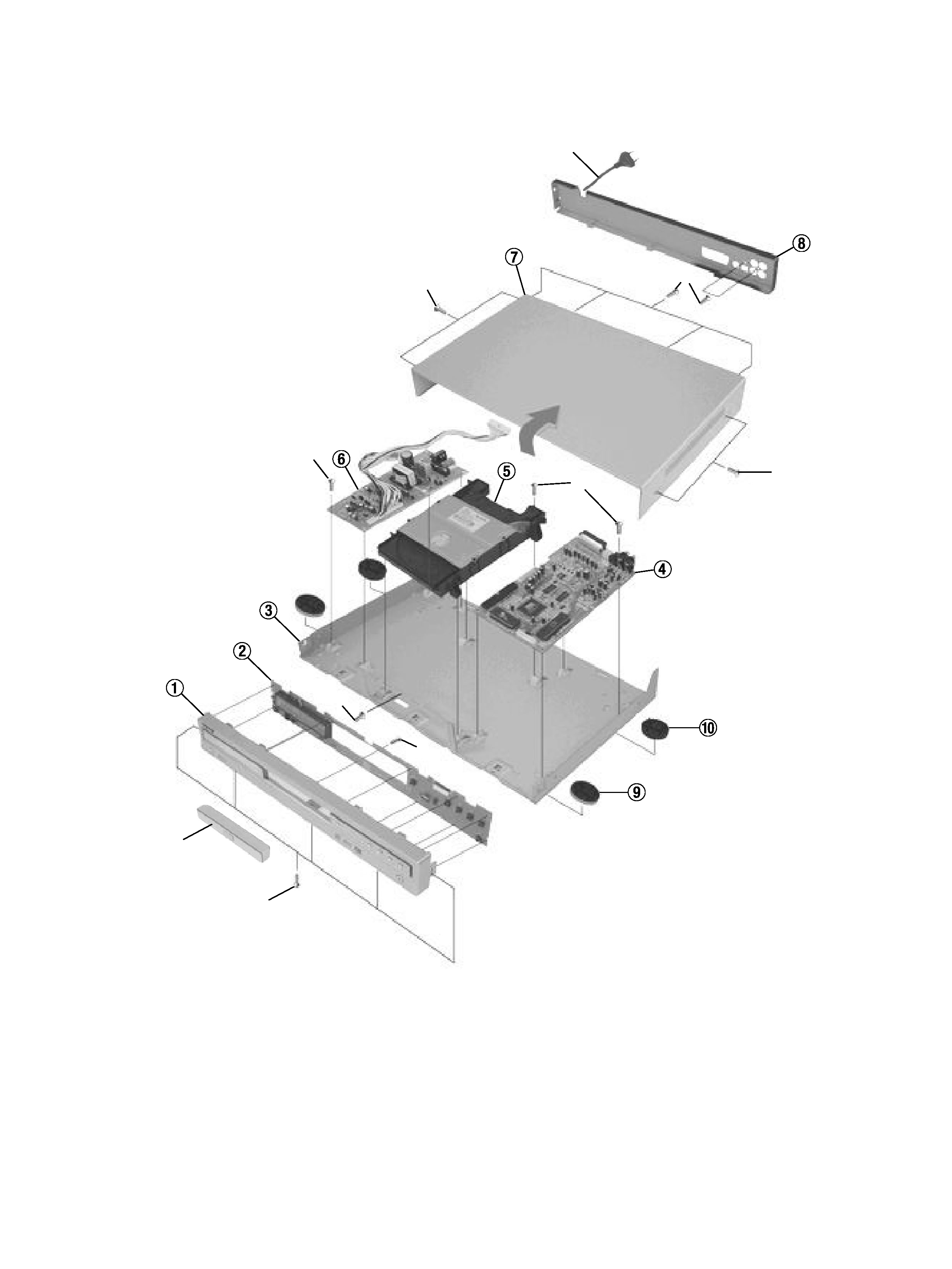 3 EXPLODED VIEWS AND PARTS LIST
---

---