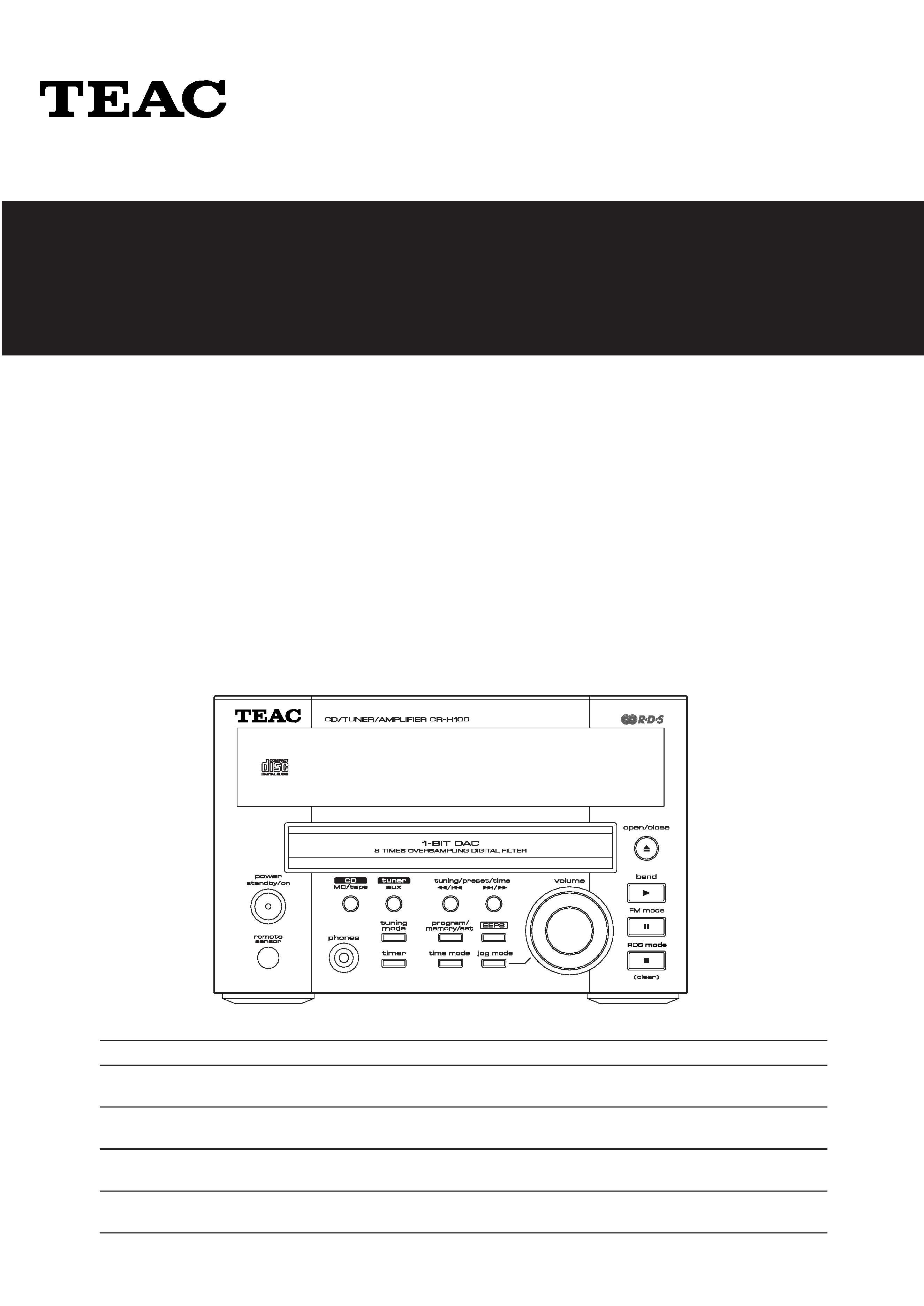 Thanks for buying a TEAC. Read this manual carefully to get the best performance from this unit.
Nous vous remercions pour l'achat d'un appareil TEAC.
Lire ce manuel avec attention pour obtenir les meilleures performances possibles de cet appareil.
Vielen Dank für den Kauf dieses TEAC-Geräts.
Bitte lesen Sie diese Anleitung sorgfältig durch, um die Leistungs-fähigkeit dieses Geräts optimal nutzen zu können.
Grazie per aver acquistato un prodotto TEAC.
Leggere attentamente questo manuale per ottenere le migliori prestazioni da questo apparecchio.
Enhorabuena por la adquisición de un TEAC.
Lea detenidamente este manual a fin de obtener el mejor rendimiento de esta unidad.
---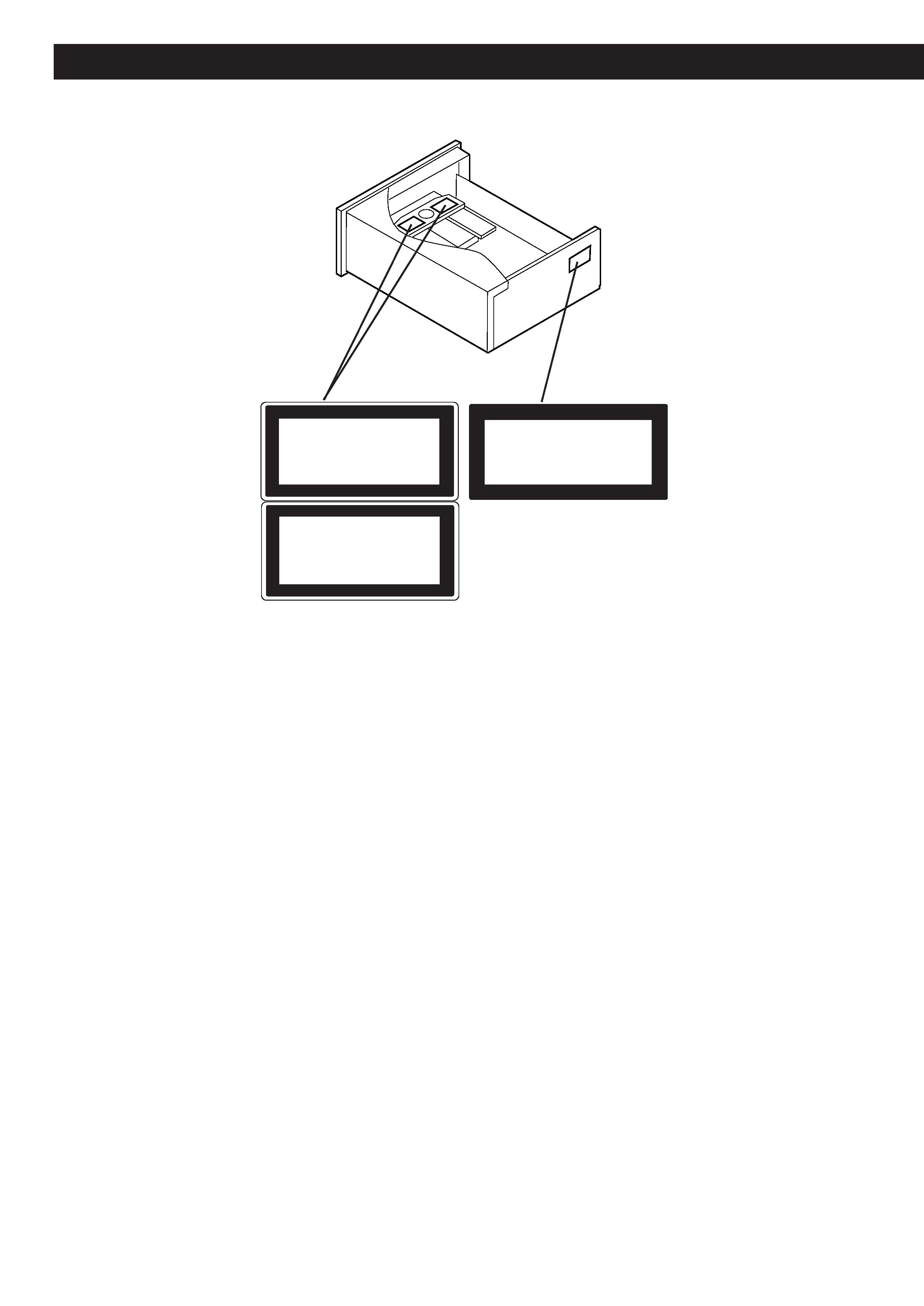 THIS LABEL IS ATTACHED TO THE PLACE AS ILLUSTRATED TO INFORM THAT
THE APPARATUS CONTAINS A LASER COMPONENT.
DIESE AUFKLEBEMARKE IST AN DEM IN DER ABBILDUNG GEZEIGTEN ORT
ANGEBRACHT UM DARAUF HINZUWEISEN, DASS IM INNERN DES GERÄTS EINE
LASER-KOMPONENTE BEFINDET.
PÅSKRIFTEN SITTER PÅ APPARATEN SOM VISAS SOM UPPMANING OM ATT
APPARATEN OMFATTAR EN INBYGGD LASERKOMPONENT.
DETTE MÆRKAT ER ANBRAGT SOM VIST I ILLUSTRATIONEN FOR AT ADVARE
BRUGEREN OM AT APPARATET INDEHOLDER EN LASERKOMPONENT.
DETTE MÆRKAT ER SOM VIST PÅ ILLUSTRATIONEN ANBRAGT PÅ INDERSIDEN
AF TOPDÆKSLET FOR AT ADVARE BRUGEREN OM AT YDERLIGERE
FREMTRÆNGEN VIL VÆRE FORBUNDET MED FARE FOR AT UDSÆTTE SIG FOR
ADVARSEL - BETJENING AF ANDRE KONTROLLER OG REGULATORER ELLER
BENYTTELES AF ANDRE FREMGANGSMÅDER END BESKREVET HERI ER FOR-
BUNDET MED FARE FOR UDSÆTTELSE FOR LASERSTRÅLING.
VARING: APPARATEN INNEHÅLLER LASER KOMPONENT MED STRÅLNING
"ADVARSEL: USYNLIG LASERSTRÅLING VED ÅBNING NAR SIKKERHEDSAFBRYDERE
ER UDE AF FUNKTION. UNDGÅ UDSAETTELSE FOR STRÅLING"
"VAROITUS! SUOJAKOTELOA EI SAA AVATA. LAITE SISÄLTÄÄ LASERDIODIN. JOKA
LÄHETTÄ (NÄKYMÄTÖNTÄ) SILMILLE VAARALLISTA LASERSÄTEILYÄ".
ADVARSEL: USYNLIG LASERBESTRÅLING NÅR DENNE DELEN ER ÅPEN OG
SIKKERHETSSPERREN ER UTKOBLET UNNGÅ UTSETTELSE FOR STRÅLING.
CAUTION - INVISIBLE LASER RADIATION WHEN OPEN AND
INTERLOCKS DEFEATED. AVOID EXPOSURE TO BEAM.
VORSICHT! UNSICHTBARE LASERSTRAHLUNGTRITT AUS.
WENN DECKEL GEÖFFNET UND WENN
SICHERHEITSVERRIEGELUNG ÜBERBRÜCKT IST.
NICHT DEM STRAHL AUSSETZEN !
VARNING - OSYNLIG LASERSTRÅLNING NÄR DENNA DEL
ÄR ÖPPNAD OCH SPÄRR ÄR URKOPPLAD.
ADVARSEL - USYNLIG LASERSTRÅLING VED ÅBNING, NÅR
SIKKERHEDSAFBRYDERE ER UDE AF FUNKTION.
UNDGÅ UDSÆTTELSE FOR STRÅLING.
SUOJAKOTELOA EI SAA AVATA. LAITE SISÄLTÄÄ
LASERDIODIN, JOKA LÄHETTÄÄ (NÄKYMÄTÖNTÄ)
SILMILLE VAARALLISTA LASERSÄTEILYÄ.
ADVARSEL - USYNLIG LASERBESTRÅLING NÅR DENNE DELEN ER
ÅPEN OG SIKKERHETSSPERREN ER UTKOBLET.
UNNGÅ UTSETTELSE FOR STRÅLING.
CAUTION <ACHTUNG <OBSERVERA <ADVARSEL
---

IMPORTANT (for U.K.Customers)
DO NOT cut off the mains plug from this equipment. If the plug
fitted is not suitable for the power points in your home or the cable
is too short to reach a power point, then obtain an appropriate
safety approved extension lead or consult your dealer.
If nonetheless the mains plug is cut off, remove the fuse and
dispose of the plug immediately, to avoid a possible shock hazard
by inadvertent connection to the mains supply.
If this product is not provided with a mains plug, or one has to be
fitted, then follow the instructions given below:
IMPORTANT. DO NOT make any connection to the larger terminal
which is marked with the letter E or by the safety earth symbol |
or coloured GREEN or GREEN-and-YELLOW.
The wires in the mains lead on this product are coloured in
accordance with the following code:
As these colours may not correspond with the coloured markings
identifying the terminals in your plug proceed as follows:
The wire which is coloured BLUE must be connected to the
terminal which is marked with the letter N or coloured BLACK.
The wire which is coloured BROWN must be connected to the
terminal which is marked with the letter L or coloured RED.
When replacing the fuse only a correctly rated approved type
should be used and be sure to re-fit the fuse cover.
IF IN DOUBT -- CONSULT A COMPETENT ELECTRICIAN.
The equipment draws nominal nonoperating power from the AC
outlet with its POWER switch in the STANDBY position.
Obs! nätströmställaren skiljer ej hela apparaten fran nätet.
---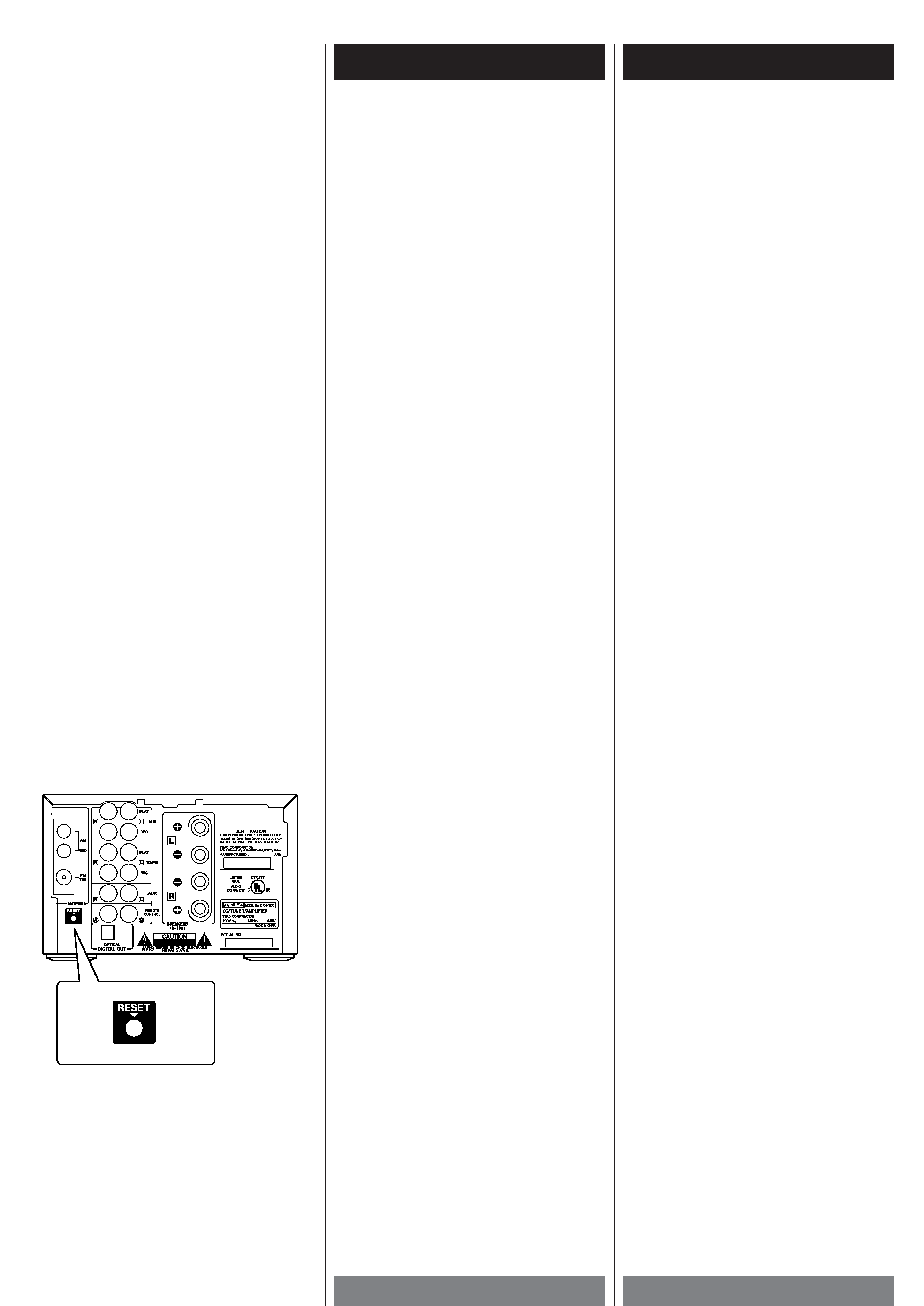 Read this before operation
< Place the amplifier on a hard flat surface.
< The ventilation holes should not be
covered. Make sure there is at least 50 cm
(20 inches) of space above and at least
10cm (4 inches) of space besides the
amplifier. Do not place MD player or other
equipment on top of the amplifier.
< Choose unit installation location carefully.
Avoid placing it in direct sunlight or close
to a source of heat. Also avoid locations
subject to vibrations and excessive dust,
heat, cold or moisture. Keep away from
sources that hum, such as transformers or
< Do not open the cabinet as this might
result in damage to the circuitry or
electrical shock. If a foreign object should
get into the set, contact your dealer.
< When removing the power plug from the
wall outlet, always pull directly on the
plug, never yank the cord.
< Do not attempt to clean the unit with
chemical solvents as this might damage
the finish. Use a clean, dry cloth.
< Keep this manual in a safe place for future
Lire ceci avant de faire fonctionner
< Placer l'amplificateur sur une surface
< Les trous de ventilation ne doivent pas
être couverts. S'assurer qu'il y a un
espace d'au moins 50 cm au dessus et
d'au moins 10 cm à côté de l'amplificateur.
Ne pas placer un lecteur MD ou un autre
appareil sur le dessus de l'amplificateur.
< Choisir avec soin l'endroit où vous
placerez votre appareil. Eviter de le placer
directement au soleil ou près d'une
source de chaleur. Eviter aussi les
endroits sujets à des vibrations, à de la
poussière excessive, à la chaleur, au froid
ou à l'humidité. Toujours le garder éloigné
de sources de bourdonnements telles que
des transformateurs ou moteurs.
< Ne pas ouvrir le coffret car ceci risquerait
de provoquer des dommages aux circuits
ou des chocs électriques. Si un objet
rentre dans l'appareil, contacter votre
< Lors du débranchement du cordon
d'alimentation de la prise murale, toujours
tirer sur la fiche et non sur le cordon.
< Ne pas essayer de nettoyer l'appareil
avec des solvants chimiques car ceci
pourrait endommager le fini de l'appareil.
Utiliser un chiffon propre et sec.
< Garder soigneusement ce manuel
d'instructions pour une référence
In the following cases, function buttons may
1) When the system is damaged by some
2) When the power is irregular or has
In these cases, press the RESET switch once
or twice with a pencil or a ball-point pen
*If you press this RESET switch, all the
memories will be erased. In this case, please
Dans les cas suivants, les boutons de
fonctions peuvent ne pas fonctionner
1) Quand le système est endommagé par un
2) Quand l'alimentation est irrégulière ou
Dans ces cas, appuyer la touche RESET une
ou deux fois avec un crayon ou un stylo.
The typical period for which the preset
memory can be backed up while the power
cord is unplugged or the POWER button is
set to the STANDBY position is about 4
weeks subject to the surrounding
environment. In case of long hours of
power failure or slipping out of the power
cord, the data may be cleared.
Quand l'appareil n'est plus alimenté
(débranché ou bouton POWER à STANDBY),
la mémoire(PRESET STATIONS) interne
conserve ses informations pendant environ
4 semaines, selon les circonstances. En
cas de panne prolongée ou si le cordon est
accidentellement débranché, les données
---

Antes de poner el equipo en
Lea estas instrucciones antes de poner el
< Coloque el amplificador sobre una
< Los orificios de ventilación no deben
taparse. Compruebe que quedan al menos
50 cm (20 pulg.) de espacio libre por
encima del amplificador y al menos 10 cm
(4 pulg.) en torno a él. No coloque el
reproductor de MD ni otros equipos
< Escoja cuidadosamente el lugar donde va
a instalar el equipo. Evite colocarlo en un
lugar expuesto a la luz solar directa o
próximo a una fuente de calor. Evite
también lugares expuestos a vibraciones y
a una cantidad excesiva de polvo, calor,
frío o humedad. Mantenga el equipo
alejado de fuentes que produzcan
zumbidos, como transformadores o
< No abra la caja, pues podrían producirse
desperfectos en los circuitos o descargas
eléctricas. Si en el equipo se introdujese
algún tipo de materia extraña, póngase en
contacto con el distribuidor.
< Al retirar el conector del cable de
alimentación de la toma de corriente, tire
siempre directamente del conector; nunca
< No limpie el equipo con disolventes
químicos, pues podría dañar el acabado.
Emplee un paño limpio y seco.
< Guarde este manual en un lugar seguro
Los botones de las funciones pueden no
responder correctamente en los siguientes
1) Cuando alguna descarga eléctrica haya
2) Cuando la corriente sea irregular o
experimente perturbaciones eléctricas.
En estos casos, pulse ligeramente una o dos
veces el interruptor RESET con un lápiz o
*Al pulsar este interruptor RESET se borran
todas las memorias. En ese caso, preajuste
Conservación de la memoria
El período habitual durante el cual puede
mantenerse la memoria preajustada con el
cable de alimentación desconectado o con
el botón POWER ajustado en la posición
STANDBY es de unas cuatro semanas, en
función de las condiciones existentes. Si
no hay corriente, o el cable de
alimentación permanece desconectado,
durante muchas horas, los datos pueden
Si prega di leggere prima di porre in funzione
< Appoggiare l'amplificatore su una
superficie dura e in piano.
< Non coprire le aperture di ventilazione.
Accertarsi di lasciare uno spazio di
almeno 50 cm sopra l'amplificatore e di
almeno 10cm ai lati. Non porre il lettore
per MD o altri apparecchi sopra
< Scegliere con attenzione la posizione in
cui installare l'amplificatore. Evitare di
collocarlo esposto alla luce diretta del sole
o in prossimità di una sorgente di calore.
Evitare anche posizioni soggette a
vibrazione o livelli eccessivi di polvere,
calore, freddo od umidità. Tenere lontano
da sorgenti di ronzio quali trasformatori o
< Non aprire l'armadietto, altrimenti si
rischia di danneggiare i circuiti o di
prendere una scossa elettrica. Se un
corpo estraneo penetra nell'apparecchio,
rivolgersi al rivenditore.
< Nel togliere la spina dalla presa a muro,
tirare dalla spina stessa, non dal cavo.
< Non cercare di pulire l'unità usando
solventi chimici, altrimenti si danneggia il
rivestimento di finitura. Usare invece un
< Conservare questo manuale in un luogo
Nei casi seguenti i tasti di funzione
potrebbero non funzionare correttamente.
1) Quando il sistema ha subito danni a causa
2) Quando la corrente erogata è irregolare o
contiene disturbo elettrico.
In tutti questi casi, premere l'interruttore
RESET una o due volte, usando la punta di
una matita o di una penna a sfera e facendo
*Se premete questo interruttore RESET
l'intera memoria viene cancellata. In questo
Il periodo di tempo tipico per cui è
possibile fare il backup della memoria
preimpostata mentre l'unità è staccata
dalla presa di corrente oppure il tasto
POWER è sulla posizione STANDBY è pari
a circa 4 settimane, salvo l'ambiente di
installazione. Nell'eventualità di lunghi
blackout elettrici o di disinserimento del
cavo elettrico, i dati potranno andare
Lesen Sie dies vor der Benutzung
< Stellen Sie den Verstärker auf eine solide,
< Die Lüftungslöcher dürfen nicht abgedeckt
werden. Stellen Sie sicher, daß über dem
Verstärker wenigstens 50 cm und an den
Seiten mindestens 10 cm Platz ist. Stellen
Sie den MD-Player oder andere Geräte
nicht auf den Verstärker.
< Wählen Sie den Aufstellungsort des
Geräts sorgfältig aus. Stellen Sie das Gerät
nicht an einem Ort auf, an dem es direkter
Sonneneinstrahlung ausgesetzt ist oder
von einer Wärmequelle beeinflußt wird.
Halten Sie das Gerät von Störungsquellen
wie z.B. Transformatoren oder Motoren
< Öffnen Sie das Gehäuse nicht, da dies zu
Schäden an der Elektronik führen kann
und die Gefahr des elektrischen Schlages
besteht. Kontaktieren Sie Ihren Händler,
wenn ein Fremdkörper in das Gerät
< Ziehen Sie immer direkt am Stecker, nie
am Kabel, wenn Sie den Netzstecker aus
der Steckdose ziehen wollen.
< Versuchen Sie nicht , das Gerät mit
chemischen Lösungsmitteln zu reinigen,
da dies zu einer Beschädigung der
Oberfläche führen könnte. Benutzen Sie
ein sauberes, trockenes Tuch.
< Bewahren Sie dieses Handbuch für
zukünftige Zwecke an einem sichern Platz
In den folgenden Fällen kann es sein , daß
Funktionstasten nicht einwandfrei
1) Wenn das System durch einen
elektrischen Spannungsstoß beschädigt
2) Wenn die Stromversorgung schwankt oder
elektrische Störfrequenzen enthält.
Betätigen Sie in diesen Fällen ein- oder
zweimal den RESET-Schalter vorsichtig mit
einem Bleistift oder einem Kugelschreiber.
*Wenn Sie den RESET-Schalter betätigen,
werden alle Speicher gelöscht. In einem
solchen Fall müssen Sie die Sender neu
Der typische Zeitraum, für den der
Speicher gesichert werden kann, während
das Stromkabel aus der Steckdose
gezogen ist oder die POWER-Taste auf
Umgebungsbedingungen etwa 4 Wochen.
Herausrutschen des Stromkabels können
die Informationen verlorengehen.
---