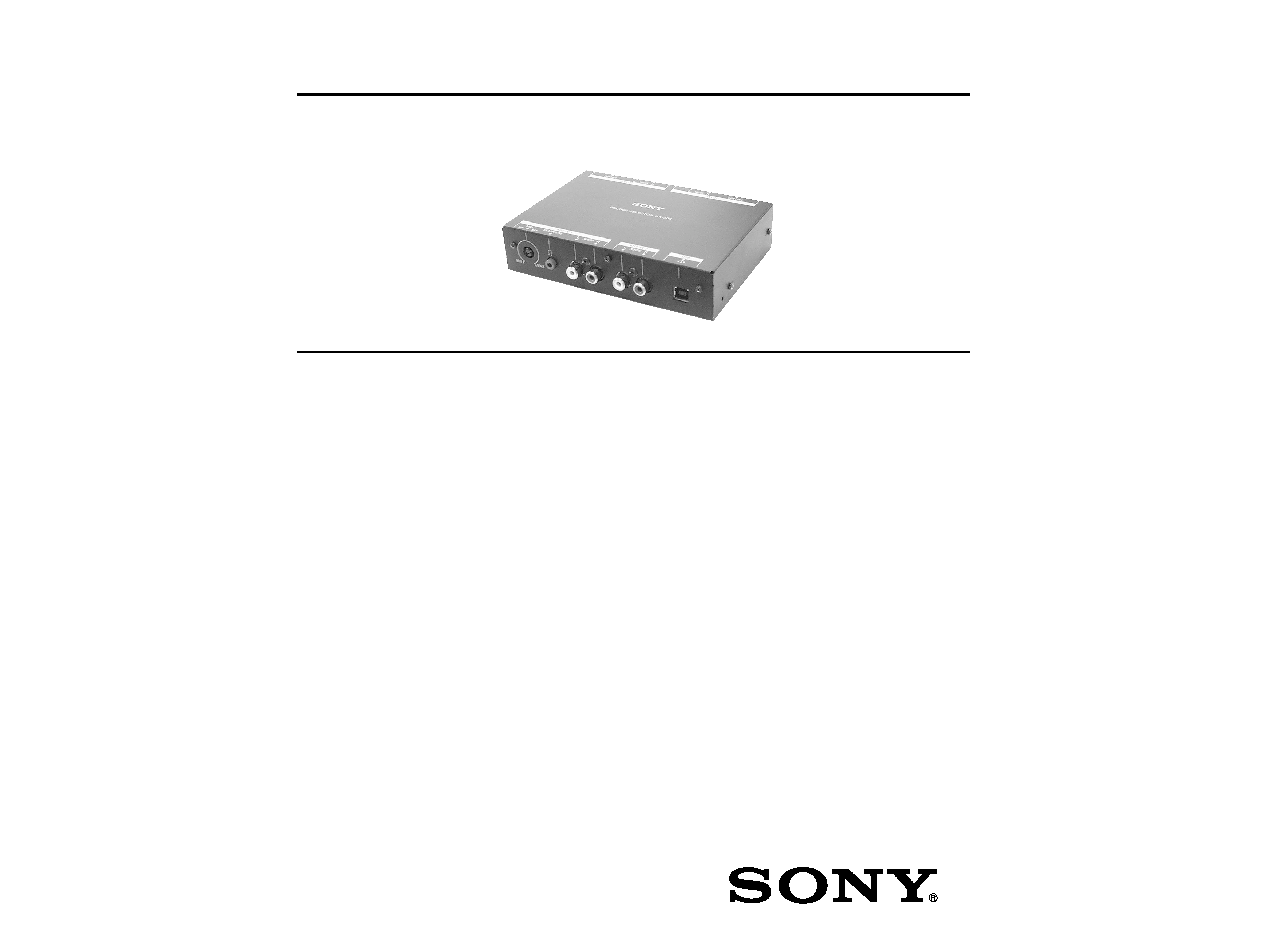 Published by Sony Engineering Corporation
Operating temperature ­10
Approx. 470 g (1 lb 16 oz.)
Design and specifications are subject to change
The XA-300 is an external selector for connecting
a Sony BUS system-compatible CD/MD device
or a non-compatible portable device (such as a
DVD player, MD Walkman, or laptop computer)
to a Sony BUS system-compatible master unit.
Enjoy the sound of portable media in your car.
WALKMAN is trademark of Sony Corporation.
---

SERVICING NOTES
................................................ 2
GENERAL
................................................................... 3
3-1. Note for Printed Wiring Board and
Schematic Diagram .........................................................
3-2. Printed Wiring Board ......................................................
3-3. Schematic Diagram .........................................................
3-4. IC Pin Function Description ...........................................
EXPLODED VIEW
................................................... 7
ELECTRICAL PARTS LIST
............................... 8
Notes on chip component replacement
· Never reuse a disconnected chip component.
· Notice that the minus side of a tantalum capacitor may be dam-
This set is controled by master unit with serial communication.
Therefore, to operate this set, connect master unit as shown below.
This set can be connected via its USB connector to a parsonal
· Compatible operating systems
­ Windows
®
98 Second Edition/
Windows
®
Me/Windows
®
2000
(Windows
®
2000 recommended)
(Mac OS 9.0 or later recommended)
---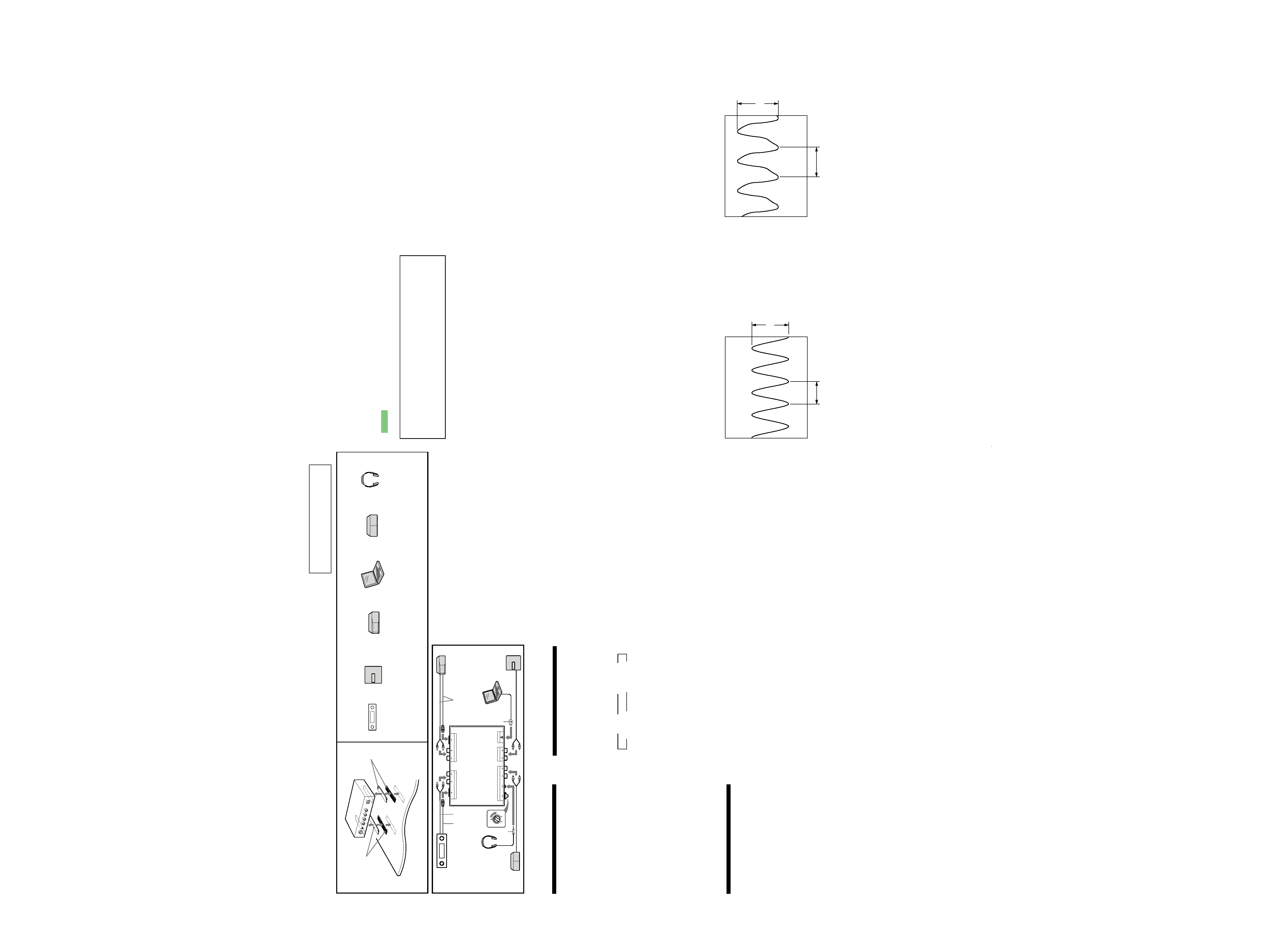 NOTE FOR PRINTED WIRING BOARD AND SCHEMATIC DIAGRAM
Place the unit under the passenger
·Choose the installation location carefully so
that the unit does not interfere with normal
·Avoid installing the unit where it would be
--high temperatures, such as from direct
sunlight or hot air from the heater.
--draft, rain or moisture.
·Use only the supplied mounting hardware for
a safe and secure installation.
If you have any questions or problems
concerning your unit that are not covered in
this manual, please consult your nearest Sony
Stick one piece of the Velcro tape provided to
the bottom of the unit and the other to the
surface of the car where you want to place it
(such as the carpet underneath the passenger
seat) in order to hold the unit in position.
After removing the dust and dirt from the
surface of Velcro tapes, stick them together.
1 You can connect the source selector (XA-
C30, etc.) compatible with the Sony BUS
For details, refer to the user's manual for the
source selector you are using.
2 Supplied with the CD/MD changer
3 Volume control for headphones connected
· Compatible operating systems
­Windows
®
98 Second Edition/
Windows
®
Me/Windows
®
2000
(Windows
®
2000 recommended)
(Mac OS 9.0 or later recommended)
Depending on the device to be connected, you
might need to buy a different connector cord.
For further details, read the operating manual of
the device to be connected or ask your local
To select a device connected to the
1Press (SOURCE) repeatedly until "CD" is
2Press (MODE) repeatedly until the device
you want to listen to is selected.
Example: Master unit display window
When you select a Sony BUS system-
compatible device, it will automatically start
3 Start playing the device selected in 2.
For the playback method of the selected device,
refer to its operating manual.
4 Adjust the volume of the master unit and
· Follow the steps below to play the audio file of
the computer connected to the USB jack of this
1 Press the MODE button of the master
2 Open the playback software (Windows
Media Player, etc.) on your computer.
3 Play the audio file (MP3,etc.).
After playing the audio file on the computer, if
you select "USB" mode on the display of the
master unit, this unit may not recognize the
signal and sound may not come out.
· As the volume settings of each connected
device may differ, adjust the volume on each
device separately. As the sound output differs
on AUX IN 1 and AUX IN 2, connect the Sony
car audio DVD changer to AUX IN 1, and
connect a portable device (such as MD
WALKMAN, etc.) to AUX IN 2.
· While playing audio file in a device connected
to AUX IN 1, AUX IN 2, or the USB jack on this
unit, do not change any settings of the CD
CUSTOM FILE function. If trouble occurs, press
the SOURCE button again on the master unit
to select the device you want.
Note on Printed Wiring Board:
· X : parts extracted from the component side.
: Pattern from the side which enables seeing.
(The other layers' patterns are not indicated.)
Parts on the pattern face side seen from
the pattern face are indicated.
Parts on the parts face side seen from
(Component Side) the parts face are indicated.
Note on Schematic Diagram:
· All capacitors are in µF unless otherwise noted. pF: µµF
50 WV or less are not indicated except for electrolytics
· All resistors are in and
1
/
4
W or less unless otherwise
· H : adjustment for repair.
·Power voltage is dc 14.4V and fed with regulated dc power
·Voltages and waveforms are dc with respect to ground
under the condition that master unit is connected.
·Voltages are taken with a VOM (Input impedance 10 M).
Voltage variations may be noted due to normal produc-
·Waveforms are taken with a oscilloscope.
Voltage variations may be noted due to normal produc-
· Circled numbers refer to waveforms.
This section is extracted from
Equipment used in illustrations (not supplied)/Equipements utilisés dans les illustrations (non fournis)/Apparecchiature utilizzate nelle illustrazioni (non in
dotazione)/In den Abbildungen gezeigte Komponenten (nicht mitgeliefert)/Geïllustreerde apparatuur (niet meegeleverd)/Equipmento utilizado nas ilustrações
(não fornecido)/µ µ ( )/Utrustning som används i illustrationerna (medföljer inte)/Equipo utilizado
en las ilustraciones (no suministrado)
MD Walkman eller liknande
DVD-spelare eller liknande
---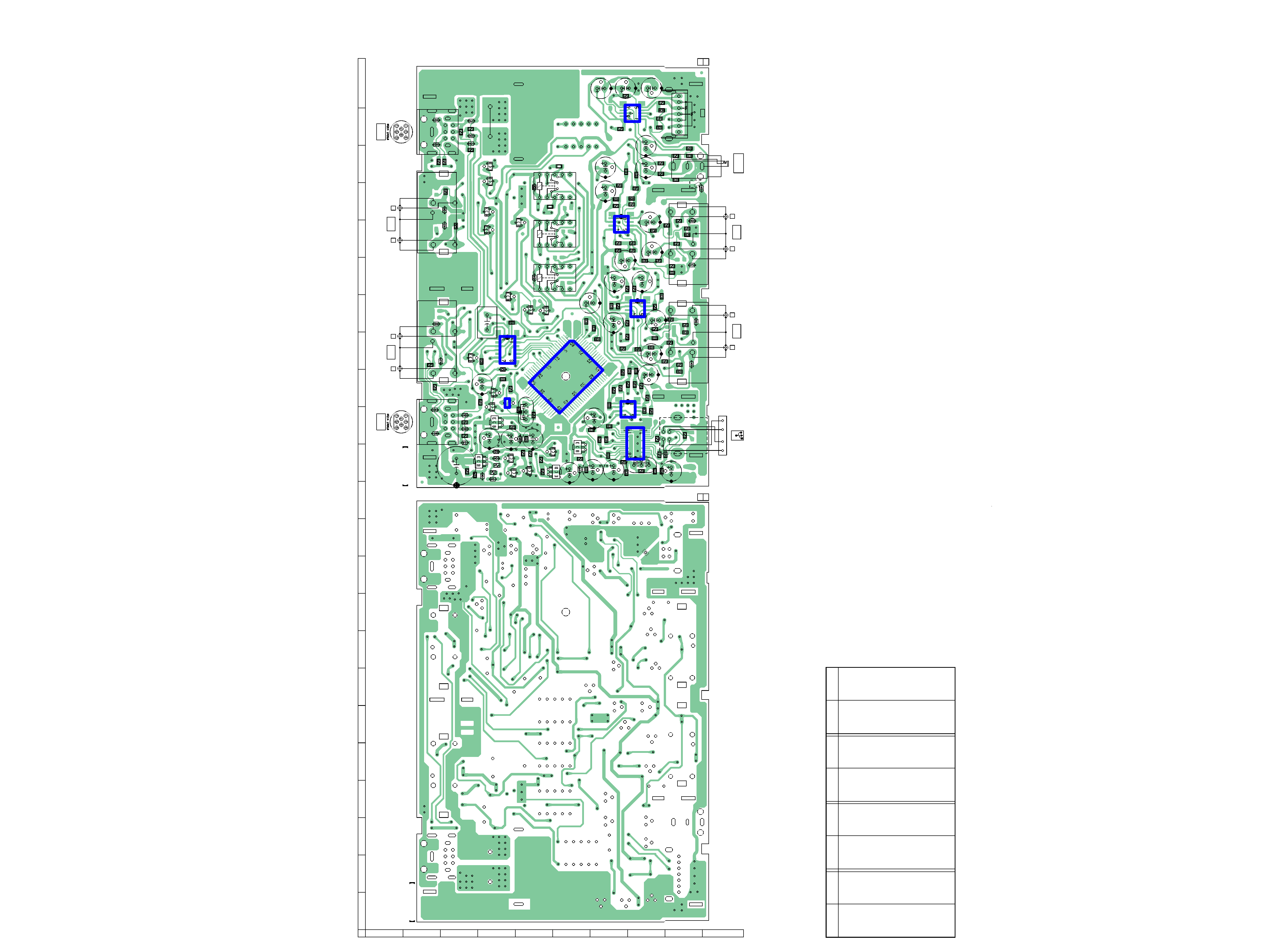 MAIN BOARD
(COMPONENT SIDE)
---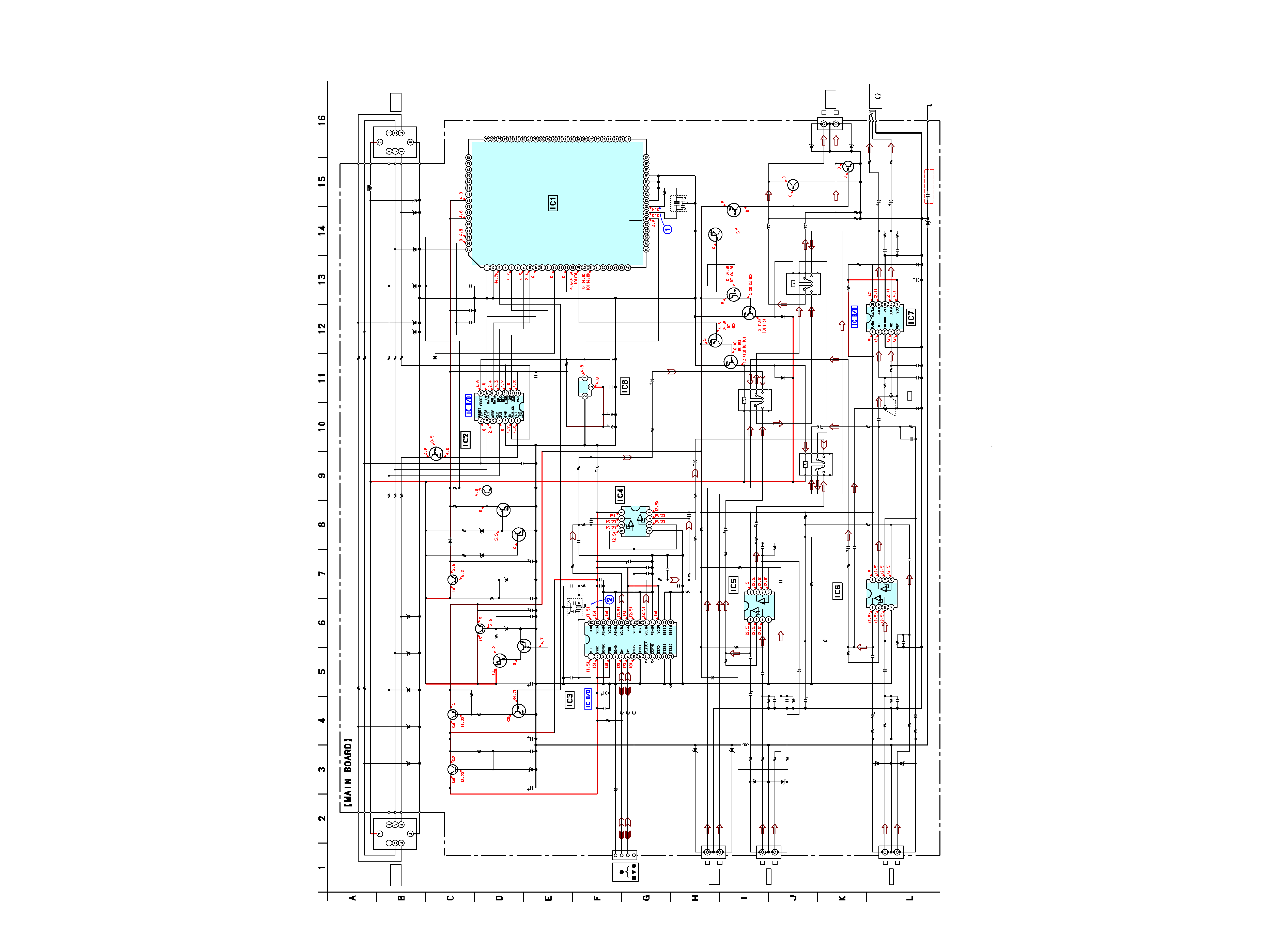 SCHEMATIC DIAGRAM ·
See page 3 for Waveforms.
·
See page 6 for IC Block Diagram.
---