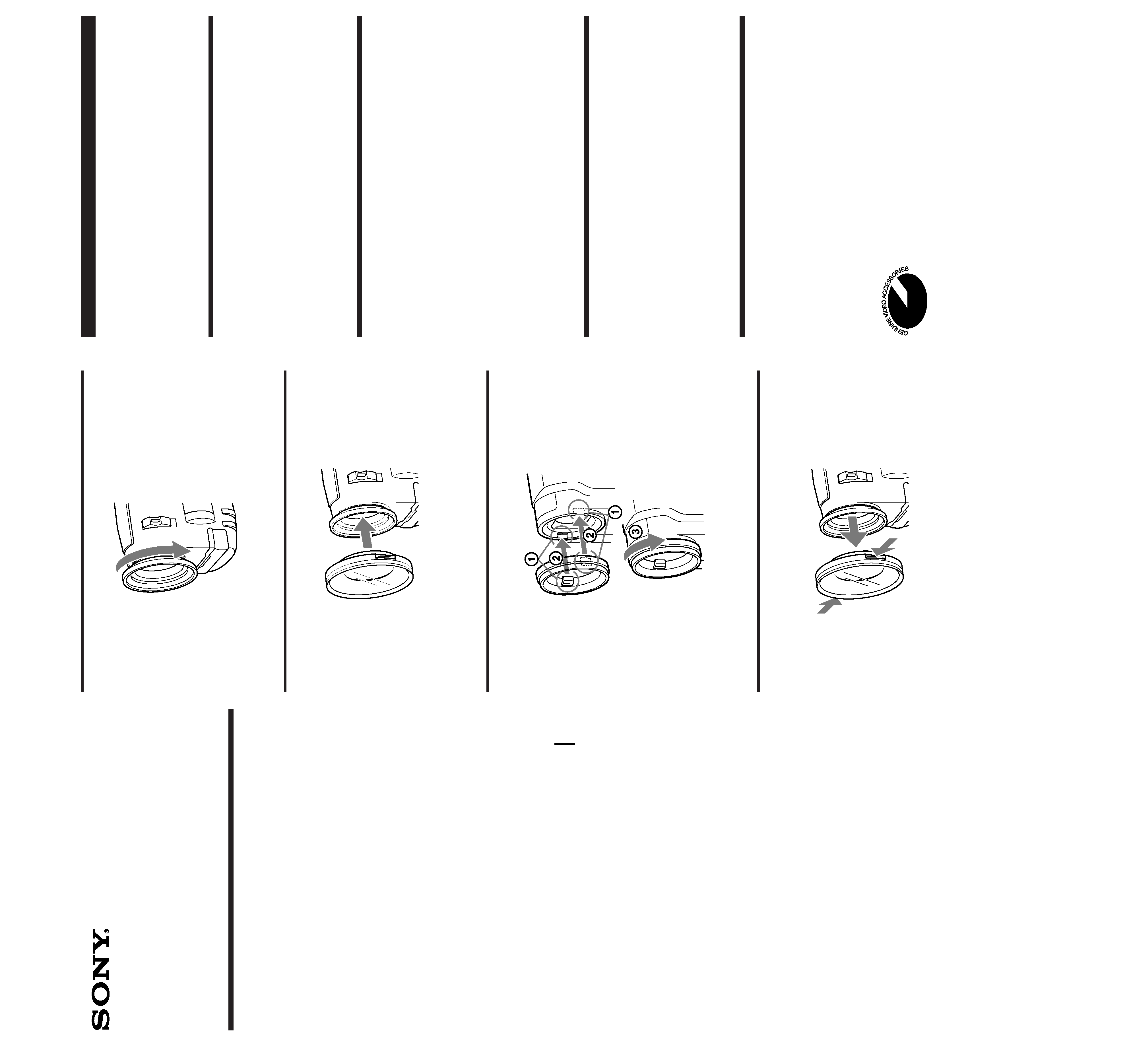 © 1997 by Sony Corporation
Printed in Japan
Before using this lens, please read this manual thoroughly and retain it for
The Sony VCL-ES06 wide-conversion lense is designed for use with the
Sony video camera recorder. The lens increases the focal length of the zoom
lens by 0.6 times and allows a wider view.
Attachment of this lens to the video camera recorder has no effect on light
transmission nor on the sharpness of focus.
· Set the video camera to W (maximum width/widest point). This lens can
only be used when set to W (widest). It will be out of focus if set to T
· Avoid rough handling or mechanical shock to the video camera recorder,
especially when the lens is attached.
· Avoid keeping the lens in a very humid place for a long period of time to
· Take the conversion lens off when transporting.
· Always attach the lens cap when storing.
Attachment
(See illustrations)
The size is marked on the accessory adapter.
When the lens hood of the video camera recorder is detachable, first remove
1
Remove the caps of wide-conversion lens.
2
Install an adapter marked with the same size as the lens.
3
Attach the wide-conversion lens firmly to the lens of the video camera
When using the CCD-TRV101 or MVC-FD7 n 3
Install the adapter marked "101 TYPE".
1
Line up the adapter clip with grooves in both ends of the lens and push
Remove the lens ring and install the adapter marked "38.5 mm".
· Focus with the video camera recorder's focus ring by watching the
· Use manual focus if it proves difficult to focus some video cameras
having an auto focus function.
To remove dust on the lens, use a blower brush or a soft cleaning brush.
To remove fingerprints or smudges, clean with mild detergent and a soft
An optional Sony KK-P15 is also recommended.
Maximum diameter Approx. ø 75, Length Approx. 20.5 mm
Mass (excluding the caps)
Lens caps (2) (for the front and back of the lens), Carrying case (1), Operation
manual (1), Adaptor (4 : 37 mm, 52 mm, 38.5 mm, 101 TYPE)
Design and specifications are subject to change without notice.
This mark indicates that this product is a genuine accessory for
Sony video products. When purchasing Sony video products,
Sony recommends that you purchase accessories with this
"GENUINE VIDEO ACCESSORIES" mark.
---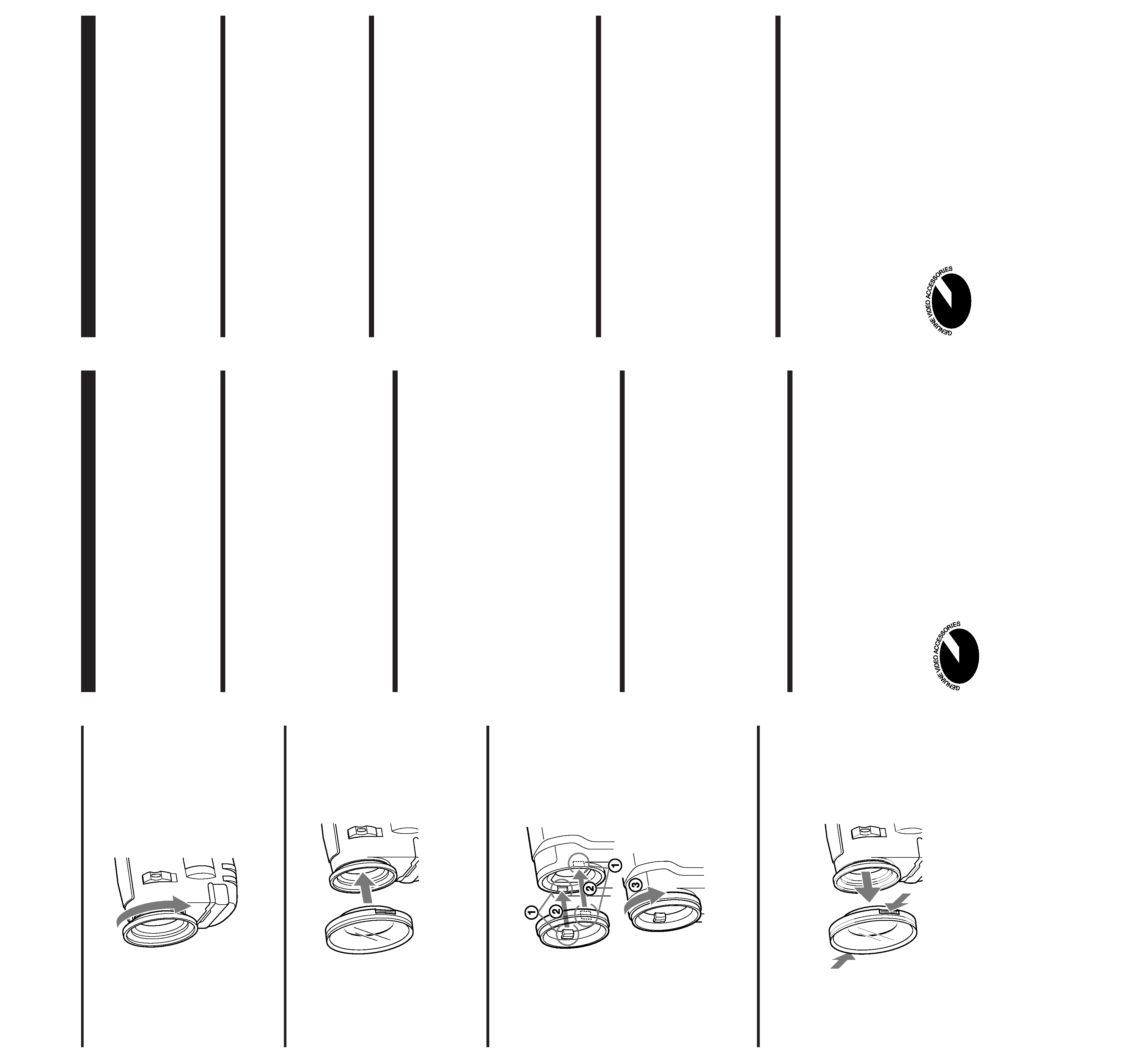 Avant d'utiliser cet objectif, veuillez lire attentivement ce mode d'emploi et
le conserver pour toute référence ultérieure.
L'objectif de conversion grand-angle Sony VCL-ES06 o été conçu pour les
L'objectif augmente la longueur focale du zoom de 0,6 fois et permet
également d'élargir l'angle de champ.
Le fait de fixer cet objectif sur le camescope n'a aucun effet sur la
transmission de la lumière, ni sur la mise au point.
Remarques sur l'utilisation
· Réglez le camescope sur W (angle de champ maximal/position grand
angle). Cet objectif peut être utilisé seulement avec le réglage effectué sur
W (angle de champ maximal). La mise au point ne sera pas correcte si le
réglage est effectué sur T (téléobjectif).
· Evitez d'exposer le camescope à des manipulation brusques ou des chocs
mécaniques, en particulier lorsque l'objectif est en place.
· Evitez de laisser l'objectif pendant longtemps dans des endroits très
humide pour éviter les moisissures.
· Avant de transporter le camescope, enlevez l'objectif de conversion.
· Laissez toujours les capuchons d'objectif en place quand vous n'utilisez
Fixation
(voir les illustrations)
Le format est inscrit sur l'adaptateur d'accessoire. Si le pare-soleil du
camescope est amovible, ôtez-le d'abord. n 1
1
Otez les capuchons de l'objectif de conversion grand angle.
2
Installez un adaptateur dont le format est le même que celui de l'objectif.
3
Fixez fermement l'objectif de conversion grand angle sur l'objectif du
Quand vous utilisez le CCD-TRV101 ou MVC-FD7 n 3
Installez l'adaptateur portant l'inscription "101 TYPE".
1
Alignez la pince de l'adaptateur avec les fentes de chaque côté de
2
Faites tourner l'adaptateur vers "LOCK".
Quand vous utilisez le CCD-TR555
Retirez la bague de l'objectif et installez l'adaptateur portant l'inscription
· Faites la mise au point avec la bague de mise au point du camescope en
regardant dans le viseur ou sur l'écran du téléviseur.
· Faites la mise au point manuelle si vous n'arrivez pas à faire la mise au
point sur certains camescopes avec autofocus.
Pour dépoussiérer l'objectif, utilisez un pinceau soufflant ou une brosse
Les traces de doigt et les taches rebelles s'enlèvent avec un chiffon doux
imbibé d'une solution savonneuse neutre.
La trousse de nettoyage Sony KK-P15 est aussi recommandée.
Diamètre maximal: Env. ø 75, Longueur: Env. 20,5 mm
Poids (sans les capuchons)
Capuchons (2) (pour l'avant et l'arrière de l'objectif), étui de transport (1),
mode d'emploi (1), adapteurs (4 : 37 mm, 52 mm, 38,5 mm, 101 TYPE)
La conception et les spécifications peuvent être modifiées sans préavis.
GENUINE VIDEO ACCESSORIES
Ce logo indique qu'il s'agit d'un accessoire d'origine pour le
matériel vidéo Sony. Lorsque vous achetez des produits vidéo
Sony, Sony vous conseille de vous procurer les accessoires
portant aussi ce logo "GENUINE VIDEO ACCESSORIES".
Antes de utilizar este objetivo, lea cuidadosamente el manual y consérvelo
para futuras referencias.
El objetivo para conversión para gran angular VCL-ES06 ha sido diseñado
para utilizarse con una videocámara Sony.
El objetivo aumnta la distancia focal del objetivo zoom 0,6 veces y permite
La instalación de este objetivo en la videocámara no tendrá efecto en la
transmisión de la luz ni en la nitidez del enfoque.
Notas sobre la utilización
· Ajuste la videocamara a W (punto de visión amplia/máxima). Este
objetivo solamente podrá utilizarse en W (vista más amplia). Si la
ajustase a T (vista telescópica), quedaría desenfocada.
· Evite manejar con rudeza la videocámara, y golpearla, especialmente
cuando le instale el objetivo.
· Evite guardar el objetivo en un lugar muy húmedo durante mucho
tiempo a fin de evitar el moho.
· Antes de transportar la videocámara, quítele el objetivo de conversión.
· Antes de guardar el objetivo, colóquele las tapas.
Instalación
(Consulte las ilustraciones)
El tamaño está marcado en el adaptador para accesorios.
Cuando el parasol de la videocámara sea desmontable, quítelo en primer
1
Quite las tapas del objetivo de conversión para gran angular.
2
Instale un adaptador marcado con el mismo tamaño que el del objetivo.
3
Instale firmemente el objetivo de conversión para gran angular al
objetivo de la videocámara. n 2
Cuando utilice una CCD-TRV101 o MVC-FD7 n 3
Instale el adaptador marcado con "101 TYPE".
1
Alinee la presilla del adaptador con las ranuras de ambos extremos del
objetivo y empuje hacia adentro.
Cuando utilice una CCD-TR555
Extraiga el anillo del objetivo e instale el adaptador marcado con "38.5 mm".
· Enfoque con el anillo de enfoque de la videocámara observando el visor o
la pantalla de televisión.
· Si es difícil enfocar con algunas videocámaras con función de enfoque
automático, utilice el enfoque manual.
Para limpiar el polvo del objetivo, utilice un cepillo soplador o un cepillo
Para eliminar las huellas dactilares o las manchas, utilice un paño suave
humedecido en una solución poco concentrada de detergente.
Se recomienda utilizar también un juego de limpieza KK-P15 Sony
Diámetro máximo aprox. ø 75, Longitud aprox. 20,5 mm
Masa (excluyendo las tapas)
Tapas para objetivo (2) (para las partes frontal y posterior del objetivo), Funda de
transporte (1), Manual de instrucciones (1), Adaptadores (4 : 37 mm, 52 mm,
El diseño y las especificaciones están sujetos a cambio sin previo aviso.
Esta marca indica que este producto es un accesorio genuino
para productos de vídeo Sony. Cuando adquiera productos de
vídeo Sony, Sony recomienda que adquiera los que lleven la
marca "GENUINE VIDEO ACCESORIES".
Quand vous enlevez l'objectif
---