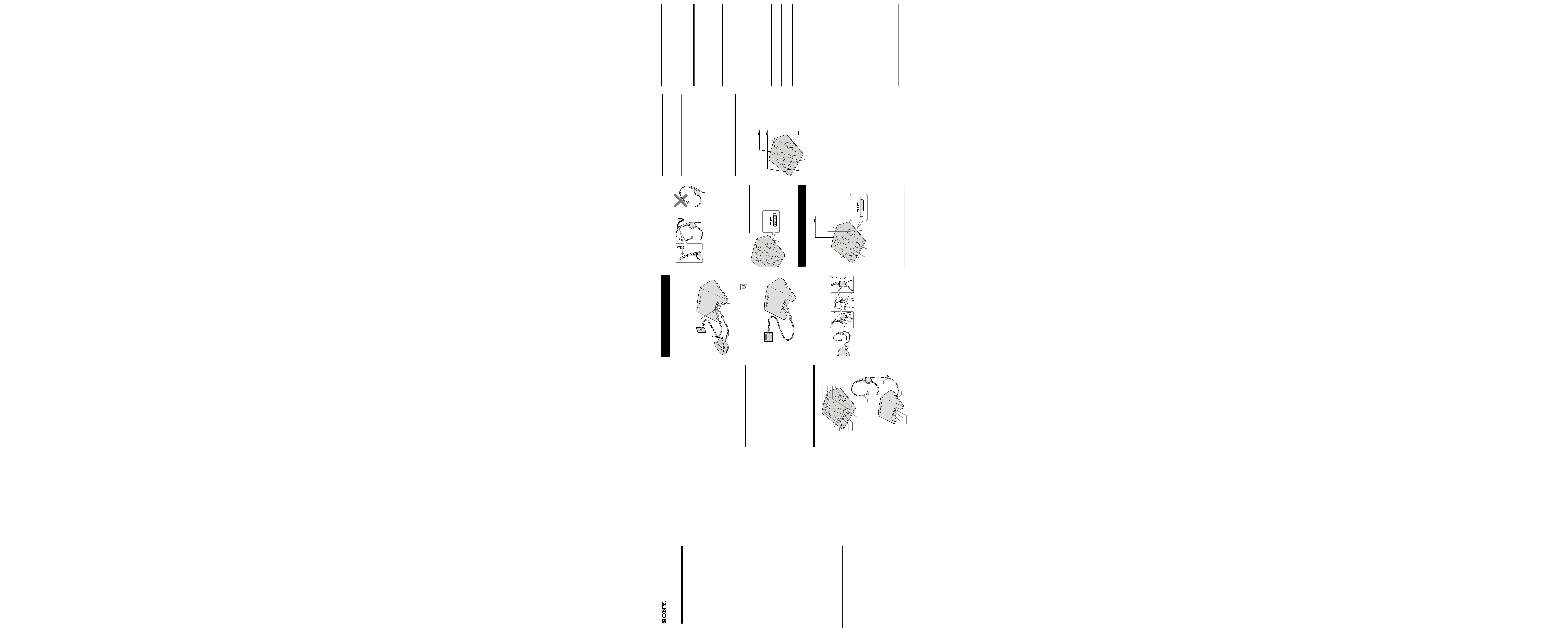 · Make sure the telephone line cord is
securely connected to the telephone outlet.
· Make sure the dial mode setting (tone or
· Set the RINGER LEVEL switch to H or L.
· Make sure the number (including the tone
digits, if used) you last dialed does not
exceed 31 digits for tone dialing or 32 digits
· Make sure the last dialed number is really
the one you want to dial.
· Make sure you follow the procedure in
storing the number correctly.
· You pressed the number button to which
no phone number has been stored.
· Make sure the number (including the tone
and pause digits, if used) you last dialed is
less than 15 digits for tone dialing or 16
digits for pulse dialing .
· Make sure there is a phone number
correctly stored in the speed dialing.
· Store the desired phone number once more.
· Wipe the tip of the headset cord plug and
You can dial with a touch of a few buttons by storing a phone number on a
dialing button. You can store up to 10 different phone numbers.
5
Press one of the dialing
And the number is stored.
· If you enter a wrong number, start from the beginning.
· Use the supplied directory to write down what you stored on the speed dialing
To store a number to be dialed via Private Branch
Before entering a phone number in step 3, do as follows:
1
Enter the outside line access digit (e.g. 9).
To change a stored number
Store a new number as described above, and the old number will erased.
Making calls with speed dialing
3
Enter the desired speed dialing number ((0) to (9)).
The phone number stored in the speed dialing number will be
If this unit is disconnected from the line for 10 minutes or more, the stored speed
dialing data is deleted from the memory.
Manual de instrucciones (verso)
Sony Corporation © 2001 Printed in China
For the customers in the USA
Be sure to save the receipt and attach it to your WARRANTY card
when having your equipment repaired at an authorized Sony
The model and the serial numbers are located at the bottom of the
unit. Record the serial number in the space provided below. Refer
to these numbers whenever you call upon your Sony dealer
For the customers in the USA
When using your telephone equipment, basic safety precautions
should always be followed to reduce the risk of fire, electric shock
and injury to persons, including the following:
1. Do not use this product near water, for example, near a bath
tub, wash bowl, kitchen sink, or laundry tub, in a wet
basement, or near a swimming pool.
2. Avoid using a telephone (other than a cordless type) during an
electrical storm. There may be a remote risk of electric shock
3. Do not use the telephone to report a gas leak in the vicinity of
4. Use only the power cord and batteries indicated in this manual.
Do not dispose of batteries in a fire. They may explode. Check
with local codes for possible special disposal instructions.
1. This equipment complies with Part 15 and Part 68 of the FCC
rules for the United States. On the bottom of this equipment is a
label that contains, among other information, the FCC
certification number and ringer equivalence number (REN) for
this equipment. If requested, this information must be provided
to the telephone company.
2. This equipment connect to nationwide telephone network
through a modular telephone jack which applicable certification
jack (connector) is USOC-RJ11C.
3. The FCC compliant telephone cord and modular plug is
provided with this equipment. This equipment is designed to
be connected to the telephone network or premises wiring
using a compatible modular jack that is part 68 compliant.
4. The REN is used to determine the quantity of devices which
may be connected to the telephone line. Excessive RENs on the
telephone line may result in the devices not ringing in response
to an incoming call. In most, but not all areas, the sum of the
REN's should not exceed five (5.0). To be certain of the number
of devices that may be connected to a line, as determined by the
total RENs, contact the local telephone company.
5. If this equipment (TL-HP90) causes harm to the telephone
network, the telephone company will notify you in advance
that temporary discontinuance of service may be required. But
if advance notice isn't practical, the telephone company will
notify the customer as soon as possible. Also, you will be
advised of your right to file a complaint with the FCC if you
6. The telephone company may make changes to it's facilities,
equipment, operations or procedures that could affect the
operation of the equipment. If this happens the telephone
company will provide advance notice so you can make the
necessary modifications to maintain uninterrupted service.
7. If trouble is experienced with this equipment (TL-HP90), for
repair or warranty information, please contact Sony Direct
Response Center: Tel 1-800-222-7669. If the equipment is
causing harm to the telephone network, the telephone company
may request that you disconnect the equipment until the
8. All repairs will be performed by an authorized Sony service
9. This equipment may not be used on coin service provided by
the Phone Company or Party Lines.
When programming emergency numbers and (or) making test calls
1. Remain on the line and briefly explain to the dispatcher the
2. Perform such activities in the off-peak hours, such as early
morning or late evenings.
Operation is subject to the following two conditions: (1)This device
may not cause interference, and (2)This device must accept any
interference, including interference that may cause undesired
You are cautioned that any changes or modifications not expressly
approved in this manual could void your authority to operate this
Privacy of communications may not be ensured when using this
This equipment has been tested and found to comply with the
limits for a Class B digital device, pursuant to Part 15 of the FCC
Rules. These limits are designed to provide reasonable protection
against harmful interference in a residential installation. This
equipment generates, uses and can radiate radio frequency energy
and, if not installed and used in accordance with the instructions,
may cause harmful interference to radio communications.
However, there is no guarantee that interference will not occur in a
particular installation. If this equipment does cause harmful
interference to radio or television reception, which can be
determined by turning the equipment off and on, the user is
encouraged to try to correct the interference by one or more of the
­ Reorient or relocate the receiving antenna.
­ Increase the separation between the equipment and receiver.
­ Connect the equipment into an outlet on a circuit different
from that to which the receiver is connected.
­ Consult the dealer or an experienced radio/TV technician for
· Audio Integrated Capability; You can be listening to audio source
through headset with this unit.
And also you can switch from the audio source to the telephone call, after
when pressing the TALK button for the phone ringing.
· This unit is consisted of the ten memories of speed dialing and the
functions for holding and redailing.
· The supplied lightweight headset allows you to wear it for a long time.
And the supplied headset's microphone is designed to reduce the
· You can use the supplied headset on either right or left ear.
· This unit is exclusively for use in the USA.
· This unit is not compatible with hearing aids.
· This unit is not compatible with office PBX system.
· It is advisable to keep the volume at a moderate level at all time.
· If you experience discomfort after wearing the headset, take off the headset
Making and receiving calls
1
Connect the headset plug to the HEADSET jack.
2
Place the earpiece support unit behind the top of your ear.
3
Adjust the length of the headband so that the headset fits on
4
The earpiece can be rotated so it fits comfortably over either ear.
5
Positiontheheadsetmicrophonesothatitisplacednearthemouth.
· Listening with headset at high volume may affect your hearing.
· The earpad may deteriorate due to long-term storage or use. If you need to
replacing the earpad, it can be purchase separately (EP-Q1).
You can use the headset on either your right or left ear.
· If the number last dialed exceeds 31 digits for tone dialing or 32 digits for pulse
dialing, the number cannot be dialed.
· The tone and pause are each counted as one digit.
Pressing (HOLD) during dialing may stop transmission of the dial signal, causing you
to dial the wrong phone number.
Clean the cabinets with a soft cloth slightly moistened with water or a mild
detergent solution. Do not use any type of abrasive pad, scouring powder
or solvent such as alcohol or benzine as they may damage the finish of the
If you have any questions or problems concerning your phone, please
consult your nearest Sony dealer.
The phone does not connect
The phone does not redial
The phone does not make a
If your dialing system is to
1
Connect the telephone line cord (supplied) to the LINE jack,
and to a telephone outlet.
2
Connect the telephone line cord (not supplied) to the TEL/
DATA jack and to other phone or the modem if necessary.
If your telephone outlet is not modular, contact your telephone
service company for assistance.
Listening to music, etc. from an external equipment
If you want to listen to music, etc. from the external equipment, you can do
it using the headset during TALK off status.
· When you are listening to music, etc. with the external equipment connected to
AUDIO IN jack, volume control on the headset is not available. Volume control is
available with the connected equipment.
Also, turning off the sound from the connected equipment can be done either by
shutting down the power for the external equipment or by pulling out the stereo
audio cable from AUDIO IN jack on this unit.
· During conversation, the voice from an external equipment cannot be heard.
· The sound of this unit is a monaural type.
For the phone to work properly, select an appropriate dialing mode (tone or
Depending on your dialing system, set the
DIAL MODE switch as follows:
If you aren't sure of your dialing system
Make a trial call with the DIAL MODE switch set to T. If the call connects,
leave the switch as is; otherwise, set the switch to P.
To view full line of Sony's Audio/Video Accessories.
http://www.sony.com/sonyaccessories
Tone, 10 pps (pulse) selectable
Approx. 3
7
/
8
x 3
1
/
8
x 5
1
/
2
inches (w/h/d)
Telephone line code: approx. 7 ft. (2m)
Stereo audio cable (stereo mini-plug):
Approx. 0.88 oz (25 g) (without cord)
30 mm dia. (CCAW Voice coil)
Close-talking pipe microphone
Closed circuit voltage level
Design and specifications are subject to change without notice.
The headset can be hung on the hook (supplied) by mounting the handset
hanger (supplied) on the headset.
When you hear the phone ring, press (TALK). When you're done talking,
Set the RINGER LEVEL switch to H (high), L (low)
Turn the HEADSET VOLUME (TEL) up to increase
the receiver volume or down to decrease it.
1
Attach the headset hanger to the headset from the slit as
Be sure to insert the protrusion of the headset hanger to the
projection of the headset.
2
Hang the headset hanger on the hook.
Do not hang the headset on as illustration B.
Adjust the receiver volume
("call waiting" service*)
Press (* TONE) after you're connected.
The line will remain in tone dialing until
Press (HOLD). The HOLD button lights up.
Press (HOLD) again to resume the conversation.
Press (FLASH) again to return to the first caller.
* You need to subscribe to this service with your telephone company.
--- · Compruebe si el cable de la línea telefónica
correctamente conectado a la toma telefónica.
· Compruebe si el modo de marcación (tonos
· Ponga el selector RINGER LEVELen H o L.
· Cerciórese de que el último número
marcado (incluyendo el dígito de tono)
últimamente marcado no sobrepase 31
dígitos para la marcación por tonos o 32
dígitos para la marcación por pulsos.
· Compruebe si el último marcado es
realmente que que desea volver a marcar.
· Compruebe si ha seguido correctamente el
procedimiento para almacenar el número.
· Ha introducido una tecla de marcación que
no contiene un número de teléfono
· Usted podrá introducir hasta 16 dígitos
para la marcación por pulsos o 15 dígitos
para la marcación por tonos. Tenga en
cuenta que la el tono y la pausa se contarán
· Asegúrese de que se ha almacenado
correctamente un número de teléfono para
· Almacene el número que desea una vez más.
· Limpie la punta de la clavija del cable del
casco y de la clavija del cable de audio.
p. ej., reproductor de casetes,
Cable para línea telefónica
Cable para línea telefónica
Los números de modelo y de serie se encuentran en la parte
inferior del teléfono. Anote el número de serie en el espacio que se
proporciona a continuación. Refiérase a estos números cada vez
que se comunique con su distribuidor Sony con respecto al
Serie No ________________
1. No use este producto cerca del agua, por ejemplo, cerca de una
bañera, lavabo, fregadero de cocina o lavadora, en un sótano
mojado o cerca de una piscina.
2. Evite usar un teléfono (que no sea del tipo inalámbricos)
durante una tormenta eléctrica. Existe la remota posibilidad de
shock eléctrico debido a rayos.
3. Para notificar una fuga de gas, no utilice el teléfono en la
4. Utilice solamente el cable de alimentación y las pilas indicados
en este manual. No tire las pilas al fuego. Podrían explotar.
Compruebe los códigos locales con respecto a las instrucciones
especiales sobre cómo deshacerse de ellas.
1. Este equipo cumple con la Parte 15 y la Parte 68 de las reglas de
la FCC para EE.UU. En la base de este equipo hay una etiqueta
que contiene, entre otra información, el número de certificado
de la FCC y el número de equivalencia de timbre de llamada
(REN) para este equipo. Cuando se solicite, esta información
deberá ofrecerse a la compañía telefónica.
2. Este equipo se conecta a la red telefónica nacional a través de
una toma telefónica modular cuya toma (conector) de
certificado aplicable es USOC-RJ11C.
3. Con este equipo se suministran un cable telefónico y una clavija
modular que cumplen las normas de la FCC. Este equipo ha
sido diseñado para conectarse a la red telefónica o la instalación
de un usuario utilizando una toma modular compatible que
esté de acuerdo con la Parte 68.
4. El REN se utiliza para determinar la cantidad de dispositivos
que podrán conectarse a la línea telefónica. El exceso de REN
conectados a la línea telefónica puede resultar en que los
dispositivos no contesten a llamadas entrantes. Normalmente,
la suma de REN no deberá ser superior a cinco (5,0). Para
enterarse del número total de REN que puede conectarse a una
línea, póngase en contacto con la compañía telefónica.
5. Si este equipo (TL-HP90) produce daños en la red telefónica, la
compañía telefónica le notificará con antelación que es posible
que se requiera la interrupción temporal del servicio. Pero si la
notificación con antelación no es práctica, la compañía
telefónica lo notificará al cliente lo antes posible. Además, se le
notificará el derecho a realizar una reclamación a la FCC si
usted lo considera necesario.
6. La compañía telefónica puede realizar cambios en sus
instalaciones, equipos, operaciones, o procedimientos que
pueden afectar la operación del equipo. Cuando suceda esto, la
compañía telefónica le avisará con antelación para que pueda
realizar las modificaciones necesarias a fin de mantener
ininterrumpido el servicio.
· Capacidad integrada de audio: Usted podrá escuchar la fuente de audio
a través del casco con esta unidad.
Usted también podrá cambiar de la fuente de audio a la llamada
telefónica después de presionar el botón TALK cuando suene el teléfono.
· Esta unidad dispone de diez memorias de marcación abreviada, y
funciones de retención de llamadas y repetición de la marcación.
· El casco suministrado es ligero por lo que podrá llevarlo puesto durante
Además, el micrófono del casco suministrado ha sido diseñado para
reducir el ruido ambiental.
· Usted podrá utilizar el casco suministrado en la oreja derecha o
· Esta unidad es para utilizarse exclusivamente en EE.UU.
· Esta unidad no es compatible con aparatos para corrección auditiva.
· Esta unidad no es compatible con el sistema PBX de oficinas.
· Se aconseja mantener siempre el volumen a un nivel moderado.
· Si experimenta cualquier malestar después de haberse colocado el casco, quíteselo
Realización y recepción de llamadas
Realización de una llamada
3
Después de finalizar la
Cuando oiga el tono de marcación, presione (TALK). Después de finalizar la
conversación, presione (TALK).
Ponga el selector RINGER LEVEL en H (alto), L
(bajo), u OFF (desactivado)
Gire el HEADSET VOLUME (TEL) hacia arriba
para aumentar el volumen del receptor, o hacia
Presione (* TONE) después de haberse conectado.
La línea permanecerá en el modo de marcación por
tonos hasta que la desconecte.
Presione (HOLD). La tecla HOLD se encenderá.
Para reanudar la conversación, vuelva a presionar
Para volver al primer interlocutor, presione de
Repetición de la marcación
2
Presione (REDIAL/PAUSE).
· Si el último número marcado tenía más de 31 dígitos para la marcación por tonos, o
32 dígitos para la marcación por pulsos, el número no podrá marcarse.
· El tono y la pausa se cuentan cada uno como un dígito.
Si presiona (HOLD) durante la marcación, es posible que se pare la transmisión de la
señal de marcación, haciendo que usted marque un número de teléfono erróneo.
Limpie el exterior de la unidad con un paño suave ligeramente humedecido
en agua o en una solución poco concentrada de detergente. No utilice
ningún otro tipo de detergente, polvos abrasivos, ni disolventes, como
alcohol o bencina, ya que podría dañar el acabado de la unidad.
Si tiene alguna pregunta o problema en relación con su teléfono, consulte a
1
Conecte el cable de la línea telefónica (suministrado) en la toma
LINE, y en una toma telefónica.
2
Conecte un cable para línea telefónica (no suministrado) en la
toma TEL/DATA y a otro teléfono o módem, si es necesario.
Si su toma telefónica no es modular, solicite ayuda a su compañía de
Escucha de música, etc., de un equipo externo
Si desea escuchar música, etc., de un equipo externo, podrá realizarlo
utilizando el casco en el estado de desactivación de TALK.
Para ver los accesorios de audio / vídeo Sony.
http://www.sony.com/sonyaccessories
Tonos, 10 pps (pulsos), seleccionable
Aprox. 98 x 77 x 137,5 mm (An/Al/Prf)
Cable de audio estéreo (miniclavija estéreo): 1 m
Dinámico, abierto al aire
30 mm de diámetro (Bobina móvil CCAW)
Potencia máxima de entrada 1000 mW (IEC)
Tipo tubular, de habla cercana
Electrostático de electreto reforzado
Nivel de tensión en circuito
El diseño y las especificaciones están sujetos a cambio sin previo aviso.
7. Si experimenta algún problema con este equipo (TL-HP90), con
respecto a la reparación o a la información sobre la garantía,
póngase en contacto con Sony Direct Response Center: Tel 1-
800-222-7669 (EE. UU. solamente). Si el equipo causa
problemas en la línea, la compañía telefónica puede solicitarle
que desconecte el equipo hasta que se resuelva el problema.
8. Todas las reparaciones deberá realizarlas un centro de
9. Este equipo puede no utilizarse en el servicio de pago previo
proporcionado por la compañía telefónica o la línea
Cuando programe números de emergencia y (o) realice llamadas
1. Permanezca poco tiempo en la línea y explique a la otra parte la
2. Realice tales actividades en horas no punta, como por la
mañana temprano o a últimas horas de la tarde.
La operación está sometida a las dos condiciones siguientes: (1)
Este dispositivo puede no causar interferencia, y (2) Este
dispositivo deberá aceptar cualquier interferencia, incluyendo la
que pueda causar una operación indeseada.
Se le advierte que cualquier cambio o modificación no aprobado
expresamente en el presente manual podría anular su autorización
El secreto de las comunicaciones puede no asegurarse cuando
Este equipo se ha sometido a pruebas y se ha determinado que
cumple los límites para un aparato digital Clase B de conformidad
con la Parte 15 de las Reglas FCC. Dichos límites están diseñados
para brindar protección razonable contra interferencia dañina en
una instalación residencial. Este equipo genera, utiliza y puede
radiar energía de radiofrecuencia y, si no se instala y se usa de
acuerdo con las instrucciones, puede ocasionar interferencia dañina
en las radiocomunicaciones. Sin embargo, no hay garantía de que
no ocurra interferencia en una instalación específica. En caso de
que este equipo ocasione interferencia dañina en la recepción de
radio o televisión, que se puede determinar apagando y
encendiendo el equipo, se le insta al usuario a que trate de corregir
la interferencia mediante una o más de las siguientes medidas:
­ Reorientar o reubicar la antena de recepción.
­ Aumentar la separación entre el equipo y el receptor.
­ Conectar el equipo en un enchufe de un circuito distinto al
circuito al cual está conectado el receptor.
­ Consultar con el disstribuidor o con un técnico
experimentado de radio / televisión para ayuda.
* Usted tendrá que abonarse a este servicio en la compañía de su servicio telefónico.
Usted podrá marcar presionando algunas teclas después de haber
almacenado números de teléfono en las teclas de marcación. Usted podrá
almacenar hasta 10 números de teléfono diferentes.
Almacenamiento de números de teléfono
3
Introduzca el número de
· Si introduce un número erróneo, vuelva a comenzar desde el principio.
· Utilice el directorio suministrado para escribir escribirn los números de marcación
Para memorizar un número a ser marcado desde una
Antes de introducir un número de teléfono en el paso 3, realice lo siguiente.
1
Introduzca el dígito de acceso a la línea exterior (p. ej., 9).
2
Presione (REDIAL/PAUSE).
Para cambiar un número memorizado
Almacene un nuevo como se describe previamente de forma que se borre el
Realización de llamadas con la marcación
3
Introduzca el número de marcación instantánea ((0) to (9)).
El número de teléfono almacenado en el número de marcación
Si esta unidad se desconecta de la línea durante 10 minutos, los datos de marcación
instantánea almacenados se borrarán de la memoria.
· Cuando esté escuchando música, etc., con un equipo externo conectado a la toma
AUDIO IN, el control de volumen del casco no trabajará. En este caso ajuste el
volumen con el control de volumen del equipo conectado.,
Además, la reducción al mínimo del volumen del equipo conectado podrá
realizarse desconectando la alimentación del mismo o desenchufando, el cable de la
toma AUDIO IN de esta unidad.
· Durante la conversación, el sonido de un equipo externo no podrá oírse.
· El sonido de esta unidad será monoaural.
1
Conecte la clavija del casco a la toma HEADSET.
2
Coloque la unidad de soporte del auricular detrás de la parte
3
Ajuste la longitud de la banda para la cabeza de forma que el
4
El auricular podrá girarse para que se adapte cómodamente
sobre cualquiera de sus orejas.
5
Coloqueelmicrófonodelcascodeformaquequedecercadesuboca.
· La escucha con los auriculares a gran volumen puede afectar sus oídos.
· La almohadilla auricular puede deteriorarse después de mucho tiempo de
utilización o almacenamiento. Si necesita reemplazar la almohadilla auricular,
tendrá que adquirirla por separado (EP-Q1).
Usted podrá utilizar el casco en su oído derecho o izquierdo.
Utilización del colgador del casco
El casco puede colgarse en el gancho (suministrado) montando el colgador
del casco (suministrado) en éste.
1
Fije el colgador del casco a éste a través del corte, como se
muestra en la ilustración A.
Cerciórese de insertar la parte saliente del colgador del casco
con la protuberancia del mismo.
2
Cuelgue el colgador del casco en el gancho.
No cuelgue el casco como se muestra en la ilustración B.
Elección del modo de grabación
Para que el teléfono funcione adecuadamente, seleccione el modo de
marcación apropiado (tonos o pulsos).
Dependiendo de su sistema de marcación,
ajuste el selector DIAL MODE de la forma
Si no está seguro de su sistema de marcación
Realice una prueba con el selector DIAL MODE poniéndolo en T. Si la llamada
se conecta, deje el selector como está, y en caso contrario, póngalo en P.
Utilización del colgador del casco
El casco puede colgarse en el gancho (suministrado) montando el colgador
del casco (suministrado) en éste.
No es posible oír el tono de
El teléfono no se conecta en
absoluto aunque el número
correctamente la marcación.
No es posible almacenar un
No es posible realizar una
No se oye nada a través del
---