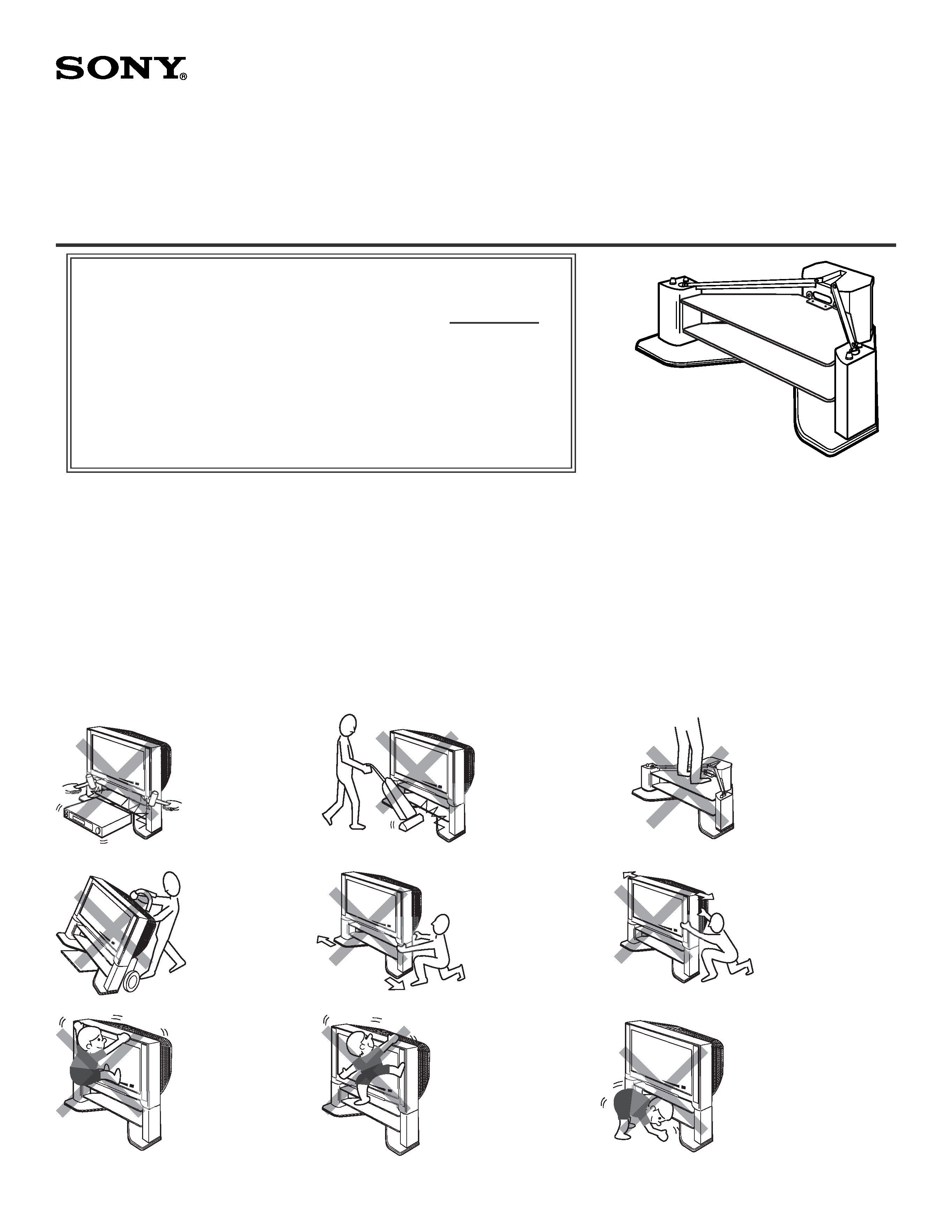 G
Do not place the stand in a location near a
heat source, such as a radiator, or in a place
subject to direct sunlight.
G
Clean the stand periodically with a soft cloth.
If finger prints, food and beverage stains, etc.,
are difficult to remove, use a cloth moistened
with a mild detergent solution. Do not use a
scouring powder, abrasive pad or solvent.
G
N'installez pas le meuble à proximité d'une
source de chaleur, notamment un radiateur, ou dans
un endroit exposé aux rayons directs du soleil.
G
Nettoyez régulièrement le meuble avec un chiffon
doux. S'il est difficile de faire disparaître des
empreintes, des taches de boisson ou d'aliments,
par exemple, utilisez un chiffon humide et une
solution à base de détergent d o u x .
sez pas de poudre à récurer, de tampon abrasif
TV STAND/SOPORTE DEL TELEVISOR
©
2002 by Sony Electronics Inc.
G
No instale el soporte de televisor en un lugar cerca
de un fuente de calor, tal como un radiador, ni
tampoco bajo la luz directa del sol.
G
Limpie el mueble periodicamente con un paño
Si tiene dificultad para eliminar huellas
dactilares, manchas de comida o de bebida use un
paño mojado en una solución detergente suave.
No utilice polvos o esponjas abrasivas, ni tampoco
To avoid serious injury, do
not allow children to hang
los niños se cuelguen del
Pour éviter les blessures
To avoid injury to the user
and damage to the stand, do
not use the shelf as a step.
usuario y daño al mueble, no
use la repisa como escalon.
Pour éviter que l'utilisateur se
blesse et que le meuble soit
endommagé, ne l'utilisez pas
Do not allow children to crawl
under/between glass shelves.
No permita que los niños se
arrastren bajo/entre las repisas
Ne pas laisser les enfants ramper
sous ou entre les étagéres en
WARNING / ADVERTENCIA / AVERTISSEMENT
The SU-36XBR7 TV stand is designed for use only with Sony 36-inch
TV sets listed to the right.
Este soporte de televisor SU-36XBR7 ha sido diseñado para ser usado
solamente con los televisores Sony de 36" notados a la derecha.
Le meuble de télévision SU-36XBR7 TV est conçu pour être
utilisé avec un téléviseur Sony de 92 cm (36 pouces).
Ne pas utiliser un diable.
los pilares de el soporte
No golpear la orilla de la
de l'étagére en verre avec
Do not give the glass shelf
sobre la repisa de vidrio.
---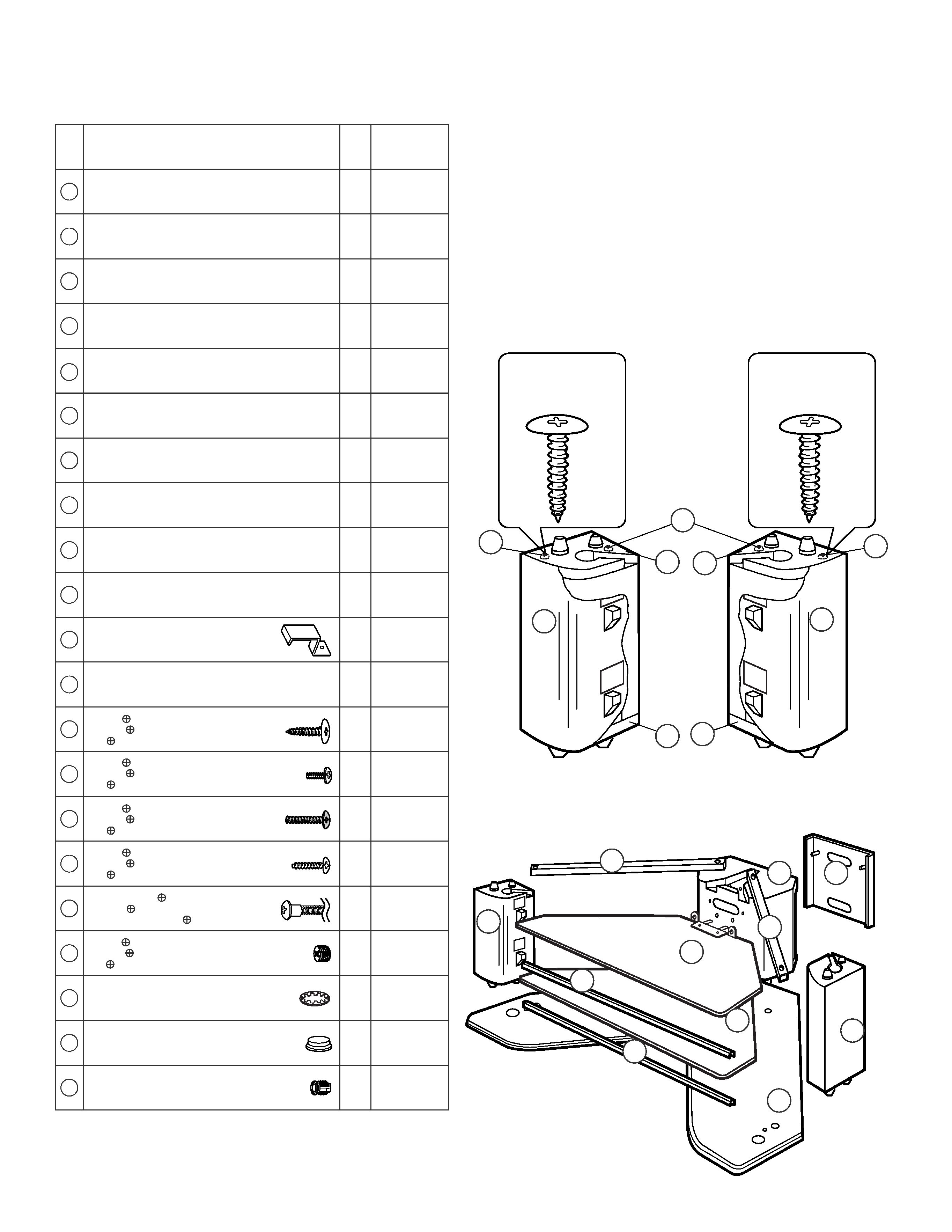 PILAR LATERAL (IZQUIERDO)
Cubierta de la columna posterior
Couvercle de colonne arrière
Side pillar (Right) (pre-assembled)
Pilar lateral (Derecho) (pre-ensamblado)
Pilier latéral (Droit) (pré-assemblage)
Side pillar (Left) (pre-assembled)
Pilar lateral (Izquierdo) (pre-ensamblado)
Pilier latéral (Gauche) (pré-assemblage)
Core cap A (pre-assembled)
Tapa interior A (pre-ensamblado)
Capuchon A (pré-assemblage)
Core cap B (pre-assembled)
Tapa interior B (pre-ensamblado)
Capuchon B (pré-assemblage)
Glass bracket (pre-installed)
Sostén de vidrio (preinstalada)
Support en verre (pré-installée)
M5x20 (Silver) (pre-installed)
M5x20 (Plato) (pre-instalada)
M5x20 (Argentée) (pré-installée)
Toothed lock washer (M12)
Rondelle de blocage dentée (M 12)
Rubber Bumper (pre-installed)
Tope de plastico (pre-instalada)
Plaque emboîtable (pré-installée)
Insert nut M8x23 (pre-installed)
Rosca integrada M8x23 (pre-instalada)
Écrou insert M8x23 (pré-installée)
---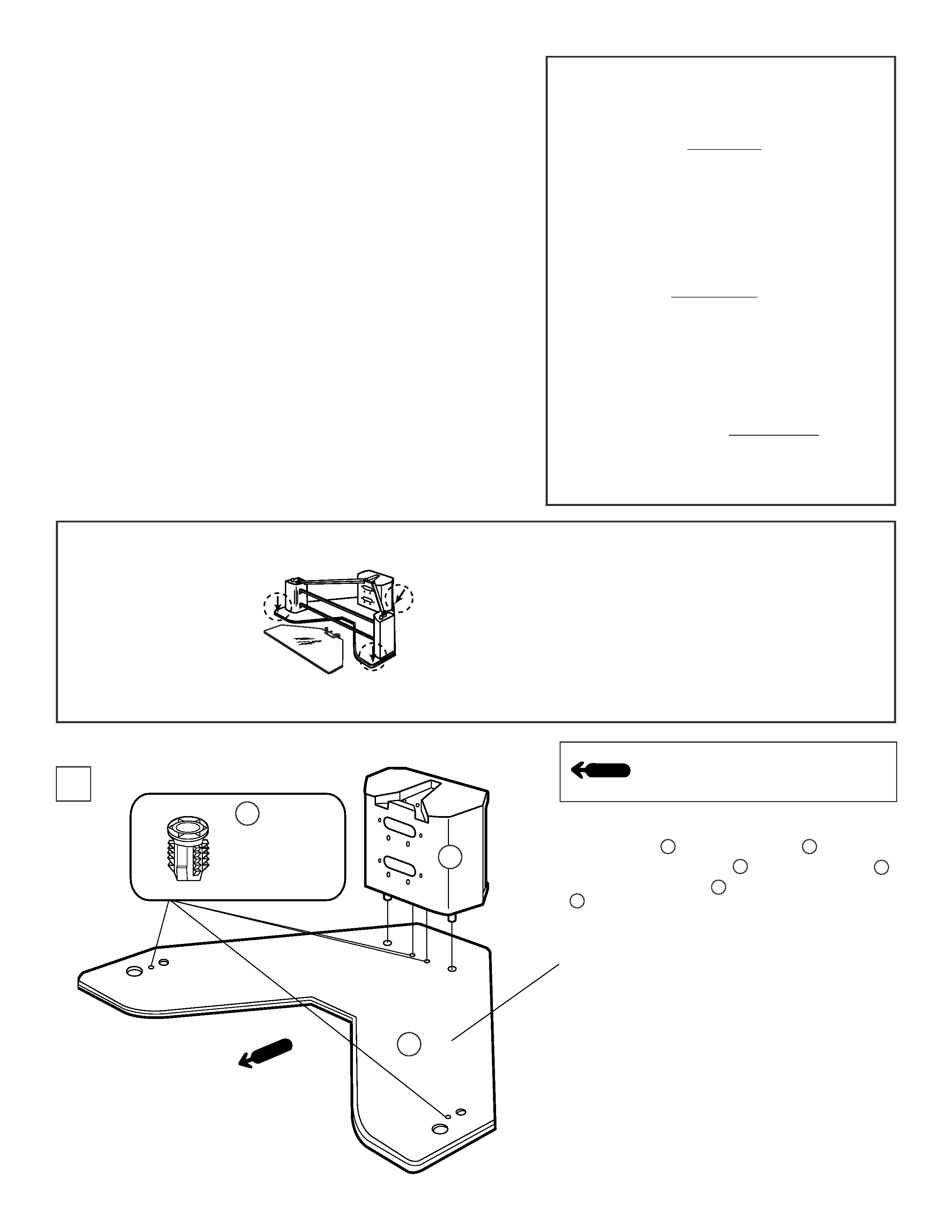 REPLACEMENT PARTS INFORMATION
Review parts list before assembly.
Please examine all packing material before discarding.
If any parts are missing or damaged, identify and refer to
the instructions on the warranty page.
To purchase replacement parts only, call the telephone
1-619-661-6136 for residents of the United States.
INFORMACION PARA PARTES DE REEMPLAZO
(Solo para soporte de TV)
Revise la lista de partes antes de ensamblar.
Por favor examine el contenido del empaque antes de tirarlo.
Si alguna parte falta o esta dañada, identifiquela y siga las
instrucciones en la hoja de garantÉa.
Para ordenar partes de reemplazo, llame al tel.
1-619-661-6136 para residentes de los Estados Unidos.
INFORMATIONS SUR LES PIíCES DE RECHA NGE
(Concernent uniquement le meuble de télévision)
Vérifiez toutes les pièces avant l'assemblage.
Veuillez examiner tous les emballages avant de les jeter.
Si certaines pièces sont manquantes ou défectueuses, reportez-vous
aux instructions de la page de garantie.
Pour l'achat de pièces de rechange uniquement, appelez le numéro
1-619-661-6136 pour les habitants des États-Unis.
Arrow direction shows front.
La dirección de la flecha indica el frente.
La direction de la flèche indique le devant.
Hold by marked ( ) locations
Sostener de locaciones marcadas
( ) cuando mueva el soporte de
Soutenir aux endroits marqués
( ) lorsque vous de déplacez le
You will need a medium size Phillips head screwdriver.
Assemble the stand only by the method shown in this
Assemble the stand near the location where the stand will be used.
The circled letters in the illustrations are the same as those in the "PARTS LIST".
For easier assembly, line up the parts in the order they will be required.
Retain this manual for future reference.
Vous aurez besoin d'un tournevis cruciforme de taille moyenne.
Assemblez le meuble uniquement selon la méthode décrite dans ce mode d'emploi.
Assemblez le meuble près de l'endroit où il sera utilisé.
Les lettres entourées dans les schémas sont les mêmes que celles figurant dans la
liste « LISTE DES PIÈCES ». Afin de faciliter l'assemblage, alignez les pièces par
Gardez ce manuel pour référence ultérieure.
Usted necesitará un desarmador mediano de cruz.
Ensamble el soporte de televisor siguiendo unicamente el metodo mostrado en
Haga el montaje cerca del lugar donde se usará.
Las letras encerradas en círculo en las ilustraciones, son las mismas letras en la
"LISTA DE PARTES". Para facilitar el montaje alinie las partes en el orden en
Conserve este manual para referencia futura
Remove TV set before moving set/stand. Do not move with TV set
fixed to TV stand. Remove the metal band prior to moving TV onto/off stand.
Move by holding baseboard. Do not lift by support bars and glass shelves.
Remover el televisor antes de mover el mueble. No mover con el
televisor instalado. Quite la banda metalica antes de mover el televisor hacia/fuera
del estante. Muevase sosteniendo la base inferior. No levantar por las barras de
soporte y repisa de vidrio.
Retirer le téléviseur avant de déplacer le meuble de télévision. Ne
pas deplacer avec le téléviseur fixe sur le meuble de télévision. Déposez la bande
métallique avant de mettre la télévision sur le meuble ou de l'enlever. Deplacez-
vous en tenant de base le panneau. Ne soulevez pas avec les barres de support
INSERT REAR COLUMN 2 INTO BASE BOARD 1 .
INSERTE LA COLUMNA POSTERIOR 2 EN LA TABLA BASE 1 .
INSÉREZ LA COLONNE ARRIÈRE 2 DANS LA PLANCHE
---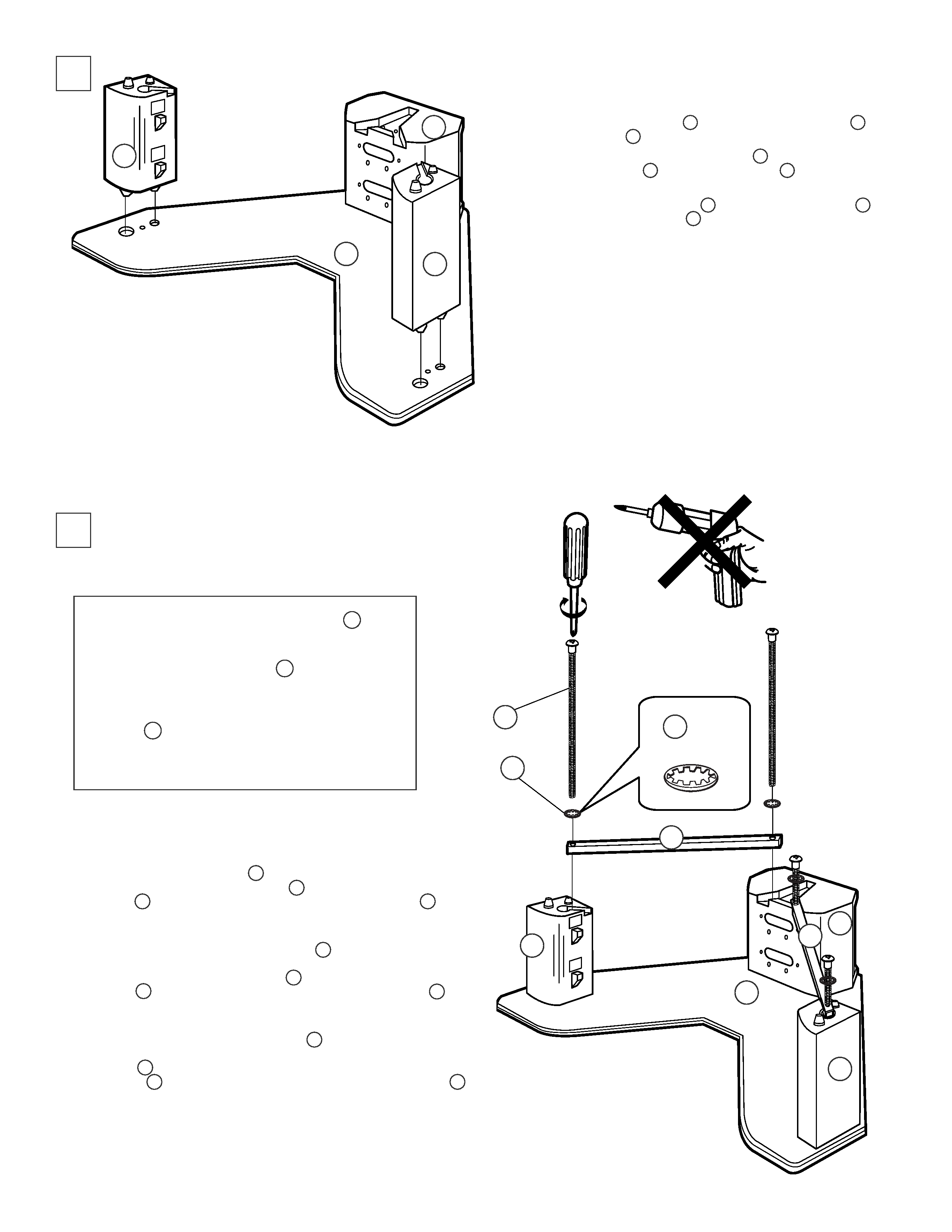 PLACE ALUMINUM FRAMES 10 X 2 INTO RECESSED AREAS AS
SHOWN. INSERT CAPNUT SCREW G THROUGH TOOTHED LOCK
WASHER I FIRST, THEN THROUGH ALUMINUM FRAME 10 AS
TIGHTEN USING PHILLIPS HEAD SCREWDRIVER.
COLOQUE LOS MARCOS DE ALUMINIO 10 X 2 DENTRO DE LAS
AREAS REBAJADAS COMO SE MUESTRA. PRIMERO INSERTE UN
TORNILLO DE CABEZA REDONDA G ATRAVEZ DE UNA RONDANA
DENTADA I , LUEGO ATRAVEZ DEL MARCO DE ALUMINIO 10 EN 4
APRIETE USANDO UN DESARMADOR DE CRUZ.
PLACEZ LES CADRES EN ALUMINIUM 10 X 2 DANS LES ZONES EN
RETRAIT, COMME INDIQUÉ. INTRODUISEZ LA VIS À ÉCROU
BORGNE G D'ABORD DANS LA RONDELLE DE BLOCAGE
DENTELÉE I , ET ENSUITE DANS LE CADRE EN ALUMINIUM 10 ,
COMME INDIQUÉ, AUX 4 EMPLACEMENTS.
SERREZ À L'AIDE D'UN TOURNEVIS À TÊTE CRUCIFORME.
WHEN TIGHTENING THE CAPNUT SCREW G ,
PLEASE USE A PHILLIPS HEAD SCREWDRIVER.
DO NOT USE AN ELECTRIC SCREWDRIVER.
CUADO APRIETE EL TORNILLO G , POR FAVOR
USE UN DESARMADOR DE CRUZ. NO UTILIZE
LORS DU SERRAGE DE LA VIS DE L'ÉCROU
BORGNE G , UTILISER UN TOURNEVIS À
TÊTE CRUCIFORME. NE PAS UTILISER DE
INSERT SIDE PILLAR RIGHT 4 AND SIDE PILLAR LEFT 5
INTO BASE BOARD 1 AS SHOWN.
INSERTE EL PILAR LATERAL DERECHO 4 Y EL PILAR
LATERAL IZQUIERDO 5 EN LA TABLA BASE 1 COMO SE
INTRODUISEZ LE PILIER DROIT 4 ET LE PILIER GAUCHE 5
DANS LA PLANCHE DE BASE 1 COMME INDIQUÉ.
---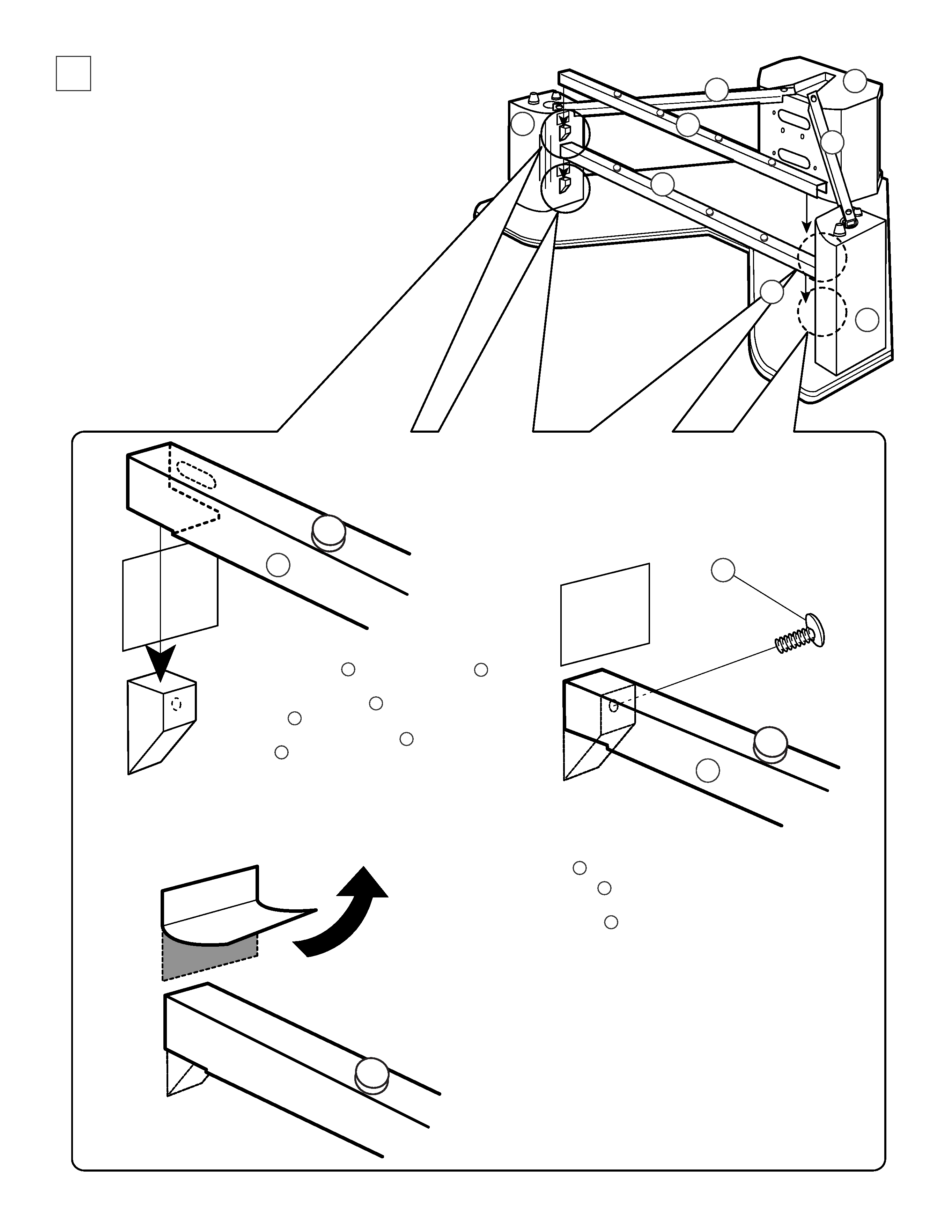 Insert screw D x 4 from back and tighten as shown.
Inserte el tornillo D x 4 desde la parte de atras y apriete con un
Introduisez les vis D x 4 à partir de l'arrière à l'aide d'un tournevis.
Lower steel bridge 9 x 2 onto side metals A x 4
Baje el puente metalico 9 x 2 hasta los metales
laterales A x 4 como se muestra.
Abaissez la traverse en acier 9 x 2 sur le métal
latéral A x 4, comme indiqué.
---