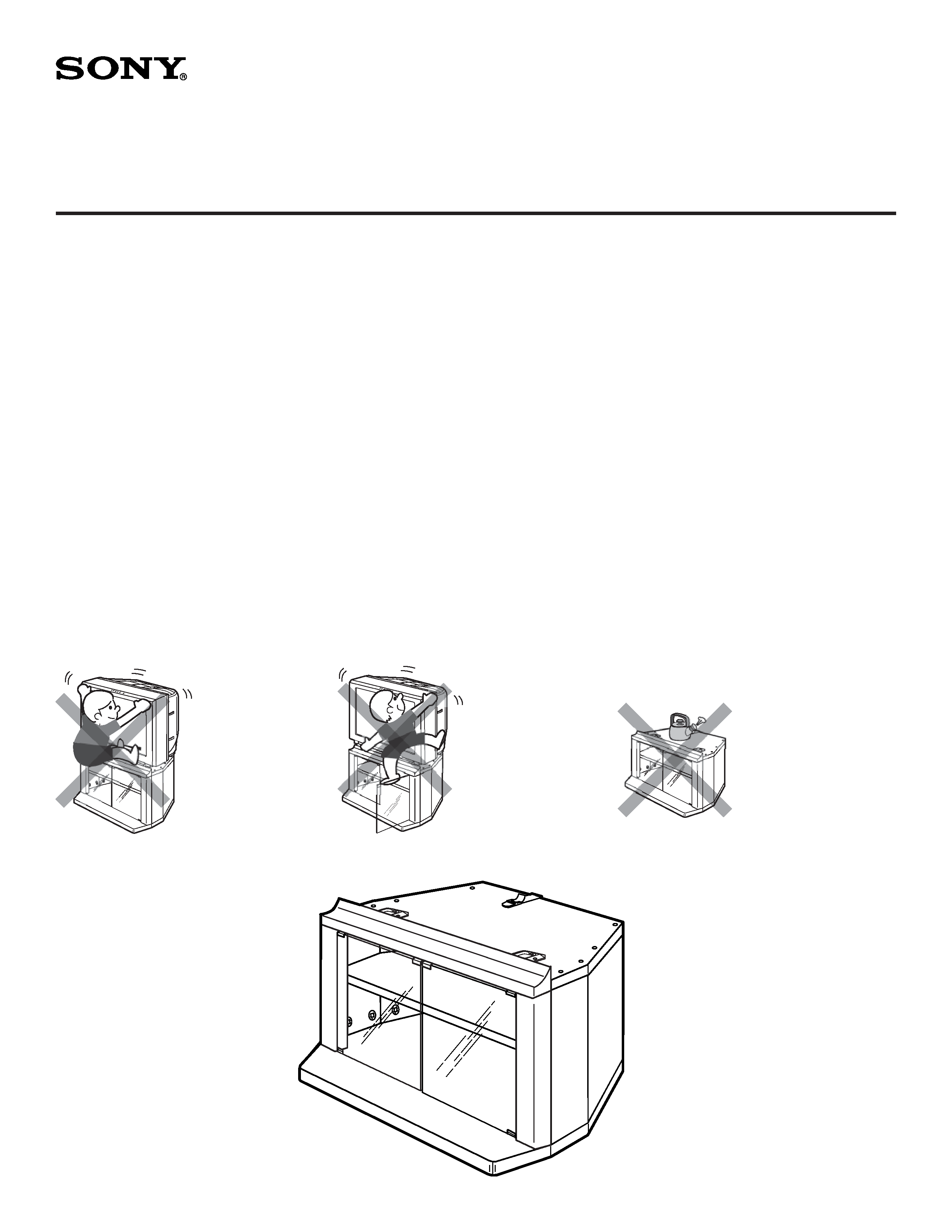 The SU-27FD4 TV stand is designed for use with the following
G
You will need a medium size Phillips head screwdriver.
G
Assemble the stand only by the method shown in this
G
Assemble the stand near the location where the stand
G
The circled letters in the illustrations are the same as
those in the "PARTS LIST." For easier assembly, line up
the parts in the order they will be required.
G
Do not place the stand in a location near a heat source,
such as a radiator, or in a place subject to direct
G
Clean the stand periodically with a soft cloth.
prints, food and beverage stains, etc., are difficult to
remove, use a cloth moistened with a mild detergent
Do not use a scouring powder, abrasive pad
El soporte de televisor SU-27FD4 esta diseñado para ser utilizado con
las siguientes modelos de televisor (ver a continuación).
G
Usted necesitará un desarmador mediano de cruz.
G
Ensamble el soporte de televisor siguiendo unicamente el metodo
mostrado en estas instrucciones.
G
Haga el montaje cerca del lugar donde se usará.
G
Las letras encerradas en círculo en las ilustraciones, son las mismas
letras en la "LISTA DE PARTES". Para facilitar el montaje alinie las
partes en el orden en que serán usadas.
G
No instale el soporte de televisor en un lugar cerca de un fuente de
calor, tal como un radiador, ni tampoco bajo la luz directa del sol.
G
Limpie el mueble periodicamente con un paño suave. Si tiene
dificultad para eliminar huellas dactilares, manchas de comida o de
bebida use un paño mojado en una solución detergente suave. No
utilice polvos o esponjas abrasivas, ni tampoco solventes.
TV STAND/SOPORTE DEL TELEVISOR
©
2001 by Sony Electronics Inc.
---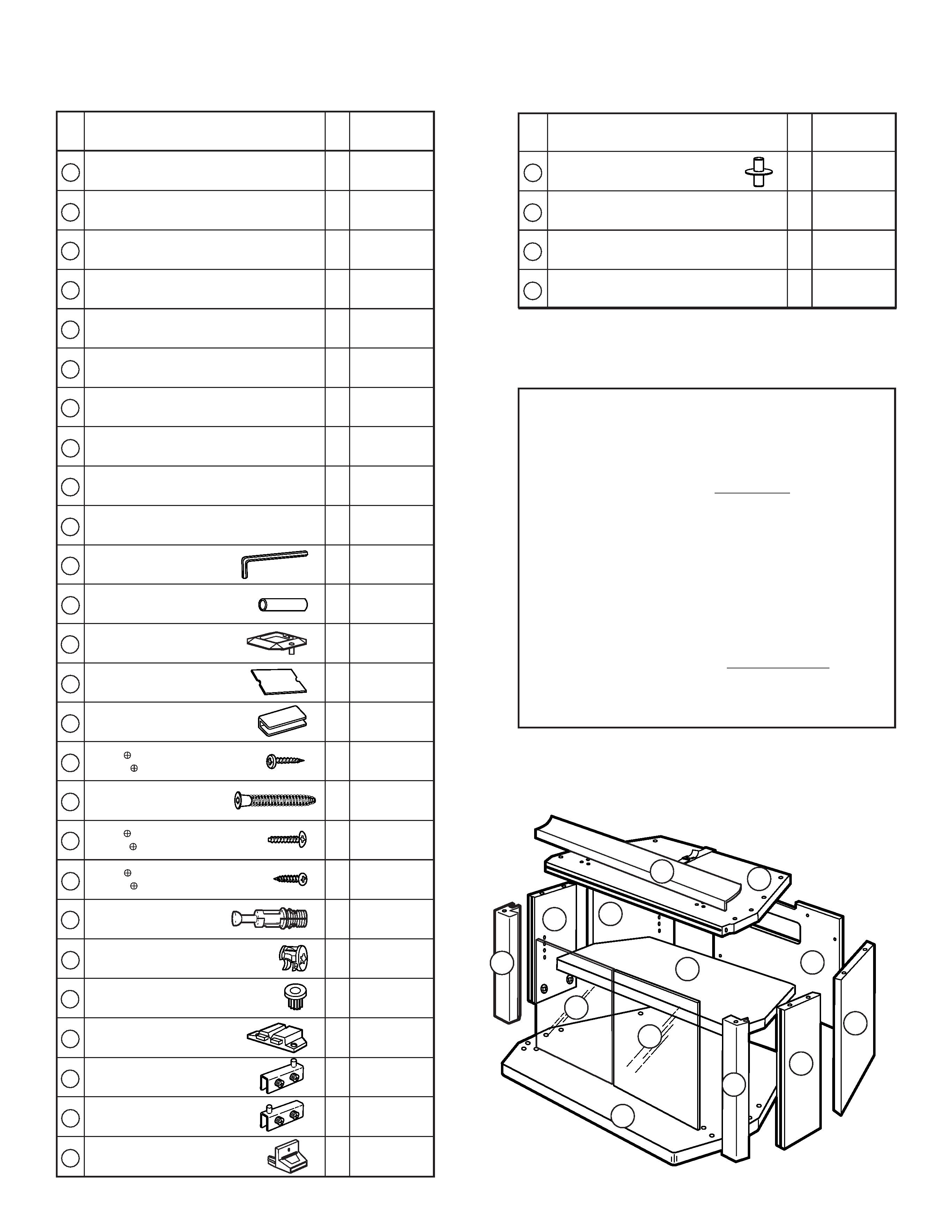 Cam casting (pre-installed)
Leva moldeada (pre-instalada)
REPLACEMENT PARTS INFORMATION
Review parts list before assembly.
Please examine all packing material before discarding.
If any parts are missing or damaged, identify and refer to
the instructions on the enclosed warranty card.
To purchase replacement parts only, call the telephone
1-619-661-6136 for residents of the United States.
INFORMACION PARA PARTES DE REEMPLAZO
(Solo para soporte de TV)
Revise la lista de partes antes de ensamblar.
Por favor examine el contenido del empaque antes de tirarlo.
Si alguna parte falta o esta dañada, identifiquela y siga las
instrucciones para reportarla en la tarjeta de garantía.
Para ordenar partes de reemplazo, llame al tel.
1-619-661-6136 para residentes de los Estados Unidos.
---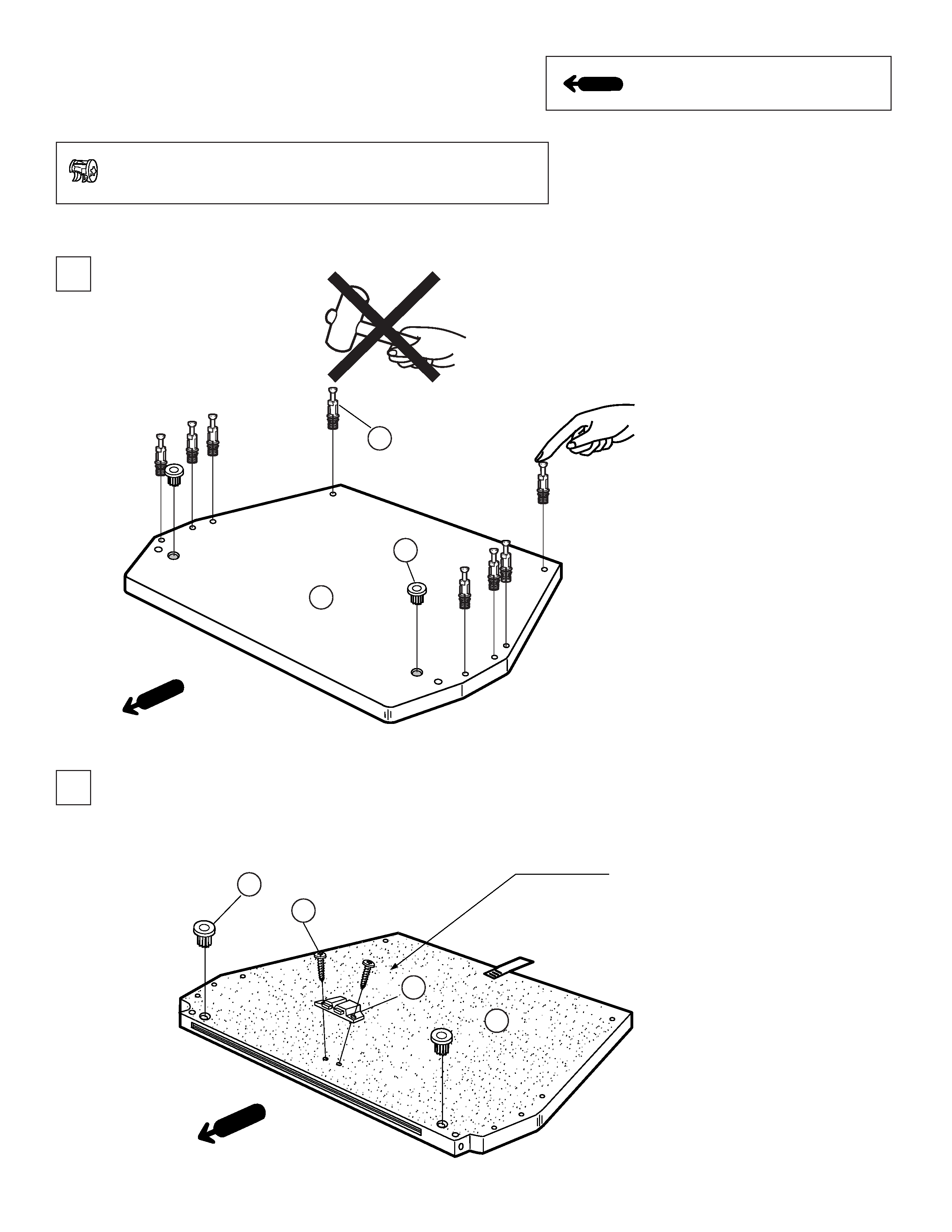 Arrow direction shows front.
La dirección de la flecha indica el frente.
NOTE: Cam casts are pre-installed into wood pieces.
NOTA: Las "levas moldeadas" estan pre-instaladas en las piezas de madera.
---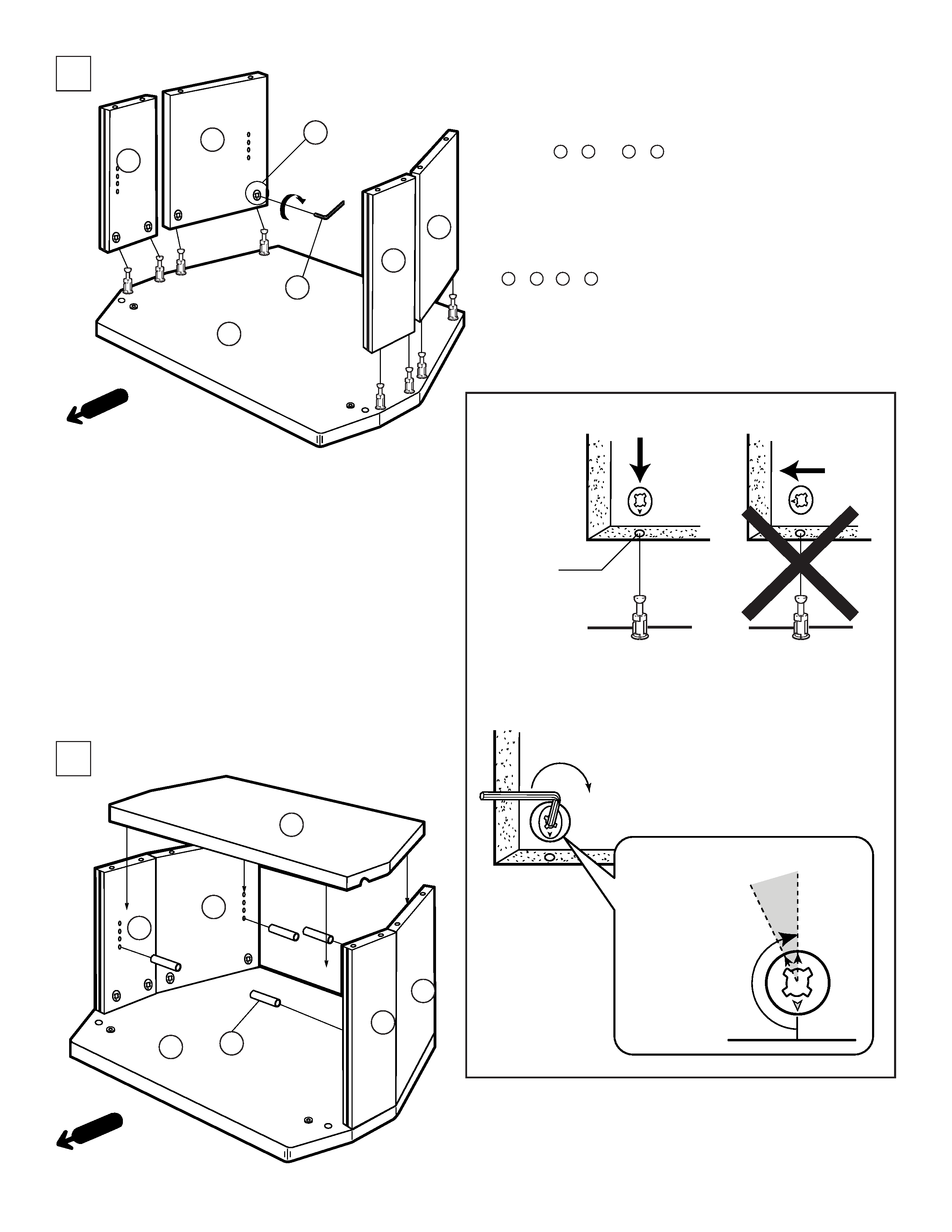 NOTE: The arrow mark on the cam casts must
point towards the edge of board.
NOTA: La flecha señalada en la "leva moldeada"
debe apuntar hacia la orilla de la tabla.
TO AVOID A GAP BETWEEN FRONT AND BACK
PANELS ( 4 & 6 and 5 & 7 ):
When attaching side fronts and side backs to the base
board do not tighten the cam. For proper alignment,
hold the panels in place, and then finish tightening the
PARA EVITAR UNA ABERTURA ENTRE LOS
LATERALES FRONTALES Y POSTERIORES
Al ensamblar los laterales frontales y posteriores a la
repisa inferior no apriete las levas moldeadas. Para una
alineación apropiada, sujete los laterales en posición, y
entonces termine de apretar las levas moldeadas.
---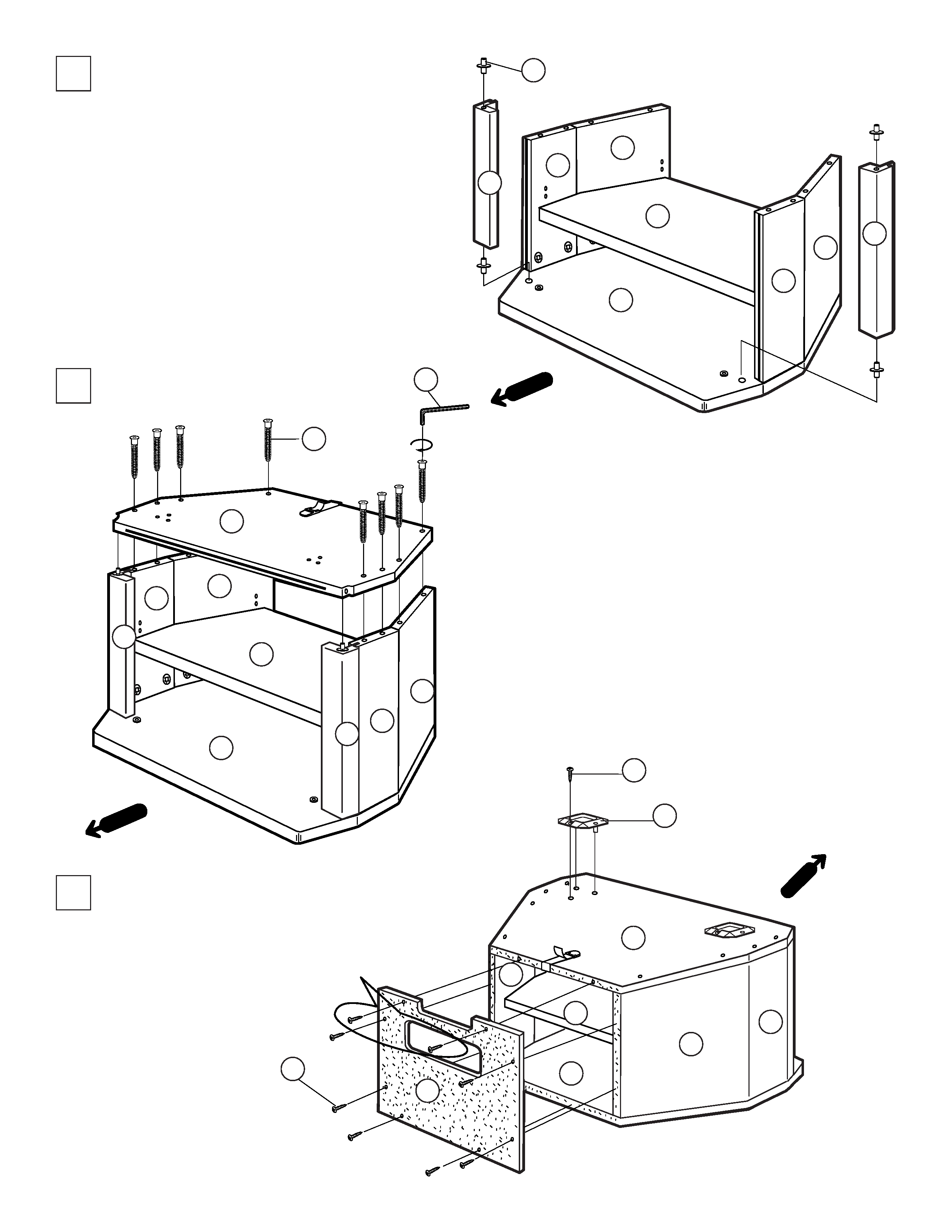 Tighten these 2 screws first.
Apriete estos 2 tornillos primero.
When attaching the top board to the front and back panels do
not tighten the screws. For proper alignment, hold the panels in
place, and then finish tightening the screws.
(Also see step 3 "To avoid a gap between panels")
Al instalar la repisa superior a los laterales frontales y
posteriores no apriete los tornillos. Para una alineación
apropiada, sujete los laterales en posición, y entonces termine
de apretar los tornillos.
(También ver paso 3 "Para evitar una abertura entre laterales")
---