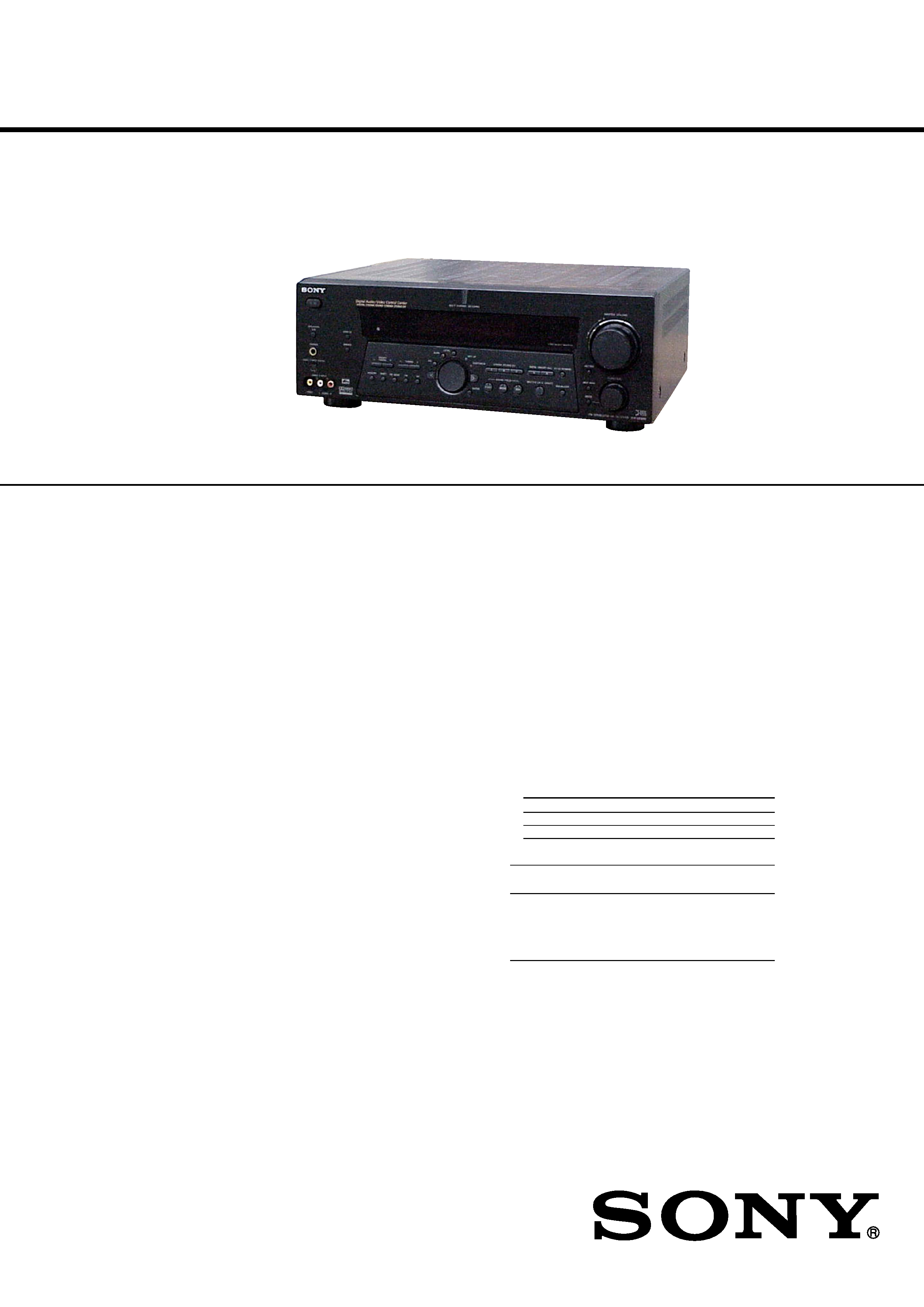 AUDIO POWER SPECIFICATIONS
With 8 ohm loads, both channels driven, from
20 ­ 20,000 Hz; rated 100 watts per channel
minimum RMS power, with no more than
0.09 % total harmonic distortion from 250
milliwatts to rated output (Models of area
Models of area code US, CND
Rated Power Output at Stereo Mode
(8 ohms 20 Hz ­ 20 kHz, THD 0.09 %)
(8 ohms 1 kHz, THD 0.7 %)
Models of area code E23, MX
Rated Power Output at Stereo Mode
(8 ohms 1 kHz, THD 0.7 %)
Reference Power Output
2)
1) Depending on the sound field settings and the
source, there may be no sound output.
2) Measured under the following conditions:
MD/DAT
5)
, MD/TAPE
6)
,field and equalizer bypassed)
Published by Sony Engineering Corporation
­ Continued on next page ­
This receiver incorporates Dolby* Digital and Pro
Logic Surround and the DTS** Digital Surround
Manufactured under license from Dolby
"Dolby", "Pro Logic" and the double-D symbol are
trademarks of Dolby Laboratories.
** "DTS", "ES" and "DTS Digital Surround" are
registered trademarks of Digital Theater Systems,
---

S/N
3)
:86 dB (A, 4 mV
4)
)
S/N
3)
: 96 dB (A, 250 mV
4)
)
3) INPUT SHORT (with sound field , equalizer and bass boost
4) Weighted network, input level.
MD/DAT
5)
,Voltage: 250 mV
38.3 dBf, 22.5 µV/75 ohms
Harmonic distortion at 1 kHz
Models of area code US, CND
With 10-kHz tuning scale: 530 ­ 1710 kHz
7)
With 9-kHz tuning scale: 531 ­ 1710 kHz
7)
Models of area code E23, MX
With 10-kHz tuning scale: 530 ­ 1610 kHz
7)
With 9-kHz tuning scale: 531 ­ 1602 kHz
7)
7) You can change the AM tuning scale to 9 kHz or
10 kHz. After tuning in any AM station, turn off
the receiver. Hold down PRESET TUNING + and
press ?/1 . All preset stations will be erased when
you change the tuning scale. To reset the scale to
10 kHz (or 9 kHz), repeat the procedure.
P
B
B-Y: 0.7 Vp-p, 75 ohms
P
R
R-Y: 0.7 Vp-p, 75 ohms
P
B
B-Y: 0.7 Vp-p, 75 ohms
P
R
R-Y: 0.7 Vp-p, 75 ohms
120/220/240 V AC, 50/60 Hz
Power consumption (during standby mode)
including projecting parts
R6 (size-AA) batteries (2)
Audio/video/control S cord (1)
Monaural mini-plug cord (1)
Design and specifications are subject to change
: AC 120/220/240V area in E model
---

After correcting the original service problem, perform the follow-
ing safety check before releasing the set to the customer:
Check the antenna terminals, metal trim, "metallized" knobs, screws,
and all other exposed metal parts for AC leakage.
Check leakage as described below.
The AC leakage from any exposed metal part to earth ground and
from all exposed metal parts to any exposed metal part having a
return to chassis, must not exceed 0.5 mA (500 microampers.).
Leakage current can be measured by any one of three methods.
1. A commercial leakage tester, such as the Simpson 229 or RCA
WT-540A. Follow the manufacturers' instructions to use these
2. A battery-operated AC milliammeter. The Data Precision 245
digital multimeter is suitable for this job.
3. Measuring the voltage drop across a resistor by means of a
VOM or battery-operated AC voltmeter. The "limit" indica-
tion is 0.75 V, so analog meters must have an accurate low-
voltage scale. The Simpson 250 and Sanwa SH-63Trd are ex-
amples of a passive VOM that is suitable. Nearly all battery
operated digital multimeters that have a 2 V AC range are suit-
SAFETY-RELATED COMPONENT WARNING!!
COMPONENTS IDENTIFIED BY MARK 0 OR DOTTED LINE
WITH MARK 0 ON THE SCHEMATIC DIAGRAMS AND IN
THE PARTS LIST ARE CRITICAL TO SAFE OPERATION.
REPLACE THESE COMPONENTS WITH SONY PARTS WHOSE
PART NUMBERS APPEAR AS SHOWN IN THIS MANUAL OR
IN SUPPLEMENTS PUBLISHED BY SONY.
ATTENTION AU COMPOSANT AYANT RAPPORT
LES COMPOSANTS IDENTIFIÉS PAR UNE MARQUE 0 SUR LES
DIAGRAMMES SCHÉMATIQUES ET LA LISTE DES PIÈCES SONT
CRITIQUES POUR LA SÉCURITÉ DE FONCTIONNEMENT. NE
REMPLACER CES COMPOSANTS QUE PAR DES PIÈCES SONY
DONT LES NUMÉROS SONT DONNÉS DANS CE MANUEL OU
DANS LES SUPPLÉMENTS PUBLIÉS PAR SONY.
---

Main unit ................................................................................. 5
Remote button description ....................................................... 6
2-1. Case ..................................................................................... 7
2-2. Front Panel Section ............................................................. 8
2-3. Headphone Board, Opt3 Board, Video3 Board ................... 8
2-4. Back Panel Section .............................................................. 9
2-5. Digital Board ....................................................................... 9
2-6. Standby Board ................................................................... 10
2-7. Main Board ....................................................................... 10
3. TEST MODE
..................................................................... 11
4-1. IC Pin Descriptions ........................................................... 13
4-2. Circuit Boards Location .................................................... 21
4-3. Printed Wiring Boards ­ Main Section ­ .......................... 22
4-4. Schematic Diagram ­ Main Section (1/3) ­ ...................... 23
4-5. Schematic Diagram ­ Main Section (2/3) ­ ...................... 24
4-6. Schematic Diagram ­ Main Section (3/3) ­ ...................... 25
4-7. Printed Wiring Board ­ Digital Section (1/2) ­ ................ 26
4-8. Printed Wiring Boards ­ Digital Section (2/2) ­ ............... 27
4-9. Schematic Diagram ­ Digital Section (1/4) ­ ................... 28
4-10. Schematic Diagram ­ Digital Section (2/4) ­ ................... 29
4-11. Schematic Diagram ­ Digital Section (3/4) ­ ................... 30
4-12. Schematic Diagram ­ Digital Section (4/4) ­ ................... 31
4-13. Printed Wiring Board ­ Speaker Section ­ ....................... 32
4-14. Schematic Diagram ­ Speaker Section ­ .......................... 33
4-15. Printed Wiring Boards ­ Display Section ­ ...................... 34
4-16. Schematic Diagram ­ Display Section ­ ........................... 35
4-17. Printed Wiring Board ­ Video Section ­ ........................... 36
4-18. Schematic Diagram ­ Video Section ­ .............................. 37
4-19. Printed Wiring Boards ­ S-video Section ­ ...................... 38
4-20. Schematic Diagram ­ S-video Section ­ ........................... 39
4-21. Printed Wiring Board ­ Component Section ­ .................. 40
4-22. Schematic Diagram ­ Component Section ­ .................... 41
4-23. Printed Wiring Boards ­ Power Section ­ ......................... 42
4-24. Schematic Diagram ­ Power Section ­ ............................. 43
4-25. IC Block Diagrams ............................................................ 44
5-1. Case Section ...................................................................... 49
5-2. Front Panel Section ........................................................... 50
5-3. Chassis Section-1 .............................................................. 51
5-4. Chassis Section-2 .............................................................. 52
6. ELECTRICAL PARTS LIST
......................................... 53
---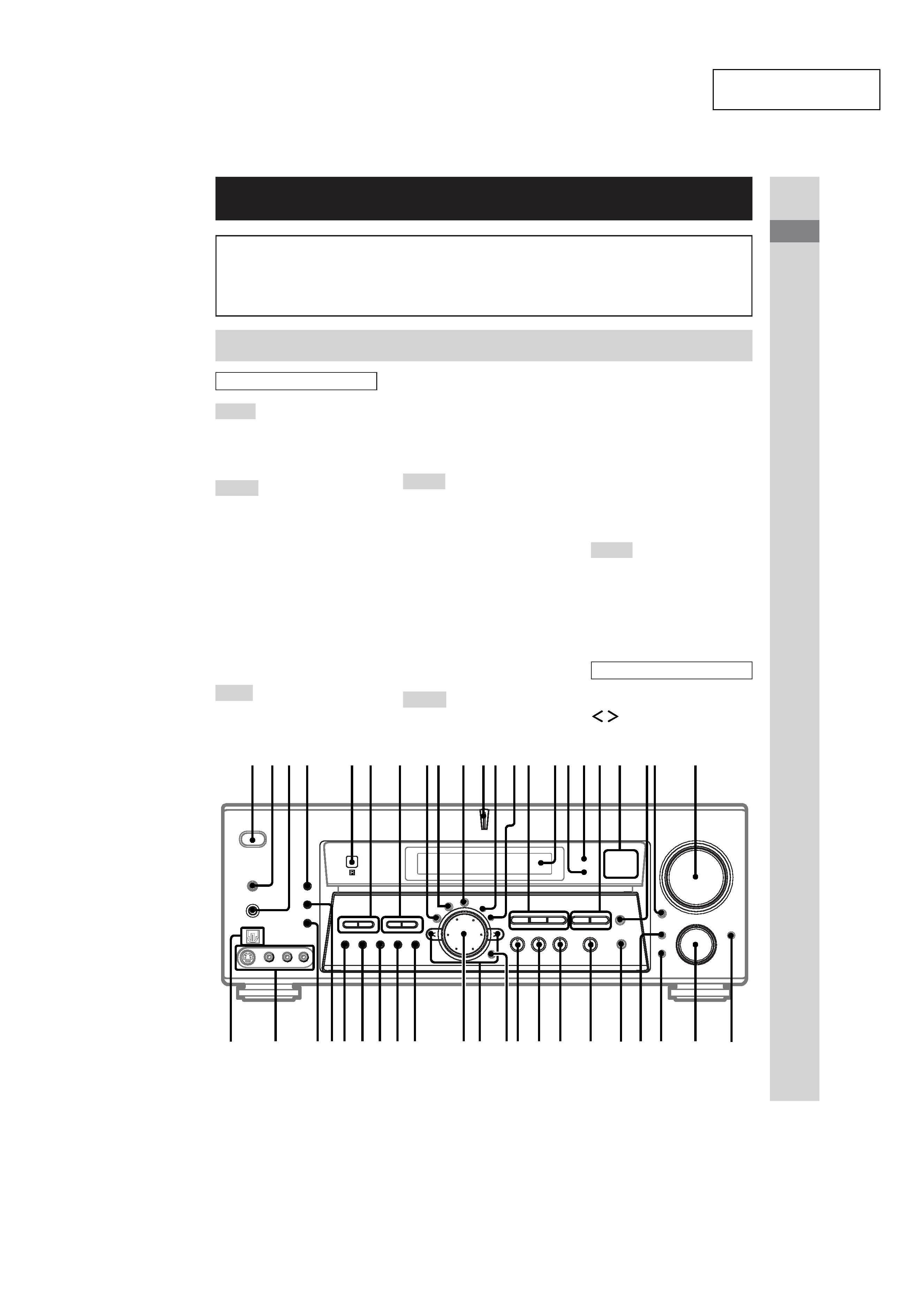 This section is extracted
List of Button Locations and Reference Pages
Use this page to find the location of buttons that are
CUSTOMIZE qd (42, 44, 65)
2ND ROOM (STR-DE985 only)
CUSTOMIZE qd (42, 44, 65)
Digital Cinema Studio (indicator)
Jog dial ef (20, 35, 37, 38, 42,
MASTER VOLUME ws (25, 58)
MODE (SOUND FIELD) e; (30,
ON SCREEN (STR-DE985 only)
SB DEC (indicator) qh (33)
SPEAKERS A/B 2 (17, 27, 35,
VIDEO 3 INPUT (jacks) rs (10)
?/1 (power) 1 (19, 25, 39, 62)
7 89 q;qaqsqdqfqgqhqjqkql w;wa
---