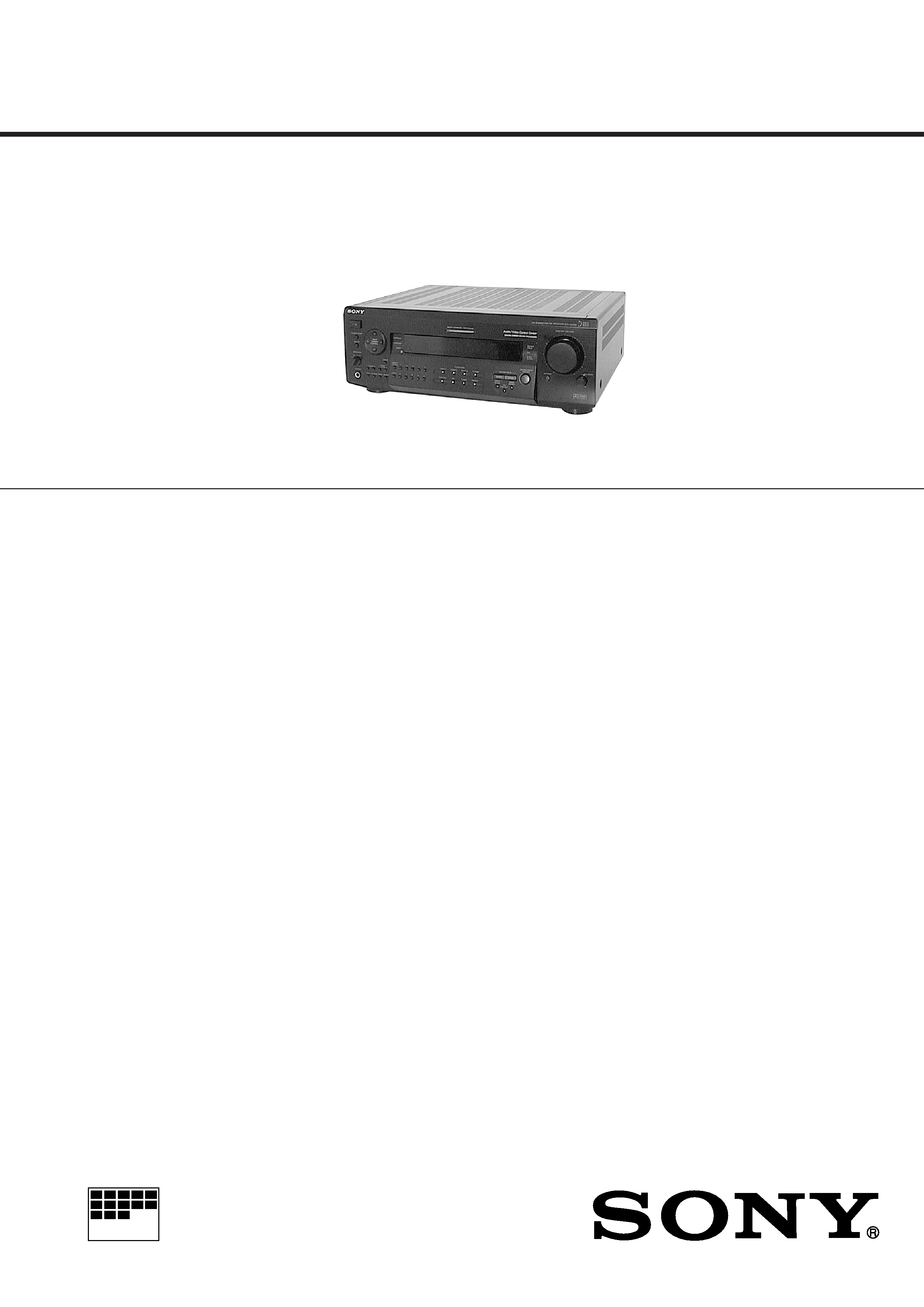 -- Continued on next page --
Manufactured under license from Dolby Laboratories Licensing
"DOLBY" the double-D symbol
are trademarks of Dolby Laboratories Licensing Corporation.
AUDIO POWER SPECIFICATIONS
POWER OUTPUT AND TOTAL HARMONIC DISTORTION:
With 8 ohm loads, both channels driven, from 20 - 20,000 Hz; rated
100 watts per channel minimum RMS power, with no more than
0.09% total harmonic distortion from 250 milliwatts to rated output .
(8 ohms 20 Hz ­20 kHz, THD 0.09%)
Surround mode (8 ohms at 1 kHz, THD 0.8%)
a) Depending on the sound field settings and the source, there may be no
Harmonic distortion at rated output
Less than 0.09% (with sound field, tone, and bass
CD, TAPE, MD/DAT, TAPE/MD, DVD/LD, TV/DBS,
10 Hz - 50 kHz +0.5/­2 dB (with sound field, tone,
and bass booster bypassed)
S/N
b)
: 75 dB (A, 2.5 mV
c)
)
CD, DVD/LD, TAPE, MD/DAT, TAPE/MD, TV/DBS,
S/N
b)
: 82 dB (A, 150 mV
c)
)
c) Weighted network, input level
S/N: 100 dB (A, 20 kHz LPF)
TAPE/MD, (REC OUT); VIDEO 1, 2
Accepts low - and high-impedance headphones
---

100 Hz ~ 1.0 kHz (21 steps)
500 Hz ~ 5.0 kHz (21 steps)
1.0 kHz ~ 10 kHz (21 steps)
Harmonic distortion at 1 kHz
30 Hz - 15 kHz +0.5/-2 dB
With 10-kHz tuning scale:
50 dB/m (at 1,000 kHz or 999 kHz)
d)You can change the AM tuning scale to 9 kHz. After tuning in any AM
station, turn off the receiver. Hold down the TUNING + button and
1/u
button. All preset stations will be erased when you
change the tuning scale. To reset the scale to 10 kHz, repeat the
PLL quartz-locked digital synthesizer system
Low- noise NF type equalizer
including projecting parts and controls
Mass (Approx.) 10.5 kg (23 lb 3 oz)
· Remote commander RM-PP401 (remote) (1)
· Carbon-ZINC dry batteries (2)
Design and specifications are subject to change without notice.
---

SAFETY-RELATED COMPONENT WARNING!!
COMPONENTS IDENTIFIED BY MARK
! ON THE SCHEMATIC DIAGRAMS AND IN THE PARTS
LIST ARE CRITICAL TO SAFE OPERATION. REPLACE THESE
COMPONENTS WITH SONY PARTS WHOSE PART NUMBERS
APPEAR AS SHOWN IN THIS MANUAL OR IN SUPPLEMENTS
After correcting the original service problem, perform the
following safety checks before releasing the set to the customer:
Check the antenna terminals, metal trim, "metallized" knobs, screws,
and all other exposed metal parts for AC leakage. Check leakage as
The AC leakage from any exposed metal part to earth ground and
from all exposed metal parts to any exposed metal part having a
return to chassis, must not exceed 0.5 mA (500 microampers).
Leakage current can be measured by any one of three methods.
A commercial leakage tester, such as the Simpson 229 or RCA
WT-540A. Follow the manufacturers' instructions to use these
A battery-operated AC milliammeter. The Data Precision 245
digital multimeter is suitable for this job.
Measuring the voltage drop across a resistor by means of a
VOM or battery-operated AC voltmeter. The "limit" indication
is 0.75 V, so analog meters must have an accurate low-voltage
scale. The Simpson 250 and Sanwa SH-63Trd are examples of
a passive VOM that is suitable. Nearly all battery operated
digital multimeters that have a 2V AC range are suitable. (See
Fig. A. Using an AC voltmeter to check AC leakage.
GENERAL
······································································ 4
TEST MODE ····························································
6
Circuit Boards Location ····················································· 7
Block Diagram -- Main Section -- ··································· 9
Block Diagram -- Power Section -- ······························· 11
Printed Wiring Board -- AMP Section -- ······················· 13
Schematic Diagram -- AMP Section -- ·························· 15
Printed Wiring Board -- Video Section -- ······················ 17
Schematic Diagram -- Video Section -- ························· 19
Printed Wiring Board --AUDIO Section -- ···················· 21
Schematic Diagram -- AUDIO Section -- ······················ 23
3-10. Printed Wiring Board -- Input Section -- ······················· 25
3-11. Schematic Diagram -- Input Section -- ·························· 27
3-12. Printed Wiring Board -- Display Section -- ··················· 29
3-13. Schematic Diagram -- Display Section -- ······················ 31
3-14. Printed Wiring Board -- SPEAKER Section -- ·············· 33
3-15. Schematic Diagram -- SPEAKER Section -- ················· 35
3-16. Printed Wiring Board -- Power Section -- ····················· 37
3-17. Schematic Diagram -- Power Section -- ························ 39
3-18. Printed Wiring Board
-- DIGITAL (SIDE A) Section -- ··································· 41
3-19. Printed Wiring Board
-- DIGITAL (SIDE B) Section -- ··································· 43
3-20. Schematic Diagram -- DIGITAL Section (1/3) -- ·········· 45
3-21. Schematic Diagram -- DIGITAL Section (2/3) -- ·········· 47
3-22. Schematic Diagram -- DIGITAL Section (3/3) -- ·········· 49
3-23. IC Pin Function Description ············································ 51
3-24. IC Block Diagrams ··························································· 61
Front Panel Section ·························································· 64
Chassis Section ································································· 65
ELECTRICAL PARTS LIST
··································· 66
---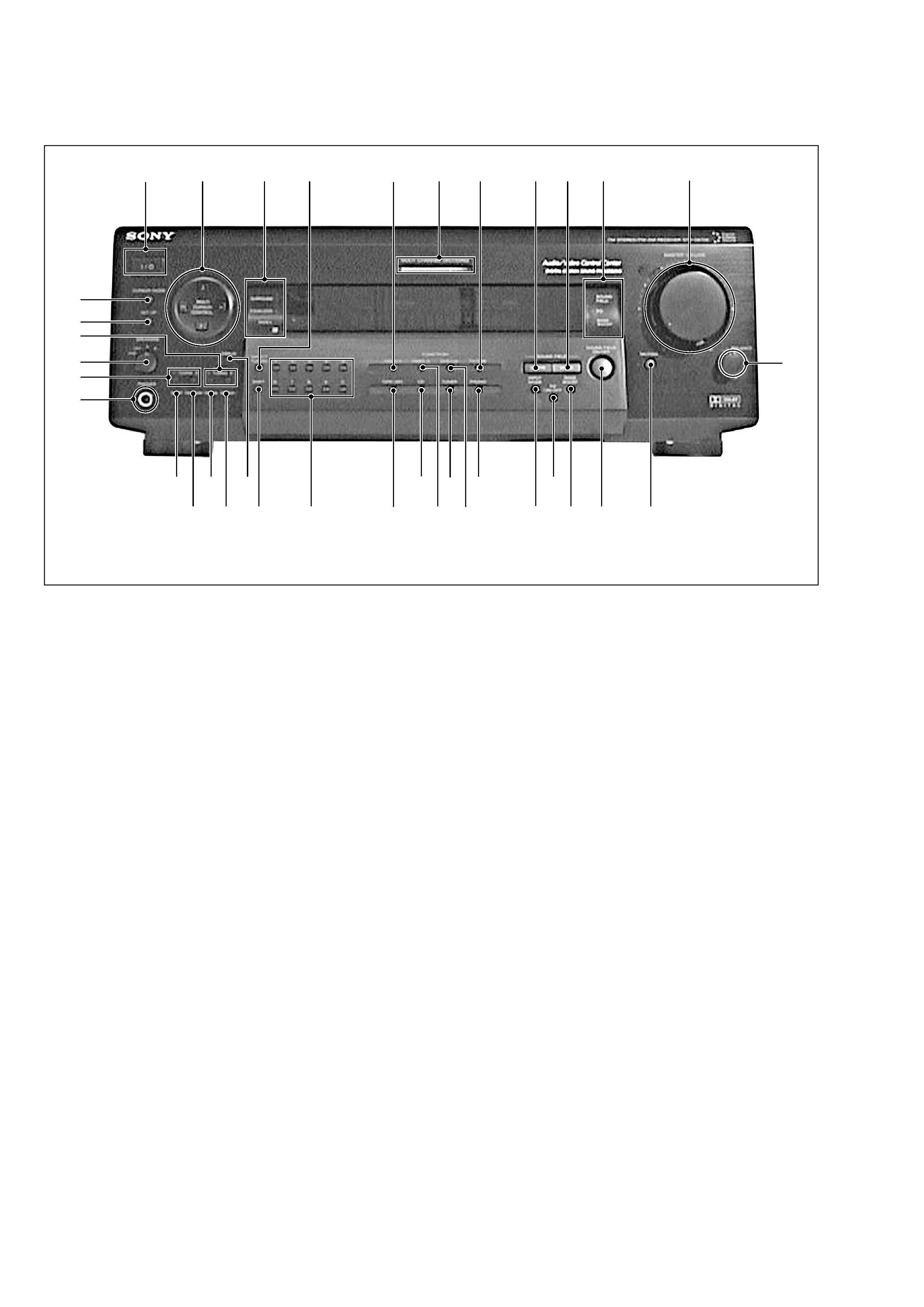 LOCATION AND FUNCTION OF CONTROLS
SURROUND, EQUALIZER, INDEX indicators
MULTI CHANNEL DECODING indicator
SOUND FIELD, EQ, BASS BOOST indicators
SOUND FIELD ON/OFF button
PRESET TUNING +, ­ buttons
---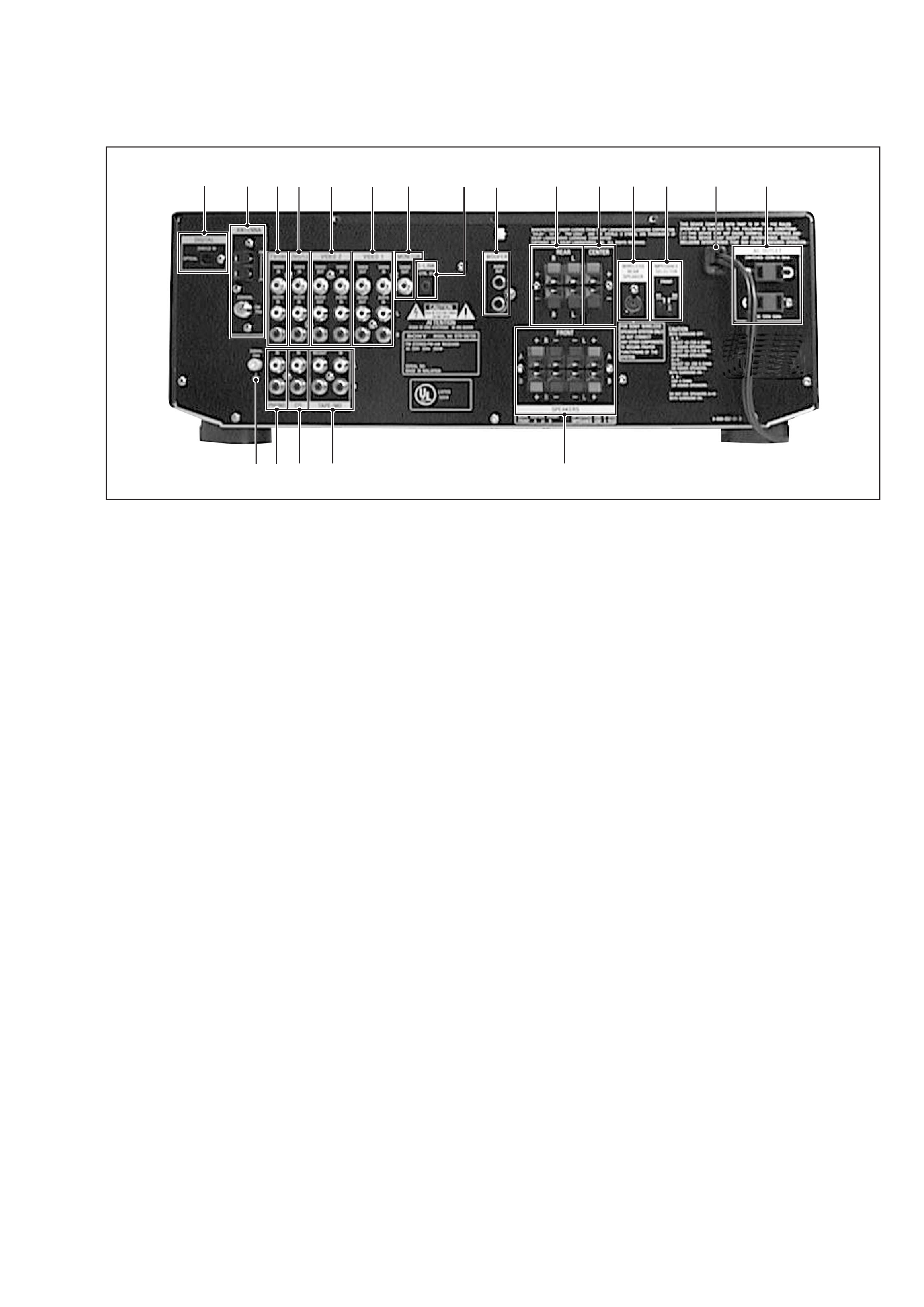 ---