© 2001 Sony Electronics Inc.
Reproduction in whole or in part without written
permission is prohibited. All rights reserved.
DIRECTV Digital Satellite Receiver
Before you begin using your Digital Satellite Receiver for
the first time, follow the instructions in "Connecting Your
Digital Satellite Receiver" on pages 6­15 and "Setting Up
Your Digital Satellite Receiver (SYSTEM)" on pages 26­42.
To receive satellite programming, make sure your Satellite
Dish Antenna is properly installed. Then call DIRECTV to
DIRECTV: 1-800-DIRECTV (347-3288)
---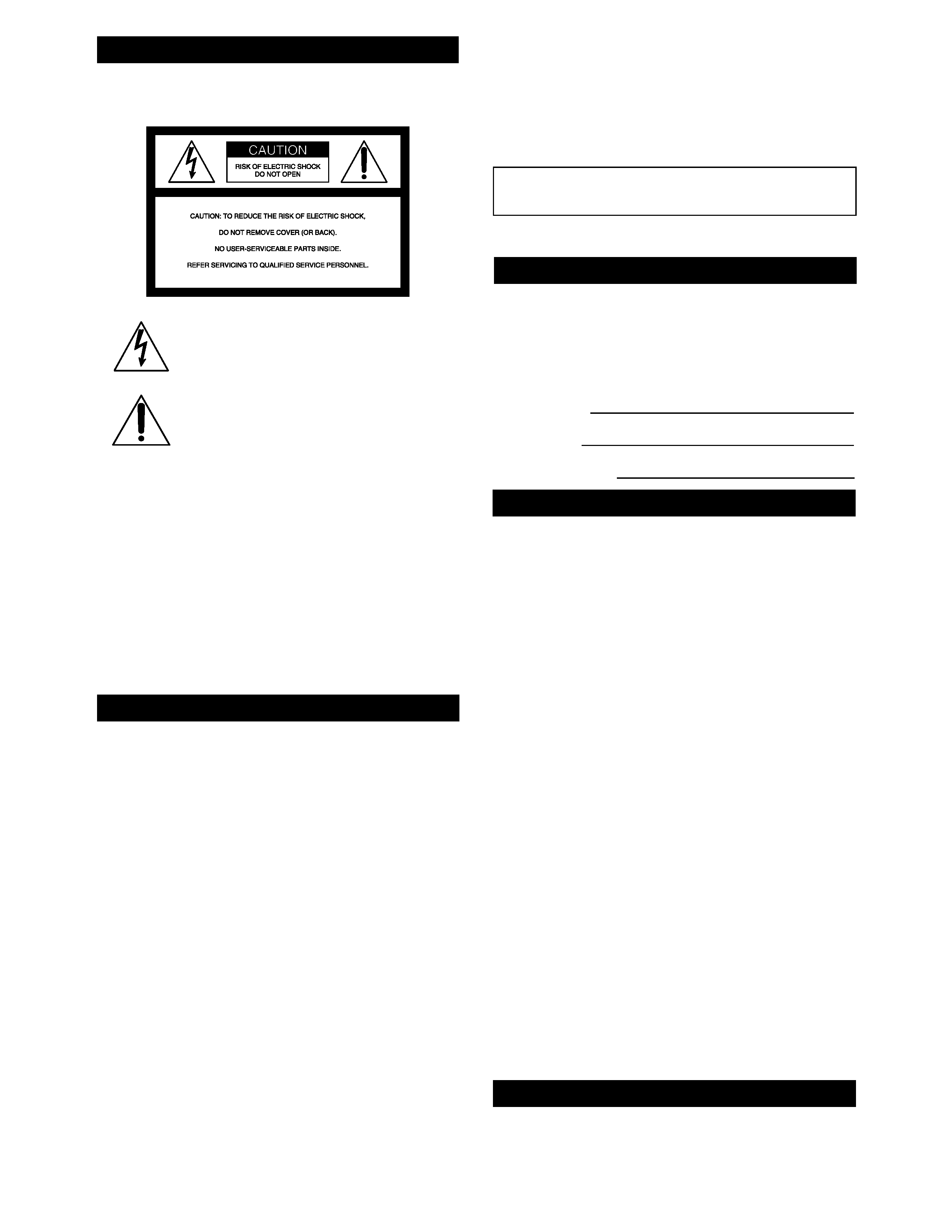 To reduce the risk of fire or shock hazard, do not expose the unit
This symbol is intended to alert the user to the
presence of uninsulated "dangerous voltage"
within the product's enclosure that may be of
significant magnitude to constitute a risk of
electric shock to persons.
This symbol is intended to alert the user to the
presence of important operating and
maintenance (servicing) instructions in the
literature accompanying the appliance.
Note to the CATV Installer
This reminder is provided to call the CATV system installer's
attention to Article 820-40 of the NEC that provides guidelines for
proper grounding and, in particular, specifies that the cable
ground shall be connected to the grounding system of the building
as close to the point of cable entry as practical.
Note to the Satellite Dish Antenna Installer
This reminder is provided to call the Satellite Dish Antenna
installer's attention to Article 810 and in particular Article 810-15
of the NEC (National Electrical Code), which covers proper
installation and grounding of television receiving equipment, as
well as to Article 820-40 of the NEC, which specifies that the
Satellite Dish Antenna cable ground shall be connected to the
grounding system of the building as close to the point of cable
Telephone Line Interruption
Periodically, information on your DIRECT TICKET
®
and Pay Per
View selections is sent, free of charge, via your telephone line to an
800 number. If you use your telephone during the time the
information is being forwarded, you will hear static noise for
approximately 30 seconds. If you would like to use your telephone
while the information is being sent, you can interrupt the sending
of this information at any time by temporarily unplugging the
phone line to the receiver.
With this Digital Satellite Receiver and the proper satellite dish
antenna, you may be able to receive local channels from DIRECTV
in certain areas. Additional equipment may be required in some
markets. Check with your retailer or visit www.DIRECTV.com for
information on availability of local channels from DIRECTV in
High Definition Programming
Due to copyright restrictions, you may not be able to view some
high definition programs in high definition format using this
Note on Recording Programming
Programming may be taped for home viewing only. All other
taping is expressly prohibited. Some programming may not be
taped. An additional taping fee may be applied. Call your
program providers for details.
Sony Software License Agreement
ATTENTION: USE OF THE SOFTWARE IS SUBJECT TO THE
SONY SOFTWARE LICENSE TERMS SET FORTH ON PAGE 92.
USING THE SOFTWARE OR THE PRODUCT IN WHICH IT IS
INCORPORATED INDICATES USER'S ACCEPTANCE OF THESE
LICENSE TERMS. IF THE USER DOES NOT ACCEPT THESE
LICENSE TERMS, THE USER SHOULD IMMEDIATELY RETURN
THE ENTIRE PRODUCT IN ITS ORIGINAL PACKING IN ORDER
TO RECEIVE A FULL REFUND OF THE PURCHASE PRICE.
The Digital Satellite Receiver is intended for use only within the
The model and serial numbers are located on the bottom of the
Digital Satellite Receiver. The number for the Access Card is on the
back of the card and on the carton label. Record these numbers in
the space provided below. Refer to these numbers whenever you
need to call your sales or service representative regarding this
For subscription information, or to resolve problems related to
programming, call DIRECTV at:
For Hardware and Installation
To arrange for the installation of your Digital Satellite Receiver,
call the dealer from whom you purchased your system.
For general information, or to resolve problems related to the
operation of your Digital Satellite Receiver or Satellite Dish
Antenna, please contact your Sony dealer. If your dealer or
installer is unable to answer your questions, call the Sony Satellite
System Information Center at 1-800-838-7669. You may also
contact Sony Electronics by visiting www.sony.com/support.
Trademark, Copyright, and License Information
Sony, Media Window, SmartFile, SignalSeeker, and Remote
Commander are trademarks and The Sony Partnership and
Express Support are service marks of Sony.
DIRECTV, DIRECT TICKET and the Cyclone Design logo are
trademarks of DIRECTV, Inc., a unit of Hughes Electronics Corp.,
and are used with permission.
Manufactured under license from Dolby Laboratories. "Dolby",
the double-D symbol and Pro Logic are trademarks of Dolby
Laboratories. Confidential Unpublished Works. © 1992­1997
Dolby Laboratories Inc. All rights reserved.
Macrovision is a trademark of Macrovision Corporation.
This product incorporates copyright protection technology that is
protected by U.S. patents and other intellectual property rights.
Use of this copyright protection technology must be authorized by
Macrovision, and is intended for home and other limited pay-per-
view uses only unless otherwise authorized by Macrovision.
Reverse engineering or disassembly is prohibited.
The manufacture and sale of the television schedule feature of this
product was licensed under one or more of the following patents
of StarSight Telecast, Inc.: U.S. Patent Nos. 4,706,121; 4,977,455;
5,151,789; and 5,353,121; with use rights reserved.
The z icon indicates hints and tips for making the task easier.
A Note provides information that may be necessary to complete
You are cautioned that any changes or modifications not
expressly approved in this manual could void your authority to
About These Operating Instructions
---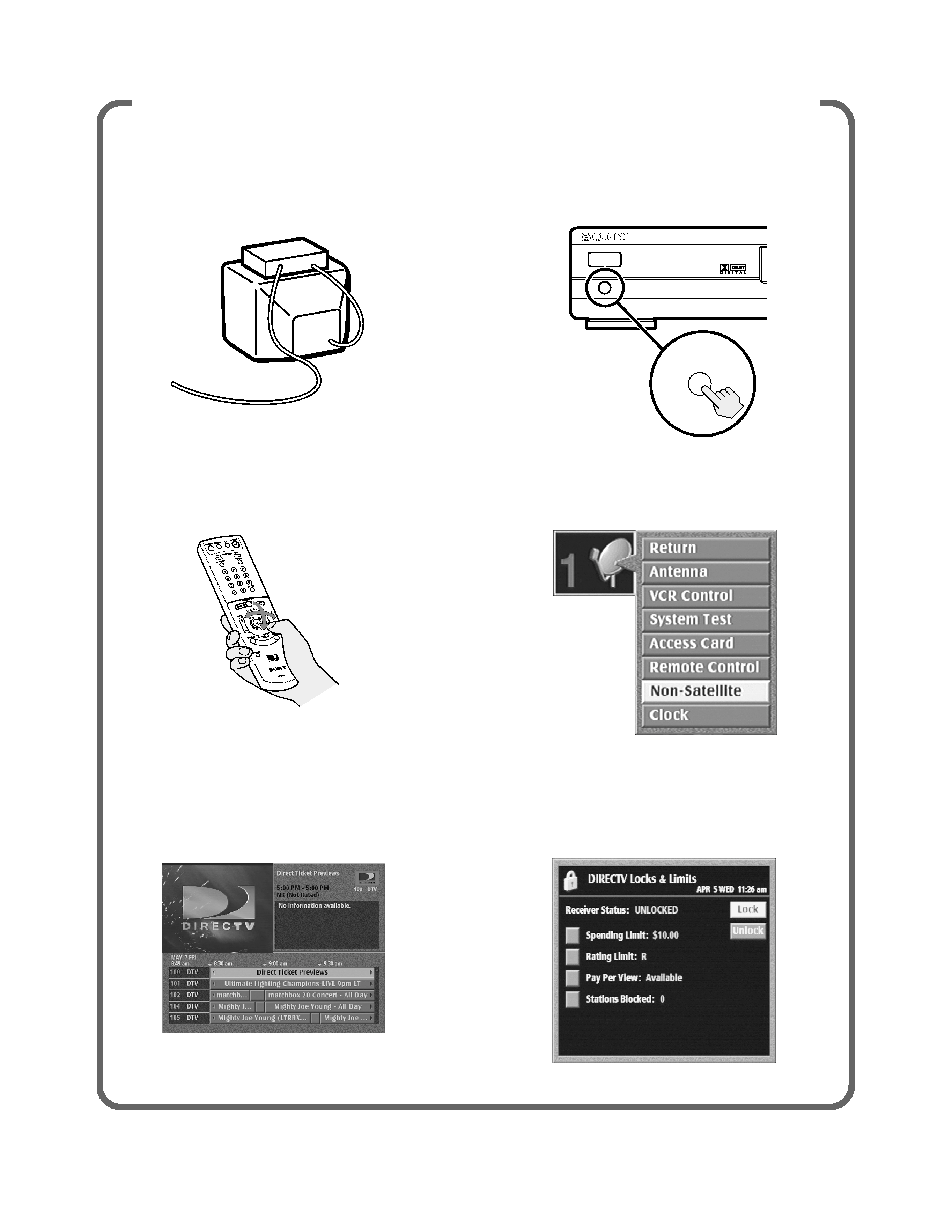 Satellite Receiver (Page 6)
Selecting High or Standard
Definition Output (Page 11)
Using Your Remote Control
Getting to Know Your Digital Satellite Receiver
---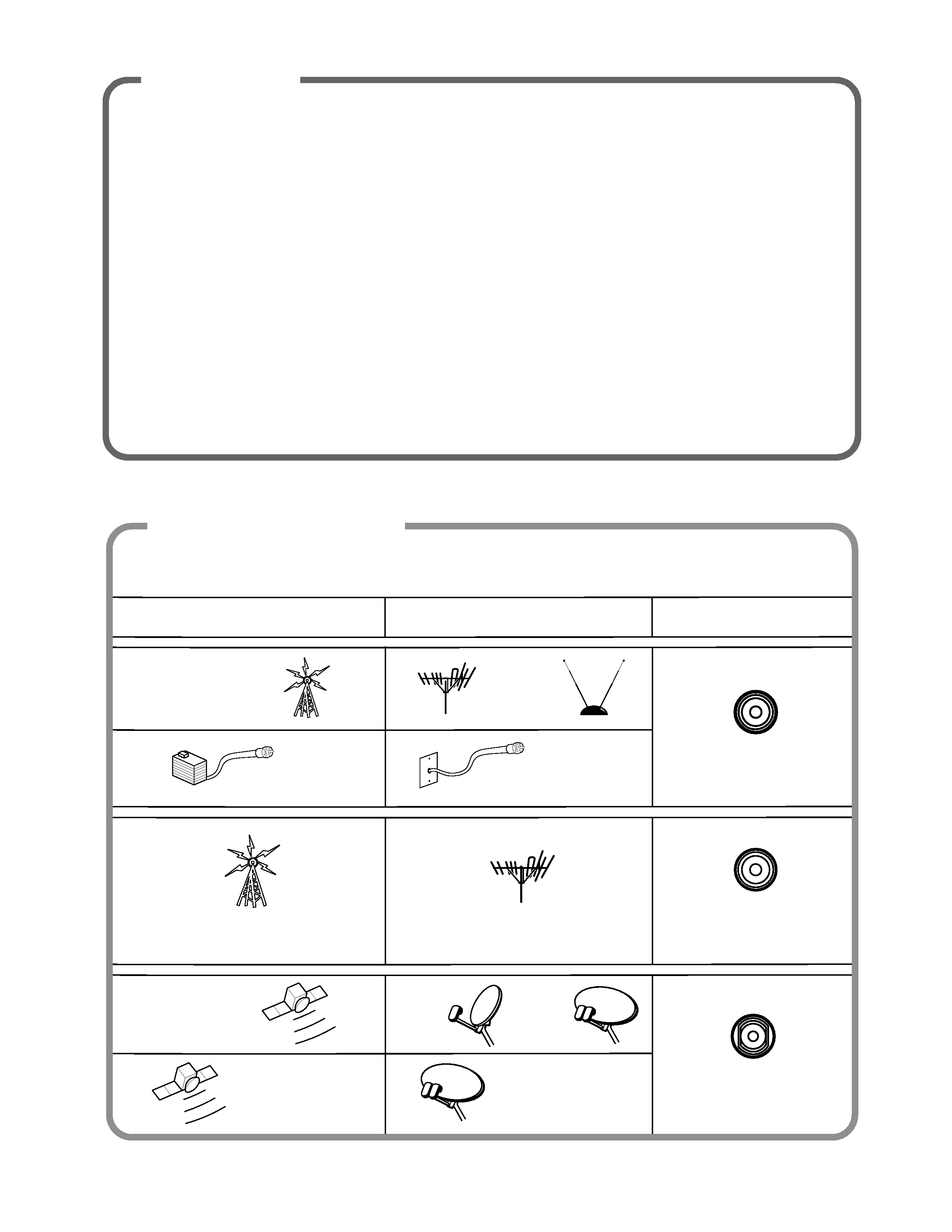 Congratulations on your purchase of the Sony Digital Satellite Receiver. This manual can help you to
become familiar with the many great features of the Digital Satellite Receiver. Check below to find out
about some of the most exciting features.
Convenience and Ease-of-Use
· The Program Guide shows the picture and sound in the Media WindowTM while you check station and
program information. See page 45.
· Operate your Digital Satellite Receiver from another room or from outside a cabinet by setting up the
RF feature on your remote control. See pages 35­37.
· Connect your Digital Satellite Receiver to a digital monitor to enjoy digital high definition
programming. See pages 10­11.
· Select Dolby Digital audio to truly make your home theater come alive. See page 80.
· Organize the channels your family watches most often by setting up the Favorite Stations guide. See pages 48­50.
· Control access to programming with the Locks & Limits feature. See pages 65­71.
Digital Satellite Receiver
You may enjoy many types of broadcasts with your Digital Satellite Receiver. Your Digital
Satellite Receiver has three input jacks to accommodate the types of broadcasts you want to
---
Carton Contents .................................................... 6
Setup and Connections ......................................... 7
Connection Overview ........................................... 7
Step 1: Connecting the Antennas or Cable TV .... 8
Step 2: Connecting Your Analog TV Set or
Digital Monitor ................................................... 9
Connecting Your Analog TV Set ........................................... 9
Connecting Your Digital Monitor ....................................... 10
Step 3: Selecting High or Standard
Definition Output ............................................ 11
Step 4: Connecting Your VCR ............................. 12
Step 5: Connecting the VCR Controller.............. 13
Connecting a Sony SmartFileTM VCR ................................... 13
Step 6: Connecting an Audio System................. 14
Step 7: Connecting the RF Antenna ................... 14
Step 8: Connecting the Telephone Line and
AC Power Cord ................................................. 15
Step 9: Inserting the Access Card ....................... 15
Inserting the Batteries ........................................ 16
Selecting Items .................................................... 16
Understanding the Buttons ................................ 17
Setting Up the Remote Control .......................... 19
Manufacturer Codes............................................ 20
Television Features.............................................. 22
Turning On the Power ........................................ 23
Changing Channels ............................................. 24
Using the Main Menu ......................................... 25
Setting Up Your Digital Satellite Receiver
(SYSTEM)........................................................... 26
Setting Up the Satellite or Digital TV Antenna ................. 27
Setting Up the VCR Control Feature ................................... 30
Performing a System Test ................................................... 33
Replacing Your Access Card ................................................ 34
Selecting RF or IR Remote Control Reception .................... 35
Setting Up Non-Satellite Stations ....................................... 38
Setting the Clock .................................................................. 42
Viewing Station and Program Information
(GUIDES) ............................................................ 43
Using the Alpha List ............................................................. 44
Using the Program Guide .................................................... 45
Using the Category Guide ................................................... 46
Using the Station Index ....................................................... 47
Using the Favorite Stations Guide ...................................... 48
Using Other Guides .............................................................. 51
Viewing Pay Per View Programs ......................................... 53
(PREFERENCES) .................................................. 54
Setting Display Options ....................................................... 55
Setting Up Custom Stations ................................................ 58
Selecting Data Service.......................................................... 60
(TV PROPERTIES) ...............................................61
(LOCKS & LIMITS) .............................................. 65
DIRECTV Locks & Limits and TV Locks & Limits .................. 67
Locking Your Receiver.......................................................... 70
Unlocking Your Receiver...................................................... 71
Checking Service Provider Information
(DIRECTV) .......................................................... 72
Viewing Messages................................................................ 73
Checking Your Purchases..................................................... 74
(TIMER & REC) ................................................... 75
Recording Programs ............................................................. 75
Using One Button Timer & Rec............................................ 76
Using the Timer & Rec Feature ............................................ 77
Editing Timer & Rec Events.................................................. 79
(AUDIO) ............................................................. 80
Changing the Current Audio ............................................... 81
Changing the Default Audio ............................................... 81
Setting Dolby Digital Options ............................................. 82
Setting Closed Captioning ................................................... 83
Location and Function of Controls .....................84
Front Panel............................................................................ 84
Display Window ................................................................... 84
Back Panel ............................................................................. 85
Specifications ....................................................... 86
Troubleshooting .................................................. 87
FCC Regulations and Information....................... 90
Limited Warranty................................................. 91
Software License Agreement.............................. 92
Index ..................................................................... 93
Connecting Your Digital Satellite
Using Your Remote Control
Viewing Pictures From Your Digital
Using the On-Screen Displays
---