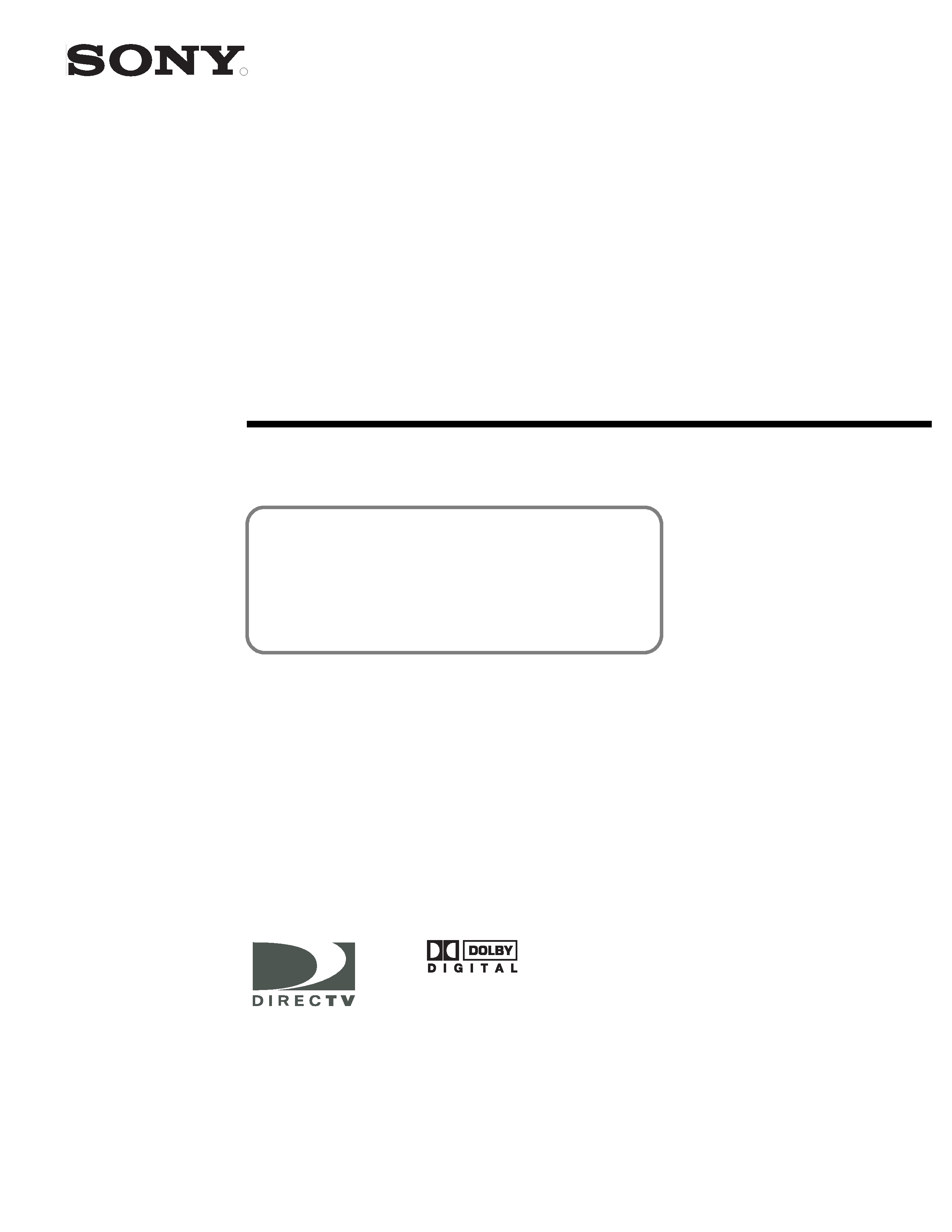 © 2001 Sony Electronics Inc.
Reproduction in whole or in part without written
permission is prohibited. All rights reserved.
Digital Satellite Receiver
Before you begin using your Digital Satellite Receiver
for the first time, follow the instructions in "Getting Started"
Also, make sure your Satellite Dish Antenna has been
properly installed and call your service provider to begin
service: DIRECTV: 1-800-DIRECTV (347-3288)
---

Covered by one or more of the following U.S. Patents:
6,075,526;5,828,419; 5,751,372; 5,694,176; and 5,635,989. This
product is subject to one or more U.S. or foreign patents pending.
Sony Software License Agreement
ATTENTION: USE OF THE SOFTWARE IS SUBJECT TO THE
SONY SOFTWARE LICENSE TERMS SET FORTH ON PAGE 44.
USING THE SOFTWARE OR THE PRODUCT IN WHICH IT IS
INCORPORATED INDICATES USER'S ACCEPTANCE OF THESE
LICENSE TERMS. IF THE USER DOES NOT ACCEPT THESE
LICENSE TERMS, THE USER SHOULD IMMEDIATELY RETURN
THE ENTIRE PRODUCT IN ITS ORIGINAL PACKAGING IN ORDER
TO RECEIVE A FULL REFUND OF THE PURCHASE PRICE.
Disclaimer ­ Every effort has been made to ensure the correctness
and completeness of the material in this document. No company shall
be liable for errors contained herein. The information in this document
is subject to change without notice. No warranty of any kind is made
with regard to this material, including, but not limited to, the implied
warranties of merchantability and fitness for a particular purpose.
Trademarks ­ Sony is trademark of Sony. DIRECTV, the Cyclone
Design logo and DIRECTV INTERACTIVE are trademarks of
DIRECTV, Inc., a unit of Hughes Electronics Corp. All other
trademarks and service marks are the property of their respective
Dolby Laboratories Information ­ Manufactured under license from
Dolby Laboratories. "Dolby," "Pro Logic," and the double-D symbol are
trademarks of Dolby Laboratories.
Macrovision
®
Information ­ Macrovision is a registered trademark
of Macrovision Corporation. This device incorporates an anticopy
process technology that is protected by U.S. patents 4,631,603;
4,577,216; 4,819,098; and other intellectual property rights. The
anticopy process is licensed for noncommercial, home use only.
Reverse engineering or disassembly is prohibited.
StarSight® Information ­ StarSight
®
features licensed under one or
more of the following patents: 4,706,121; 5,151,789; 5,353,121;
5,353,277; 5,479,266; 5,479,268; and 5,532,754. Use rights
TruSurroundTM Information ­ TruSurround
TM
and the
are trademarks of SRS Labs, Inc. TruSurround technology is
incorporated under license from SRS Labs, Inc.
Note on recording programming ­ Most television programs and
films are copyrighted. This means that someone has legal rights
governing the reproduction and distribution of this material. In certain
circumstances, copyright law may apply to private in-home taping of
copyrighted materials. In most cases, it is permissible to record for
your personal use, as long as you do not sell the material. You must
act responsibly in this area­check into the matter if you are unsure.
Some pay per view programs may be licensed from producers as
"view-only" programs. These are copyrighted programs, and may not
be copied or reproduced for any purpose without the express written
permission of the copyright owner.
DIRECTV
®
Programming ­ ACTIVATION OF PROGRAMMING
MAY BE SUBJECT TO CREDIT CARD APPROVAL AND
REQUIRES VALID SERVICE ADDRESS, SOCIAL SECURITY
NUMBER, AND/OR MAJOR CREDIT CARD. Programming subject
to change. You must be physically located in the United States (U.S.)
to receive DIRECTV service. DIRECTV services are not available
outside the United States. DIRECTV programming is sold separately
and independently of DIRECTV System hardware. A valid
programming subscription is required to operate DIRECTV System
hardware. Activate your DIRECTV programming today at
1-800-DIRECTV (1-800-347-3288).
DIRECTV System hardware and installation
To arrange for professional installation of your DIRECTV System, ask
questions, or resolve problems related to your DIRECTV System,
contact your dealer. If you need more information, please contact the
Sony Satellite System Information Center at 1-800-838-7669.
Please record the following information for warranty
System Model #: - _______________________
Receiver Model #: ___________________________
Receiver Serial #: ___________________________
Access Card #: _________ __________ _________
---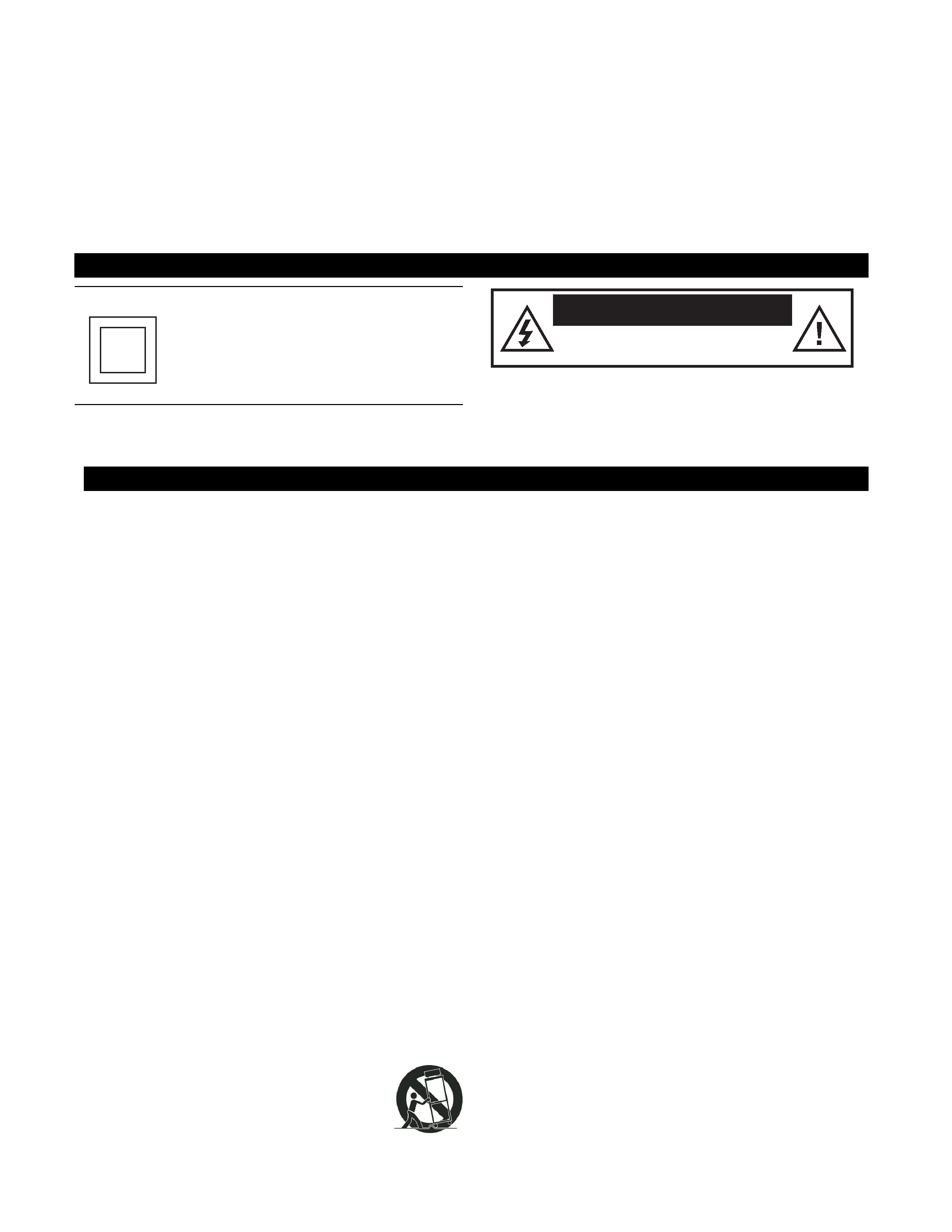 For your safety and protection, read this entire Owner's Manual before you attempt to install or use your satellite
system. In particular, read this safety section carefully. Keep this safety information where you can refer to it if
Heed Cautions­All cautions on the product and in the operating instructions should be adhered to.
Follow Instructions­All operating and use instructions should be followed.
1. Read these instructions.
2. Keep these instructions.
4. Follow all instructions.
5. Do not use this apparatus near water.
6. Clean only with dry cloth.
7. Do not block any ventilation openings. Install in
accordance with the manufacturer's instructions.
8. Do not install near any heat sources such as
radiators, heat registers, stoves, or other apparatus
(including amplifiers) that produce heat.
9. Do not defeat the safety purpose of the polarized or
grounding-type plug. A polarized plug has two
blades with one wider than the other. A grounding
type plug has two blades and a third grounding
prong. The wide blade or the third prong is
provided for your safety. If the provided plug does
not fit into your outlet, consult an electrician for
replacement of the obsolete outlet.
10. Protect the power cord from being walked on or
pinched particularly at plugs, convenience
receptacles, and the point where they exit from the
11. Only use attachments/accessories specified by the
12. Use only with the cart, stand, tripod,
bracket, or table specified by the
manufacturer or sold with the
apparatus. When a cart is used, use
caution when moving the cart/apparatus
combination to avoid injury from tip-over.
13. Unplug this apparatus during lightning storms or
when unused for long periods of time.
14. Refer all servicing to qualified service personnel.
Servicing is required when the apparatus has been
damaged in any way, such as power-supply cord or
plug is damaged, liquid has been spilled or objects
have fallen into the apparatus, the apparatus has
been exposed to rain or moisture, does not operate
normally, or has been dropped.
Important Safety Instructions
THESE CAUTIONS AND SYMBOLS APPEAR ON THE BACK OF THE RECEIVER
Double insulated systems are
protected by additional board
clearances and creepage, so
that the unit will not be a safety
IMPORTANT SAFETY INSTRUCTIONS
---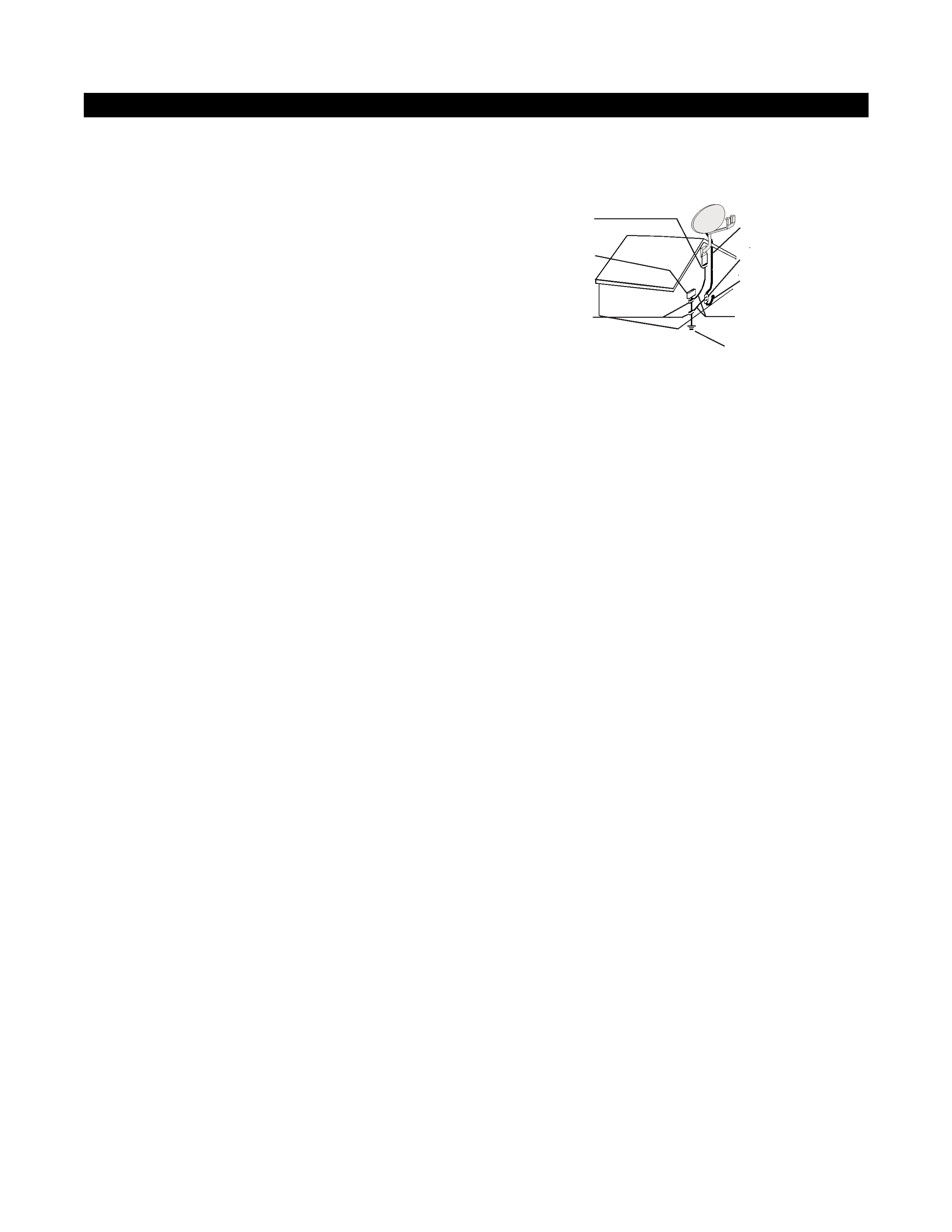 Polarization ­ This DIRECTV Receiver is equipped with a plug that will
fit into the power outlet only one way. Do not modify the plug defeating this
feature. If the plug does not fit, contact your electrician to replace your
outlet. To prevent electric shock, do not use this plug with an extension cord
or outlet unless you can fully insert the blades without blade exposure
Power Sources ­ Operate this DIRECTV Receiver only from the type of
power source indicated on the marking label. If you are not sure of the type
of power supply to your home, consult your dealer or local power company.
Power-Cord Protection ­ Protect the power cord from being walked on
or pinched particularly at plugs, convenience receptacles, and the point
where they exit from the apparatus.
Overloading ­ Do not overload wall outlets, extension cords, or integral
convenience receptacles as this can result in a risk of fire or electrical shock.
Ventilation ­ Slots and openings in the cabinet are provided for ventilation
to ensure reliable operation of the product and to protect it from overheating.
Do not block any ventilation openings. Install in accordance with the
manufacturer's instructions.
The openings should never be blocked by placing the product on a bed, sofa,
rug, or similar surface. This product should not be placed in a built-in
installation such as a bookcase or rack unless proper ventilation is provided
and the manufacturer's instructions have been adhered to.
For electrical safety, power line operated equipment or accessories
connected to this unit should bear the UL listing mark and should not be
modified so as to defeat the safety features. This will help avoid any
potential hazard from electrical shock or fire. If in doubt, contact
qualified service personnel.
Heat­Do not install near any heat sources such as radiators, heat registers,
stoves, or other apparatus (including amplifiers) that produce heat.
Accessories ­ To avoid personal injury or damage to the DIRECTV
Receiver, do not place the DIRECTV Receiver on any unstable cart, stand,
table, or bracket. Any mounting of the product should follow the
manufacturer's instructions.
Attachments ­ Do not use attachments unless recommended by
DIRECTV as they may cause hazards.
Satellite Dish Antenna Grounding ­ The outdoor satellite dish antenna
used to receive satellite signals and the cable used to connect the satellite
dish antenna to the indoor receiving unit are required to comply with local
installation codes and the appropriate sections of the National Electric Code
(NEC) and in particular Article 810-15, which covers proper installation and
grounding of television receiving equipment, as well as to Article 820-33,
which specifies that the satellite dish antenna cable ground shall be
connected to the grounding system of the building as close to the point of
cable entry as practical. These codes require proper grounding of the metal
structure of the outdoor satellite dish antenna and grounding of the
connecting cable at a point where it enters the house (or other building). If
you are having a professional installer perform the installation, the installer
must observe installation codes. This manual contains instructions on how to
make the installation in compliance with the NEC. If additional local
installation codes apply, contact local inspection authorities.
Example of Antenna Grounding according to the National
Electrical Code instructions contained in "Radio and Television
Note: The DIRECTV Receiver shall be grounded through the satellite/
local antenna cable before plugging into the telephone jack, and it must
remain grounded thereafter.
Water and Moisture ­ WARNING! To reduce the risk of fire or electric
shock, do not expose this product to rain or moisture.
Lightning ­ For added protection for this product during a lightning storm,
or when it is left unattended and unused for long periods of time, unplug it
from the wall outlet, disconnect the antenna and cable system, and
disconnect it from the telephone line. This will prevent damage to the
product due to lightning and power-line surges.
Television Antenna Information ­ Installing an outdoor antenna can be
hazardous and should be left to a professional antenna installer. Do not
locate the outside antenna system in the vicinity of overhead power lines or
other electric light or power circuits, or where it can fall into such power
lines or circuits. When installing an outside antenna system, take extreme
care to keep from touching such power lines or circuits, as contact with them
might be fatal. If an outside antenna is connected to the DIRECTV Receiver,
be sure the antenna system is grounded so as to provide some protection
against voltage surges and built-up static charges. This DIRECTV Receiver
is equipped with a plug that will fit into the power outlet only one way. Do
not modify the plug defeating this feature. If the plug does not fit, contact
your electrician to replace your outlet. To prevent electric shock, do not use
this plug with an extension cord or outlet unless you can fully insert the
blades without blade exposure. Section 810 of the NEC, NFPA No. 70 1987,
provides information with respect to proper grounding of the mast and
supporting structure, grounding of the lead-in wire to an antenna discharge
unit, size of the grounding conductors, location of antenna discharge unit,
connection to grounding electrodes, and requirements for the grounding
Power Lines ­ Extreme care must be taken when installing and adjusting
or maintaining the outdoor antenna and connecting cable, especially in the
vicinity of overhead power lines, electric lights, or power circuits. When
installing the outdoor antenna or cable, extreme care should be taken to keep
from touching or approaching such power lines or circuits, as contact with
Cleaning ­ Unplug this receiver from the wall outlet before cleaning. Do
not use liquid or aerosol cleaners. Use only a damp cloth for cleaning.
Object and Liquid Entry ­ Never push objects of any kind into this
DIRECTV Receiver through openings as they may touch dangerous voltages
or "short out" parts that could result in a fire or electric shock. Never spill
liquid of any kind on the receiver. No objects filled with liquids, such as
vases, shall be placed on the apparatus.
---

Servicing­Do not attempt to service this DIRECTV Receiver yourself as
opening or removing covers may expose you to dangerous voltage or other
hazards. There are no user serviceable parts inside. Refer all servicing to
qualified service personnel.
Conditions Requiring Service­Unplug the DIRECTV Receiver from
the wall outlet and refer servicing to qualified personnel under the following
·When the power supply cord or plug has been damaged.
·If liquid has been spilled on, or objects have fallen into, the DIRECTV
Receiver or it has been exposed to water.
·If the DIRECTV Receiver does not operate normally by following the
operating instructions. Adjust only those controls that are covered by the
operating instructions. Other adjustments may result in damage and will
often require extensive work by a qualified technician to restore the
DIRECTV Receiver to its normal operation.
·If the DIRECTV Receiver has been dropped or the cabinet has been
·When the DIRECTV Receiver exhibits a distinct change in performance.
Replacement Parts­When replacement parts are required, have the
technician verify that the replacements being used have the same safety
characteristics as the original parts.
Use of replacement parts specified by the manufacturer can prevent fire,
electric shock, or other hazards.
Safety Check­Upon completion of any service or repairs to this
DIRECTV Receiver, ask the service technician to perform safety checks
recommended by the manufacturer to determine that the DIRECTV Receiver
is in safe operating condition.
Your DIRECTV Receiver is able to receive upgrades or modifications to
some of its features and functions. These modifications will occur
automatically, usually at times when the receiver would likely be turned off.
If your receiver is on when an upgrade or modification is sent, you may
experience a disruption in reception for a minute or two. Your reception
should return to normal after the modification is complete. Your receiver
must be plugged in to receive any upgrades. Do not unplug your receiver
while an upgrade is in progress. Please consult the Upgrade menu to find a
schedule of upgrades or modifications planned by DIRECTV.
With this receiver (SAT-A65, SAT-B65) and the proper satellite dish antenna,
you may be able to subscribe to local channels from DIRECTV in certain
areas. Additional equipment may be required in some markets. Check with
your retailer or visit DIRECTV.com for information on availability of local
channels from DIRECTV in your area.
---