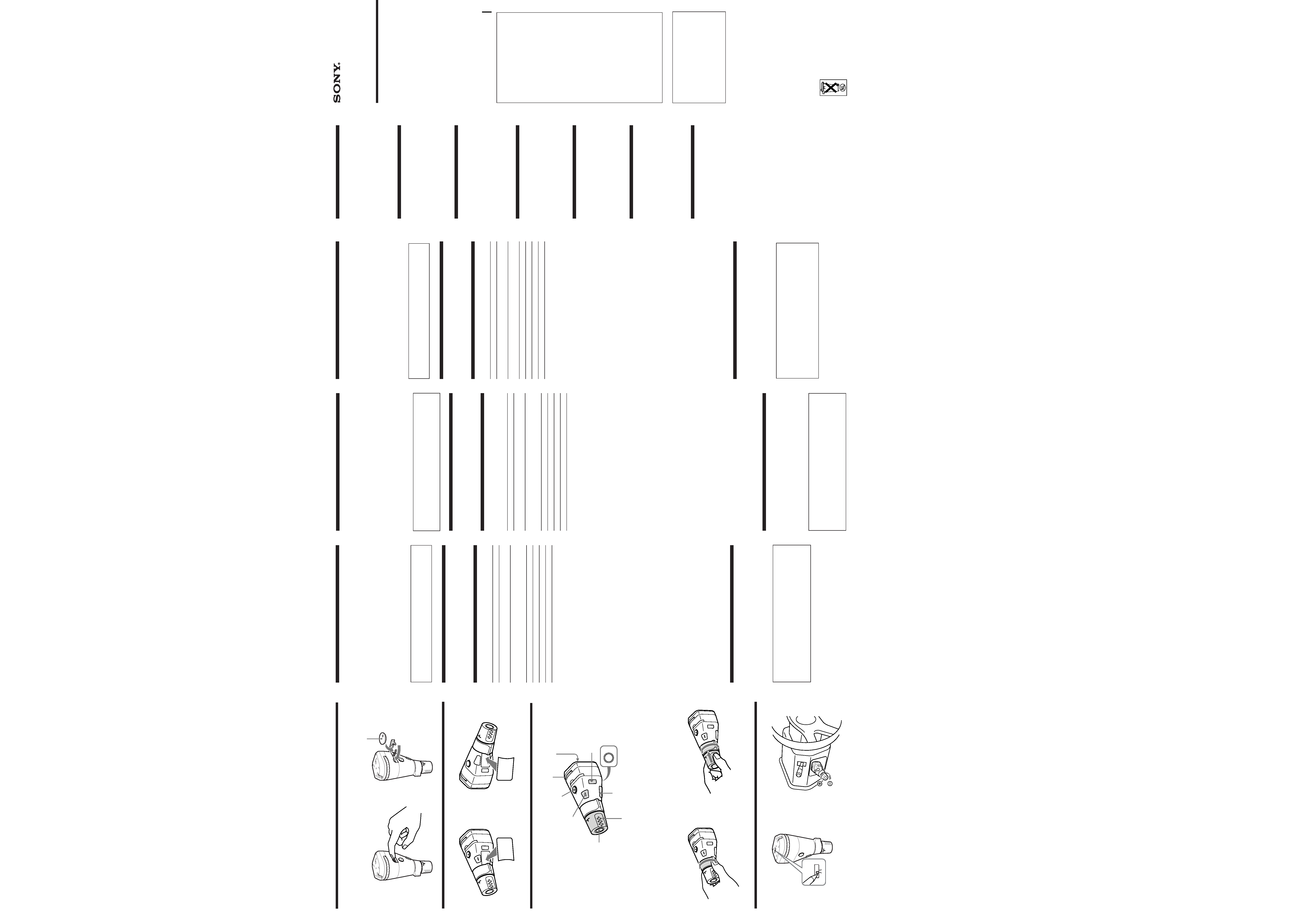 Supplied accessories Screw (1)
Lithium battery CR2025 (1)
CR2025-Lithiumbatterie (1)
Approx. 70 g (2,47 onces)
Pile au lithium CR2025 (1)
Accessori in dotazione Vite (1)
Batteria al litio CR2025 (1)
Bevestigingselementen (1)
CR2025 lithiumbatterij (1)
Ferretería de montaje (1)
Voor de Klanten in Nederland
Gooi de batterij niet weg,
maar lever hem in als KCA
This equipment has been tested and found
to comply with the limits for a Class B
digital device, pursuant to Part 15 of the
FCC Rules. The limits are designed to
provide reasonable protection against
harmful interference in a residential
installation. This equipment generates,
uses, and can radiate radio frequency
energy and, if not installed and used in
accordance with the instructions, may cause
harmful interference to radio
communications. However, there is no
guarantee that interference will not occur in
a particular television reception, which can
be determined by turning the equipment
off and on, the user is encouraged to try to
correct the interference by one or more of
-- Reorient or relocate the receiving
-- Increase the separation between the
-- Connect the equipment into an outlet on
a circuit different from that to which the
-- Consult the dealer or an experienced
radio/TV technician for help.
You are cautioned that any changes or
modifications not expressly approved in
this manual could void your authority to
Rotate the VOL control to adjust the volume.
Drehen Sie den Regler VOL, um die Lautstärke einzustellen.
Faites tourner la commande VOL pour régler le volume.
By pushing in and rotating the control
Drehen und Drücken des Reglers
En pressant et en tournant la commande
Replacing the lithium battery (
1
)
Note on lithium battery life
· The battery will last for approximately 1 year in normal operation.
· When the battery becomes weak, you will not be able to operate the unit
with the rotary commander. Replace the battery as soon as possible with a
new CR2025 lithium battery.
· Keep the lithium battery out of the reach of children. Should the battery
be swallowed, immediately consult a doctor.
· Wipe the battery with a dry cloth to assure a good contact.
· Be sure to observe the correct polarity when installing the battery.
· Do not hold the battery with metallic tweezers, otherwise a short-circuit
Battery may explode if mistreated.
Do not recharge, disassemble, or dispose of in fire.
Labelling the rotary commander
(
2
)
First, attach the appropriate label depending on how you want to mount
Location and Function of Controls
(
3
)
(Radio band/CD unit/MD unit
/Tape playback direction/TV
*
1
)
Stop playback or radio reception
Change the display item
*
3
*
1
Only in the U.S.A. and Canada models.
*
2
If your car has no ACC (accessory) position on the ignition key switch, be
sure to press (OFF) for 2 seconds to turn off the clock indication after
turning off the ignition.
*
3
When using the RDS function, you can press ( DSPL ) to show "PTY" in
the display. Then you can only use your master unit or card remote
commander to receive the PTY data (Only European models).
Turn the dial to change the direction of infrared rays.
Rev/Nor-select switch (See fig. 4 )
-- Select "Nor" to use the rotary commander as the factory-set
-- Select "Rev" when you mount the rotary commander on the
right side of the steering column.
-- locate the beginning of tracks on the tape.
-- tune in stations automatically.
-- skip tracks on the disc.
Rotate, hold, and release to:
-- find a station manually.
-- fast-forward/reverse a track.
Push in and rotate the control to:
-- receive preset stations.
You need to push in and rotate the control each time you select a preset
Changing the operative direction
(
4
)
You can change the operative direction of controls by setting the switch
If you need to mount the rotary commander on the left side of the
steering column, you can set the operative direction as shown in the
When the POWER SELECT switch on your master unit is set to the
(OFF) position, your master unit cannot be operated with the
commander unless on of the operational buttons is pressed or a disc/
cassette is inserted to activate the master unit. Depending on the type of
the master unit, you can turn on the master unit with the (SOURCE)
button of the rotary commander. For details, refer to the Operating
Instructions of the master unit.
THIS DEVICE COMPLIES WITH PART 15
OF THE FCC RULES. OPERATION IS
(1) THIS DEVICE MAY NOT CAUSE
HARMFUL INTERFERENCE, AND
(2) THIS DEVICE MUST ACCEPT ANY
INTERFERENCE RECEIVED, INCLUDING
INTERFERENCE THAT MAY CAUSE
Explosionsfara vid felaktigt batteribyte.
Använd samma batterityp eller en likvärdig typ
som rekommenderas av apparattillverkaren.
Kassera använt batteri enligt gällande
Bitte werfen Sie nur entladene Batterien in die
Sammelboxen beim Handel oder den Kommunen.
Entladen sind Batterien in der Regel dann, wenn
das Gerät abschaltet und signalisiert ,,Batterie
leer" oder nach längerer Gebrauchsdauer der
Batterien ,,nicht mehr einwandfrei funktioniert".
Um sicherzugehen, kleben Sie die Batteriepole
z.B. mit einem Klebestreifen ab oder geben Sie
die Batterien einzeln in einen Plastikbeutel.
Austauschen der Lithiumbatterie (
1
)
Hinweise zur Lebensdauer der Lithiumbatterie
· Unter normalen Bedingungen halten die Batterien etwa 1 Jahr.
· Wenn die Batterie schwächer wird, können Sie das Gerät nicht mehr mit
dem Joystick steuern. Tauschen Sie die Batterie so bald wie möglich
gegen eine neue CR2025-Lithiumbatterie aus.
Hinweise zur Lithiumbatterie
· Halten Sie die Lithiumbatterie von Kindern fern. Falls ein Kind die Batterie
verschluckt, bringen Sie es bitte sofort zu einem Arzt.
· Wischen Sie die Batterie mit einem trockenen Tuch ab, damit die Kontakte
sauber sind und gut funktionieren.
· Achten Sie beim Einlegen der Batterie auf die korrekte Polarität.
· Halten Sie die Batterie nicht mit einer Metallpinzette. Andernfalls kann es
zu einem Kurzschluß kommen.
Die Batterie kann bei falscher Handhabung explodieren!
Auf keinen Fall darf sie aufgeladen, auseinandergenommen oder ins
Anbringen der Aufkleber auf dem Joystick (
2
)
Bringen Sie zunächst den richtigen Aufkleber an, je nachdem, wie Sie den
Joystick montieren wollen.
Lage und Funktion der Teile und
Wechseln der Programmquelle
(Radio/CD/MD/Kassette/Fernsehgerät
*
1
)
(Radiofrequenzbereich/CD-Gerät/MD-Gerät/
Bandwiedergaberichtung/Fernsehgerät
*
1
)
Stoppen der Wiedergabe oder des Radioempfangs
Einstellen des Klangmodus
*
1
nur bei den Modellen für USA und Kanada.
*
2
Wenn Ihr Fahrzeug nicht über ein Zündschloß mit Zubehörposition (ACC
oder I) verfügt, halten Sie unbedingt 2 Sekunden lang (OFF) gedrückt,
um die Uhrzeitanzeige auszuschalten. Andernfalls wird der Autobatterie
weiterhin Strom entzogen.
*
3
Wenn Sie die RDS-Funktion verwenden, können Sie mit der Taste (DSPL)
die Anzeige ,,PTY" im Display anzeigen lassen. Sie können die PTY-Daten
dann nur über die Bedienelemente am Hauptgerät oder an der
Kartenfernbedienung empfangen (nur Modelle für Europa).
Regler für Infrarotstrahlen
Drehen Sie den Regler, um die Richtung der Infrarotstrahlen
Wählschalter Rev/Nor (siehe Abb. 4)
-- Wählen Sie ,,Nor", wenn die werkseitig voreingestellte
Drehrichtung der Regler beibehalten werden soll.
-- Wählen Sie ,,Rev", wenn Sie den Joystick auf der rechten Seite
Drehen Sie den Joystick, und lassen Sie ihn los zum:
-- ansteuern des Anfangs von Titeln auf der Kassette.
-- automatischen Einstellen von Sendern.
-- überspringen von Titeln.
Drehen und halten Sie den Regler, und lassen Sie ihn los zum:
-- manuellen Einstellen von Sendern.
-- Vorwärts-/Rückwärtssuchen in einem Titel.
Wenn Sie den Regler gleichzeitig drücken und drehen,
-- gespeicherte Sender einstellen.
Sie müssen den Regler jedesmal drücken und drehen, wenn Sie einen
gespeicherten Sender oder eine CD/MD auswählen wollen.
Wechseln der Drehrichtung der Regler am
Sie können die Drehrichtung der Regler auch ändern, indem Sie den
Schalter auf Rev/Nor stellen.
Wenn Sie den Joystick links von der Lenksäule anbringen,können Sie
die Drehrichtung wie in der Abbildung gezeigt einstellen.
Wenn der Schalter POWER SELECT am Hauptgerät in der Position
(OFF) steht, können Sie das Hauptgerät nur über den Joystick steuern,
wenn Sie am Hauptgerät eine der Funktionstasten drücken oder eine
CD/MD/Kassette einlegen, so daß sich das Hauptgerät einschaltet. Je
nach dem Typ können Sie das Hauptgerät aber auch mit der Taste
(SOURCE) am Joystick einschalten. Einzelheiten dazu finden Sie in der
Bedienungsanleitung zu Ihrem Hauptgerät.
Remplacement de la pile au lithium (
1
)
Remarques concernant la durée de vie de la pile au lithium
· Dans les conditions d'utilisation normales, les batteries durent environ 1
· Lorsque la pile faiblit, la portée de la télécommande carte se réduit.
Remplacez la pile par une nouvelle pile au lithium CR2025.
Remarques concernant la pile au lithium
· Gardez la pile au lithium hors de portée des enfants. En cas d'ingestion de
la pile, consultez un médecin sans tarder.
· Nettoyez la pile avec un chiffon sec afin d'assurer un contact optimal.
· Respectez les polarités lorsque vous installez la pile.
· Ne manipulez pas la pile avec des pinces métalliques. Cette opération
pourrait provoquer un court-circuit.
Utilisée de façon incorrecte, la pile peut exploser. Ne pas la recharger,
la démonter ni la jeter au feu.
Etiquetage du satellite de commande (
2
)
Commencez par fixer l'étiquette appropriée suivant la position de montage
du satellite de commande.
Emplacement et fonction des commandes
(
3
)
(Radio/CD/MD/cassette/TV
*
1
)
(radio/CD/MD/sens de lecture de la bande/TV
*
1
)
Arrêter la lecture ou l'écoute de la radio
Modifier la rubrique d'affichage
*
3
*
1
Modèles pour les U.S.A. et le Canada uniquement.
*
2
Si votre voiture ne dispose pas de position ACC sur le démarreur, assurez-
vous que vous éteignez l'appareil en appuyant sur (OFF) pendant
2 secondes afin d'éviter de décharger la batterie.
*
3
Lors de l'utilisation de la fonction RDS, vous pouvez appuyer sur la
touche (DSPL) pour faire apparaître "PTY" dans l'affichage. Vous pouvez
ensuite utiliser uniquement votre appareil principal ou votre
télécommande à carte pour recevoir les données PTY (modèles européens
Molette de réglage des rayons IR
Tournez la molette pour changer le sens des rayons IR.
Commutateur de sélection Rev/Nor (Voir figure 4 )
-- Sélectionnez "Nor" pour utiliser le satellite de commande dans
la position définie par défaut.
-- Sélectionnez "Rev" si vous montez le satellite de commande du
côté droit de la colonne de direction.
Tournez la commande et relâchez-la pour :
-- repérer le début des pistes sur la bande.
-- passer d'une plage à l'autre.
-- rechercher des stations automatiquement.
Tournez, appuyez et relâchez pour :
-- rembobiner d'abord la bande.
-- trouver une station manuellement.
-- avancer rapidement/revenir au début d'une plage.
Appuyez et tournez la commande pour :
-- ecoute des stations prédéfinies.
Vous devez pousser et tourner la commande à chaque fois que vous
sélectionnez une station préréglée et un disque.
Inverser le sens de fonctionnement
(
4
)
Vous pouvez inverser le sens de fonctionnement des commandes en
réglant le commutateur sur Rev/Nor.
Si vous devez monter le satellite du côté gauche de la colonne de
direction, vous pouvez définir le sens de fonctionnement comme
indiqué dans l'illustration ci-contre.
Lorsque le sélecteur POWER SELECT de votre appareil principal est
réglé sur la position (OFF), votre appareil principal ne peut être
commandé à l'aide du satellite, sauf si l'une des touches de commande
est pressée ou si un disque/cassette est introduit de manière à activer
l'appareil principal. Selon le type de l'appareil principal, vous pouvez
mettre l'appareil principal sous tension à l'aide de la touche (SOURCE)
du satellite de commande. Pour plus de détails, reportez-vous au mode
d'emploi de l'appareil principal.
---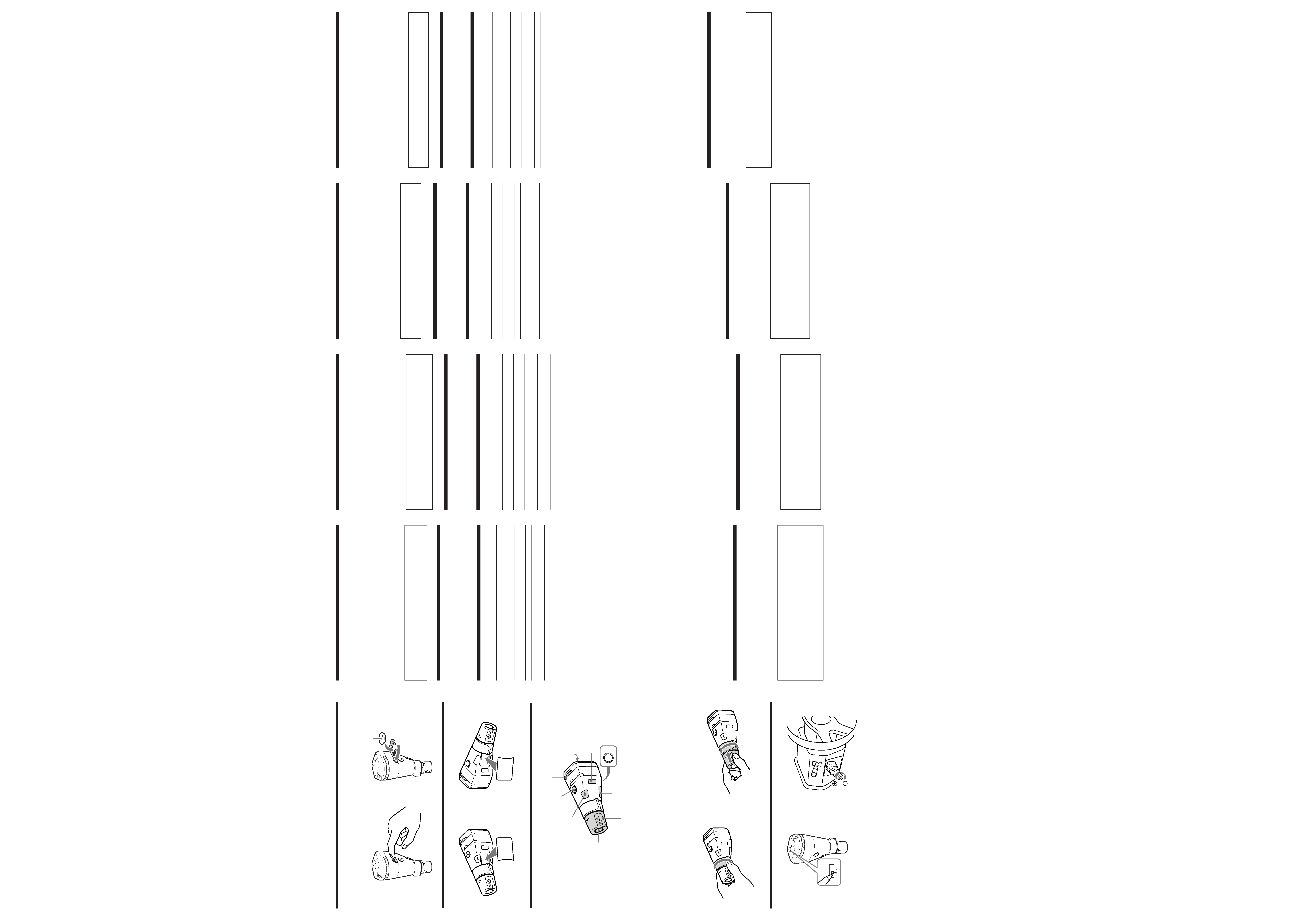 Sostituzione della batteria al litio
(
1
)
Note sulla durata della batteria al litio
· In condizioni normali, le batterie durano circa 1 anno.
· Quando la batteria si scarica, non sarà più possibile controllare l'unità principale con
il telecomando a rotazione. Sostituire la batteria con una nuova batteria al litio
Note sulle batterie al litio
· Tenere le batterie al litio fuori dalla portata dei bambini. Se venissero inghiottite,
consultare immediatamente un medico.
· Pulire le batterie con un panno asciutto per assicurare un buon contatto.
· Durante l'installazione, assicurarsi di osservare la giusta polarità.
· Non maneggiare le batterie con pinze di metallo, potrebbero verificarsi cortocircuiti.
La batteria può esplodere se usata scorrettamente. Non ricaricatela, non
smontatela e non gettatela nel fuoco.
Applicazione dell'etichetta al telecomando a
Per prima cosa, applicare l'apposita etichetta in base a come si desidera
montare il telecomando a rotazione.
Localizzazione e funzione dei comandi
(
3
)
(Radio/CD/MD /cassetta/TV
*
1
)
Cambiare operazione (Banda radio /unità CD /unità MD /
direzione di riproduzione della cassetta/TV
*
1
)
Arrestare la riproduzione o la ricezione della radio
Cambiare la voce nel display
*
3
*
1
Solo per i modelli degli U.S.A e del Canada.
*
2
Se l'auto è priva della posizione ACC per la chiave di avviamento, accertarsi di
premere (OFF) per due secondi per disattivare l'indicazione dell'orologio dopo
*
3
Se si utilizza la funzione RDS, è possibile premere (DSPL) per visualizzare
l'indicazione "PTY" sul display. È quindi possibile utilizzare l'apparecchio principale
o il telecomando a scheda per ricevere i dati PTY (solo modelli per l'Europa).
Manopola raggi infrarossi
Ruotare la manopola per modificare la direzione dei raggi infrarossi.
Interruttore di selezione Rev/Nor (vedere fig. 4)
-- Selezionare "Nor" per utilizzare il telecomando a rotazione con le
impostazioni di fabbrica.
-- Selezionare "Rev" quando il telecomando a rotazione viene montato sul
lato destro del piantone di guida.
Ruotare e rilasciare per:
-- localizzare l'inizio dei brani sulla cassetta.
-- sintonizzare automaticamente le stazioni.
Ruotare, mantenere ruotato e rilasciare per:
-- avvolgere prima la cassetta.
-- trovare una stazione manualmente.
-- avanzare/tornare indietro rapidamente all'interno di un brano.
Spingere e ruotare il telecomando per:
-- ricevere le stazioni preimpostate.
È necessario premere e ruotare il telecomando ogni volta che viene selezionata
una stazione preselezionata e un disco.
De bedieningsrichting wijzigen
(
4
)
È possibile cambiare la direzione operativa dei comandi impostando
l'interruttore su Rev/Nor.
Se fosse necessario installare il telecomando a rotazione sul lato sinistro
del piantone di guida, è possibile impostare la direzione operativa dei
comandi come mostrato in figura.
Quando l'interruttore POWER SELECT sull'apparecchio principale è
impostato sulla posizione (OFF), l'apparecchio principale non può essere
controllato con il comando a rotazione, a meno che non venga premuto uno
dei tasti operativi oppure non venga inserito un disco o una cassetta per
attivare l'apparecchio principale. A seconda del tipo di apparecchio
principale, è possibile accendere l'apparecchio con il tasto (SOURCE) del
comando a rotazione. Per ulteriori informazioni, fare riferimento al Manuale
d'uso dell'apparecchio principale.
Vervangen van de lithiumbatterij
(
1
)
Opmerking over de levensduur van een lithiumbatterij
· Normaal gaan de batterijen ongeveer 1 jaar mee.
· Wanneer de batterij uitgeput raakt, kunt u het toestel niet meer bedienen met de
bedieningssatelliet. Vervang de batterij dan zo snel mogelijk door een nieuwe
Opmerking over de lithiumbatterij
· Hou de lithiumbatterij buiten het bereik van kinderen. Als de batterij wordt
ingeslikt, onmiddellijk een dokter raadplegen.
· Veeg de batterij schoon met een droge doek voor een goed contact.
· Plaats de batterij met de min- en plus-polen in de juiste richting.
· Hou de batterij niet vast met een metalen pincet, anders kan kortsluiting optreden.
Bij oneigenlijk gebruik kan de batterij ontploffen.
Probeer niet de batterij op te laden of te openen; werp ook een lege batterij
Label aanbrengen op de bedieningssatelliet
(
2
)
Bevestig eerst het juiste label afhankelijk van de manier waarop u de
bedieningssatelliet wilt monteren.
Positie en functie van de bedieningselementen
(
3
)
(radio/CD/MD /cassette/TV
*
1
)
Van bediening te veranderen (radioband/CD speler /
MD-speler/weergaverichting cassette /TV
*
1
)
De weergave of de radio-ontvangst te stoppen
Het geluidsmenu in te stellen
Het weergave-item te wijzigen
*
3
*
1
Enkel voor U.S.A. en Canada.
*
2
Indien uw auto niet is voorzien van een contactslot met ACC stand, moet u de
klokweergave afzetten door (OFF) 2 seconden lang in te drukken nadat u het
*
3
Wanneer u gebruik maakt van de RDS functie, kunt u op (DSPL) drukken om
"PTY" in het display te laten verschijnen. U kunt dan PTY gegevens alleen
ontvangen met uw master unit of kaartafstandsbediening (alleen Europese
Draai aan de knop om de richting van de infraroodstralen te wijzigen.
Rev/Nor-keuzeschakelaar (Zie fig. 4)
-- Kies "Nor" om de bedieningssatelliet te gebruiken met de
-- Kies "Rev" wanneer u de bedieningssatelliet rechts op de stuurkolom
-- het begin van tracks op de cassette te zoeken.
-- handmatig af te stemmen op een zender.
Draaien, vasthouden en loslaten om:
-- snel vooruit te spoelen.
-- handmatig een zender te zoeken.
-- snel vooruit/achteruit naar een track te gaan.
Draai aan het bedieningselement en druk het tegelijkertijd in om:
-- voorinstelzenders te ontvangen.
-- van disc te veranderen.
Telkens wanneer u een voorinstelzender of een disc kiest, moiet u het
bedieningselement indrukken en eraan draaien.
De bedieningsrichting wijzigen
(4)
U kunt de bedieningsrichting van de bedieningselementen veranderen door de
schakelaar op Rev/Nor te zetten.
Als u de bedieningssatelliet aan de linkerzijde van de stuurkolom moet
monteren, kunt u de bedieningsrichting instellen zoals te zien is op de
Wanneer de POWER SELECT schakelaar op uw hoofdtoestel in de stand
(OFF) staat, kan uw hoofdtoestel pas worden bediend met de
bedieningssatelliet als een van de werkingstoetsen wordt ingedrukt of als
een disc/cassette wordt ingebracht om het hoofdtoestel te activeren.
Afhankelijk van het type kan het hoofdtoestel worden aangezet met de toets
(SOURCE) op de bedieningssatelliet. Raadpleeg de handleiding van het
hoofdtoestel voor meer gedetailleerde informatie.
Sustitución de la pila de litio
(
1
)
Notas sobre la duración de la pila de litio
· En condiciones normales, las pilas duran aproximadamente 1 año.
· Cuando la pila dispone de poca energía, el margen de control del mando a distancia
de tarjeta será menor. Sustituya dicha pila por otra de litio CR2025 nueva.
Notas sobre la pila de litio
· Mantenga la pila fuera del alcance de los niños. En caso de ingestión, póngase
inmediatamente en contacto con un médico.
· Limpie la pila con un paño seco para garantizar un contacto óptimo.
· Cuando instale la pila, insértela con la polaridad correcta.
· No maneje la pila con pinzas metálicas, ya que puede producirse un cortocircuito.
La pila puede explotar si la trata mal.
No la recargue, desarme, ni la tire al fuego.
Etiquetado del mando rotativo
(
2
)
En primer lugar, adhiera la etiqueta apropiada dependiendo de cómo desee
montar el mando a distancia.
Localización y función de los controles
(
3
)
(radio/CD/MD/cassette/TV
*
1
)
(banda de radio/unidad de CD/unidad de MD/TV
*
1
)
Detener la reproducción o la recepción de la radio
Ajustar el menú de sonido
Cambiar el elemento del visualizador
*
3
*
1
Solo modelos para EE.UU.y Canadá
*
2
Si el automóvil no dispone de posición ACC (auxiliar) en el interruptor de la llave de
encendido, asegúrese de presionar (OFF) durante 2 segundos para desactivar la
indicación del reloj después de apagar el encendido.
*
3
Cuando utilice la función RDS, podrá presionar (DSPL) para hacer que en el
visualizador aparezca "PTY". Después solamente podrá utilizar su unidad principal
o mando a distancia de tarjeta para recibir datos de PTY (Modelos para Europa
Dial de rayos infrarrojos
Gire el dial para cambiar la dirección de los rayos infrarrojos.
Selector Rev/Nor (Consulte Fig. 4)
-- Seleccione "Nor" para utilizar el mando rotativo según la posición
-- Seleccione "Rev" si monta el mando rotativo a la derecha de la columna
-- localizar el principio de las pistas de la cinta.
-- sintonizar emisoras automáticamente.
Gírelo, manténgalo en esa posición y suéltelo para:
-- bobinar la cinta rápidamente.
-- encontrar una emisora manualmente.
-- avanzar/retroceder rápidamente una pista.
Presione y gire el control para:
-- recibir emisoras memorizadas.
Debe presionar y girar el control siempre que seleccione una emisora memorizada
Cambio de la dirección de funcionamiento
(
4
)
Puede cambiar la dirección de funcionamiento de los controles ajustando el
Si necesita instalar el mando rotativo en la parte izquierda de la columna
de dirección, es posible invertir la dirección de funcionamiento como se
indica en la ilustración.
Cuando el selector POWER SELECT de la unidad principal se encuentra en
la posición (OFF), no es posible utilizar la unidad principal con el mando, a
menos que pulse uno de los botones de control o inserte un disco/cinta para
activarla. Dependiendo del tipo de unidad principal de que disponga, será
posible activarla con el botón (SOURCE ) del mando rotativo. Para obtener
información detallada, consulte el Manual de instrucciones de la unidad
Ruotare il telecomando VOL per regolare il volume
Draai aan het bedieningselement VOL als u het volume wilt aanpassen.
Gire el control VOL para ajustar el volumen.
Ruotare il telecomando e spingerlo verso l'interno
Door de bedieningssatelliet in te drukken en te
Mediante el giro del control mientras lo presiona
Tramite rotazione del telecomando
Door aan de bedieningssatelliet te draaien
Mediante el giro del control
---