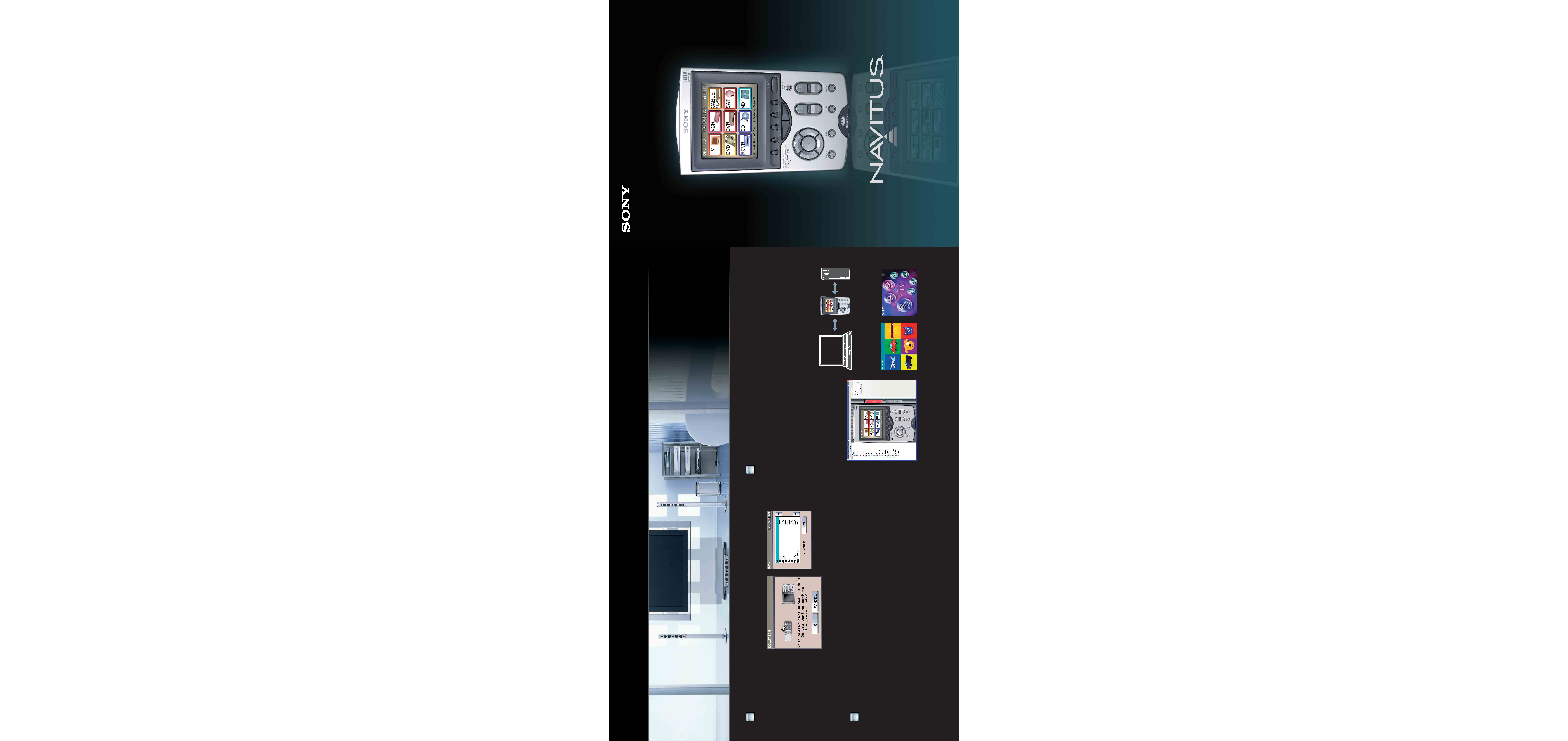 Integrated Remote Commander
Easier transition from your old remotes.
a long list ­ then enter in
a three or four-digit code.
a better way. Just beam a
remote will figure out the
on-screen list of brands.
A series of operations at the touch of one button.
Like most unified A/V remotes, the RM-NX7000 will perform Macro functions. For example, a single touch
of a button will turn on the television, DVD player and the A/V receiver; select the proper receiver and
television inputs and then trigger DVD playback. But unlike most remotes, the RM-NX7000 packs 32
megabytes of on-board memory ­ storage for an enormous library of Macro commands.
While the NAVITUS remote is fully functional and complete, you may choose to think of it as a
blank canvas. Using the supplied NAVITUS Design PC software, you can customize each screen,
adding and deleting functions as you see fit. You can import JPEG and BMP images to design and
personalize your individual LCD screen.
You can choose different "skins," user interfaces that give each screen a whole new look. You can
even enjoy one skin for the grownups and other for the kids! The NAVITUS remote communicates
with your PC through the supplied USB interface. Or you can use optional Memory Stick
®
media to
carry programs from a personnel PC to the
NAVITUS controller ­ a great alternative for
A remote control that's as individual as you are.
All images on the remote comander screen are samples.
---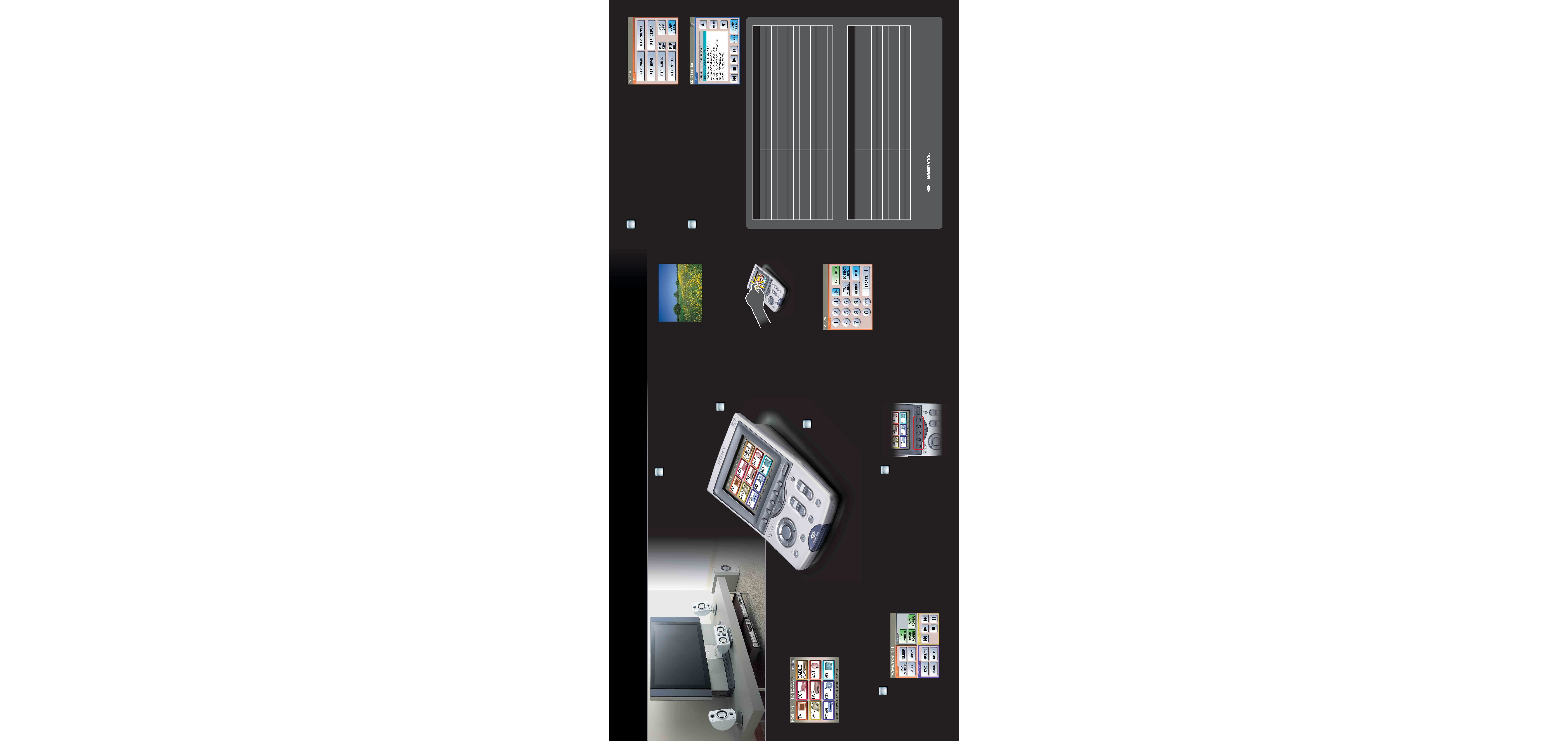 You've never seen anything
like the Sony NAVITUS RM-
NX7000 A/V remote control. Pick
it up and you'll see your commands
displayed in 65,536 dazzling colors.
You'll execute those commands with the
tactile feedback of Sony's TouchEngineTM
screen. And you'll enjoy the power of fully
customizable screens, keys, interfaces and
Wallpaper, thanks to the supplied PC software. With a
powerful 200 MHz processor, 32 megabytes of on-board
memory, USB interface and Memory Stick
®
media slot; the
NAVITUS remote is the perfect complement to the most
advanced A/V systems. Yet the NAVITUS remote is so easy to use
that advanced A/V systems suddenly become family-friendly!
Run several components at once.
At Sony, we know that you don't use one
component at time. For example, when you watch
a DVD, you may need to control the DVD player,
television and A/V receiver simultaneously. That's
why we designed the NAVITUS remote to display
the functions of several components at once. And
you're not limited to our choices. The PC software
enables you to customize the NAVITUS remote to
Jump directly to the sub-menus you need.
Using your PC and the supplied NAVITUS Design software, you can
program the RM-NX7000 with keys that will Jump from one
operating screen to another. For example, on the main television
control screen, you can add a key to Jump directly to a screen with
all your Picture-in-Picture keys.
Most touch screens are lifeless and
inert. It's often hard to know
whether or not your command has
even registered. The NAVITUS
remote is dramatically different
Imagine a LCD screen that actually
presses back against your
fingertip to confirm each
With TouchEngineTM Technology,
you're operating with confidence.
Microsoft and Windows are registered trademarks or trademarks of Microsoft Corporation in the United States and / or
Pentium is a registered trademark of Intel Corporation.
", "Memory Stick PRO" and "TouchEngine" are trademarks of Sony Corporation.
All other names of systems and products are trademarks or registered trademarks of their respective owners.
The perfect solution for DVD and CD changers.
If you have a 100, 200 or even 400-disc changer, you know how
important it is to keep track of all your titles. That's why the RM-
NX7000 list screens can accommodate Album, Disc Number, Artist
and Genre. You can use the Search function to select and play
discs ­ or even create a Zapping key from the list.
Feast your eyes on 65,536 colors.
All your choices will be big, bright and beautiful on Sony's 3.5-inch Thin
Film Transistor Liquid Crystal Display. Sony's 65,536 colors make your
keys, your wallpaper images and your graphic interfaces look their best.
Instant access to control screens.
Too often, graphic user interfaces force you to plow through a string of
nested menus, just to get to the screen you really want. At Sony, we
don't like that any more than you do. So we endowed the NAVITUS
remote with Direct Access buttons that take you straight to your choice
of screens. And because you can customize each screen, the Direct
Access buttons can take you to one screen for kids, another for senior
citizens ­ making your A/V system accessible to everyone.
Go straight to your favorites.
In a world of 500 television channels and
400-CD changers, the Navitus remote
helps you organize your entertainment.
The Zapping key lets you flip through
selected favorites. For example, you can
program one Zapping key for sports
channels and another for news. And you
can organize your CDs and DVDs for
i.MX1 Application Processor 200MHz
32MB (RAM) / 40MB (Flash)
USB, "Memory Stick" slot*
3.5inch QVGA Transflective TFT LCD
Built-in TouchEngineTM technology
Approx. 101x165x50 mm ( 4x 6
1
/
2
x 2 inches) (w/h/d)
Ni-MH rechargeable battery (built-in)
AC Power adaptor: DC4.5V (Supplied)
Approx. 1 day (varies depending on frequency of use)
Signal frequency range: up to 500kHz / Capacity par signal: up to 300 bits /
Signal interval: up to 1second
Learnable Remote Control Signal**
"NAVITUS Design" System Requirements
Required Hard disc Capacity
Windows
®
XP Professional / Windows
®
XP Home Edition /
Windows
®
2000 Professional / Windows
®
Millennium Edition /
Windows
®
98 Second Edition (manufacturer installed, English version only)
IBM PC/AT or Compatible (The software does not run on Macintosh.)
Pentium II 300MHz or more
64MB or more (128MB or more for Windows
®
XP)
High (16bits) Color or higher, 1024 x 768 dots or better (Does not operate
with a display under 1024 x 768 dots)
CD-ROM drive, USB port or "Memory Stick" slot
*"Memory Stick" slot does not support "Memory Stick PRO."
**Some signals cannot be learned by the Commander, even though the signals comply with these specifications.
Ultimate technology meets ultimate simplicity.
---