---

· Before operating the unit, check that
the operating voltage of your unit is
identical with that of your local
· Should any solid object or liquid fall
into the cabinet, unplug the unit and
have it checked by qualified
personnel before operating it any
· Unplug the unit from the wall outlet
if it is not to be used for an extended
period of time. To disconnect the
cord, pull it out by the plug. Never
· The nameplate indicating operating
voltage, power consumption, etc. is
located on the rear exterior.
· Place the unit on a level surface.
· Avoid placing the unit near electrical
appliances (such as a television, hair
dryer, or fluorescent lamp) which
· Place the unit where it will not be
subject to any vibration, such as from
speakers, slamming of doors, etc.
· Keep the unit away from direct
sunlight, extremes of temperature,
and excessive dust and moisture.
Keep the carton and packing materials.
They provide an ideal container to
If you have any question or problem
concerning your unit that is not covered
in this manual, please consult your
space, such as a bookcase
---

Assembling the Turntable 4
Hooking up the Turntable 5
Adjusting the Turntable 6
Thank you for purchasing the Sony
Stereo Turntable System. Before
operating the unit, please read this
manual thoroughly and retain it for
The following icon is used in this
Indicates hints and tips for
Check that you received the following items with your turntable:
· Platter (with drive belt) (1)
· Dust cover (with hinges) (1)
· Cartridge and headshell (1)
· Audio connecting cord (1)
---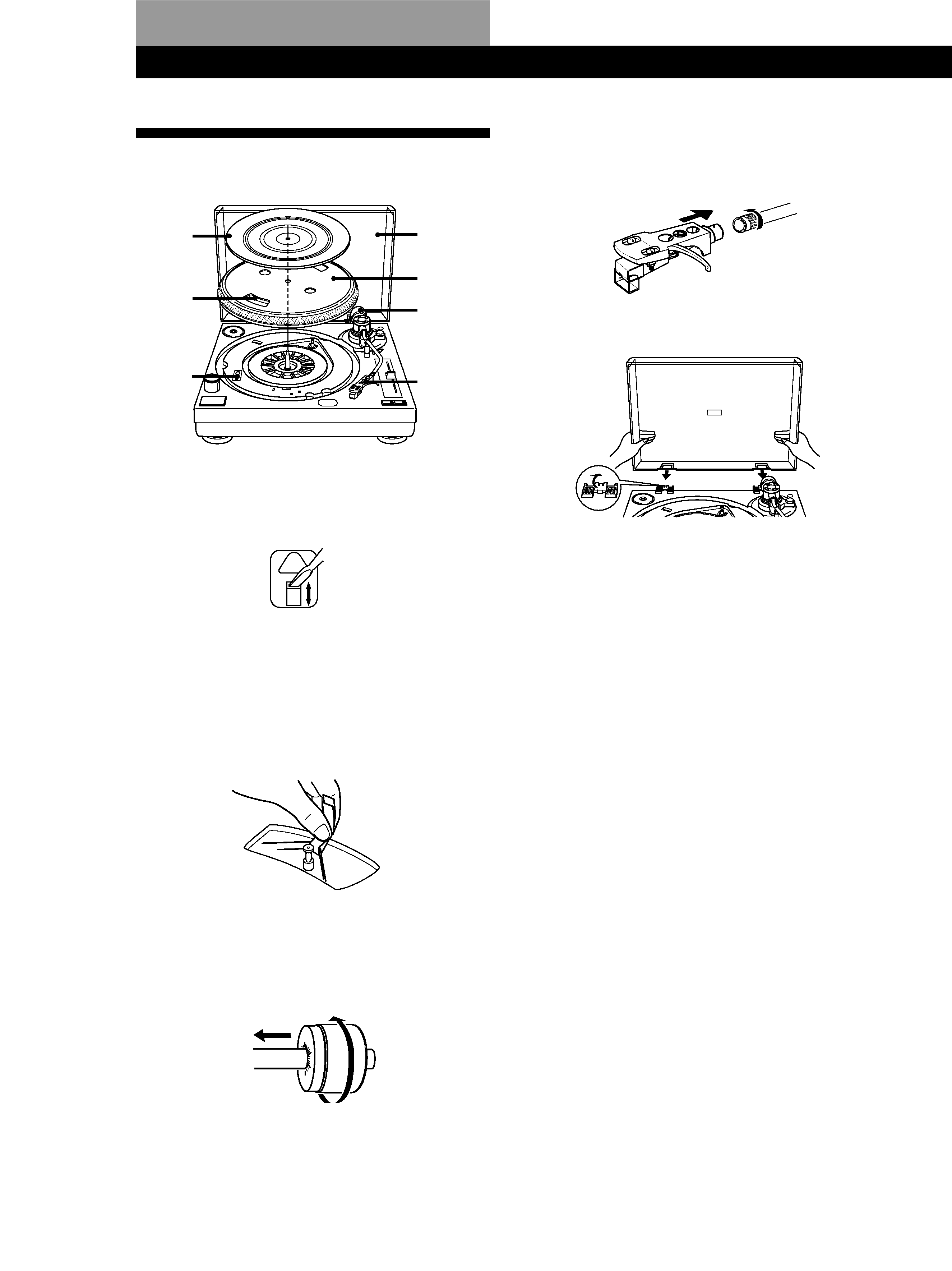 1
If your turntable is equipped with a voltage
selector, be sure to set the selector to your line
2
Carefully, place the platter on the spindle.
3
Using the ribbon, loop the drive belt around the
motor pully. After looping the belt, do not forget
4
Place the rubber mat on the platter.
5
Slide the counter weight onto the shaft at the rear
of the tone arm and turn 3 or 4 times in the
6
Insert the headshell into the front of the tone arm.
Turn the locking collar in the direction of the
arrow until the headshell is secure.
7
Insert the hinges on the dust cover into the hinge
pockets on the rear of the cabinet.
---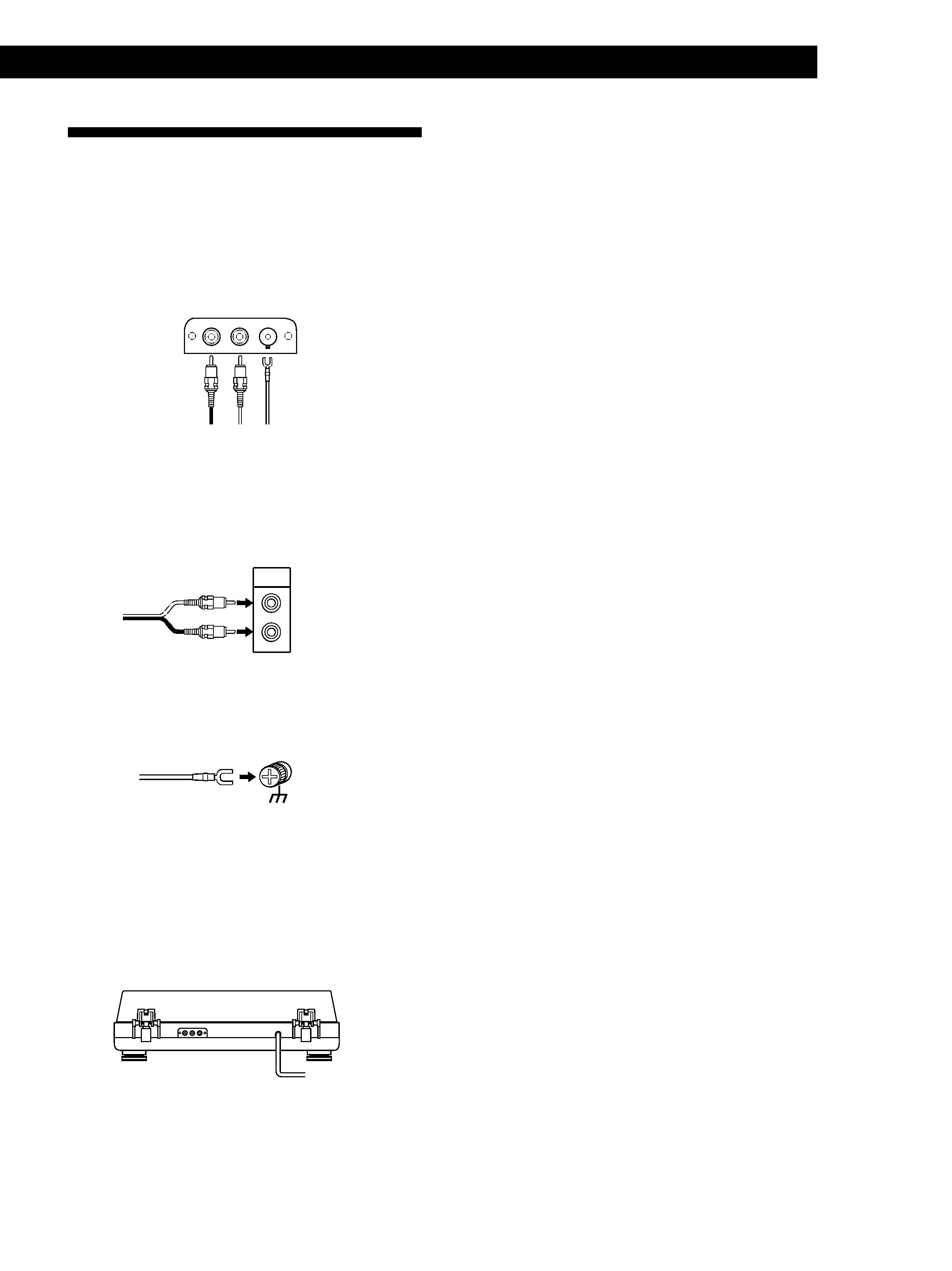 1
Connect the supplied audio connecting cord and
earth lead to the output terminals and GND
terminal at the rear. Be sure to connect the red
plug to the R output jack and the white plug to
2
Connect the cord with the red plug to the lower
PHONO IN R input jack on the amplifier and
connect the cable with the white plug to the upper
3
Connect the earth lead to the earth terminals on
Be sure to connect the earth lead. Failure to do so will result
in a humming noise from the turntable.
Connect the mains lead to an AC wall outlet after
completing all of the previous connections.
---