Thank you for purchasing a Sony VAIO
®
computer! Your new computer is a superb blend of high technology and easy-to-use
functionality. The information provided here is designed to help you to become familiar with the hardware and software
programs included with your system.
View the Electronic Flyer, which provides updates and supplemental information about your computer.
Go to the Sony Online Support Web site, to view the VAIO
®
Computer Specifications, which lists your computer's
hardware specifications and preinstalled software information.
For Sony software information:
Click Start in the Windows
®
taskbar.
Click Welcome to VAIO life.
---

Congratulations on your purchase of the Sony VAIO
®
computer! Your new, high-performance, multimedia computer combines
state-of-the-art computer functionality with the latest audio, video and information technology features.
Planning An Ergonomic Work Space
---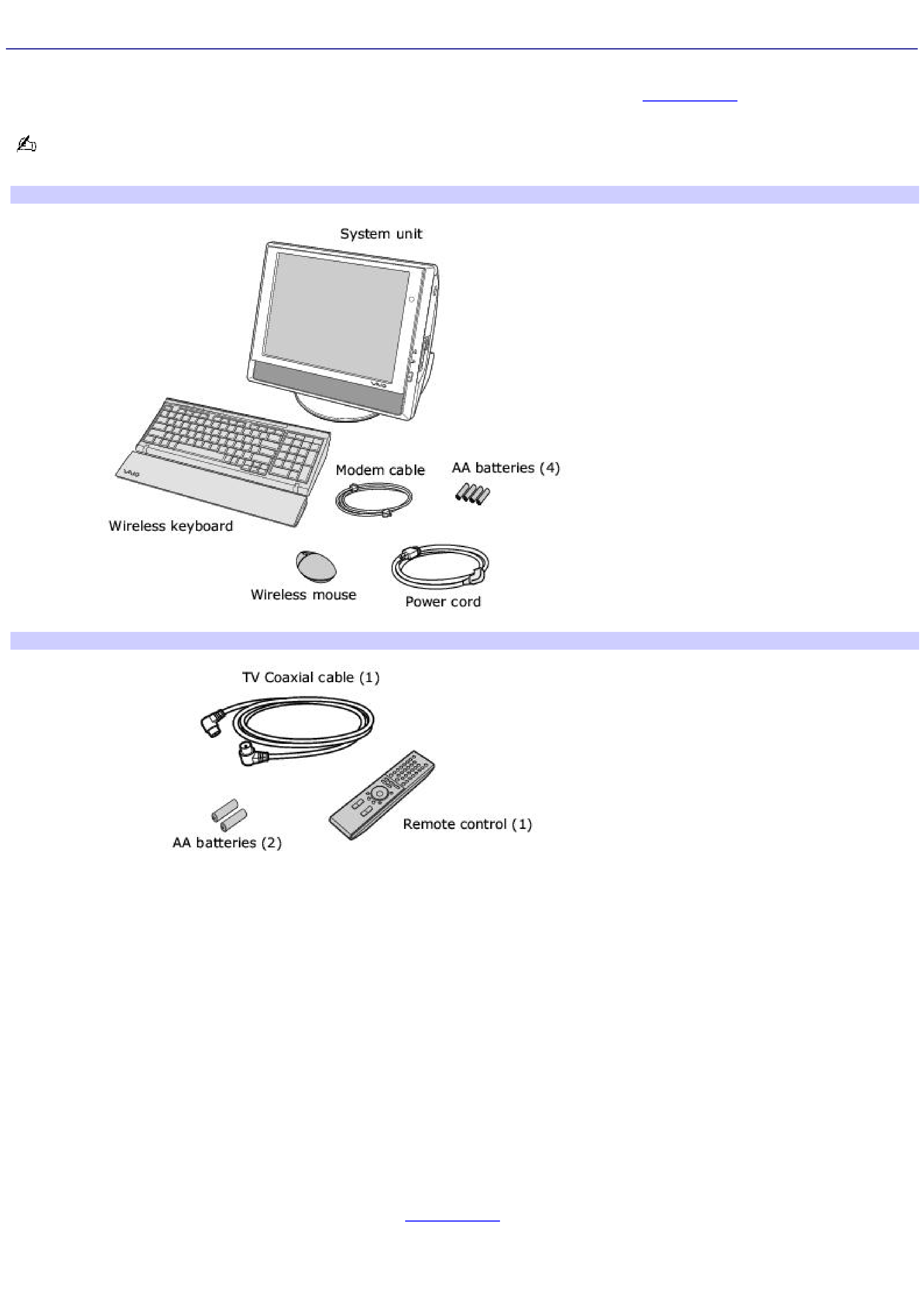 Your computer may not be supplied with all of the accessories shown, depending on the system configuration you
purchased. For details on the accessories supplied with your computer, see the online Specifications sheet.
Your VAIO
®
computer is not supplied with System or Application Recovery CDs. Use the VAIO Recovery Wizard utility
program to recover your computer's operating system and preinstalled software.
Com puter and supplied accessories
Giga Pocket Personal Video Recorder accessories (For m odels equipped with Giga Pocket features)
VAIO
®
Com puter Quick Start -- Provides basic information on setting up and registering your computer. The Quick
Start also provides resources for technical support, safety guidelines, and owner's information.
VAIO
®
Com puter User Guide -- Contains information on the hardware and preinstalled software programs included
To access the online User Guide:
Click Start in the Windows taskbar, then click Help and Support.
From the VAIO Help and Support Center menu, click VAIO User Guide.
Specifications -- This online specifications sheet describes the hardware and software configuration of your VAIO
computer. To view this information, see the online Specifications sheet.
VAIO Software -- Provides specific information about the preinstalled software on your computer.
To access this online software information:
---

Click Start in the Windows
®
taskbar.
Click Welcome to VAIO Life.
Your computer is equipped with the VAIO Recovery Wizard, a utility program that recovers your computer's operating
system and preinstalled software.
For more information about hard disk recovery
Click Start in the Windows
®
taskbar, then click Help and Support.
From the VAIO Help and Support Center menu, click VAIO Recovery Options.
A software library containing the Microsoft
®
software and Sony
®
end-user license agreements.
---

Planning An Ergonomic Work Space
Before you set up your new computer, find the best location for your new computer and plan your work space. There are
several ergonomic factors to consider when you arrange your work space:
Stable work surface -- Use a stable work surface large enough to support the computer and other peripheral
Ventilation -- Leave at least eight inches of space on both sides of your computer and at least 5 inches of clearance
Placement of the mouse, keyboard, and other input devices -- Place your computer, mouse, or other input devices
so that your arms and hands are in a relaxed, comfortable position. The computer's keyboard should be directly in
front of you. Keep your wrists in a relaxed position when you are using the keyboard -- not angled up or down.
Position the mouse at the same level as the keyboard. Hold the mouse with a relaxed hand, and use your whole
arm to move it. Take occasional breaks during sessions with your computer, as excessive use of the mouse,
keyboard, or joystick may strain muscles or tendons.
Furniture and posture -- Sit in a chair with good back support and armrests. Adjust the level of the chair so your
feet are flat on the floor. A footrest may make you more comfortable. Sit with relaxed, upright posture -- avoid
slouching forward or leaning far backward.
Viewing angle of the display -- Position the unit so that the display is 18 to 26 inches directly in front of you, with
the top of the screen at or a little below eye level. Use the display's tilting feature to find the best position. You can
reduce eye strain and muscle fatigue by placing the display in the proper position.
Lighting -- Choose a location where windows and lights do not create glare and reflection on the display. Use
indirect lighting to avoid bright spots on the display. You can also purchase accessories for your display that help
reduce glare. Proper lighting adds to your comfort and work effectiveness.
The infrared receiver, located on the front panel of your computer, communicates with the Giga Pocket
control. The infrared receiver must be visible in a line-of-sight with your remote control in order to function properly.
---