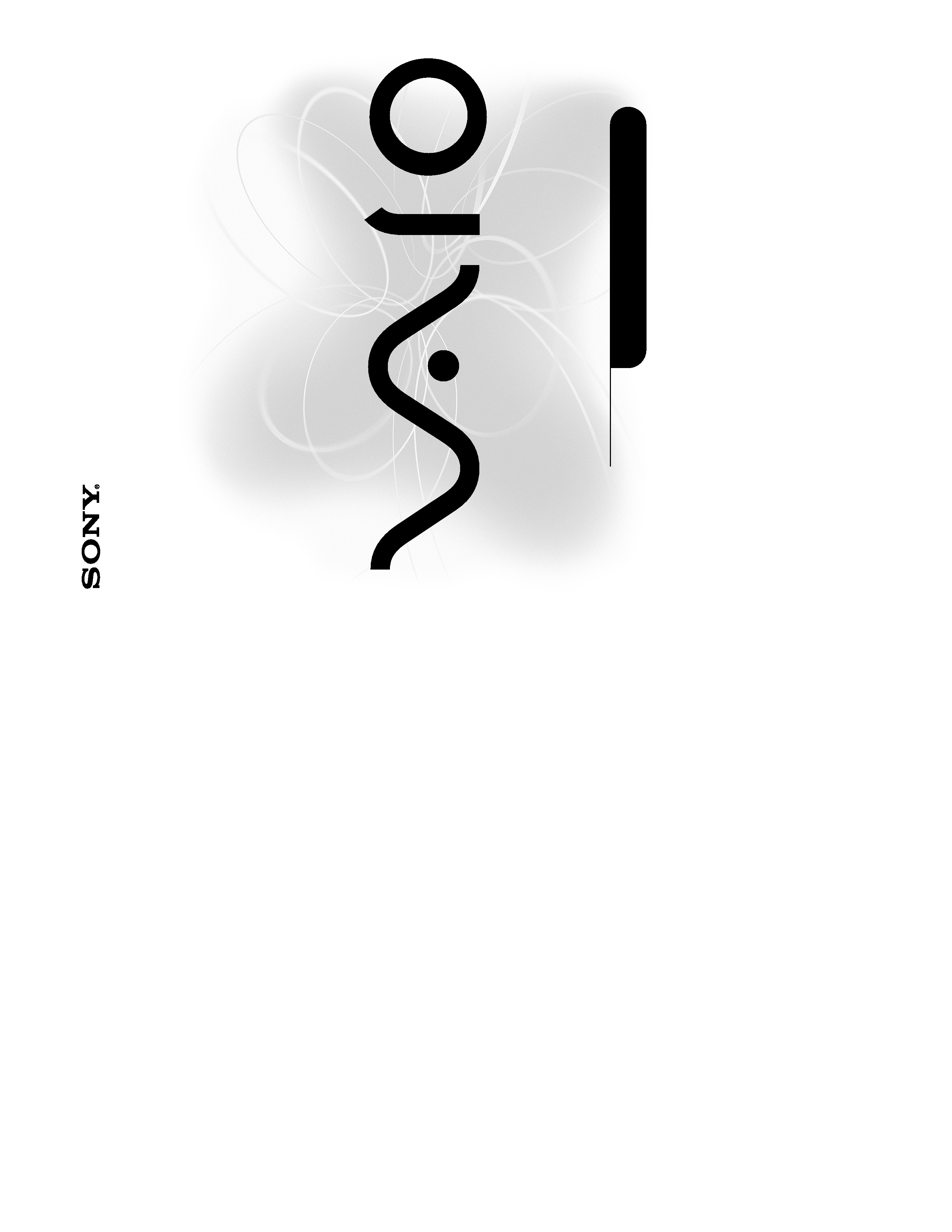 © 2000 Sony Electronics Inc.
---

---

2000 Sony Electronics Inc. All rights
reserved. This manual and the software
described herein, in whole or in part, may
not be reproduced, translated, or reduced
to any machine-readable form without
SONY ELECTRONICS INC. PROVIDES
NO WARRANTY WITH REGARD TO
THIS MANUAL, THE SOFTWARE, OR
OTHER INFORMATION CONTAINED
HEREIN AND HEREBY EXPRESSLY
WARRANTIES OF MERCHANTABILITY
OR FITNESS FOR ANY PARTICULAR
PURPOSE WITH REGARD TO THIS
MANUAL, THE SOFTWARE, OR SUCH
OTHER INFORMATION. IN NO EVENT
SHALL SONY ELECTRONICS INC. BE
LIABLE FOR ANY INCIDENTAL,
CONSEQUENTIAL, OR SPECIAL
DAMAGES, WHETHER BASED ON
TORT, CONTRACT, OR OTHERWISE,
ARISING OUT OF OR IN CONNECTION
WITH THIS MANUAL, THE SOFTWARE,
CONTAINED HEREIN OR THE USE
Sony Electronics Inc. reserves the right to
make any modification to this manual or
the information contained herein at any
time without notice. The software
described herein is governed by the terms
of a separate user license agreement.
This product contains software owned by
Sony and licensed by third parties. Use of
such software is subject to the terms and
conditions of license agreements enclosed
with this product. Some of the software
may not be transported or used outside the
United States. Software specifications are
subject to change without notice and may
not necessarily be identical to current retail
Updates and additions to software may
require an additional charge. Subscriptions
to online service providers may require a
fee and credit card information. Financial
services may require prior arrangements
with participating financial institutions.
Partner, Sony Corporation
S
TAR guidelines for energy
Equipment Program is an international
program that promotes energy saving
through the use of computers and other
office equipment. The program backs the
development and dissemination of
products with functions that effectively
reduce energy consumption. It is an open
system in which business proprietors can
participate voluntarily. The targeted
products are office equipment such as
computers, displays, printers, facsimiles
and copiers. Their standards and logos are
uniform among participating nations.
E
NERGY
S
TAR is a U.S. registered mark.
Sony, i.LINK, VAIO and the VAIO logo are
trademarks of Sony Corporation.
Windows, Windows Me, Windows NT, and
the Windows logo are registered
trademarks of Microsoft Corporation.
AMD, the AMD logo, K6 and combinations
thereof are trademarks of Advanced Micro
Devices, Inc. AMD-K6 is a registered
trademark of Advaced Micro Devices, Inc.
This product incorporates copyright
protection technology that is protected by
method claims of certain U.S. patents and
other intellectual property rights owned by
Macrovision Corporation and other rights
owners. Use of this copyright protection
technology must be authorized by
Macrovision Corporation, and is intended
for home and other limited viewing uses
only unless otherwise authorized by
Macrovision Corporation. Reverse
engineering or disassembly is prohibited.
All other trademarks are trademarks of
---

The model number and serial number are
located on the bottom of your Sony VAIO®
Notebook. Record the serial number in the
space provided here. Refer to the model
and serial number when you call your
Model Number: PCG-9401, PCG-9411
Serial Number:________________________
To prevent fire or shock hazard, do
not expose your notebook computer
To avoid electrical shock, do not open
the cabinet. Refer servicing to
qualified personnel only.
Never install modem or telephone
wiring during a lightning storm.
Never install telephone jacks in wet
locations unless the jack is specifically
designed for wet locations.
Never touch uninsulated telephone
wire or terminals unless the telephone
line has been disconnected at the
Use caution when installing or
modifying telephone lines.
Avoid using the modem during an
Do not use the modem or a telephone
to report a gas leak in the vicinity of
A socket outlet should be as close as
possible to the unit and easily
To change the backup battery,
please contact your nearest
Caution - The use of optical
instruments with this product
will increase eye hazard. As the
laser beam used in this product
is harmful to the eyes, do not
attempt to disassemble the
cabinet. Refer servicing to
qualified personnel only.
Visible and invisible laser
radiation when open. Avoid
optical instruments with the
CD-ROM drive will increase
Caution: To reduce the risk of
fire, use only No. 26 AWG or
larger telecommunication line
Pour changer la pile de rechange,
veuillez contacter votre centre de
service Sony le plus près.
Avertissement - L'utilisation
d'instruments optiques avec ce
produit augmente les risques pour
les yeux. Puisque le faisceau
laser utilisé dans ce produit est
dommageable pour les yeux, ne
tentez pas de désassembler le
boîtier. Adressez-vous à un agent
Danger : Radiation laser visible et
invisible si ouvert. Évitez
l'exposition directe au faisceau.
---

Pour prévenir tout risque d'incendie
ou d'électrocution, garder cet appareil
à l'abri de la pluie et de l'humidité.
Pour prévenir tout risque
d'électrocution, ne pas ouvrir le
châssis de cet appareil et ne confier
son entretien qu'à une personne
Ne jamais effectuer l'installation de fil
modem ou téléphone durant un orage
Ne jamais effectuer l'installation
d'une prise téléphonique dans un
endroit mouillé à moins que la prise
Ne jamais toucher un fil téléphonique
à découvert ou un terminal à moins
que la ligne téléphonique n'ait été
débranché de l'interface réseau.
Soyez très prudent lorsque vous
installez ou modifiez les lignes
Évitez d'utiliser le modem durant un
N'utilisez pas le modem ni le
téléphone pour prévenir d'une fuite
de gas si vous êtes près de la fuite.
L'appareil doit être le plus près
possible d'une prise murale pour en
For questions regarding your product or
for the Sony Service Center nearest you,
call 1-888-476-6972 in the United States or
1-800-961-7669 in Canada. Sony Customer
Support can be reached at www.sony.com/
The number below is for FCC related
This equipment has been tested and found
to comply with the limits for a Class B
digital device, pursuant to Part 15 of the
Rules. These limits are designed to provide
reasonable protection against harmful
interference in a residential installation.
This equipment generates, uses, and can
radiate radio frequency energy and, if not
installed and used in accordance with the
instructions, may cause harmful
interference to radio communications.
However, there is no guarantee that
interference will not occur in a particular
installation. If this equipment does cause
harmful interference to radio or television
reception, which can be determined by
turning the equipment off and on, the user
is encouraged to try to correct the
interference by one or more of the
rechange, veuillez contacter
votre centre de service Sony le
Attention : Afin de réduire les
risques d'incendie, n'utilisez
qu'un cordon de communication
Pour le CD-ROM: L'utilisation
d'instruments optiques avec les
les risques pour les yeux.
Declaration of Conformity
Responsible Party: Sony Electronics Inc.
This device complies with Part 15 of the FCC rules.
Operation is subject to the following two conditions:
(1) This device may not cause harmful interference,
(2) this device must accept any interference
received, including interference that may cause
---