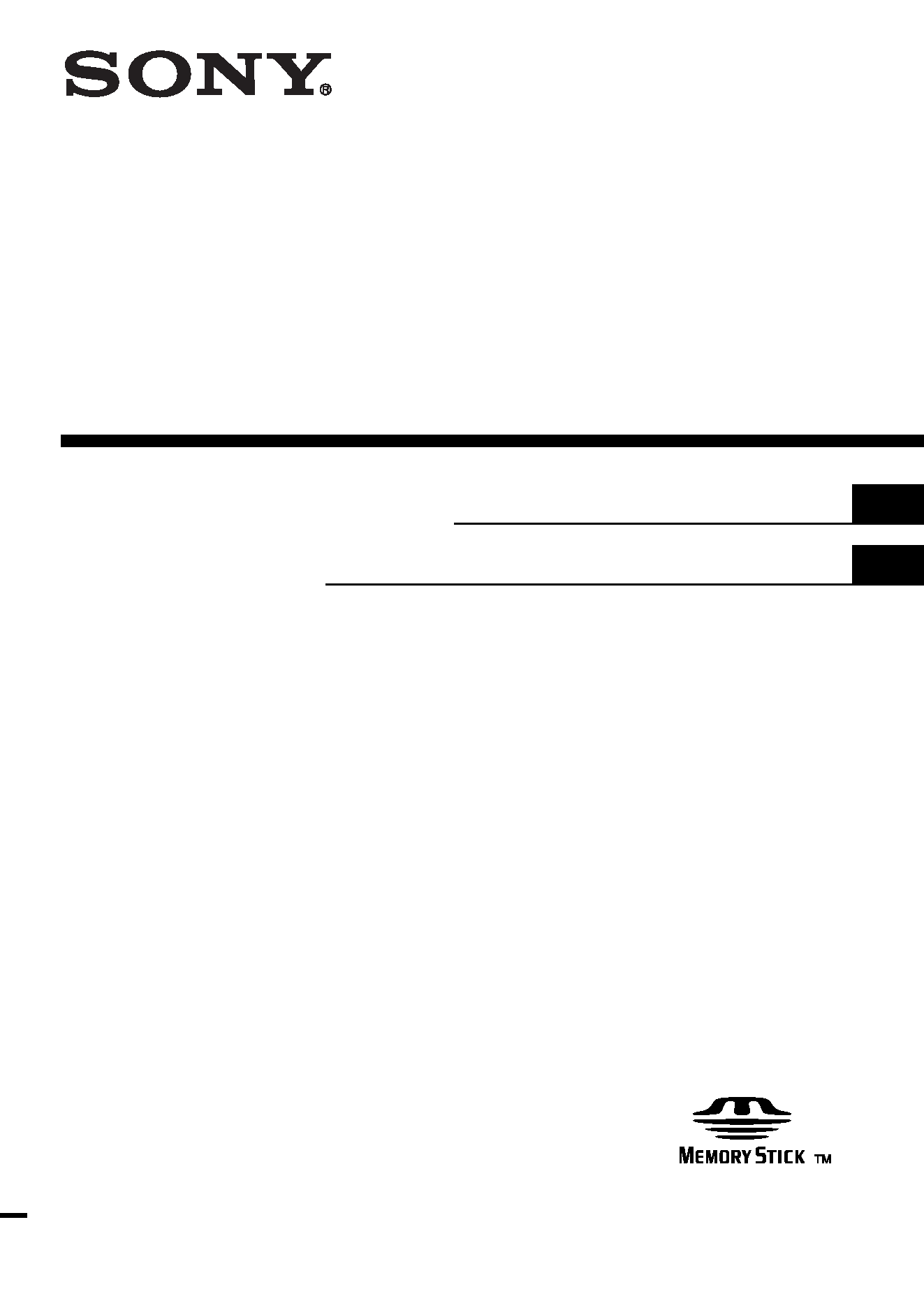 ---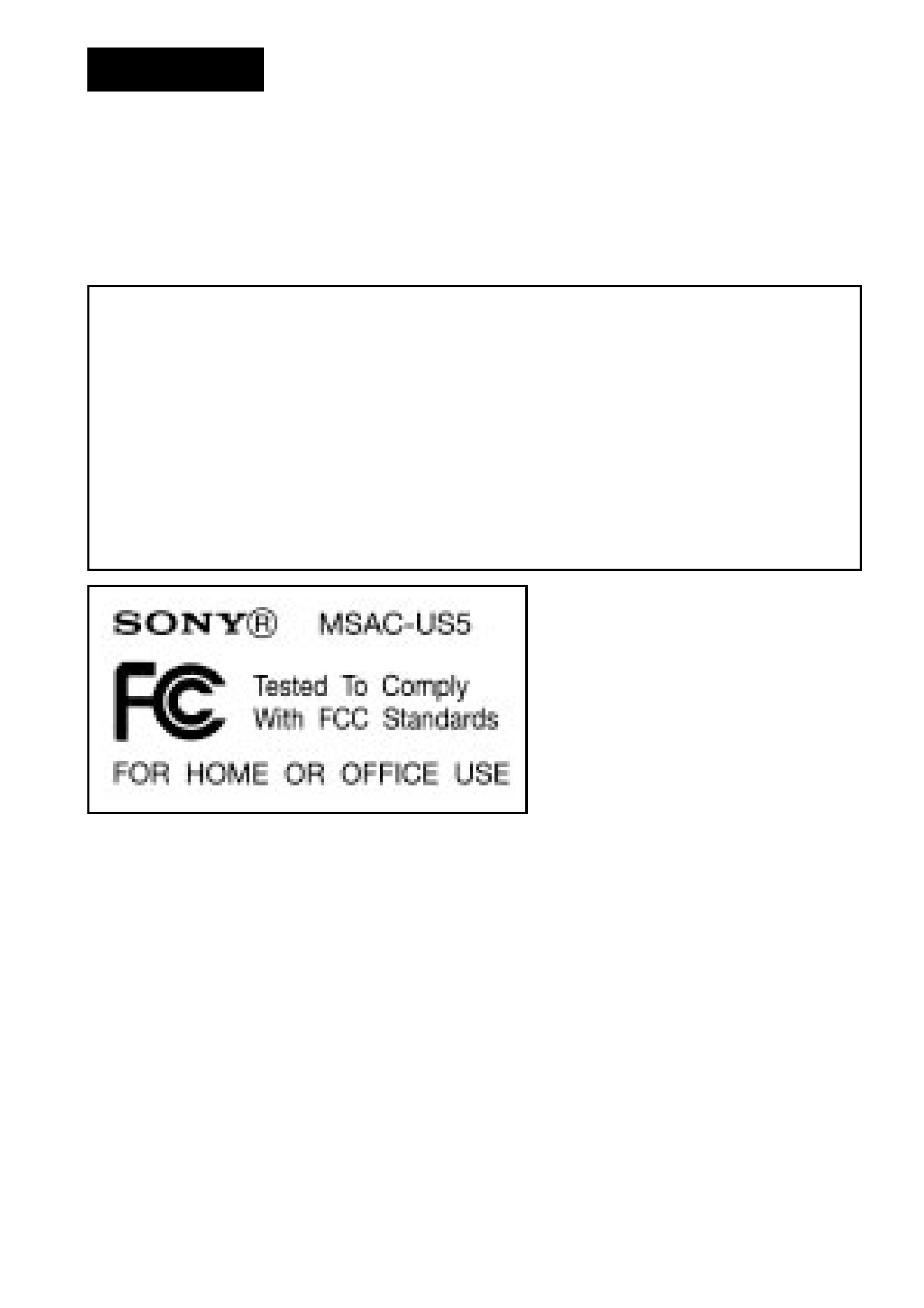 Before operating the unit, please read this instructions thoroughly, and
retain it for future reference.
For the customers in U.S.A.
If you have any questions about this product, you may call:
Sony Customer Information Center 1-800-222-SONY(7669)
The number below is for the FCC related matters only
You are cautioned that any changes or modifications not expressly approved
in this manual could void your authority to operate this equipment.
Declaration of Conformity
Responsible Party : Sony Electronics lnc.
: 1 Sony Drive, Park Ridge, NJ, 07656 USA
Telephone number : 201-930-6972
This device complies with Part 15 of the FCC Rules. Operation is
subject to the following two conditions.: (1) This device may not cause
harmful interference, and (2) this device must accept any interference
received, including interference that may cause undesired operation.
---

This equipment has been tested and found to comply with the limits for a
Class B digital device, pursuant to Part 15 of the FCC Rules. These limits
are designed to provide reasonable protection against harmful interference
in a residential installation. This equipment generates, uses, and can
radiate radio frequency energy and, if not installed and used in accordance
with the instructions, may cause harmful interference to radio
communications. However, there is no guarantee that interference will not
occur in a particular installation. If this equipment does cause harmful
interference to radio or television reception, which can be determined by
turning the equipment off and on, the user is encouraged to try to correct
the interference by one or more of the following measures:
­ Reorient or relocate the receiving antenna.
­ Increase the separation between the equipment and receiver.
­ Connect the equipment into an outlet on a circuit different from that to
which the receiver is connected.
­ Consult the dealer or an experienced radio/TV technician for help.
For the customers in Canada
This class B digital apparatus complies with Canadian ICES-003.
For the customers in Germany
Directive: EMC Directive 89/336/EEC.
This equipment complies with the EMC regulations when used under the
· Light-industry district
(This equipment complies with the EMC standard regulations EN55022 Class B.)
This unit is the Memory Stick Reader/Writer. This reader/writer has an optical
You can connect this unit to a personal computer so that data in a "Memory
Stick" can be transferred to the personal computer at high speed. You can also
use a "Memory Stick" as a removable disk.
What Is The "Optical Mouse?"
The optical mouse does not use a track ball; it uses an optical sensor. It does not
need a special mouse pad, and can be used even on your lap or clothes.
Maintenance is easy. Just wipe the lens. The screen scroll lever on the optical
mouse allows you scroll or zoom screens with ease.*
This manual describes how to connect this unit, how to install the driver, how to
use the reader/writer and how to use the mouse.
* The scroll and zoom functions are not supported on the Macintosh.
---

· When using a Macintosh, you cannot use the scroll function since the mouse
for the Macintosh does not have left and right buttons.
· When accessing the "Memory Stick" on this unit, your personal computer
cannot access other "Memory Stick" devices at the same time. Remove the
"Memory Stick" from this unit or turn off other "Memory Stick" devices.
· Be sure to connect this unit to the USB port on the personal computer.
Operation is not guaranteed if it is connected to the USB jack on the keyboard
· Operation is not guaranteed when two or more USB devices are connected to
a single personal computer and a hub is used.
· Do not subject this unit to strong shock.
· This unit uses an optical sensor. So, avoid using it on transparent glass or
· Identification performance drops when the mouse is used on the following
- Reflective or glossy surfaces such as mirrors or glass, or text/graphic/
photographic/colour patterned surfaces that have extreme changes
- Surfaces that have continuous similar patterns, or highly uneven surfaces
· A bright LED is used in operation of the image identification sensor. So, do
not look directly into the light on the rear.
· Do not use this product in the following locations. Doing so might cause
- Locations subject to splashing water
- Locations subject to direct sunlight
- Near hot locations such as heating apparatus
- Near humid or dusty locations
· Prevent fluids or metal objects from falling inside the body. If the body
becomes dirty, wipe with a soft cloth. Never use benzene, alcohol, paint
thinner or other solvents.
· Sometimes condensation forms on the sensor lens due to sudden changes in
temperature, causing operation trouble. If this happens, wipe the sensor lens
· The contents of data cannot be compensated if recording or playing back is not
made due to malfunctions such as "Memory Stick" error.
· Do not touch the terminals on the "Memory Stick" with your fingers or metal
· To prevent recording or deletion of data on "Memory Stick"s set the "Memory
Stick" write-protect switch to "Lock."
· The communications state is sometimes not restored even if your personal
computer is restored from a standby state or sleep state.
· Do not optimize "Memory Stick"s.
· Do not compress the data on "Memory Stick"s.
---

are trademarks of Sony Corporation.
Microsoft® and Windows® are either registered trademarks or trademarks of
Microsoft Corporation in the United States and/or other countries.
Macintosh, iMac and Mac OS are trademarks of Apple Computer, Inc.
All other company names and product names mentioned here may be the
trademarks or registered trademarks of their respective companies.
About Formatting "Memory Stick"s
When "Memory Stick"s are shipped from the factory, they are already
formatted to a special standard format. When you format "Memory Stick"s, we
recommend formatting them on the device you are using so that they are
compatible when used on "Memory Stick"-compatible device.
Cautions When Formatting "Memory Stick"s on a Personal Computer
Pay attention to the following points when formatting "Memory Stick"s on the
personal computer, for example, that you are using.
· Operation of "Memory Stick"s formatted on Windows machines is not
guaranteed on "Memory Stick"-compatible device. To use a "Memory Stick"
that has been formatted on a Windows machine, the "Memory Stick" must be
reformatted on "Memory Stick"-compatible device. Note, that, in this case all
data stored on the "Memory Stick" will be lost.
· "Memory Stick" formatted on a Macintosh sometimes cannot be used on
"Memory Stick"-compatible device. Do not format "Memory Stick" on the
---