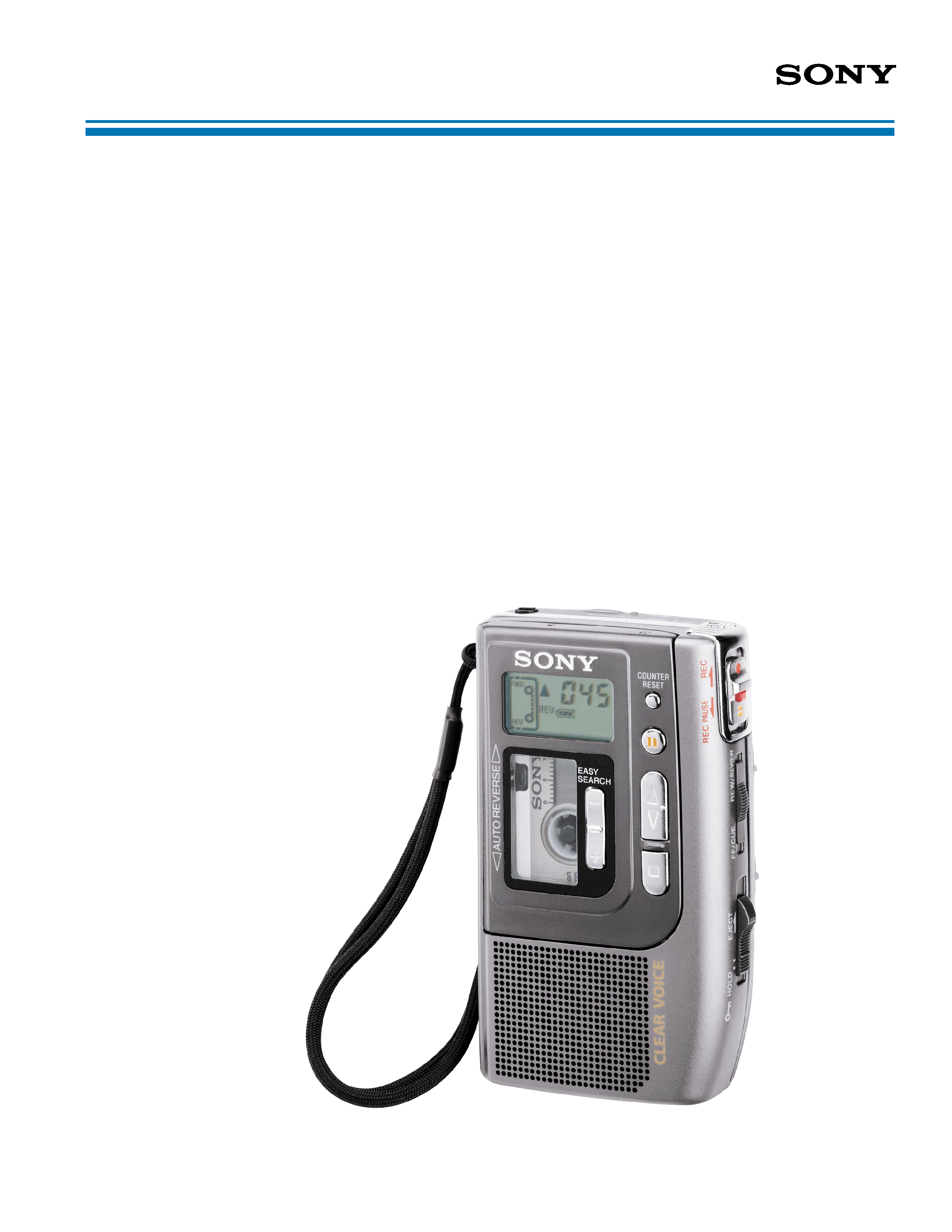 Ultra-Compact Microcassette Recorder
ONE TOUCH REWIND/FAST FORWARD
VOICE OPERATED RECORDING (VOR)
MIC SENSITIVITY SWITCH (HI/LO)
CLEAR VOICETM SOUND SYSTEM
LCD BATTERY LEVEL INDICATOR
2-SPEED OPERATION (1.2/2.4 CM/SEC)
REMOTE MIC/PLATBACK PAUSE CONTROL
---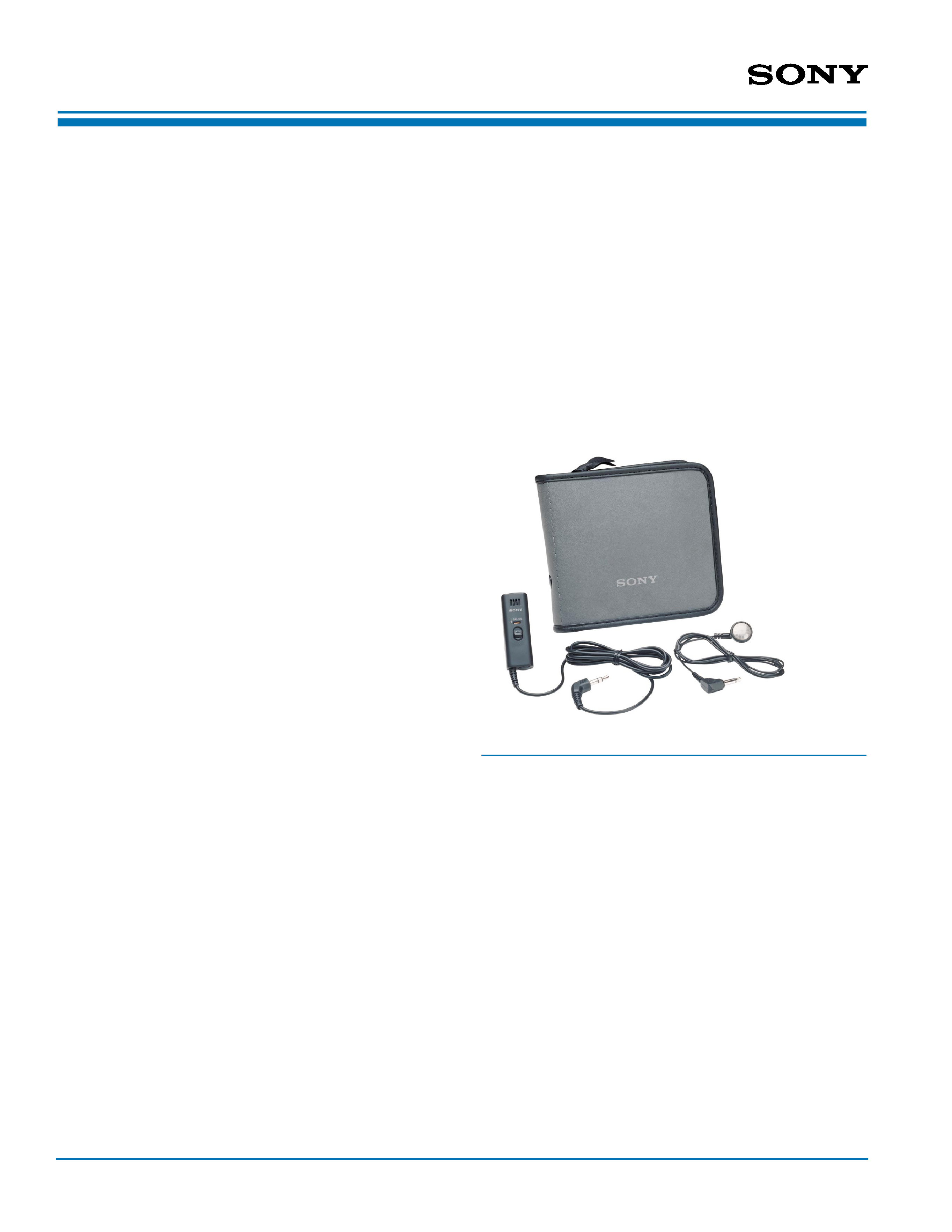 Sony Electronics Inc · 1 Sony Drive, Park Ridge, New Jersey 07656 · www.sony.com
v
AUTO REVERSE FUNCTION provides uninterrupted recording and
playback of both cassette sides with no need to turn tape over
v
FEATHER TOUCH OPERATION with controls that are sensitive and logic-
controlled for very fast, very easy operation
· ONE TOUCH REWIND/FAST FORWARD
makes it easy to operate these
modes using only one hand
· VOICE OPERATED RECORDING (VOR)
automatically activates the
recorder only when audible sound is present, conserving tape and
eliminating lengthy noiseless passages on recordings
v
LARGE LCD DISPLAY clearly shows system functions and digital tape
· MIC SENSITIVITY SWITCH (HI/LO)
adjusts the built-in microphone to
record appropriately in different situations such as meetings,
conferences, dictation or one-on-one recordings
v
METAL CASE is attractive and designed to be used in or out of the office,
permits connecting the supplied remote-control external
microphone, for special recording applications
· CLEAR VOICETM SOUND SYSTEM
enhances voice quality during recording
and playback for greater clarity
· LCD BATTERY LEVEL INDICATOR
visibly indicates condition of battery
lets you and others hear playback without the supplied
helps reduce mechanical wear and conserves
temporarily halts recording or playback without leaving
that mode, and resumes at the flick of a button
locks controls to prevent accidental activation of any
· 2-SPEED OPERATION (1.2/2.4 CM/SEC)
gives you the option of recording
on a standard microcassette for twice its normal time, for extended
dictation or recording sessions
provides sound during fast Forward and Rewind
modes to help find specific passages
provides individual listening to playback for privacy
helps prevent accidental loss or damage
for two-way power operation, using replaceable batteries or
optional AC power adaptor
2-Track 1-Channel monaural
Built-in electric condenser
DC 3V with "AAA" x 2 batteries
2
3
/
8
" x 3
3
/
4
" x 1
5
/
8
" (60.5 x 93.9 x 26mm)
4.6 oz (180g) w/out batteries
Hand Strap, Carrying Case, Earphone, Remote
©2002 Sony Electronics Inc.
Reproduction in whole or in part without written permission is prohibited. All rights reserved.
Sony and Clear Voice are trademarks of Sony.
Features and specifications are subject to change without notice. Non-metric weights and measures
---