---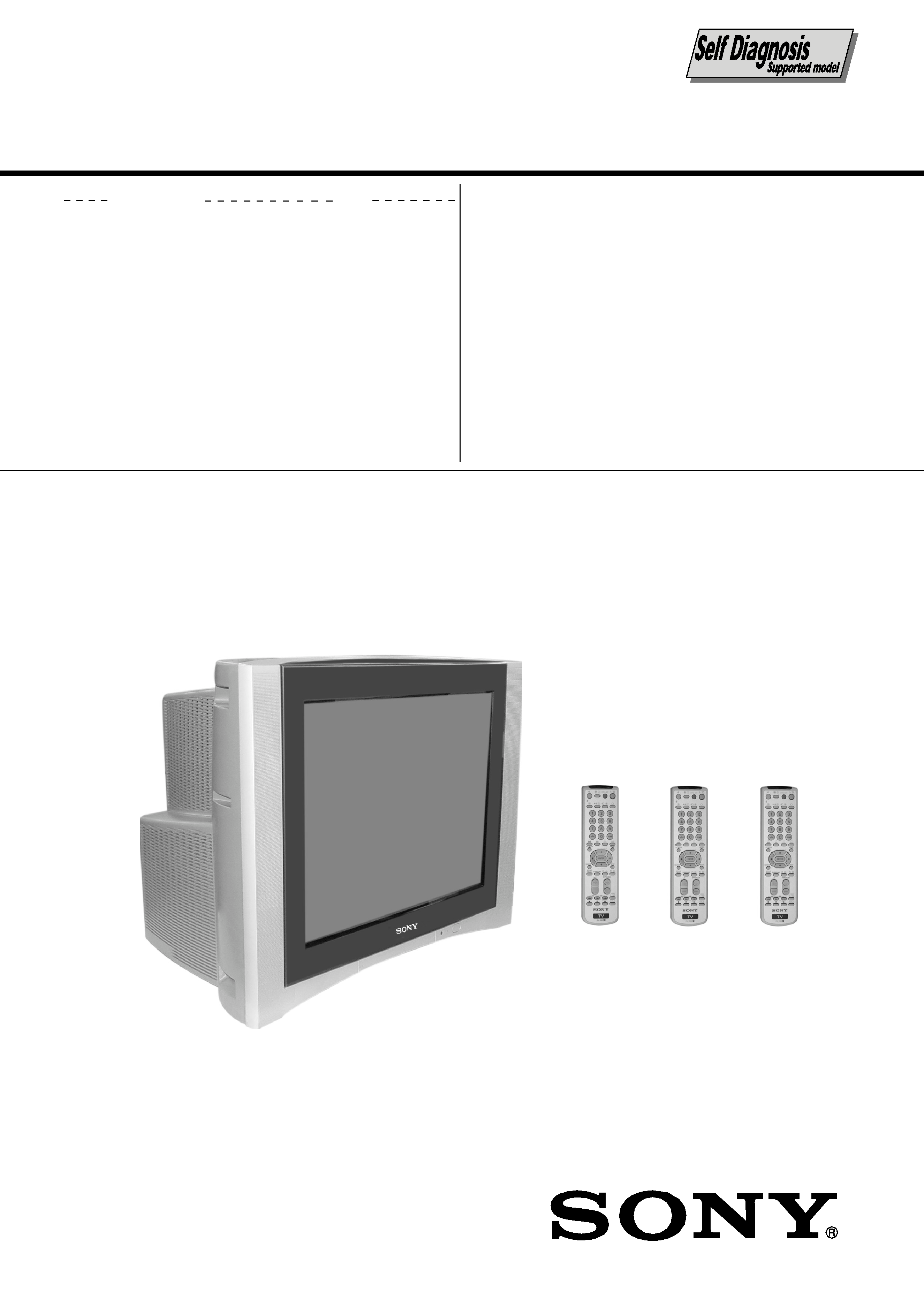 KV-DR29M81
RM-991 Saudi Arabia SCC-V12A-A
KV-DR29M90B
RM-964 Hong Kong SCC-U40D-A
KV-DR29N90B
RM-992 Taiwan
KV-DR34M90B
RM-964 Hong Kong SCC-U40C-A
SERVICE MANUAL
AG3E
CHASSIS
---

KV-DR29M81/DR29M90B/DR34M90B/DR29N90B
SELF DIAGNOSTIC FUNCTION .................................. 3
Rear Cover Removal (KV-DR34) .............................. 6
Rear Cover Removal (KV-DR29) .............................. 6
Speaker Removal ........................................................ 6
Chassis Assy Removal ................................................ 6
Service Position .......................................................... 6
DH Board Removal (KV-DR34) ................................ 6
Service Position on TV Stand (KV-DR34) ................ 7
Service Position on TV Stand (KV-DR29) ................ 7
Terminal Bracket Removal ......................................... 8
1-10. B3 and D5 Boards Removal ....................................... 8
1-11. F1 Board Removal ...................................................... 8
1-12. BC and V2 Boards Removal ...................................... 8
1-13. H1 and H2 Boards Removal ....................................... 8
1-14. A and D Boards Removal ........................................... 8
1-15. Picture Tube Removal ................................................ 9
Jigs Required For Servicing .................................... 10
3. CIRCUIT BOARDS LOCATION ................................. 10
"RESET" Function ................................................... 11
Beam Landing .......................................................... 12
Convergence Adjustment ......................................... 13
Focus Adjustment ..................................................... 15
Neck Assy Twist Adjustment ................................... 15
G2 (SCREEN) and White Balance Adjustment ....... 15
Adjustment With Commander ................................. 16
Adjustment Method .................................................. 16
Picture Quality Adjustments .................................... 35
Sub Hue/Col Adjustments ........................................ 35
Deflection Adjustments ............................................ 36
A Board Adjustment After IC003 (MEMORY)
Replacement ............................................................. 37
Picture Distortion Adjustment .................................. 38
Block Diagram ......................................................... 39
Schematic Diagram .................................................. 48
(1) A Board Schematic Diagrams ............................ 49
(2) B3 Board Schematic Diagram ............................ 53
(3) D Board Schematic Diagram .............................. 55
(4) D5 Board Schematic Diagram ........................... 57
(5) C Board Schematic Diagram .............................. 59
(6) BC1 Board Schematic Diagram ......................... 61
(7) H1 and F1 Boards Schematic Diagram .............. 63
(8) DH Board Schematic Diagrams ......................... 65
(9) V2 Board Schematic Diagram ............................ 67
(10) BC2 Board Schematic Diagram ....................... 69
(11) VM Board Schematic Diagram ........................ 71
(12) H2 and J Boards Schematic Diagrams ............. 72
Voltage Measurement and Waveforms ..................... 77
Printed Wiring Boards and Parts Location ............ 100
Semiconductors ...................................................... 114
Speaker Bracket ...................................................... 117
Chassis .................................................................... 118
Picture Tube ............................................................ 119
9. ELECTRICAL PARTS LIST ...................................... 120
---

KV-DR29M81/DR29M90B/DR34M90B/DR29N90B
The units in this manual contain a self-diagnostic function. If an error occurs, the STANDBY/TIMER lamp will automatically
The number of times the lamp flashes translates to a probable source of the problem. A definition of the STANDBY/TIMER
lamp flash indicators is listed in the instruction manual for the user's knowledge and reference. If an error symptom cannot
be reproduced, the remote commander can be used to review the failure occurrence data stored in memory to reveal past
problems and how often these problems occur.
DIAGNOSTIC TEST INDICATORS
When an error occurs, the STANDBY/TIMER lamp will flash a number of times to indicate the possible cause of the
problem. If there is more than one error, the lamp will identify the first of the problem areas.
Result for all of the following diagnostic items are displayed on screen. No error has occured if the screen displays a "0".
· Power cord is not plugged
· Fuse is burned out F1601
· H.OUT Q6807 is shorted.
D6644 faulty, R6651 open.
· G2 is improperly adjusted.
· Video OUT IC9001, 9002,
9003 are faulty. (C board)
IC4301 (A board) are faulty.
· CRT Discharge (C Board)
· Power does not come on.
· No power is supplied to the
· AC power supply is faulty.
· Power does not come on.
· Power does not come on.
· Vertical deflection pulse is
· Vertical size is too small.
· Vertical deflection stopped.
· No raster is generated.
detection reference pulse
· H pulse output is too high.
· Power is shut down shortly,
after this return back to
Note 1: Refer to screen (G2) Adjustment in section 5-5 of this manual.
---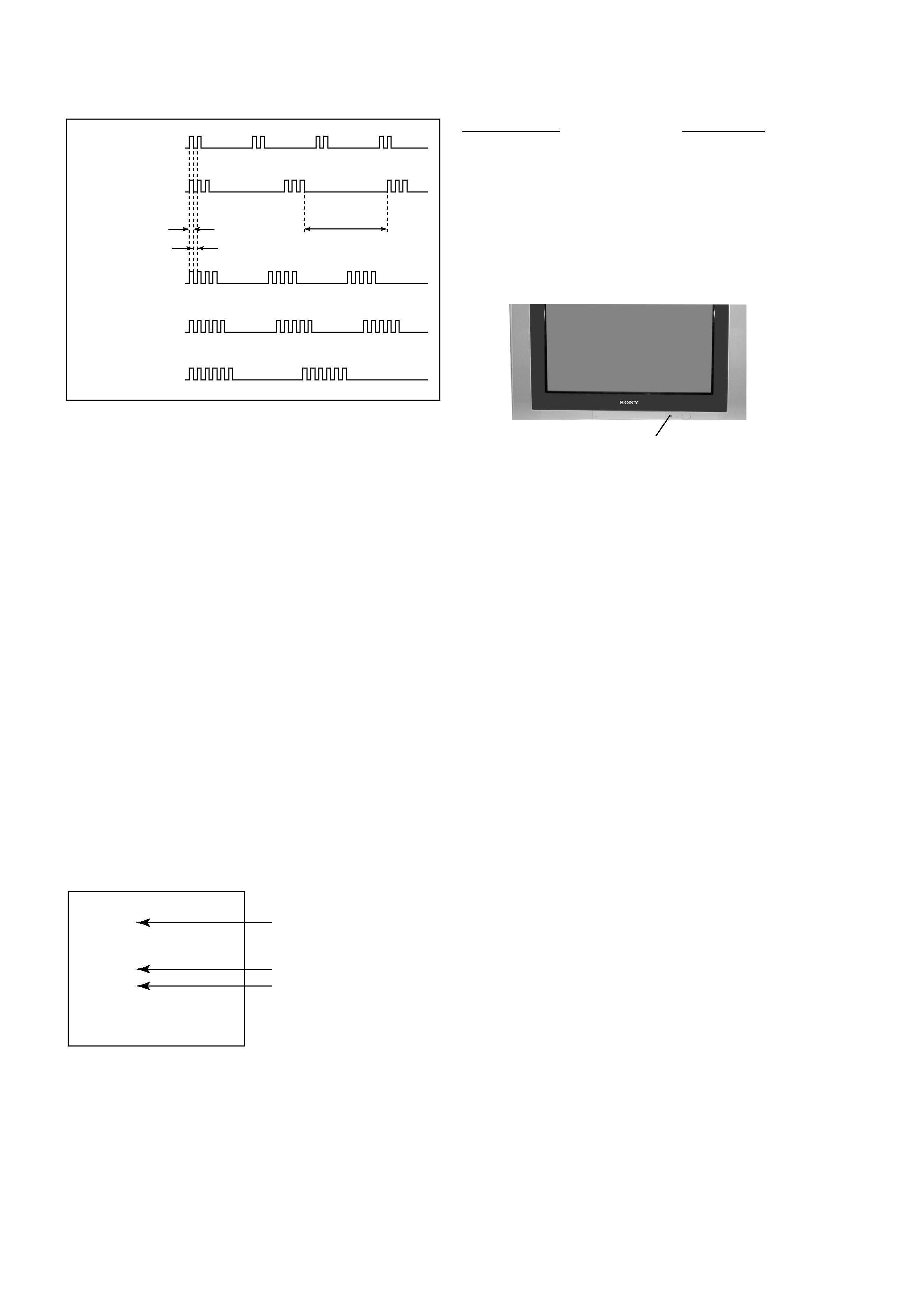 KV-DR29M81/DR29M90B/DR34M90B/DR29N90B
2. DISPLAY OF STANDBY/TIMER LIGHT FLASH COUNT
3. STOPPING THE STANDBY/TIMER FLASH
Turn off the power switch on the TV main unit or unplug the power cord from the outlet to stop the STANDBY/TIMER lamp
4. SELF-DIAGNOSTIC SCREEN DISPLAY
For errors with symptoms such as "power sometimes shuts off" or "screen sometimes goes off" that cannot be confirmed, it
is possible to bring up past occurances of failure for confirmation on the screen:
[To Bring Up Screen Test]
In standby mode, press buttons on the remote commander sequentially in rapid succession as shown below:
[Screen display] / channel [5] / Sound volume [-] / Power ON
Note that this differs from entering the service mode (mode volume [+]).
Self-Diagnosis screen display
Horizontal Deflection Failure
* One flash count is not used for self-diagnostic.
Numeral "0" means that no fault has been detected.
Numeral "1" means a fault has been detected.
Numeral "2" means two faults have been detected.
---