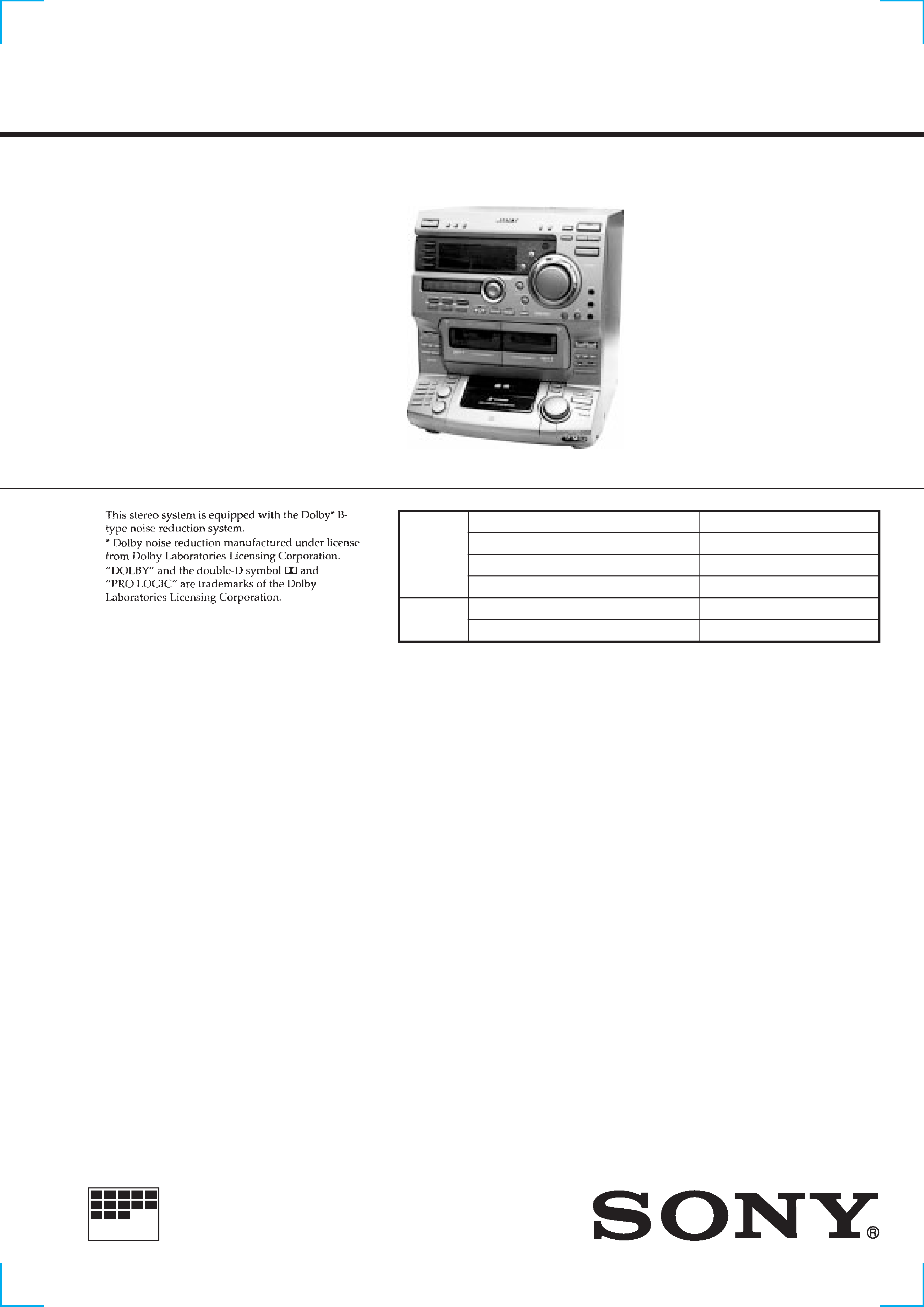 COMPACT Hi-Fi STEREO SYSTEM
HCD-VR90AV is the tuner, deck, CD and ampli-
fier section in LBT-VR90AV.
Model Name Using Similar Mechanism
Model Name Using Similar Mechanism
Tape Transport Mechanism Type
The following measured at AC 120/220/240V, 50/60Hz
Continuous RMS power output (Reference)
Continuous RMS power output (Reference)
Continuous RMS power output (Reference)
PHONES (stereo phone jack):
-- Continued on next page --
DVD INPUT VIDEO (phono jacks):
S-VIDEO OUT (4-pin/mini-DIN jack):
---

VIDEO CD/CD player section
Compact disc and digital audio and video system
* This output is the value measured at a distance of
200 mm from the objective lens surface on the Optical
Pick-up Block with 7 mm aperture.
Video color system format
(square optical connector jack, rear panel)
Frequency response (DOLBY NR OFF)
FM stereo, FM/AM superheterodyne tuner
Intermediate frequency 10.7 MHz
Middle Eastern model : 531 ­ 1,602 kHz
(with the tuning interval set at 9 kHz)
(with the tuning interval set at 9 kHz)
(with the tuning interval set at 10 kHz)
AM loop antenna, External antenna terminals
Intermediate frequency 450 kHz
120 V, 220V, or 230 ­ 240 V AC, 50/60 Hz
Adjustable with voltage selector
incl. projecting parts and controls
R6 (size AA) batteries (2)
Design and specifications are subject to change without notice.
---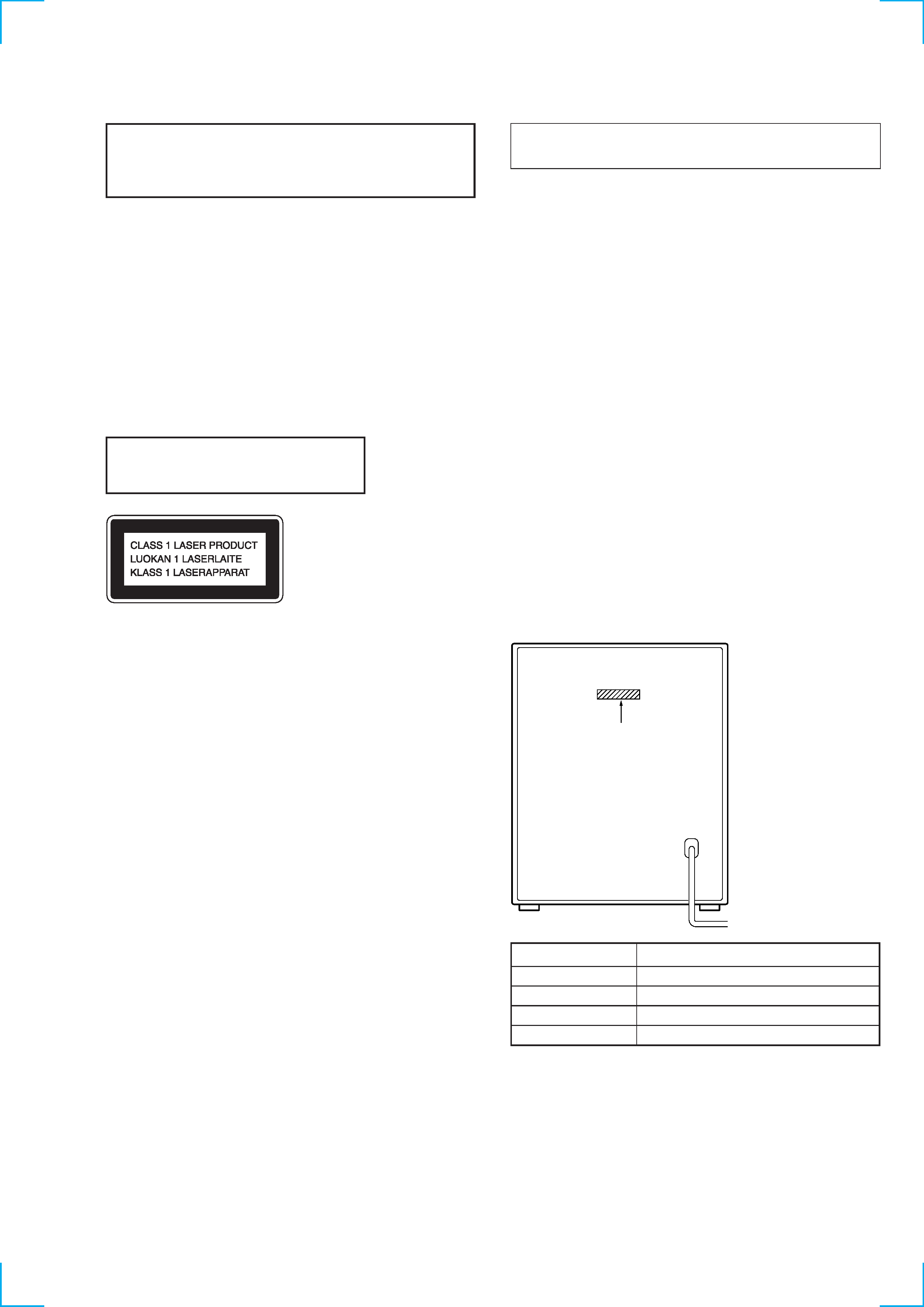 SAFETY-RELATED COMPONENT WARNING!!
COMPONENTS IDENTIFIED BY MARK
! ON THE SCHEMATIC DIAGRAMS AND IN THE PARTS
LIST ARE CRITICAL TO SAFE OPERATION. REPLACE THESE
COMPONENTS WITH SONY PARTS WHOSE PART NUMBERS
APPEAR AS SHOWN IN THIS MANUAL OR IN SUPPLEMENTS
This appliance is classified as a CLASS 1 LASER product. The
CLASS 1 LASER PRODUCT MARKING is located on the rear
The following caution label is located inside the unit.
Laser component in this product is capable
of emitting radiation exceeding the limit for
Use of controls or adjustments or performance of procedures
other than those specified herein may result in hazardous radiation
Notes on chip component replacement
· Never reuse a disconnected chip component.
· Notice that the minus side of a tantalum capacitor may be
Flexible Circuit Board Repairing
· Keep the temperature of soldering iron around 270°C
· Do not touch the soldering iron on the same conductor of the
circuit board (within 3 times).
· Be careful not to apply force on the conductor when soldering
NOTES ON HANDLING THE OPTICAL PICK-UP BLOCK
The laser diode in the optical pick-up block may suffer electrostatic
break-down because of the potential difference generated by the
charged electrostatic load, etc. on clothing and the human body.
During repair, pay attention to electrostatic break-down and also
use the procedure in the printed matter which is included in the
The flexible board is easily damaged and should be handled with
NOTES ON LASER DIODE EMISSION CHECK
The laser beam on this model is concentrated so as to be focused on
the disc reflective surface by the objective lens in the optical pick-
up block. Therefore, when checking the laser diode emission,
observe from more than 30 cm away from the objective lens.
LASER DIODE AND FOCUS SEARCH OPERATION
Carry out the "S curve check" in "CD section adjustment" and check
that the S curve waveform is output four times.
---

Deck Section ································ 40
6-16. Printed Wiring Board
Deck Section ····························· 41
6-17. Printed Wiring Board
Power Section ··························· 42
Power (1/2) Section ····················· 43
Power (2/2) Section ····················· 44
Surround Section ························· 45
6-21. Printed Wiring Board
Surround Section ······················· 45
FL Section ···································· 46
6-23. Printed Wiring Board
FL Section ································· 47
Panel VR Section ························· 48
6-25. Printed Wiring Board
Panel VR Section ······················ 49
TC Panel Section ························· 50
6-27. Printed Wiring Board
TC Panel Section ······················· 51
CD Panel Section ························· 52
6-29. Printed Wiring Board
CD Panel Section ······················ 53
CD Motor Section ························ 54
6-31. Printed Wiring Board
CD Motor Section ····················· 55
Jack Section ································· 56
6-33. Printed Wiring Board
Jack Section ······························ 57
Trans Section ······························· 58
6-35. Printed Wiring Board
Trans Section ····························· 59
Leaf SW Section ·························· 59
6-37. Printed Wiring Board
Leaf SW Section ······················· 59
6-38. IC Block Diagrams ··························································· 60
6-39. IC Pin Functions ······························································· 61
Case and Back Panel Section ··········································· 69
Front Panel Section 1 ······················································· 70
Front Panel Section 2 ······················································· 71
Chassis Section ································································· 72
TC Mechanism Section 1 (TCM230AWR2/230PWR2) ·· 73
TC Mechanism Section 2 (TCM230AWR2/230PWR2) ·· 74
CD Mechanism Section (CDM37M-5BD32L) ················ 75
Base Unit Section (BU-5BD32L) ····································· 76
8. ELECTRICAL PARTS LIST
······································· 77
1. GENERAL
·········································································· 5
Front Panel ········································································· 7
Main Board ········································································· 7
Sub Panel ············································································ 8
CD-L/CD-R Board and CD Lid Assembly ························· 8
Tape Mechanism Deck and Cassette Lid ···························· 9
CD Mechanism Deck ························································· 9
Base Unit ············································································ 9
Disc Table ········································································· 10
3. SERVICE MODE
···························································· 11
4. MECHANICAL ADJUSTMENTS
····························· 15
5. ELECTRICAL ADJUSTMENTS
······························· 15
Circuit Boards Location ··················································· 19
BD Section ······································································· 20
Video Section ··································································· 21
Deck Section ····································································· 22
Main (1/2) Section ···························································· 23
Main (2/2) Section ···························································· 24
Power Section ··································································· 25
Display Section ································································· 26
BD Section ································ 28
BD Section ··································· 29
Video Section ···························· 30
Video (1/3) Section ······················ 31
Video (2/3) Section ······················ 32
Video (3/3) Section ······················ 33
Main Section ····························· 34
Main (1/5) Section ······················· 35
Main (2/5) Section ······················· 36
Main (3/5) Section ······················· 37
Main (4/5) Section ······················· 38
Main (5/5) Section ······················· 39
---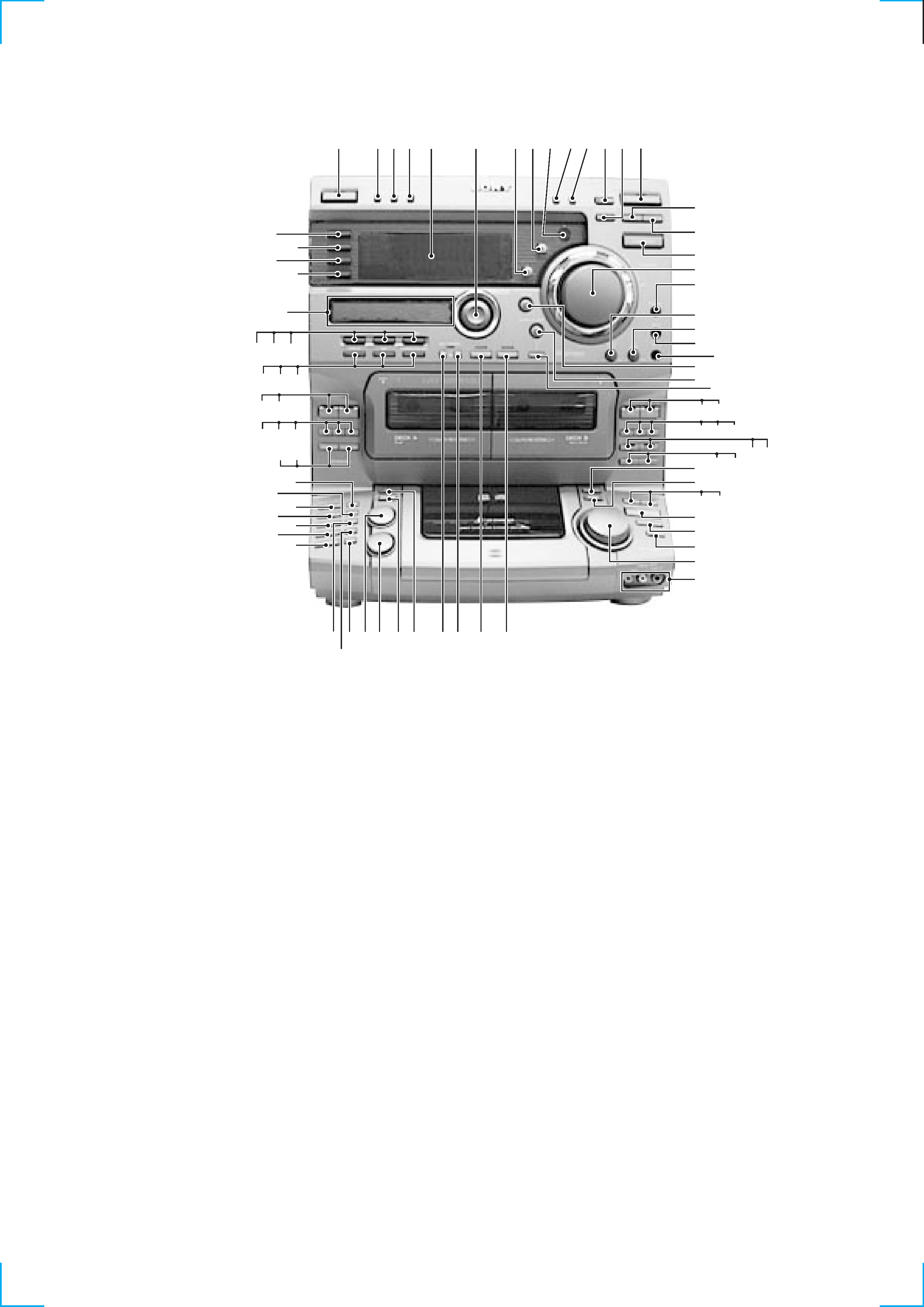 Location of Parts and Controls
2 POWER SAVE/DEMO (STANDBY)
4 SPECTRUM ANALYZER button
@¶ ª (B Deck) button and indicator
@· · (B Deck) button and indicator
$º ·P (CD) button and indicator
$ PRO LOGIC button and indicator
%º NON-STOP button and indicator
&º KARAOKE PON/MPX button
&¡ DSP button and indicator
&TM EFFECT button and indicator
&£ ENTER button and indicator
&ª REC button and indicator
*º DAILY button and indicator
· AMS is the abbreviation for Automatic
---