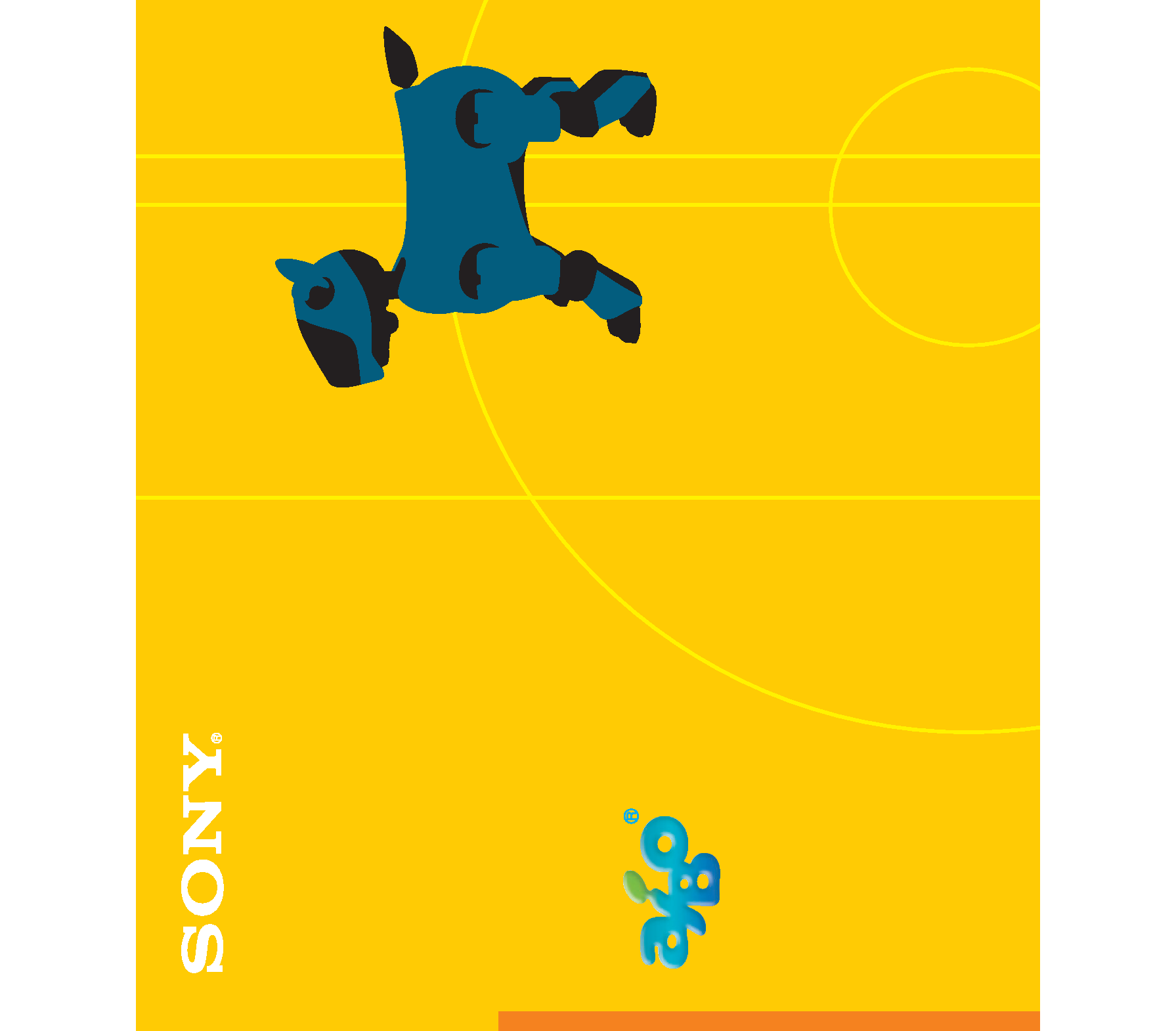 --- The model number and serial number are located inside the cover of the unit
and on the side of the supplied AC adapter. Record the serial number in the
space provided below. Refer to the model and serial number whenever you
call upon your Sony AIBO Customer Link.
· To prevent fire or shock hazard, do not expose the robot to rain or moisture.
· To avoid electrical shock, do not open the enclosure. Refer servicing to
qualified personnel only. (Contact the AIBO Customer Link.) (page 5)
· Periodically examine the AC adapter for conditions that may result in the
risk of fire, electrical shock, or injury to persons (such as damage to the
cords, blades, housing) and in the event of such conditions, the AC adapter
should not be used until properly repaired or replaced.
· Not Intended for Children Under 8 Years Old.
· Vérifiez périodiquement si l'adaptateur secteur ne présente pas des
conditions susceptibles de provoquer un incendie, des décharges électriques
ou des blessures aux personnes (comme des dommages aux câbles, aux
oreilles ou au boîtier) et, en présence de telles conditions, l'adaptateur
secteur ne peut plus être utilisé avant son réparation ou remplacement.
· Cet appareil n'est pas destiné aux enfants de moins de 8 ans.
--- DISPOSAL OF LITHIUM ION BATTERY
You can return your unwanted Lithium Ion batteries to your nearest Sony
In some areas the disposal of Lithium Ion batteries in household or business trash may
For the Sony AIBO Customer Link call 1-800-427-2988 in the United States or
! Do not handle damaged or leaking Lithium Ion battery.
! Danger of explosion if the battery is incorrectly replaced. Replace only with
the ERA-201B1 or equivalent type recommended by the manufacturer. Use
of another battery may present a risk of fire or explosion. Discard used
batteries according to the manufacturer's instructions.
! The battery pack used in this device may present a fire or chemical burn
hazard if mistreated. Do not disassemble, heat above 140°F (60°C) or
incinerate. Dispose of used battery promptly. Keep away from children. Do
not disassemble and do not dispose of in fire.
---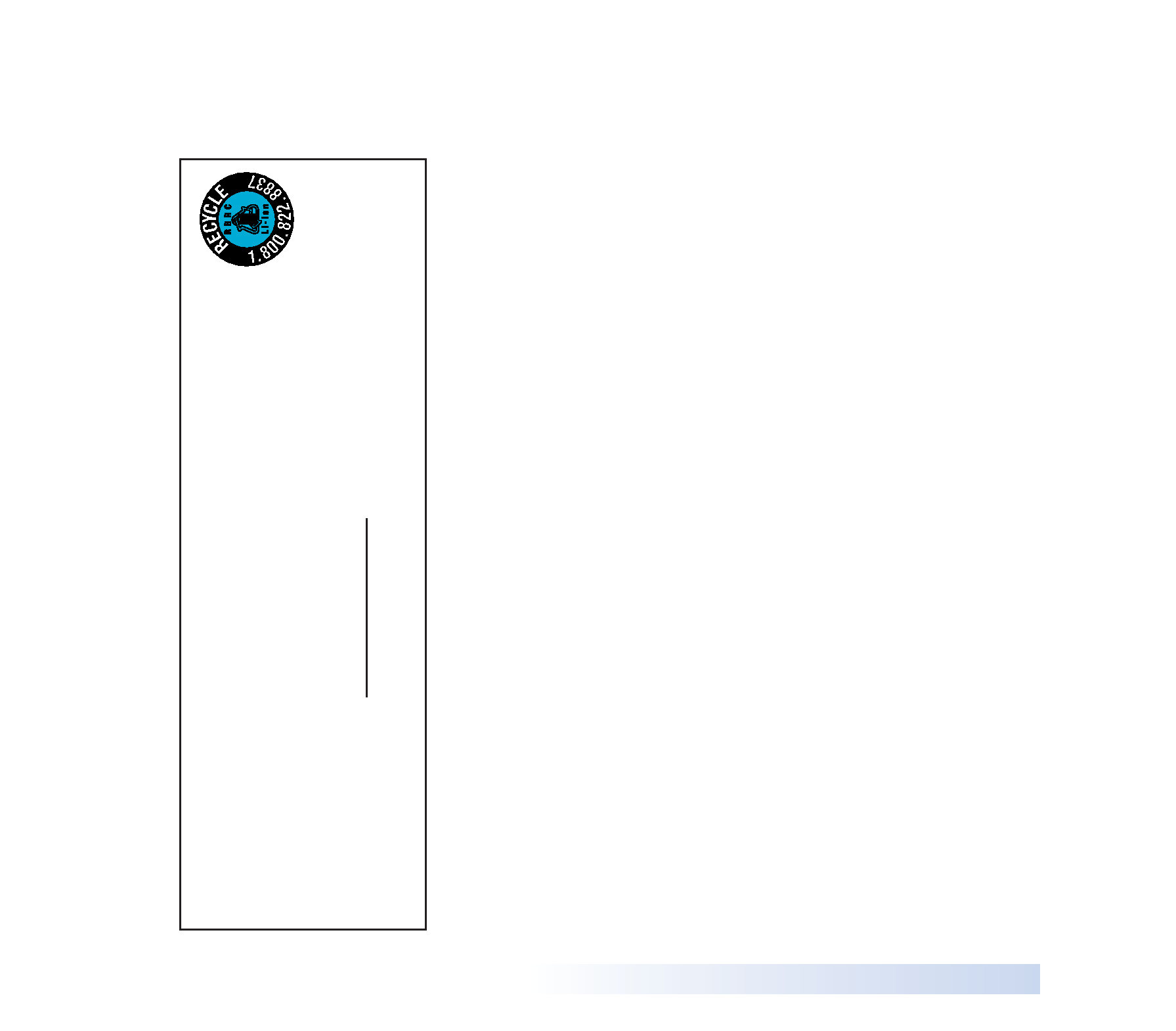 RECYCLING LITHIUM ION RECHARGEABLE BATTERIES
Lithium Ion rechargeable batteries are recyclable.
You can help preserve our environment by returning your used
rechargeable batteries to the collection and recycling location nearest you.
For more information regarding recycling of rechargeable batteries, call toll free
1-800-822-8837, or visit http://www.rbrc.org/
Caution: Do not handle damaged or leaking Lithium Ion batteries.
This equipment has been tested and found to comply with the limits for a Class
B digital device, pursuant to Part 15 of the FCC Rules. These limits are
designed to provide reasonable protection against harmful interference in a
residential installation. This equipment generates, uses, and can radiate radio
frequency energy and, if not installed and used in accordance with the
instructions, may cause harmful interference to radio communications.
However, there is no guarantee that interference will not occur in a particular
installation. If this equipment does cause harmful interference to radio or
television reception, which can be determined by turning the equipment off
and on, the user is encouraged to try to correct the interference by one or more
of the following measures:
· Reorient or relocate the receiving antenna.
· Increase the separation between the equipment and receiver.
· Connect the equipment into an outlet on a circuit different from that to
which the receiver is connected.
· Consult the dealer or an experienced radio/TV technician for help.
--- You are cautioned that any changes or modifications not expressly approved in
this manual could void your authority to operate this equipment.
The shielded interface cable recommended in this manual must be used with
this equipment in order to comply with the limits for a digital device pursuant
to Subpart B of Part 15 of FCC Rules.
How can you contact the AIBO Customer Link?
Call 1-800-427-2988 (U.S.A.)
2001 Sony Corporation. Reproduction in whole or in part without
written permission is prohibited. All rights reserved.
---