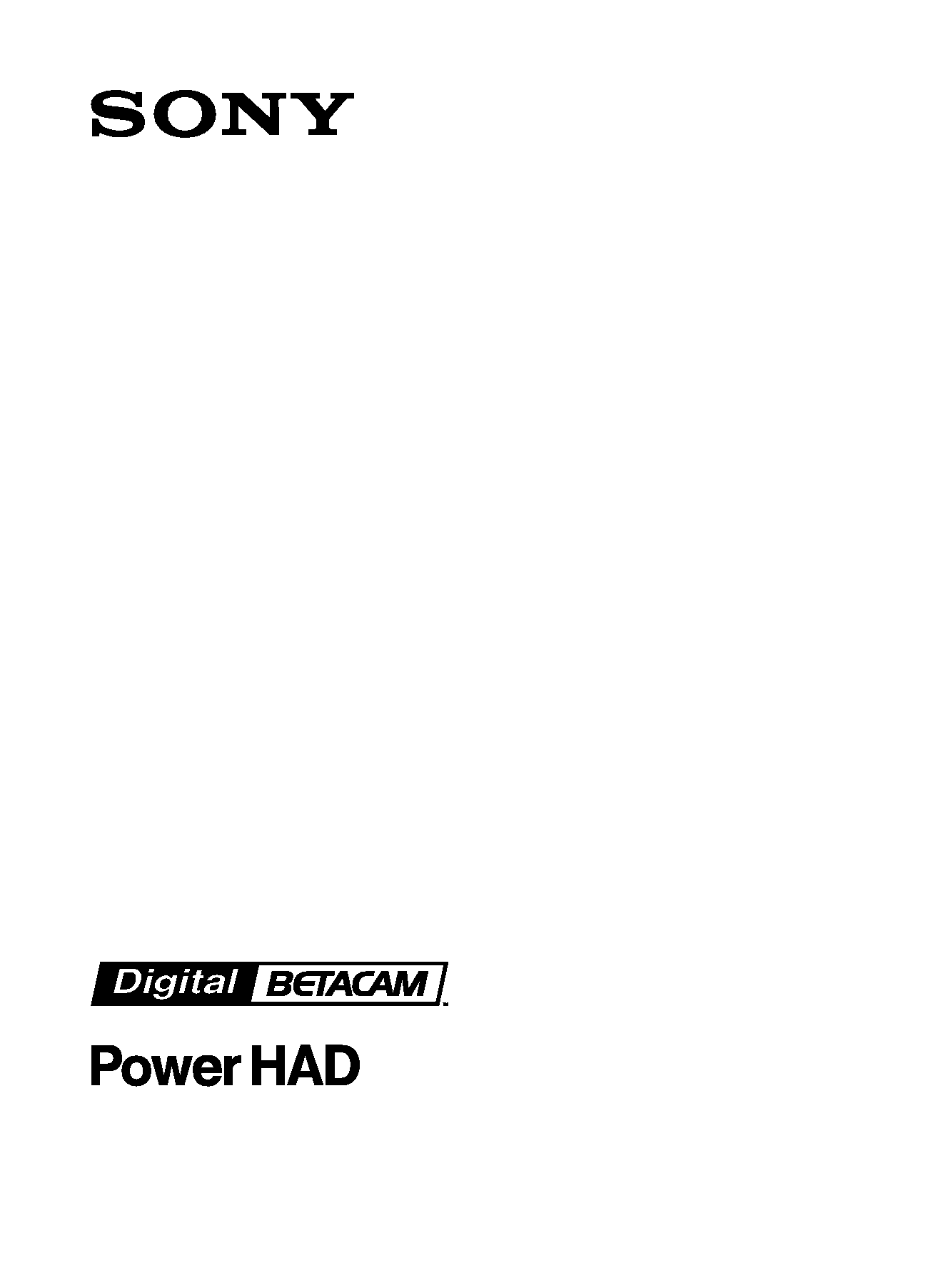 DIGITAL BETACAM CAMCORDER
---

To prevent fire or shock hazard, do not
expose the unit to rain or moisture.
To avoid electrical shock, do not open
the cabinet. Refer servicing to qualified
For the customers in the USA
This equipment has been tested and found to comply with
the limits for a Class B digital device, pursuant to Part 15
of th e FCC Rules. These limits are designed to provide
reasonable protection against harmful interference in a
residential installation. This equipment generates, uses,
and can radiate radio frequency energy and, if not installed
and used in accordance with the instructions, may cause
harmful interference to radio communications. However,
there is no guarantee that interference will not occur in a
particular installation. If this equipment does cause
harmful interference to radio or television reception, which
can be determined by turning the equipment off and on,
the user is encouraged to try to correct the interference by
one or more of the following measures:
-- Reorient or relocate the receiving antenna.
-- Increase the separation between the equipment and
-- Connect the equipment into an outlet on a circuit
different from that to which the receiver is connected.
-- Consult the dealer or an experienced radio/TV
---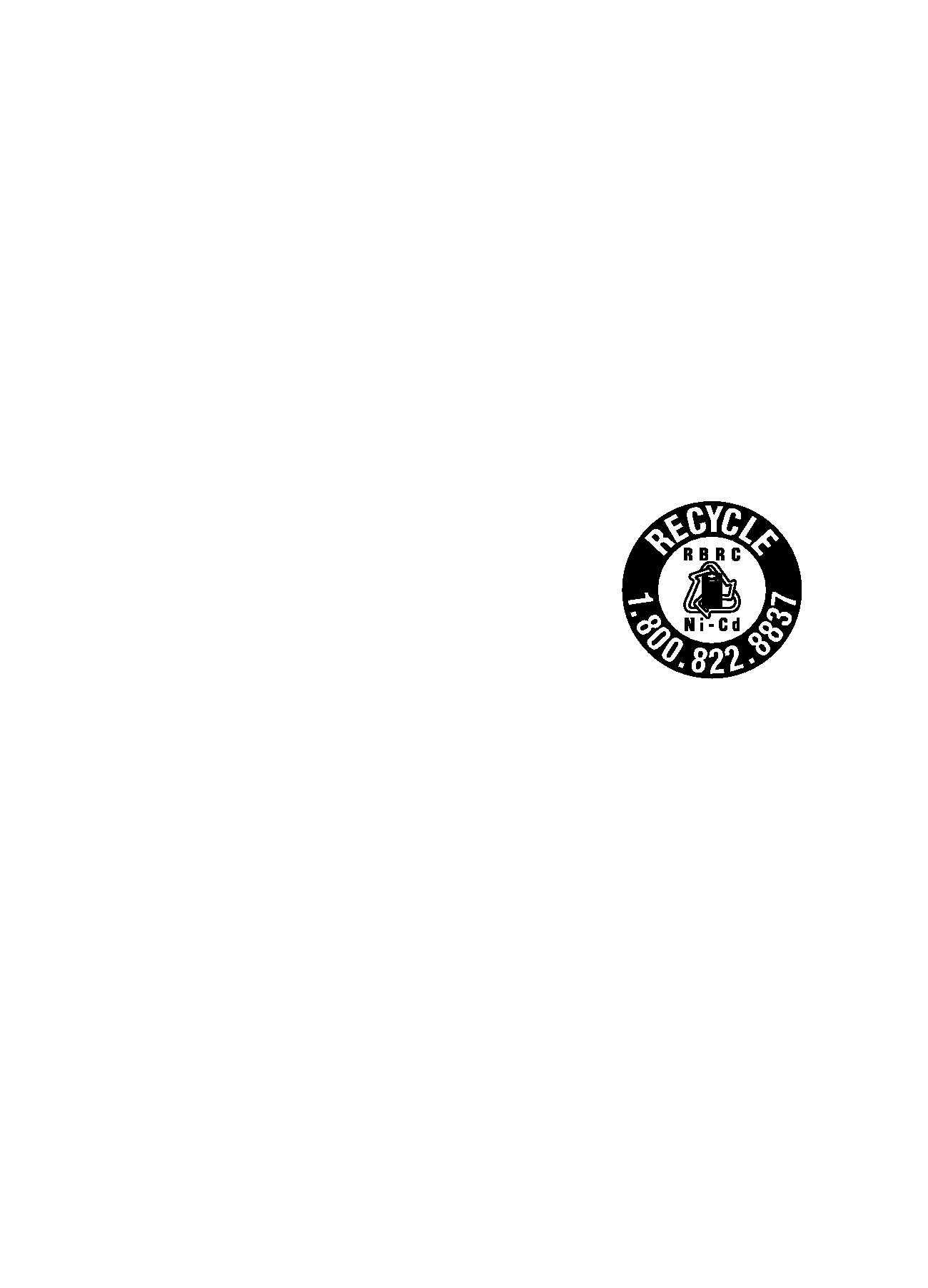 You are cautioned that any changes or modifications not
expressly approved in this manual could void your
authority to operate this equipment.
The shielded interface cable recommended in this manual
must be used with this equipment in order to comply with
the limits for a digital device pursuant to Subpart B of Part
For the customers in the USA and Canada
RECYCLING NICKEL-CADMIUM BATTERIES
Nickel-Cadmium batteries are recyclable.
You can help preserve our environment
by returning your unwanted batteries to
your nearest point for collection,
recycling or proper disposal.
Note: In some areas the disposal of nickel-cadmium
batteries in household or business trash may be
RBRC(Rechargeable Battery Recycling Corporation)
advises you about spent battery collection by the following
Call toll free number: 1-800-822-8837 (United States
Caution: Do not handle damaged or leaking nickel
---

For the customers in Europe
This product with the CE marking complies with the EMC
Directive(89/336/EEC) issued by the Commission of the
Compliance with this directive implies conformity to the
following European standards:
· EN55103-1: Electromagnetic Interference(Emission)
· EN55103-2: Electromagnetic Susceptibility(Immunity)
This product is intended for use in the following
Electromagnetic Environment(s):
E1 (residential), E2 (commercial and light industrial), E3
(urban outdoors) and E4 (controlled EMC environment, ex.
---

Features ..................................................................................... 1-1
1-1-1 Camera Features .............................................................. 1-2
1-1-2 VTR Features .................................................................. 1-4
Example of System Configuration .......................................... 1-6
Precautions ................................................................................ 1-8
Chapter 2 Locations and Functions of Parts and
Power Supply ............................................................................ 2-1
Accessory Attachments ............................................................ 2-3
Audio Functions ........................................................................ 2-5
Shooting and Recording/Playback Functions ...................... 2-14
Setup Menu Operating Section ............................................. 2-27
Time Code System .................................................................. 2-29
Warnings and Indications ...................................................... 2-35
Warnings and Indications on the Display Panel .................. 2-38
Chapter 3 Recording and Playback
About Cassettes ......................................................................... 3-1
3-1-1 Loading and Unloading a Cassette .................................. 3-1
3-1-2 Preventing Accidental Erasure ........................................ 3-4
Recording .................................................................................. 3-5
3-2-1 Basic Procedure ............................................................... 3-5
3-2-2 Continuous Recording ..................................................... 3-9
3-2-3 Starting a Shoot with a Few Seconds of Pre-Stored Picture
Data (Loop Rec Function) (When Using a BKDW-703
Extension Board) ........................................................... 3-12
3-2-4 Reversing the picture orientation (vertically and
horizontally) (Using the BKDW-704 Extension Board)
(DVW-709WS/709WSP/790WS/790WSP only) ......... 3-18
Checking the Recording -- Playback ................................... 3-19
---