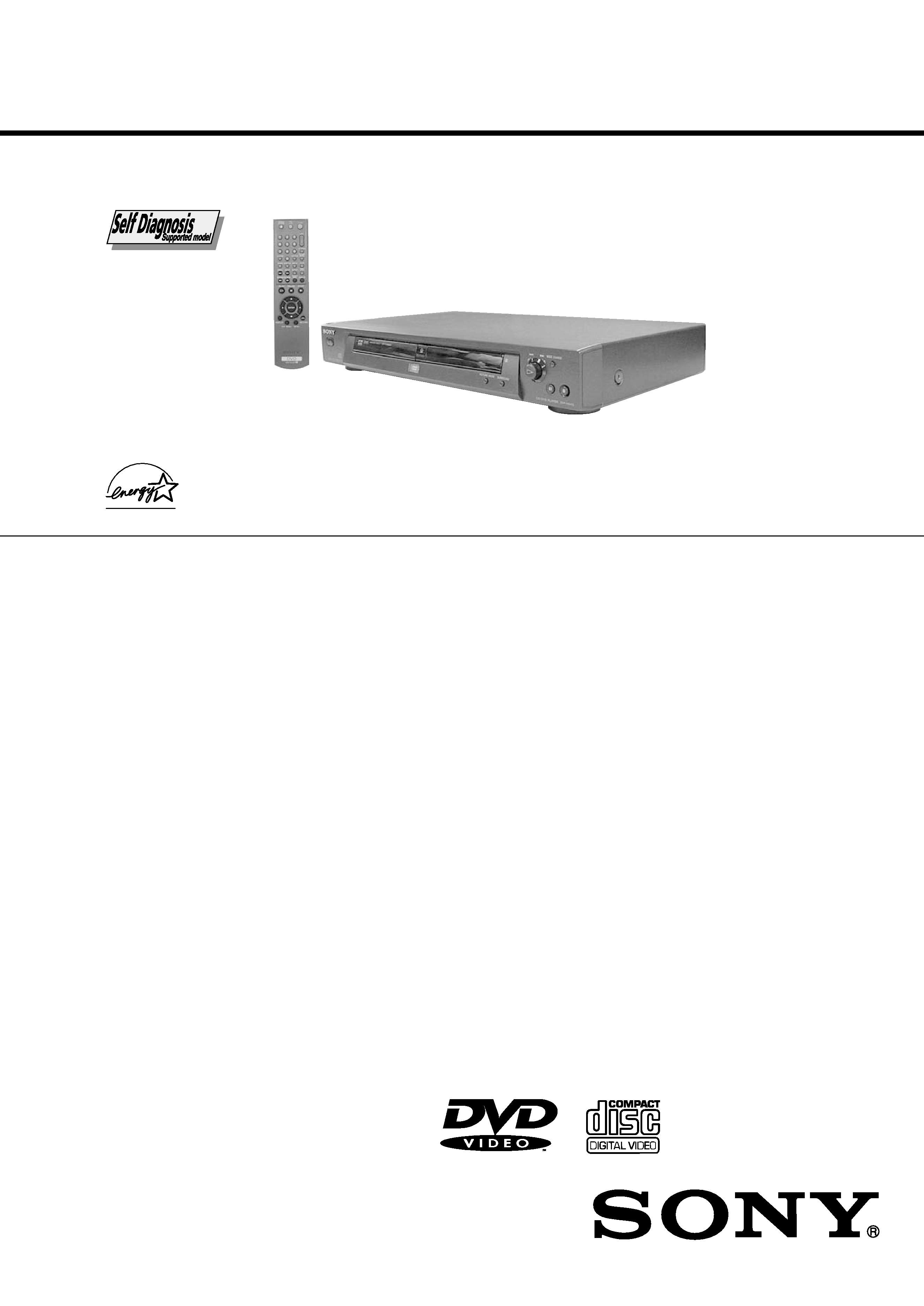 RMT-D141A/D142A/D142O/D142P
DVP-NS305/NS310/NS405/NS410
Laser: Semiconductor laser
Signal format system: NTSC/PAL
Frequency response: DVD VIDEO (PCM
96 kHz): 2 Hz to 44 kHz (
VIDEO (PCM 48 kHz): 2 Hz to 22 kHz
±0.5dB)/CD: 2Hz to 20 kHz (±0.5 dB)
Signal-to-noise ratio (S/N ratio): 115 dB
(LINE OUT (L/R) AUDIO jacks only)
Harmonic distortion: 0.003 %
Dynamic range: DVD VIDEO: 103 dB/CD:
Wow and flutter: Less than detected value
The signals from LINE OUT L/R (AUDIO)
jacks are measured. When you play PCM
sound tracks with a 96 kHz sampling
frequency, the output signals from the
DIGITAL OUT (OPTICAL or COAXIAL)
jack are converted to 48 kHz sampling
(Jack name: Jack type/Output or Input level/
LINE IN (AUDIO)*: Phono jack/­/47
kilohms (DVP-NS315/NS415)
Outputs
(DVP-NS305/NS310/NS405/NS410)
LINE OUT (AUDIO): Phono jack/2 Vrms/
DIGITAL OUT (OPTICAL)*: Optical
output jack/­18 dBm (wave length:
DIGITAL OUT (COAXIAL): Phono jack/
COMPONENT VIDEO OUT(Y, P
B
, P
R
):
Phono jack/Y: 1.0 Vp-p/P
B
, P
R
: 0.7 Vp-p/
75 ohms (DVP-NS315/NS415)
LINE IN (VIDEO)*: Phono jack/1.0 Vp-p/
LINE OUT (VIDEO): Phono jack/1.0 Vp-p/
S VIDEO OUT: 4-pin mini DIN/Y:
1.0 Vp-p, C: 0.286 Vp-p/75 ohms
* DVP-NS405/NS410/NS415 only
Power requirements: 120 V AC, 60 Hz/
See page 1-1 for further information.
Power consumption: 12 W/13 W
See page 1-1 for further information.
Dimensions (approx.): 430
× 2
1
/
2
× 10
1
/
8
in.) (width/height/
depth) incl. projecting parts
Mass (approx.): 2.3 kg (5
5
/
64
lb)
Operating humidity: 25 % to 80 %
Specifications and design are subject to
E
NERGY
S
TAR
R
is a U.S. registered mark.
E
NERGY
S
TAR
R
Partner, Sony
Corporation has determined that this product
E
NERGY
S
TAR
R
guidelines for
(To change the color system)
---

After correcting the original service problem, perform the following
safety checks before releasing the set to the customer.
Check the area of your repair for unsoldered or poorly-soldered
connections. Check the entire board surface for solder splashes
Check the interboard wiring to ensure that no wires are
"pinched" or contact high-wattage resistors.
Look for unauthorized replacement parts, particularly
transistors, that were installed during a previous repair. Point
them out to the customer and recommend their replacement.
Look for parts which, though functioning, show obvious signs
of deterioration. Point them out to the customer and
recommend their replacement.
Check the line cord for cracks and abrasion.
Recommend the replacement of any such line cord to the
Check the B+ voltage to see it is at the values specified.
Check the antenna terminals, metal trim, "metallized" knobs,
screws, and all other exposed metal parts for AC leakage.
Check leakage as described below.
The AC leakage from any exposed metal part to earth ground and
from all exposed metal parts to any exposed metal part having a
return to chassis, must not exceed 0.5mA (500 microampers).
Leakage current can be measured by any one of three methods.
A commercial leakage tester, such as the Simpson 229 or RCA
TW-540A. Follow the manufacturers' instructions to use these
A battery-operated AC milliammeter. The Data Precision 245
digital multimeter is suitable for this job.
Measuring the voltage drop across a resistor by means of a
VOM or battery-operated AC voltmeter. The "limit" indication
is 0.75V, so analog meters must have an accurate low voltage
scale. The Simpson 250 and Sanwa SH-63Trd are examples
of a passive VOM that is suitable. Nearly all battery operated
digital multimeters that have a 2V AC range are suitable. (See
Boards requiring use of unleaded solder are printed with the lead-
free mark (LF) indicating the solder contains no lead.
(Caution: Some printed circuit boards may not come printed with
the lead free mark due to their particular size.)
Unleaded solder has the following characteristics.
· Unleaded solder melts at a temperature about 40°C higher than
Ordinary soldering irons can be used but the iron tip has to be
applied to the solder joint for a slightly longer time.
Soldering irons using a temperature regulator should be set to
Caution: The printed pattern (copper foil) may peel away if the
heated tip is applied for too long, so be careful!
Unleaded solder is more viscous (sticky, less prone to flow) than
ordinary solder so use caution not to let solder bridges occur such
· Usable with ordinary solder
It is best to use only unleaded solder but unleaded solder may
also be added to ordinary solder.
SAFETY-RELATED COMPONENT WARNING!!
COMPONENTS IDENTIFIED BY MARK 0 OR DOTTED LINE WITH
MARK 0 ON THE SCHEMATIC DIAGRAMS AND IN THE PARTS
LIST ARE CRITICAL TO SAFE OPERATION. REPLACE THESE
COMPONENTS WITH SONY PARTS WHOSE PART NUMBERS
APPEAR AS SHOWN IN THIS MANUAL OR IN SUPPLEMENTS
ATTENTION AU COMPOSANT AYANT RAPPORT
LES COMPOSANTS IDENTIFÉS PAR UNE MARQUE 0 SUR LES
DIAGRAMMES SCHÉMATIQUES ET LA LISTE DES PIÈCES SONT
CRITIQUES POUR LA SÉCURITÉ DE FONCTIONNEMENT. NE
REMPLACER CES COMPOSANTS QUE PAR DES PIÈSES SONY
DONT LES NUMÉROS SONT DONNÉS DANS CE MANUEL OU
DANS LES SUPPÉMENTS PUBLIÉS PAR SONY.
Fig. A. Using an AC voltmeter to check AC leakage.
Use of controls or adjustments or performance of procedures
other than those specified herein may result in hazardous radiation
WHEN SERVICING, DO NOT APPROACH THE LASER EXIT WITH
THE EYE TOO CLOSELY. IN CASE IT IS NECESSARY TO
CONFIRM LASER BEAM EMISSION, BE SURE TO OBSERVE
FROM A DISTANCE OF MORE THAN 25 cm FROM THE SURFACE
OF THE OBJECTIVE LENS ON THE OPTICAL PICK-UP BLOCK.
The use of optical instrument with this product will increase eye
---

DISC REMOVAL PROCEDURE (at POWER OFF) ········ 5
HOW TO SERVICE MB-103 BOARD ······························ 5
Precautions ············································································· 1-1
About this Manual ································································· 1-1
This Player Can Play the Following Discs ···························· 1-1
Notes about the Discs ···························································· 1-1
Index to Parts and Controls ···················································· 1-2
Guide to On-Screen Displays (Control Bar) ························· 1-3
Simple Start Guide ···································································· 1-3
Quick Overview ····································································· 1-3
Step 1: Unpacking ································································· 1-3
Step 2: Inserting Batteries into the Remote ··························· 1-3
Step 3: TV Hookups ······························································ 1-4
Step 4: Playing a Disc ···························································· 1-4
Hookups ···················································································· 1-4
Hooking Up the Player ·························································· 1-4
Step 1: Connecting the Video Cords ····································· 1-4
Step 2: Connecting the Audio Cords ···································· 1-5
Step 3: Connecting the Power Cord ······································· 1-6
Step 4: Quick Setup ······························································· 1-6
Playing Discs ············································································· 1-6
Playing Discs ········································································· 1-6
Searching for a Particular Point on a Disc (Scan, Slow-motion
Play, Search, Freeze Frame) ··············································· 1-7
Resuming Playback from the Point Where You Stopped the
Disc (Resume Play/Multi-disc Resume). ···························· 1-7
Using the DVD's Menu ························································ 1-8
Playing VIDEO CDs with PBC Functions (PBC Playback) · 1-8
Playing an MP3 Audio Track ················································ 1-8
Various Play Mode Functions (Program Play, Shuffle Play,
Repeat Play, A-B Repeat Play) ··········································· 1-8
Searching for a Scene ····························································· 1-10
Searching for a Title/Chapter/Track/Index/Scene
(Search mode) ·································································· 1-10
Viewing Information About the Disc ······································· 1-10
Checking the Playing Time and Remaining Time ·············· 1-10
Sound Adjustments ································································· 1-10
Changing the Sound ····························································· 1-10
TV Virtual Surround Settings (TVS) ·································· 1-11
Enjoying Movies ····································································· 1-11
Changing the Angles ··························································· 1-11
Displaying the Subtitles ······················································· 1-11
Adjusting the Picture Quality (BNR) ································· 1-12
Adjusting the Playback Picture (CUSTOM PICTURE MODE) · 1-12
Enhancing the Playback Picture (DIGITAL VIDEO
ENHANCER) (DVP-NS415 only) ··································· 1-12
Using Various Additional Functions ········································ 1-12
Locking Discs (CUSTOM PARENTAL CONTROL,
PARENTAL CONTROL) ················································· 1-12
Controlling Your TV with the Supplied Remote ················· 1-13
Settings and Adjustments ······················································· 1-14
Using the Setup Display. ····················································· 1-14
Setting the Display or Sound Track Language
(LANGUAGE SETUP) ···················································· 1-14
Settings for the Display (SCREEN SETUP) ······················ 1-14
Custom Settings (CUSTOM SETUP) ································ 1-15
Settings for the Sound (AUDIO SETUP) ···························· 1-15
Additional Information ···························································· 1-15
Troubleshooting ·································································· 1-15
Self-diagnosis Function (When letters/numbers appear
in the display) ··································································· 1-16
Glossary ·············································································· 1-16
Language Code List ····························································· 1-16
UPPER CASE ································································· 2-1
FRONT PANEL ASSEMBLY and FR SUPPORT ·········· 2-1
LOADING ASSEMBLY ················································· 2-2
OPTICAL DEVICE (KHM-270AAA) ··························· 2-2
DC MOTOR and MS-81 BOARD ·································· 2-3
ER-14 BOARD (NS305:AEP,UK,RUSSIAN/NS310/
NS405/NS410) ································································ 2-3
AV-61 BOARD ································································ 2-4
MB-103 BOARD ····························································· 2-4
IF-89 BOARD ································································· 2-5
2-10. SWITCHING REGULATOR ·········································· 2-5
2-11. INTERNAL VIEWS ························································ 2-6
2-12. CIRCUIT BOARDS LOCATION ··································· 2-7
OVERALL BLOCK DIAGRAM ···································· 3-1
RF/SERVO BLOCK DIAGRAM ···································· 3-3
SIGNAL PROCESSOR BLOCK DIAGRAM ················ 3-5
SYSTEM CONTROL BLOCK DIAGRAM ··················· 3-7
VIDEO BLOCK DIAGRAM ·········································· 3-9
AUDIO BLOCK DIAGRAM ········································ 3-11
INTERFACE CONTROL BLOCK DIAGRAM ··········· 3-13
POWER BLOCK DIAGRAM (1/3) ······························ 3-15
POWER BLOCK DIAGRAM (2/3) ······························ 3-17
3-10. POWER BLOCK DIAGRAM (3/3) ······························ 3-19
PRINTED WIRING BOARDS AND
FRAME SCHEMATIC DIAGRAM ································ 4-1
PRINTED WIRING BOARDS AND SCHEMATIC
DIAGRAM ······································································ 4-3
WAVEFORMS ································································ 4-5
PRINTED WIRING BOARD ························· 4-7
· IF-89 (IF COM), FL-126 (LED)
SCHEMATIC DIAGRAMS ···························· 4-9
· MB-103 (DVD/CD RF AMP, DIGITAL SERVO,
MOTOR DRIVE, SERVO, AV DECODER, SDRAM,
SYSTEM CONTROL, AUDIO DAC, PLL)
PRINTED WIRING BOARD ······················· 4-11
· MB-103 (DVD/CD RF AMP, DIGITAL SERVO) (1/7)
SCHEMATIC DIAGRAM ···························· 4-15
· MB-103 (MOTOR DRIVE) (2/7),
SCHEMATIC DIAGRAMS ·························· 4-17
SCHEMATIC DIAGRAM ···························· 4-19
· MB-103 (AV DECODER) (4/7)
SCHEMATIC DIAGRAM ···························· 4-21
SCHEMATIC DIAGRAM ···························· 4-23
· MB-103 (SYSTEM CONTROL) (6/7)
SCHEMATIC DIAGRAM ···························· 4-25
· MB-103 (AUDIO DAC, PLL) (7/7)
SCHEMATIC DIAGRAM ···························· 4-27
· AV-61 (AUDIO OUT, VIDEO OUT)
PRINTED WIRING BOARD ······················· 4-29
· AV-61 (AUDIO OUT) (1/2)
SCHEMATIC DIAGRAM ···························· 4-31
· AV-61 (VIDEO OUT) (2/2)
SCHEMATIC DIAGRAM ···························· 4-33
· ER-14 (EURO AV) (NS305:AEP,UK,RUS/NS310/
PRINTED WIRING BOARD ······················· 4-35
---

· ER-14 (EURO AV) (NS305:AEP,UK,RUS/NS310/
SCHEMATIC DIAGRAM ···························· 4-37
· HS11S1U, HS11S1F (SWITCHING REGULATOR)
PRINTED WIRING BOARDS ····················· 4-39
· ETXNY381E2F, ETXNY381N2F
PRINTED WIRING BOARDS ····················· 4-41
· HS11S1U, HS11S1F (SWITCHING REGULATOR)
SCHEMATIC DIAGRAM ···························· 4-43
· ETXNY381E2F, ETXNY381N2F (SWITCHING
SCHEMATIC DIAGRAM ···························· 4-45
IC PIN FUNCTION DESCRIPTION
SYSTEM CONTROL PIN FUNCTION
(MB-103 BOARD IC104: MB91307RPFV-G-BND-E1) · 5-1
GENERAL DESCRIPTION ··········································· 6-1
STARTING TEST MODE ··············································· 6-1
SYSCON DIAGNOSIS ··················································· 6-1
DRIVE AUTO ADJUSTMENT ······································ 6-5
DRIVE MANUAL OPERATION ··································· 6-7
MECHA AGING ··························································· 6-11
EMERGENCY HISTORY ············································ 6-11
VERSION INFORMATION ········································· 6-11
VIDEO LEVEL ADJUSTMENT ·································· 6-11
6-10. IF CON SELF DIAGNOSTIC FUNCTION ················· 6-12
6-11. TROUBLESHOOTING ················································ 6-19
POWER SUPPLY CHECK ············································· 7-1
ADJUSTMENT OF VIDEO SYSTEM ··························· 7-2
Video Level Adjustment (MB-103 BOARD) ·················· 7-2
Checking S Video Output S-Y ········································· 7-2
Checking S Video Output S-C ········································· 7-2
Checking Component Video Output Y ···························· 7-2
Checking Component Video Output B-Y ························ 7-3
Checking Component Video Output R-Y ························ 7-3
ADJUSTMENT RELATED PARTS ARRANGEMENT · 7-4
EXPLODED VIEWS ······················································ 8-1
8-1-1. MAIN SECTION ···························································· 8-2
8-1-2. MECHANISM DECK SECTION ··································· 8-4
ELECTRICAL PARTS LIST ·········································· 8-5
---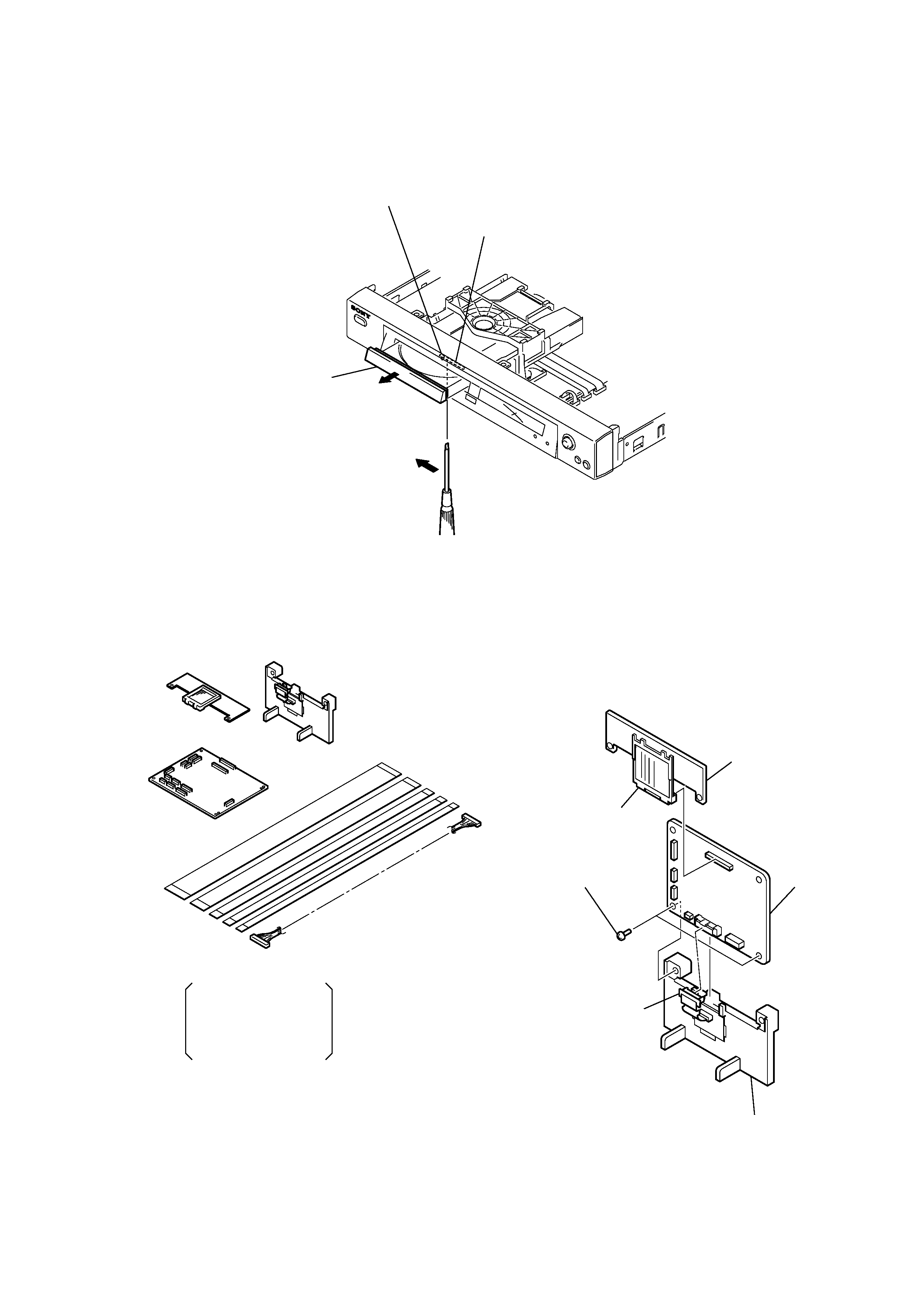 DISC REMOVAL PROCEDURE (at POWER OFF)
Insert a tapering driver into the aperture of the unit bottom, and move the lever of chuck cam in the direction of the arrow A. (See Fig. 1)
Draw out the tray in the direction of the arrow B, and remove a disc. (See Fig. 1)
HOW TO SERVICE MB-103 BOARD
Remove the upper case from the main unit. (Refer to 2-1)
Remove the MB-103 board. (Refer to 2-7)
Set the removed MB-103 board and CK-122 board to the stand
The lever of a zipper cam
Harness 6P (J-6090-126-A)
---