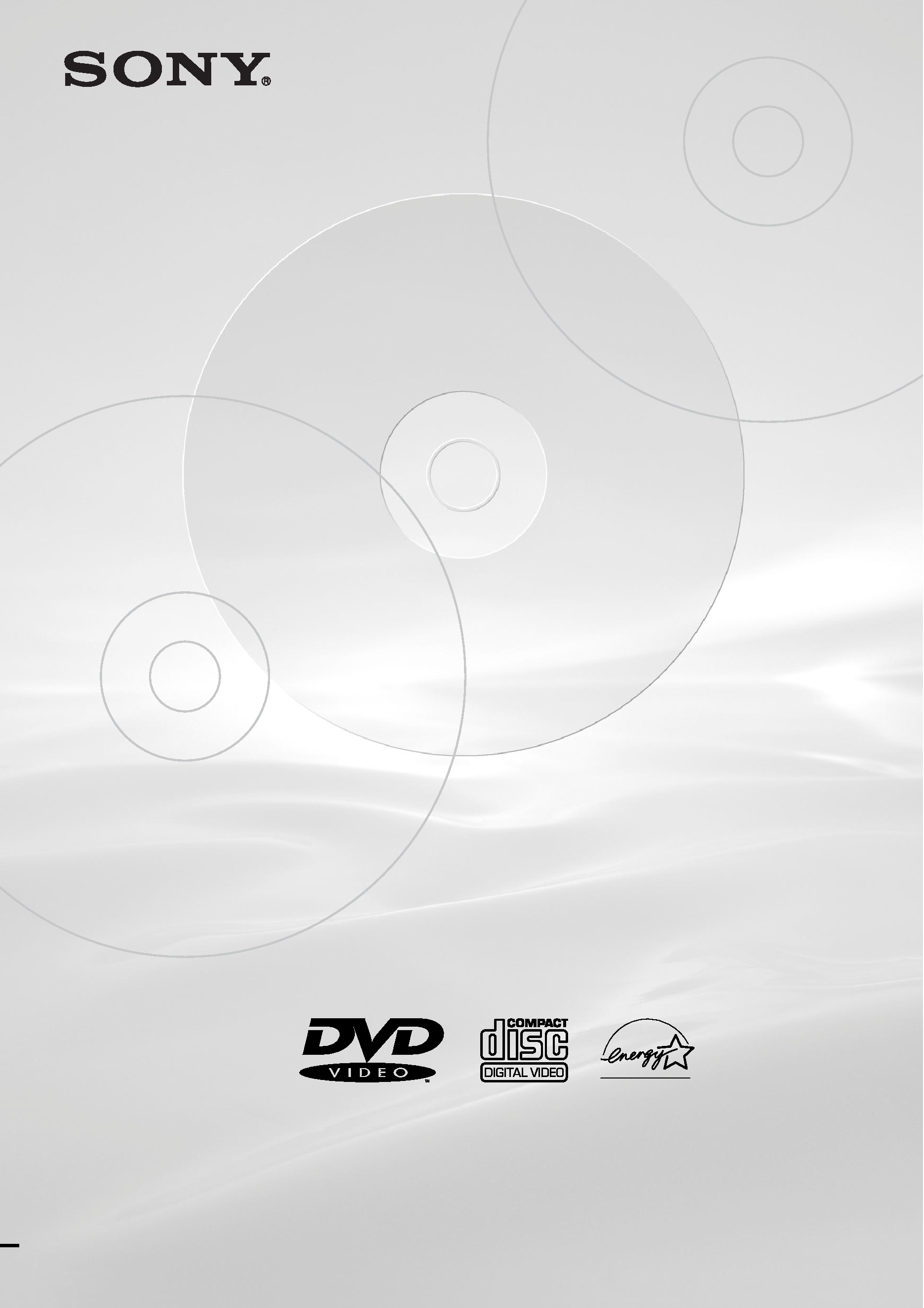 ---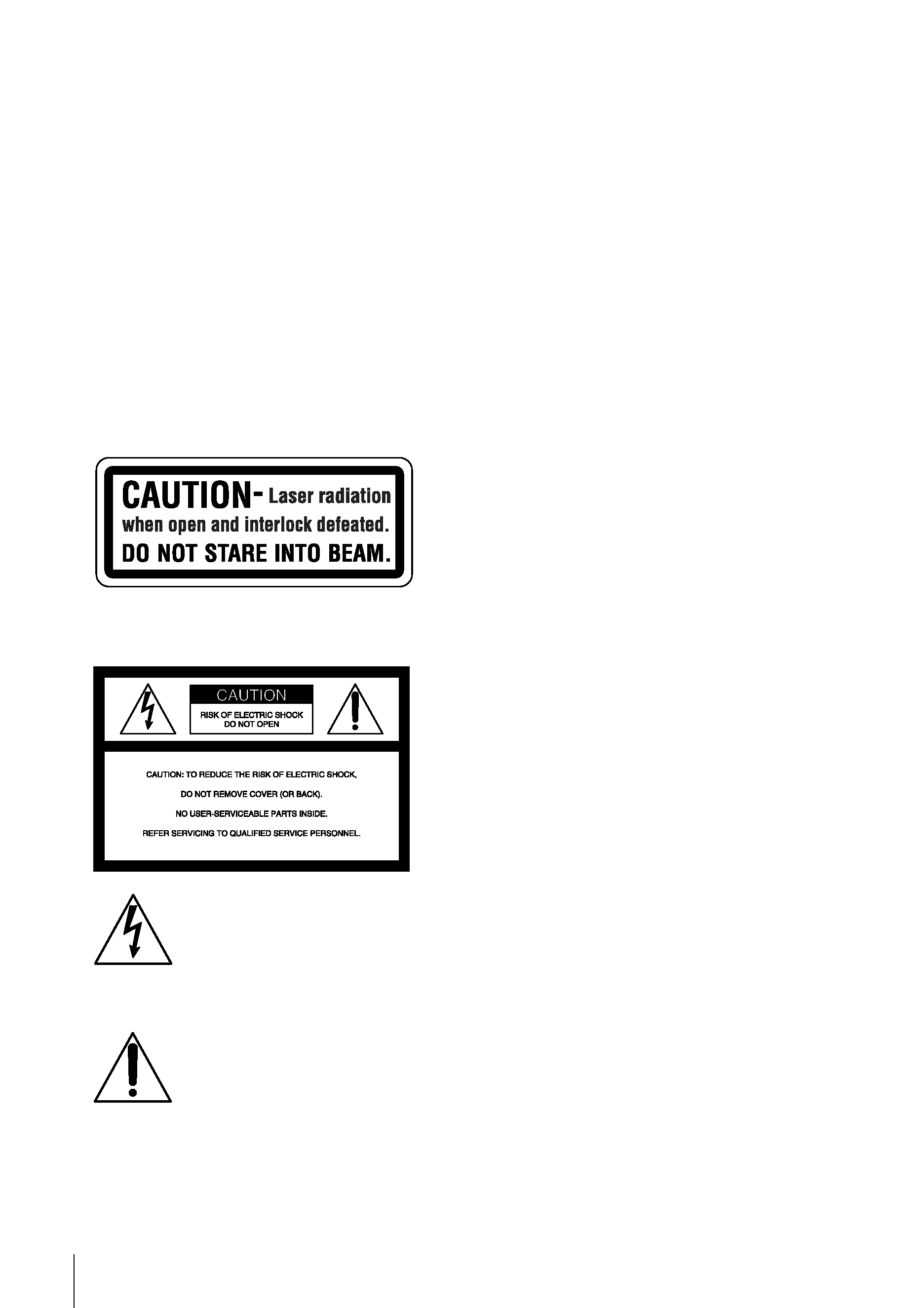 To prevent fire or shock hazard, do not
expose the unit to rain or moisture.
To avoid electrical shock, do not open the
cabinet. Refer servicing to qualified
Power cord must only be changed at a
The use of optical instruments with this
product will increase eye hazard. As the laser
beam used in this CD/DVD player is harmful
to eyes, do not attempt to disassemble the
Refer servicing to qualified personnel only.
This label is located on the bottom enclosure
(Laser protective housing).
This symbol is intended to alert
the user to the presence of
uninsulated "dangerous voltage"
within the product's enclosure that
may be of sufficient magnitude to
constitute a risk of electric shock to persons.
This symbol is intended to alert
the user to the presence of
instructions in the literature
accompanying the appliance.
TO PREVENT ELECTRIC SHOCK MATCH
WIDE BLADE OF PLUG TO WIDE SLOT,
For customers in the U.S.A
The model and serial numbers are located at
the bottom of the unit. Record the serial
number in the space provided below. Refer to
them whenever you call upon your Sony
dealer regarding this product.
You are cautioned that any change or
modifications not expressly approved in this
manual could void your authority to operate
This equipment has been tested and found to
comply with the limits for a Class B digital
device, pursuant to Part 15 of the FCC Rules.
These limits are designed to provide
reasonable protection against harmful
interference in a residential installation. This
equipment generates, uses, and can radiate
radio frequency energy and, if not installed
and used in accordance with the instructions,
may cause harmful interference to radio
communications. However, there is no
guarantee that interference will not occur in a
particular installation. If this equipment does
cause harmful interference to radio or
television reception, which can be determined
by turning the equipment off and on, the user
is encouraged to try to correct the
interference by one or more of the following
­ Reorient or relocate the receiving antenna.
­ Increase the separation between the
­ Connect the equipment into an outlet on a
circuit different from that to which the
­ Consult the dealer or an experienced radio/
---

· Instructions in this manual describe the
You can also use the controls on the remote
if they have the same or similar names as
· The icons below are used in this manual:
The instructions in this manual are for the
DVP-FX1 and DVP-F5. Check your model
number by looking at the bottom of the unit.
DVP-FX1 is used for the illustrations purposes.
Any difference in operation is clearly indicated
in the text, for example, "DVP-FX1 only."
Indicates that you can use only
the remote to do the task.
Indicates tips and hints for
Indicates that the function is for
Indicates that the function is for
Indicates that the function is for
You can return your unwanted lithium ion
batteries to your nearest Sony Service Center
or Factory Service Center.
Note: In some areas the disposal of lithium ion
batteries in household or business trash may
For the Sony Service Center nearest you, call 1-
800-222-SONY (United States only)
For the Sony Factory Service Center nearest
you, call 416-499-SONY (Canada only)
Caution: Do not handle damaged or leaking
Thank you for purchasing this Sony CD/DVD
Player. Before operating the unit, please read
this manual thoroughly and retain it for future
---

14 Using the LCD Screen (DVP-FX1
19 Receiver (Amplifier) Hookups
22 5.1 Channel Surround Hookups
25 Connecting the AC Power
26 Using the Rechargeable Battery
28 Selecting the Language for the
33 Searching for a Particular Point
35 Resuming Playback from the
Point Where You Stopped the
39 Playing VIDEO CDs with PBC
41 Using the Display Window
Using Various Functions with
45 Using the Control Menu Display
48 Control Menu Item List
50 Searching for a Title/Chapter/
51 Checking the Playing Time and
52 Selecting a Starting Point Using
53 Viewing the Disc Information
57 Displaying the Subtitles
60 Digital Cinema Sound Settings
63 Checking the Play Information
(Custom Parental Control)
68 Creating Your Own Program
72 Playing in Random Order
74 Repeating a Specific Portion
---

76 Using the Setup Display
79 Setup Display Item List
80 Setting the Display Language or
83 Settings for the Display
91 Settings for the Sound
94 Preventing the Buttons from
being Pressed Accidentally
95 Listening with Headphones
96 Watching the Picture without
Connecting Cables ­­ LASER
98 Watching the Picture of Other
Equipment on the LCD Screen
105 Self-diagnosis Function
112 Index to Parts and Controls
---