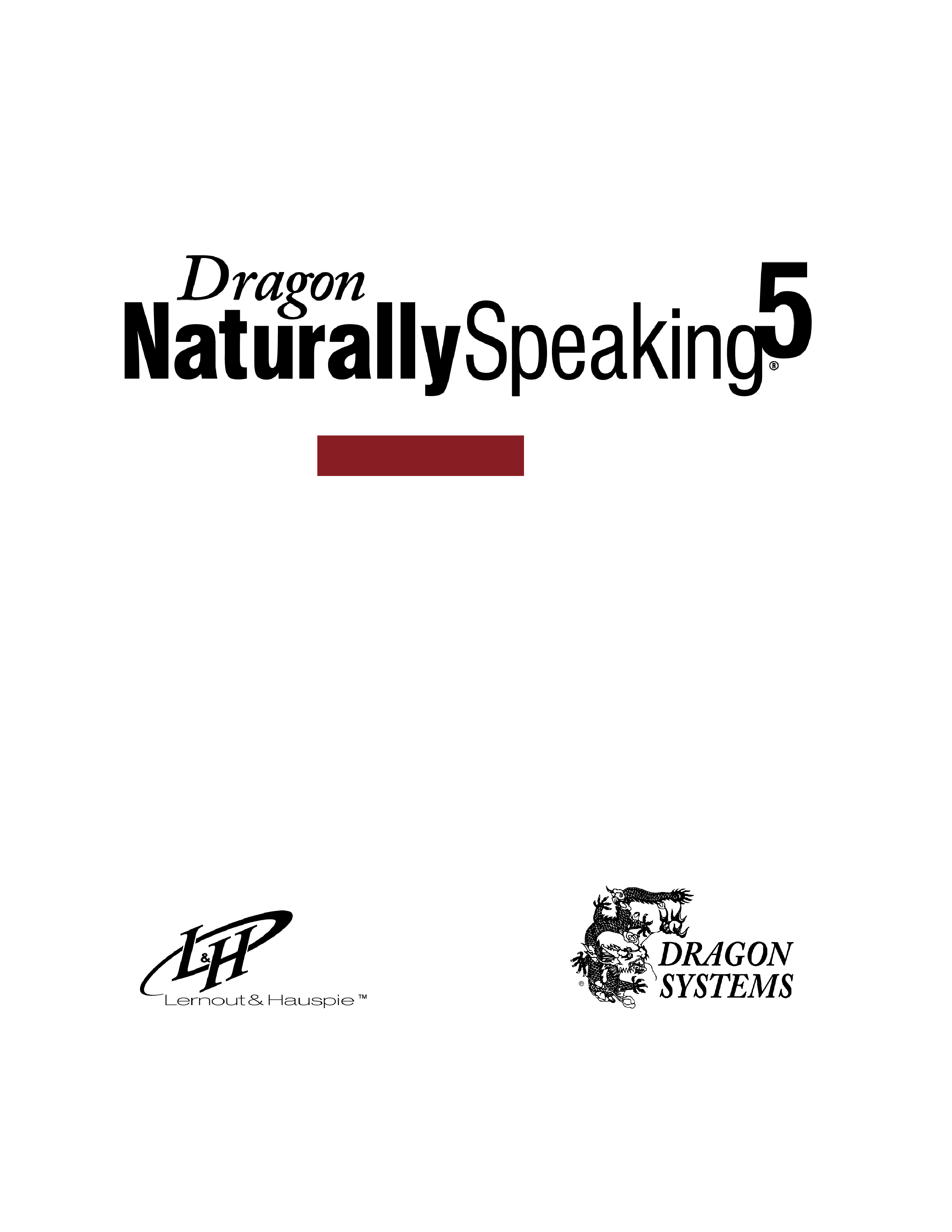 UG5.bk Page 1 Friday, August 4, 2000 2:26 PM
---

August 2000. Version 5. Professional, Preferred, and Standard editions.
This material may not include some last-minute technical changes and/or revisions to the program. Changes are
periodically made to the information described here. Future versions of this material will incorporate these changes.
Lernout & Hauspie Speech Products N.V. (L&H) may have patents or pending patent applications covering subject
matter in this document. The furnishing of this document does not give you any license to such patents. The software is
subject to one or more of the following U.S. patents, among others: 5,027,406; 5,202,952; 5,428,707; 5,526,463; 5,680,511;
5,715,367; 5,754,972; 5,765,132; 5,794,189; 5,799,279; 5,809,453; 5,818,423; 5,822,730; 5,850,627; 5,903,864; 5,909,666;
5,915,236; 5,920,836; 5,920,837; 5,946,654; 5,949,886; 5,960,394; 5,983,179; 6,029,124; 6,052,657; 6,064,959; 6,073,097;
6,088,671; 6,092,043; 6,092,044.
Specifications subject to change without notice. Appearance of microphone may vary from that shown.
Copyright © 2000 Lernout & Hauspie Speech Products N.V. All rights reserved.
No part of this material or software may be reproduced in any form or by any means, including electronic or mechanical,
such as photocopying or recording, or by any information storage and retrieval systems, without the express written
Dragon Systems, L&H, NaturallySpeaking, NaturallyMobile, Select-and-Say, BestMatch, MouseGrid, Vocabulary
Builder, Vocabulary Editor, and the L&H and Dragon Systems logos are registered trademarks or trademarks of L&H in
the United States and/or other countries. All other names and trademarks referenced herein are trademarks of L&H or
their respective owners. The L&H Text-to-Speech utility uses the Elan Text-to-Speech engine, which is licensed from
Many of the designations used by manufacturers and sellers to distinguish their products are claimed as trademarks.
Where those designations appear in this book, and where Lernout & Hauspie Speech Products N.V is aware of the
trademark, the first occurrence of the designation is printed with a trademark (TM) or registered trademark (®) symbol.
Adobe and Acrobat are trademarks of Adobe Systems Incorporated.
Corel and WordPerfect are trademarks of Corel Corporation.
Lotus and Lotus Notes are registered trademarks of Lotus Development Corporation.
Microsoft, Outlook, Windows, and Windows NT are trademarks of Microsoft Corporation.
Netscape and Netscape Navigator are trademarks of Netscape Communications Corporation.
Voice It, the Voice It logo, and Voice It Link are trademarks of Voice It Worldwide, Inc.
Yahoo! is a trademark of Yahoo! Inc.
Dave Barry in Cyberspace, © Copyright 1996 by Dave Barry. Published by Crown Publishers.
2001: A Space Odyssey, © Copyright 1968 by Arthur C. Clarke. Published by New American Library.
3001: The Final Odyssey, © Copyright 1997 by Arthur C. Clarke. Published by HarperCollins Publishers.
Dogbert's Top Secret Management Handbook, © Copyright 1996 by United Feature Syndicate, Inc. Published by
HarperBusiness, a division of HarperCollins Publishers.
Success Is a Journey: 7 Steps to Achieving Success in the Business of Life, © Copyright 1999 by Jeffrey J. Mayer. Published by
Charlie and the Chocolate Factory, © Copyright 1964 by Roald Dahl. Published by Alfred A. Knopf, Inc., and Penguin
Charlie and the Great Glass Elevator, © Copyright 1972 by Roald Dahl. Published by Alfred A. Knopf, Inc., and Penguin
To Be a Man, © Copyright 1997 by Eugene and Miranda Pool.
Ghost Brother, © Copyright 1990 by C.S. Adler. Published by Houghton Mifflin Company.
The Captain of Battery Park, © Copyright 1978 by Eugene Pool. Published by Addison-Wesley.
UG5.bk Page 2 Friday, August 4, 2000 2:26 PM
---

Dragon NaturallySpeaking User's Guide
Introducing Dragon NaturallySpeaking 1
What should I expect from Dragon NaturallySpeaking?
Do I still need my mouse and keyboard?
Using Dragon NaturallySpeaking Successfully 9
How Dragon NaturallySpeaking works
Seven habits for success with Dragon NaturallySpeaking
Positioning your microphone correctly
Speaking properly to the computer
Correcting recognition mistakes
Playing back your dictation
Improving Your Speech Recognition 31
Working with the Dragon NaturallySpeaking vocabulary
Quick and easy ways to add new words
Advanced tools for building and editing vocabularies
Training Dragon NaturallySpeaking to recognize problem words
Running General Training again
Dictating Names, Numbers & Punctuation 65
Dictating names of people, places, and events
Dictating abbreviations and acronyms
Dictating hyphenated words
Dictating words that end with 's
Dictating e-mail and Web addresses
Dictating special characters
Editing and Revising Text 87
Moving around in a document
UG5.bk Page iii Friday, August 4, 2000 2:26 PM
---

Dragon NaturallySpeaking User's Guide
Copying, cutting, and pasting text
Working With Your Desktop and Windows 103
Opening documents and folders
Switching between open windows
Copying text to other programs
Opening and closing menus
Selecting buttons, tabs, and options
Selecting icons on the desktop
Resizing and closing windows
Scrolling in windows and list boxes
Moving the mouse pointer and clicking the mouse
Working With E-Mail and the Web 119
Working with Internet Explorer
Restoring a backup copy of a user
Creating Your Own Dragon NaturallySpeaking Commands 139
Creating and editing voice commands
Importing and deleting command files
Using Dragon NaturallySpeaking With a Portable Recorder 153
Installing recorder software
Dragon NaturallySpeaking Version 5 Commands List 171
UG5.bk Page iv Friday, August 4, 2000 2:26 PM
--- Dragon NaturallySpeaking User's Guide
elcome to Dragon NaturallySpeaking
®
, one of the world's most
widely acclaimed speech-recognition products. Dragon
NaturallySpeaking lets you talk to your computer instead of typing. It
also lets you use your voice to control your computer in other ways.
This guide provides detailed information that will help you get the most
out of using the program. It also explains how to ensure that Dragon
NaturallySpeaking will recognize your speech accurately. Before using
this guide, we recommend that you read the Dragon NaturallySpeaking
Quick Start guide and view the online Tutorial.
This guide covers multiple editions of Dragon NaturallySpeaking.
Where information applies to certain editions only, this is clearly noted.
Conventions used in this guide
This user's guide contains many examples of words and phrases you can
say when using Dragon NaturallySpeaking. These examples usually
appear in italics with quotation marks, for instance: "Scratch That."
Some procedures also include sample text for you to dictate. Sample text
appears in a different typeface, with punctuation in square brackets. For
US/Canada: When talking to a computer [comma] try to say every word
clearly without trailing off at the end of a sentence [period]
Other Dialects: When talking to a computer [comma] try to say every
word clearly without trailing off at the end of a sentence [full stop]
This guide covers the five dialects of English that ship with Dragon
UG5.bk Page v Friday, August 4, 2000 2:26 PM
---