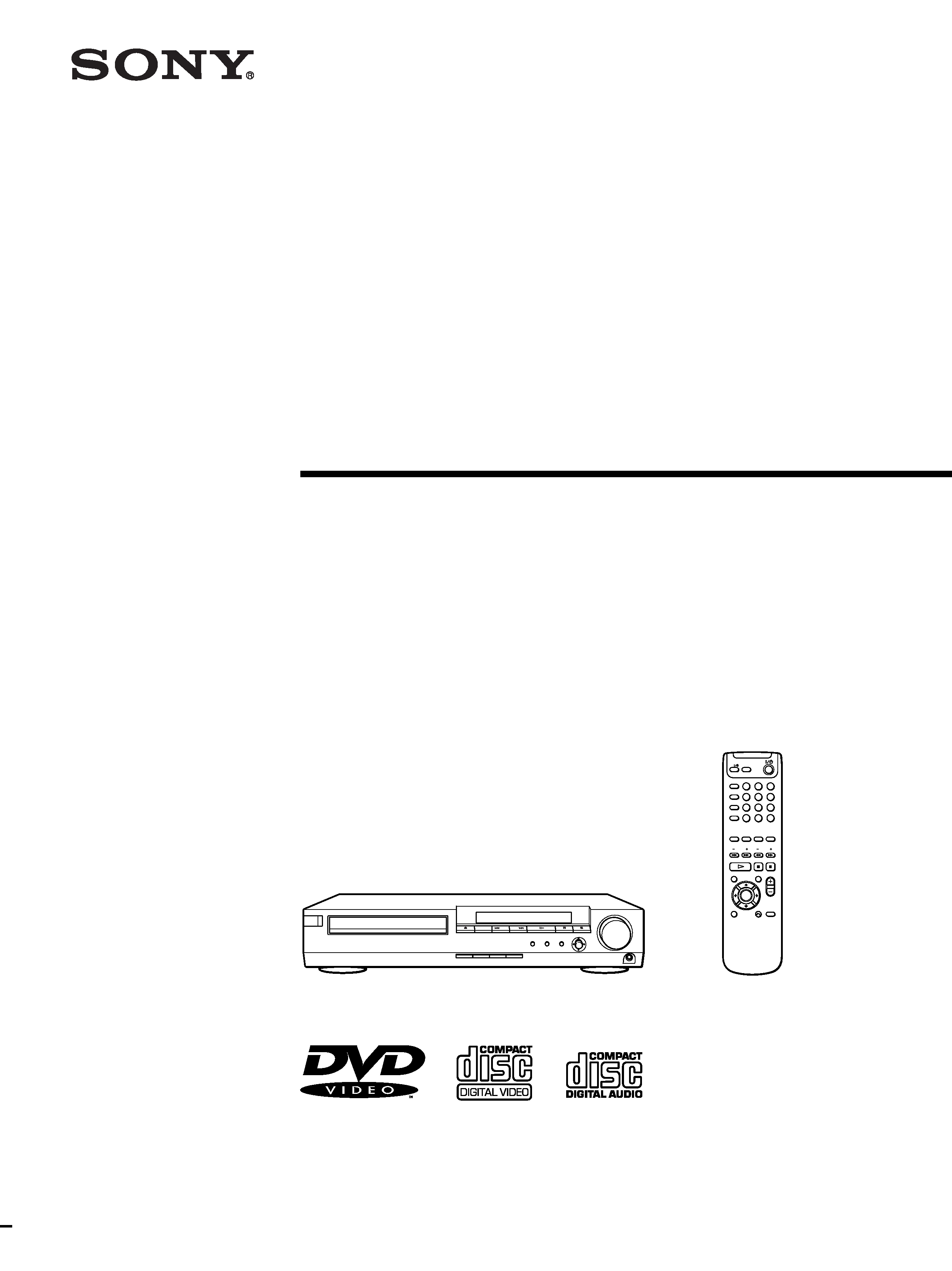 The model and serial numbers are located at
the rear of the unit. Record the serial number
in the space provided below. Refer to them
whenever you call upon your Sony dealer
---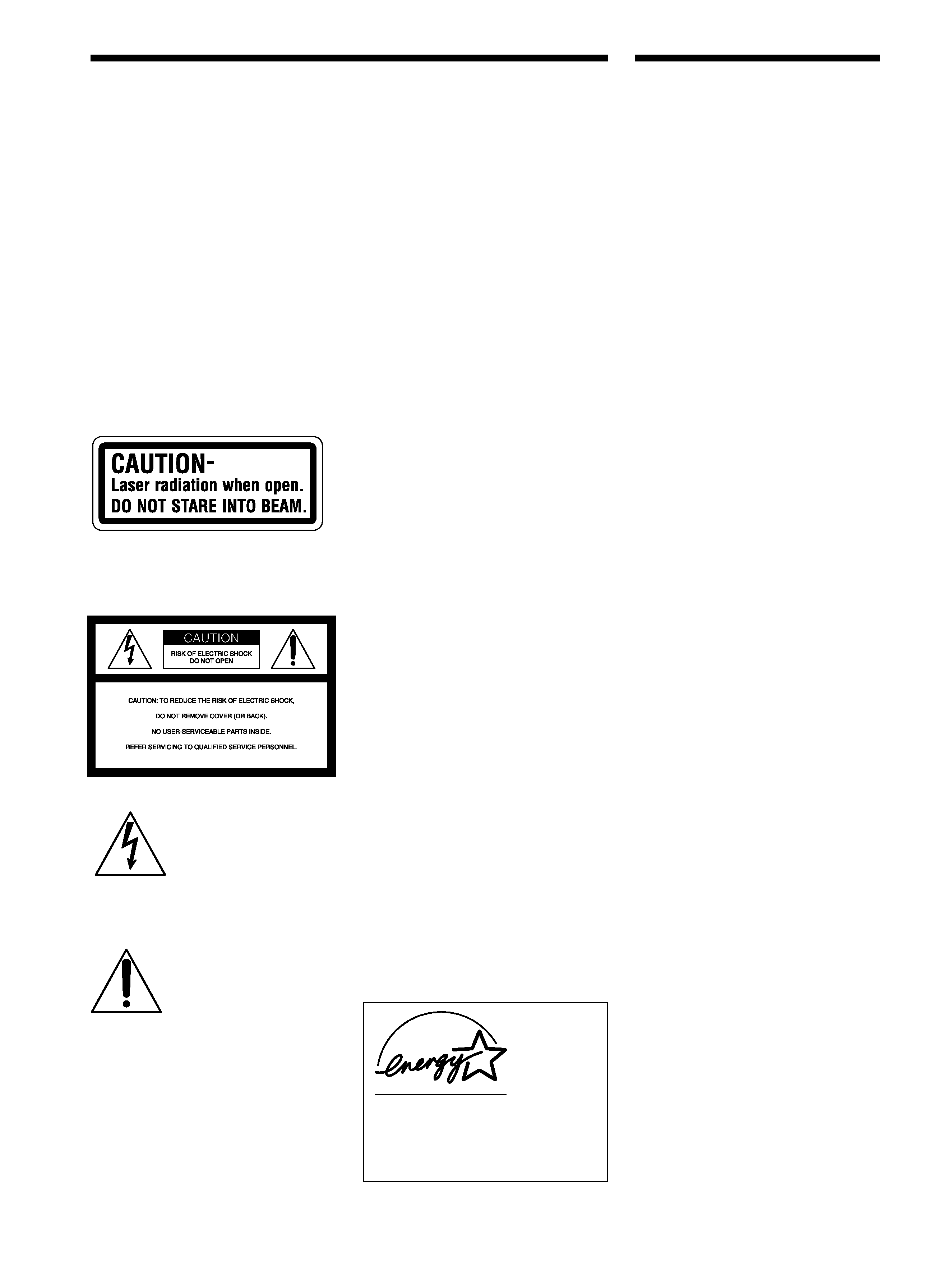 Thank you for purchasing the Sony
Compact AV System. Before operating the
unit, please read this manual thoroughly
and retain it for future reference.
hazard, do not expose the
unit to rain or moisture.
To avoid electrical shock,
Refer servicing to qualified
The use of optical instruments with this
product will increase eye hazard. As the
laser beam used in this CD/DVD Player is
harmful to eyes, do not attempt to
Refer servicing to qualified personnel only.
This label is located on the Laser protective
housing inside the enclosure.
This symbol is intended to
"dangerous voltage" within
the product's enclosure that
may be of sufficient magnitude to
constitute a risk of electric shock to
This symbol is intended to
alert the user to the presence
of important operating and
instructions in the literature accompanying
TO PREVENT ELECTRIC SHOCK
MATCH WIDE BLADE OF PLUG TO
For customers in the U.S.A.
You are cautioned that any changes or
modifications not expressly approved in
this manual could void your authority to
This equipment has been tested and found
to comply with the limits for a Class B
digital device, pursuant to Part 15 of the
FCC Rules. These limits are designed to
provide reasonable protection against
harmful interference in a residential
installation. This equipment generates,
uses, and can radiate radio frequency
energy and, if not installed and used in
accordance with the instructions, may
cause harmful interference to radio
communications. However, there is no
guarantee that interference will not occur
in a particular installation. If this
equipment does cause harmful
interference to radio or television
reception, which can be determined by
turning the equipment off and on, the user
is encouraged to try to correct the
interference by one or more of the
­ Reorient or relocate the receiving
­ Increase the separation between the
­ Connect the equipment into an outlet on
a circuit different from that to which the
­ Consult the dealer or an experienced
radio/TV technician for help.
Note on CATV system installer:
This reminder is provided to call the CATV
system installer's attention to Article 820-
40 of the NEC that provides guidelines for
proper grounding and, in particular,
specifies that the cable ground shall be
connected to the grounding system of the
building, as close to the point of cable
E
NERGY
S
TAR Partner, Sony
Corporation has determined that this
guidelines for energy efficiency.
---

This System Can Play the Following Discs 4
TV and Video Component Hookups 11
Connecting the AC Power Cord 12
Selecting the Language for On-Screen Display 13
Presetting Radio Stations 17
Resuming Playback from the Point Where You
Stopped the Disc (Resume Play)
Using the Menu for Each DVD
Playing VIDEO CDs with PBC Functions (PBC
Creating Your Own Program (Program Play)
Playing in Random Order (Shuffle Play)
Using the Front Panel Display
Using Various Functions with the
Using the Control Menu Display
Searching for the Title/Chapter/Track/Index/Scene
Checking the Playing Time and Remaining
Selecting a Start Point Using the Time Code
Playing Repeatedly (Repeat Play)
Repeating a Specific Portion (A
Checking the Play Information
Setup Display Item List 43
Setting the Language for Display and Sound
Settings for Display (SCREEN SETUP)
Custom Settings (CUSTOM SETUP)
Settings for Sound (AUDIO SETUP) 49
Settings for Speakers (SPEAKER SETUP) 49
Controlling the TV with the Supplied Remote
Listening to the Radio 53
Self-diagnosis Function 59
Index to Parts and Controls 64
---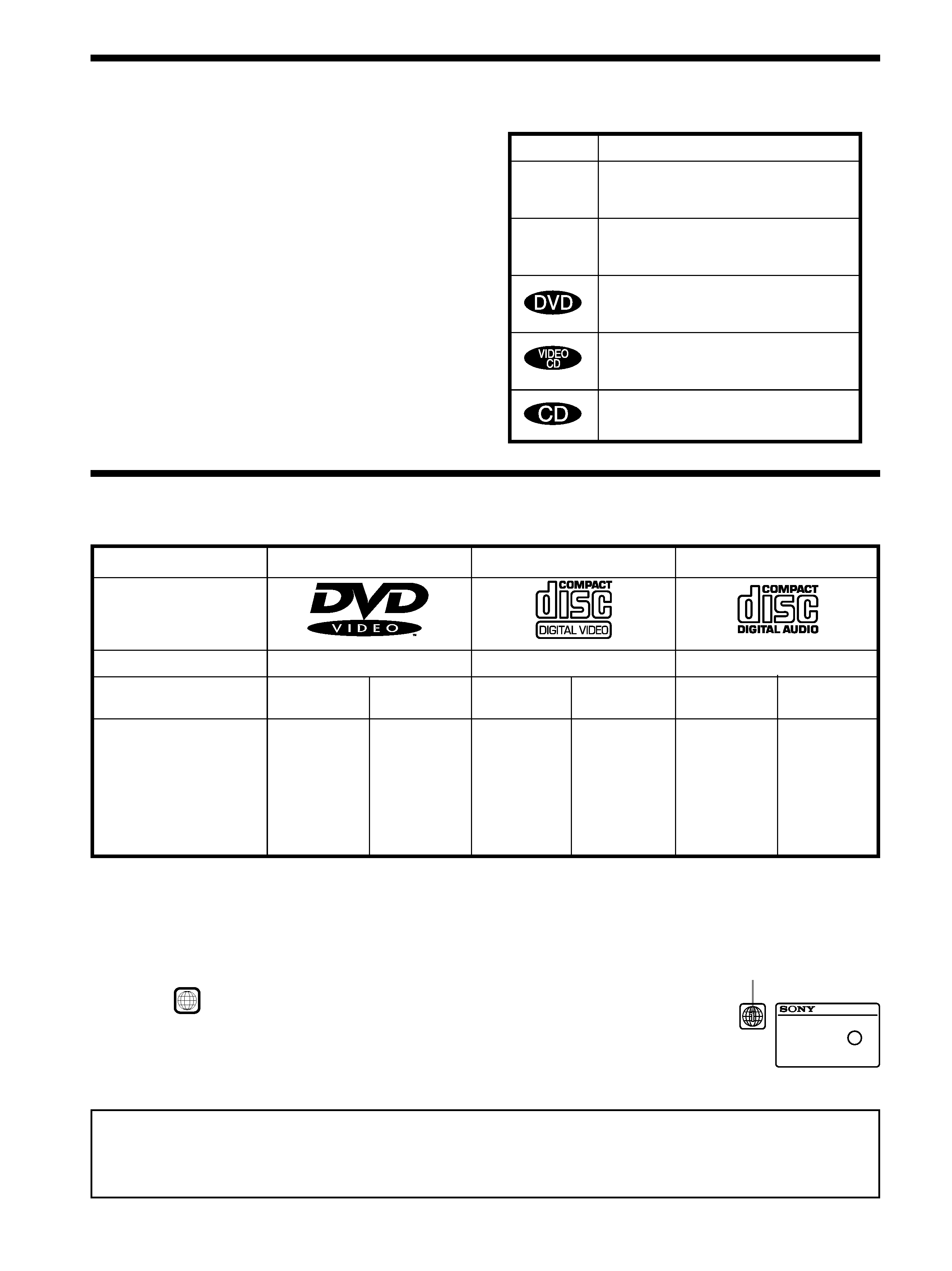 This System Can Play the Following Discs
"DVD VIDEO" logo is a trademark.
This system conforms to the NTSC color system. You cannot play discs recorded in other color systems such as PAL or SECAM.
Region code of DVDs you can play on this unit
Your system has a region code printed on the back of the unit and will only play DVDs that
are labeled with identical region codes.
DVDs labeled
ALL
will be also played on this unit.
If you try to play any other DVD, the message "Playing this disc prohibited by area limits." will appear on the
Depending on the DVD, no region code indication may be labeled even though playing the DVD is prohibited
Note on playback operations of DVDs and VIDEO CDs
Some playback operations of DVDs and VIDEO CDs may be intentionally fixed by software producers. Since this system plays DVDs
and VIDEO CDs according to the disc contents the software producers designed, some playback features may not be available. Also
refer to the instructions supplied with the DVDs or VIDEO CDs.
· Instructions in this manual describe the controls on the system.
You can also use the controls on the remote if they have the
same or similar names as those on the system.
· The icons on the right are used in this manual:
Indicates that you can use only the remote
Indicates tips and hints for making the
Indicates the functions for DVD VIDEOs.
Indicates the functions for VIDEO CDs.
Indicates the functions for Audio CDs.
---

The longest sections of a picture or a music piece on a DVD; a
movie, etc., for a picture piece on a video software; or an
album, etc., for a music piece on an audio software. Each title is
assigned a title number enabling you to locate the title you
Sections of a picture or a music piece that are smaller than
titles. A title is composed of several chapters. Each chapter is
assigned a chapter number enabling you to locate the chapter
you want. Depending on the disc, no chapters may be
Sections of a picture or a music piece on a VIDEO CD or a CD.
Each track is assigned a track number enabling you to locate
· Index (CD) / Video Index (VIDEO CD)
A number that divides a track into sections to easily locate the
point you want on a VIDEO CD or a CD. Depending on the
disc, no indexes may be recorded.
On a VIDEO CD with PBC functions, the menu screens,
moving pictures and still pictures are divided into sections
called "scenes." Each scene is assigned a scene number
enabling you to locate the scene you want.
Note on PBC (Playback Control) (VIDEO CDs)
This system conforms to Ver. 1.1 and Ver. 2.0 of VIDEO CD
standards. You can enjoy two kinds of playback according to the
Enjoy video playback (moving pictures)
Play interactive software using menu
screens displayed on the TV screen (PBC
Playback), in addition to the video
playback functions of Ver 1.1 discs.
Moreover, you can play high-resolution
still pictures, if they are included on the
Discs that the system cannot play
The system cannot play discs other than the ones listed in the
table on page 4. CD-R, CD-ROMs including PHOTO CDs, data
sections in CD-EXTRAs, DVD-ROMs etc., cannot be played.
This system incorporates Dolby
Surround and the DTS** Digital Surround System.
*
Manufactured under license from Dolby Laboratories.
"Dolby", "AC-3", "Pro Logic" and the double-D symbol a are
trademarks of Dolby Laboratories.
Confidential unpublished Works. © 1992-1997 Dolby Laboratories,
Inc. All rights reserved.
**
Manufactured under license from Digital Theater Systems, Inc. US
Pat. No. 5,451,942 and other worldwide patents issued and pending.
"DTS" and "DTS Digital Surround" are trademarks of Digital
Theater Systems, Inc. © 1996 Digital Theater Systems, Inc. All
This product incorporates copyright protection technology that is
protected by method claims of certain U.S. patents and other
intellectual property rights owned by Macrovision Corporation
and other rights owners. Use of this copyright protection
technology must be authorized by Macrovision Corporation, and
is intended for home and other limited viewing uses only unless
otherwise authorized by Macrovision Corporation. Reverse
engineering or disassembly is prohibited.
---