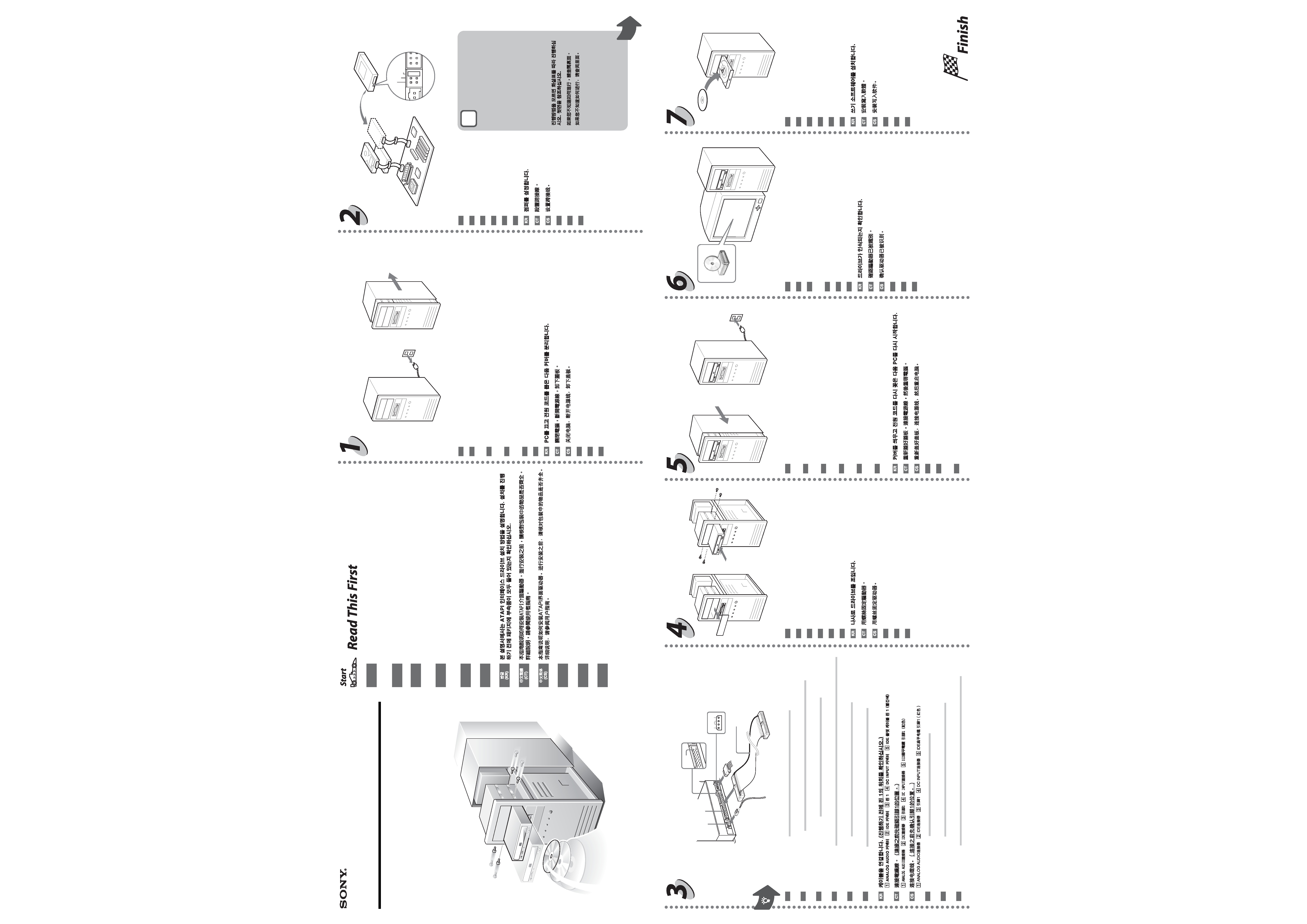 This guide explains how to install the ATAPI interface drive. Before
proceeding, verify that the contents of the package are complete. For
details, refer to the user's guide.
Turn off your PC, disconnect the power cord, and remove the cover.
Ce guide explique comment installer le lecteur à interface ATAPI. Avant de
commencer, vérifiez que le contenu du paquet est complet.
In dieser Anleitung wird erläutert, wie Sie das Laufwerk für die
ATAPI-Schnittstelle installieren. Überprüfen Sie zunächst, ob alle im
Lieferumfang enthaltenen Teile vorhanden sind.
Nella presente guida vengono spiegate le modalità di installazione
dell'unità dell'interfaccia ATAPI. Prima di procedere all'installazione,
verificare che il contenuto del pacchetto sia integro.
Esta guía explica cómo instalar la unidad de interfaz ATAPI. Antes de
proceder, compruebe que el paquete contenga todos los componentes.
Este guia explica como instalar a unidade de interface ATAPI. Antes de
continuar, verifique se o conteúdo da embalagem está completo.
Wenn Sie nicht wissen wie Sie vorgehen
müssen, lesen Sie umseitig weiter.
Si vous ne savez pas comment
Se non si sa come procedere, vedere la
Si no sabe cómo proceder, vea el dorso.
Se não souber como proceder, veja no
Als u niet weet hoe u moet doorgaan,
Se nästa sida, om du inte vet hur du ska
In de handleiding wordt de installatie van de ATAPI interface drive
beschreven. Controleer voordat u verder gaat of alles is meegeleverd.
Den här bruksanvisningen förklarar hur du installerar drivrutinen för
ATAPI-gränssnittet. Innan du fortsätter bör du kontrollera att du har fått med
Stellen Sie den Jumper ein.
Defina a ligação em ponte.
Sätt bygeln på rätt plats.
Eteignez votre ordinateur, déconnectez le cordon d'alimentation et retirez le
Schalten Sie den PC aus, lösen Sie das Netzkabel und nehmen Sie die
Spegnere il computer, scollegare il cavo di alimentazione e rimuovere il
Apague el PC, desconecte el cable de alimentación y retire la cubierta.
Desligue o PC, desligue o cabo de alimentação e retire a tampa.
Zet de PC uit, koppel het netsnoer los en verwijder de behuizing.
Slå av datorn och koppla ur nätkabeln,. Öppna datorns chassi.
Connect the cables. (Confirm the location of pin 1 before proceeding.)
ANALOG AUDIO connector 2 IDE connector 3 Pin 1 4 DC INPUT connector 5 IDE flat cable pin 1 (red)
Connectez les câbles. (Vérifiez l'emplacement de la broche 1 avant de continuer.)
Connecteur ANALOG AUDIO 2 Connecteur IDE 3 Broche 1 4 Connecteur DC INPUT 5 Câble plat IDE broche 1 (rouge)
Schließen Sie die Kabel an. (Überprüfen Sie zuvor die Position von Stift 1.)
Anschluss ANALOG AUDIO 2 IDE-Anschluss 3 Stift 1 4 Gleichstromeingang DC INPUT 5 Stift 1 des IDE-Flachbandkabels (rot)
Collegare i cavi. (Prima di procedere al collegamento, verificare la posizione del piedino 1.)
Connettore ANALOG AUDIO 2 Connettore IDE 3 Piedino 1 4 Connettore DC INPUT 5 Piedino 1 (rosso) del cavo piatto IDE
Conecte los cables. (Antes de continuar, confirme la ubicación del pin 1.)
Conector ANALOG AUDIO 2 Conector IDE 3 Pin 1 4 Conector DC INPUT 5 Pin 1 del cable plano IDE (rojo)
Ligue os cabos. (Confirme a localização do pino 1 antes de continuar.)
Conector ANALOG AUDIO 2 Conector IDE 3 Pino 1 4 Conector DC INPUT 5 Pino 1 do cabo plano IDE (vermelho)
Sluit de kabels aan. (Controleer de locatie van pin 1 voordat u doorgaat.)
ANALOG AUDIO aansluiting 2 IDE aansluiting 3 Pin 1 4 DC INPUT aansluiting 5 IDE kabel pin 1 (rood)
Anslut kablarna. (Innan du fortsätter bör du kontrollera att stift 1 sitter på rätt ställe.)
ANALOG AUDIO-anslutning 2 IDE-anslutning 3 Stift 1 4 DC INPUT-anslutning 5 IDE-flatkabelns stift 1 (röd)
Secure the drive with the screws.
Fixez le lecteur à l'aide des vis.
Befestigen Sie das Laufwerk mithilfe der Schrauben.
Fissare l'unità con le viti.
Fije la unidad mediante los tornillos.
Fixe a unidade com os parafusos.
Bevestig de drive met de schroeven.
Fäst enheten med hjälp av skruvarna.
Replace the cover, reconnect the power cord, and restart
Remettez le couvercle en place, reconnectez le cordon
d'alimentation et redémarrez votre ordinateur.
Bringen Sie die Abdeckung wieder an, schließen Sie das
Netzkabel wieder an und starten Sie den PC neu.
Reinserire il coperchio del computer, collegare di nuovo il
cavo di alimentazione e riavviare il computer.
Coloque de nuevo la cubierta, conecte el cable de
alimentación y reinicie el PC.
Volte a colocar a tampa, ligue de novo o cabo de
alimentação e reinicie o PC.
Plaats de behuizing terug, sluit het netsnoer aan en start de
Stäng datorns chassi, anslut nätkabeln och starta sedan om
Confirm that the drive was detected.
Vérifiez que le lecteur a été détecté.
Vergewissern Sie sich, dass das Laufwerk erkannt
Verificare che l'unità sia stata rilevata.
Confirme que se ha detectado la unidad.
Confirme se a unidade foi reconhecida.
Controleer of de drive wordt herkend.
Kontrollera att drivrutinen har identifierats.
Install the writing software.
Installez le logiciel de gravure.
Installieren Sie die Schreibsoftware.
Installare il software di scrittura.
Instale el software de grabación.
Instale o software de leitura.
Installeer de schrijfsoftware.
Installera bränningsprogrammet.
Environment setup jumpers
ATAPI (EIDE) Interface Drive
---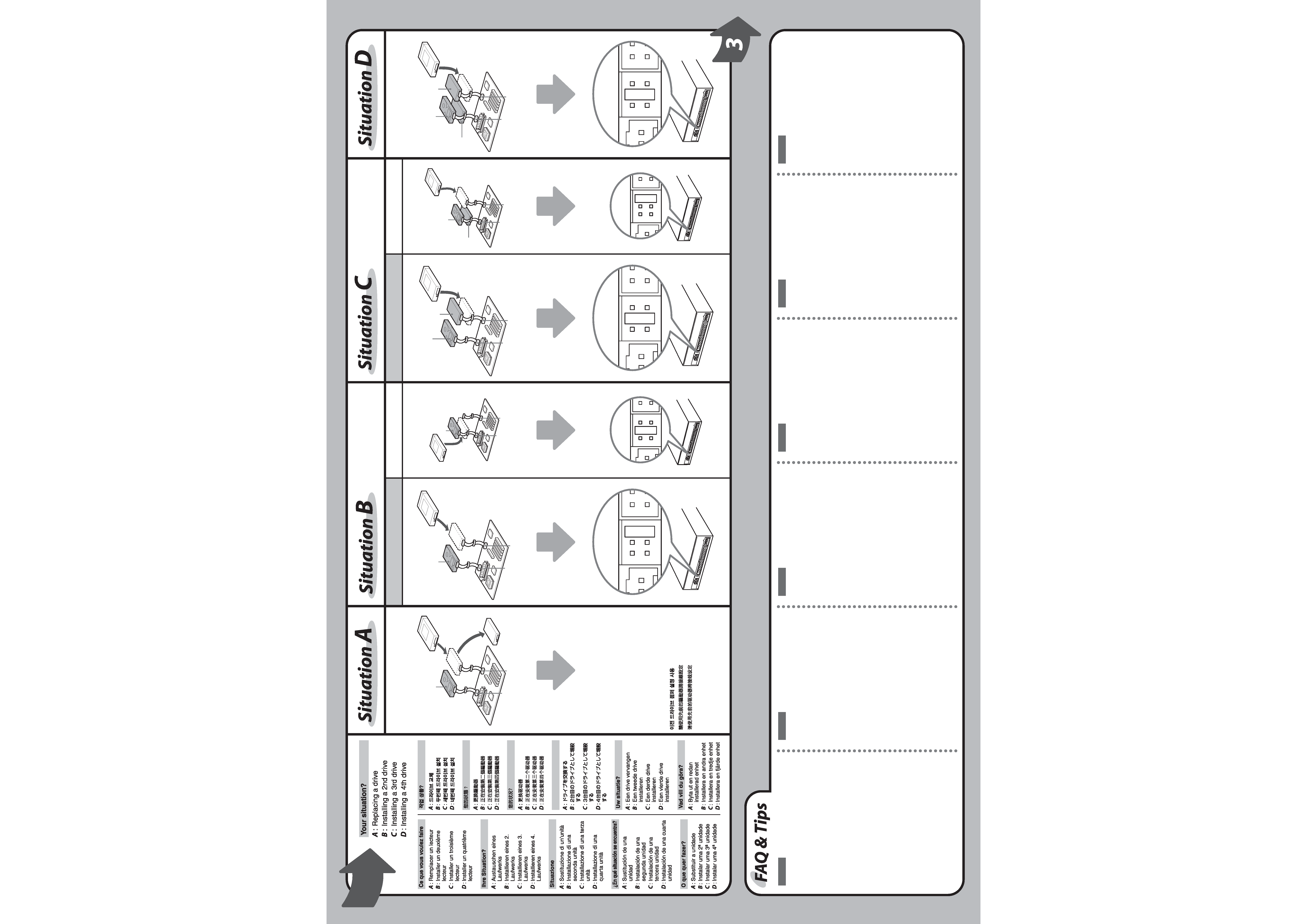 Hard disk drive (usually)
Hard disk drive (usually)
Hard disk drive (usually)
Hard disk drive (usually)
Hard disk drive (usually)
Hard disk drive (usually)
Q
:
Do I need to install device drivers?
A
:
No. All you need to do to use the drive is
Q
:
My computer does not detect the drive...
A
:
Verify that the interface cable is aligned with
pin 1 and securely connected. Also, verify
that the MASTER/SLAVE setting of the
second drive connected to the Primary or
Q
:
Do I absolutely need to connect the audio
A
:
If your computer supports digital playback,
Q
:
How can I maximize the high-speed write
A
:
Activate the DMA settings in Windows. (For
details refer to "FAQ & Tips" of the user's
manual on the software disc.)
D
:
È necessario installare i driver del dispositivo?
R
:
No. Per utilizzare l'unità, è sufficiente
D
:
Il computer non ha rilevato l'unità...
R
:
Verificare che il cavo dell'interfaccia sia
allineato con il piedino 1 e collegato in modo
saldo. Inoltre, verificare che l'impostazione
MASTER/SLAVE della seconda unità
collegata al connettore principale o
D
:
È strettamente necessario collegare il cavo
R
:
No, ma solo se il computer supporta la
D
:
In che modo è possibile ottimizzare le
prestazioni di scrittura ad alta velocità?
R
:
Attivando le impostazioni DMA in Windows.
(Per ulteriori informazioni, consultare la
sezione relativa alle "FAQ e ai suggerimenti"
della guida per l'utente contenuta nel disco
P
:
¿Es necesario instalar los controladores del
R
:
No. Para utilizar la unidad, sólo es necesario
P
:
El ordenador no detecta la unidad...
R
:
Compruebe que el cable de interfaz esté
alineado con el pin 1 y conectado
correctamente. Asimismo, compruebe que el
ajuste MASTER/SLAVE de la segunda
unidad conectada al conector primario o
secundario sea el correcto.
P
:
¿Es imprescindible conectar el cable de audio?
R
:
No, en el caso de que el ordenador admita la
P
:
¿Cómo se puede aumentar la velocidad de
R
:
Active los ajustes DMA de Windows. (Para
obtener más información, consulte
"Preguntas más frecuentes (FAQ) y
sugerencias" del manual del usuario que se
encuentra en el disco de software.)
Q
:
Dois-je installer des pilotes pour utiliser le
A
:
Non. Pour utiliser ce lecteur, il vous suffit de
Q
:
Mon ordinateur ne détecte pas le lecteur...
A
:
Vérifiez que le câble d'interface est bien
aligné sur la broche 1 et bien fixé. Vérifiez
aussi que le réglage MAITRE/ESCLAVE du
deuxième lecteur connecté en primaire ou
Q
:
Dois-je absolument brancher le câble audio ?
A
:
Si votre ordinateur prend en charge la lecture
Q
:
Comment puis-je optimiser les performances
de gravure à haute-vitesse ?
A
:
Activez les réglages DMA sous Windows.
(Pour de plus amples détails, reportez-vous à
la section "FAQ et conseils" du manuel de
l'utilisateur sur le disque de logiciels.)
F
:
Müssen Gerätetreiber installiert werden?
A
:
Nein. Das Laufwerk muss lediglich
F
:
Der Computer kann das Laufwerk nicht
A
:
Vergewissern Sie sich, dass das
Schnittstellenkabel an Stift 1 ausgerichtet und
richtig angeschlossen ist. Überprüfen Sie
außerdem, ob die MASTER/SLAVE-Einstellung
des zweiten Laufwerks am primären oder
sekundären Anschluss korrekt ist.
F
:
Muss das Audiokabel unbedingt
A
:
Nicht, wenn der Computer die digitale
F
:
Wie lässt sich die Schreibleistung mit hoher
Geschwindigkeit optimieren?
A
:
Aktivieren Sie unter Windows die
DMA-Einstellungen. (Einzelheiten dazu finden
Sie unter "Häufig gestellte Fragen und Tipps"
im Benutzerhandbuch auf der Software-CD.)
Use former drive jumper settings
Utilice los ajustes del puente de la unidad anterior
Gebruik de jumperinstellingen van de vorige drive
Använd de tidigare bygelinställningarna
Utilisez les réglages des cavaliers du lecteur
Verwenden Sie die Jumper-Einstellungen des
Utilizzare le precedenti impostazioni del
Utilize as definições anteriores da ligação em
---