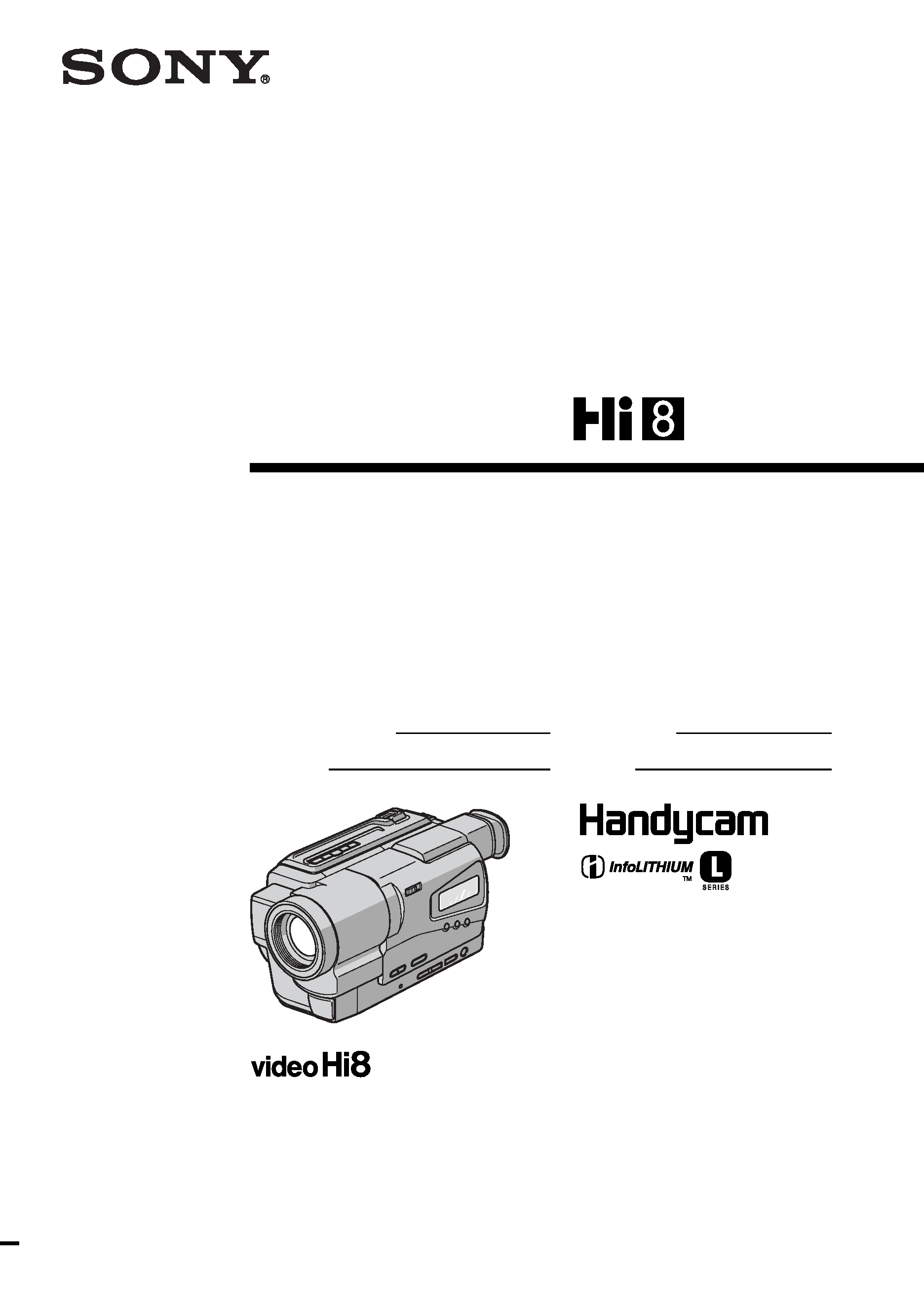 Before operating the unit, please read this manual thoroughly,
and retain it for future reference.
The model and serial numbers are located on the bottom. Record the
serial number in the space provided below. Refer to these numbers
whenever you call upon your Sony dealer regarding this product.
---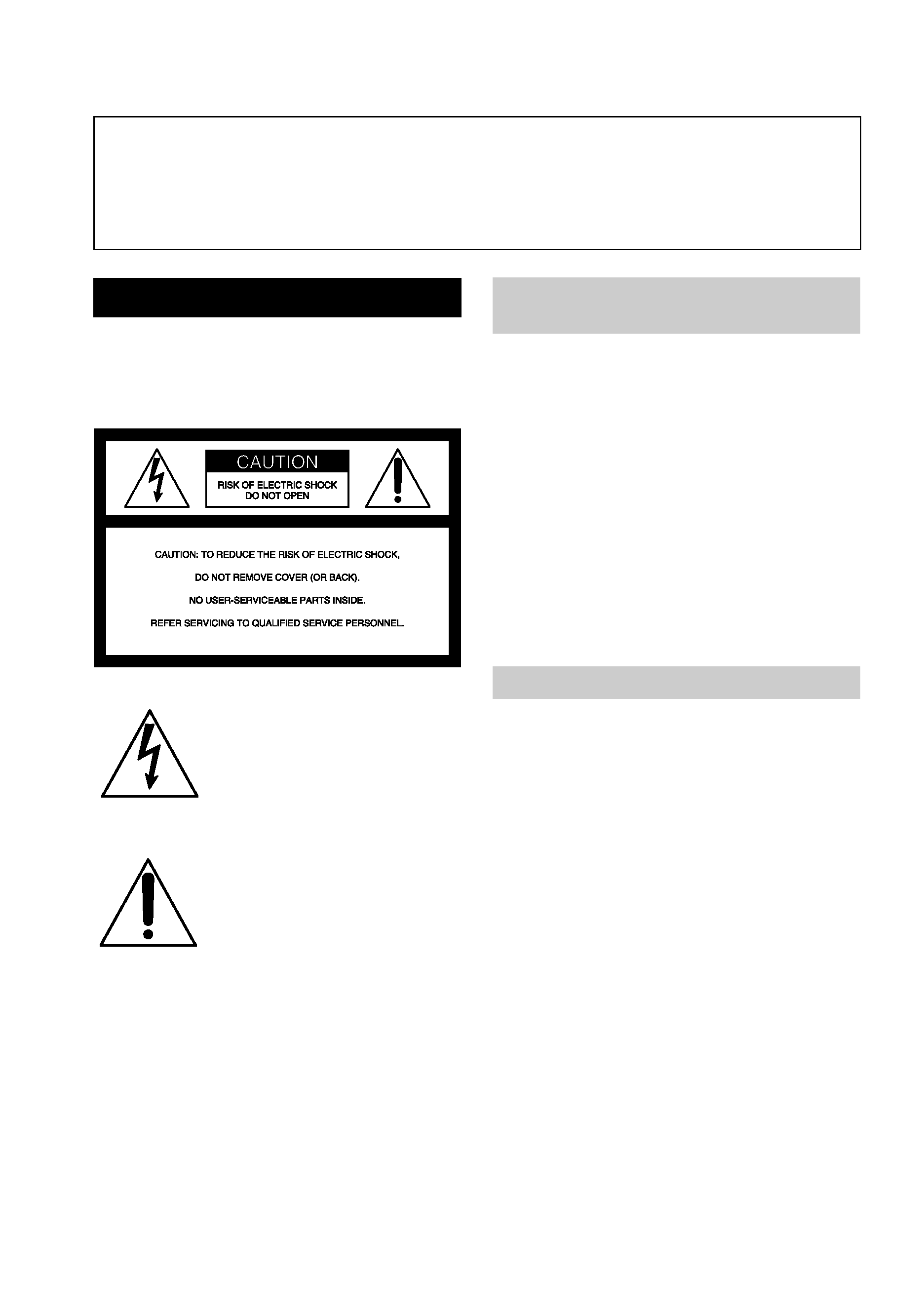 Congratulations on your purchase of this Sony Handycam
®
camcorder. With your
Handycam, you can capture life's precious moments with superior picture and sound quality.
Your Handycam is loaded with advanced features, but at the same time it is very easy to use.
You will soon be producing home video that you can enjoy for years to come.
To prevent fire or shock hazard, do
not expose the unit to rain or
For customers in the United
DISPOSAL OF LITHIUM ION BATTERY.
You can return your unwanted lithium ion batteries
to your nearest Sony Service Center or Factory
In some areas the disposal of lithium ion
batteries in household or business trash may
For the Sony Service Center nearest you call
1-800-222-SONY (United States only)
For the Sony Factory Service Center nearest you call
416-499-SONY (Canada only)
Caution: Do not handle damaged or leaking lithium
For customers in the U.S.A.
You are cautioned that any changes or modifications
not expressly approved in this manual could void
your authority to operate this equipment.
This symbol is intended to alert
the user to the presence of
uninsulated "dangerous voltage"
within the product's enclosure
that may be of sufficient
magnitude to constitute a risk of
electric shock to persons.
This symbol is intended to alert
the user to the presence of
instructions in the literature
accompanying the appliance.
Never expose the battery pack to temperatures
above 60°C (140°F) such as in a car parked in
the sun or under direct sunlight.
---

This equipment has been tested and found to
comply with the limits for a Class B digital
device, pursuant to Part 15 of the FCC Rules.
These limits are designed to provide
reasonable protection against harmful
interference in a residential installation. This
equipment generates, uses, and can radiate
radio frequency energy and, if not installed
and used in accordance with the instructions,
may cause harmful interference to radio
communications. However, there is no
guarantee that interference will not occur in a
particular installation. If this equipment does
cause harmful interference to radio or
television reception, which can be determined
by turning the equipment off and on, the user
is encouraged to try to correct the interference
by one or more of the following measures:
-- Reorient or relocate the receiving antenna.
-- Increase the separation between the
-- Connect the equipment into an outlet on a
circuit different from that to which the
-- Consult the dealer or an experienced radio/
TO PREVENT ELECTRIC SHOCK, MATCH
WIDE BLADE OF PLUG TO WIDE SLOT,
---

Functions to adjust exposure (in the recording mode)
·In dark environments such as sunset, fireworks,
·Shooting backlit subjects
·In spotlight, such as at the theater or a formal
·In strong light or reflected light, such as at a beach
in midsummer or on a ski slope
Functions to give images more impact (in the recording mode)
·Smooth transition between scenes
·Digital processing of images
·Creating a soft background for subjects
Functions to give a natural appearance to your recordings
·Preventing deterioration of picture quality in
The default setting is set to OFF.
×, select the digital zoom
power in D ZOOM in the menu settings.)
·Shooting distant subjects
·Recording fast-moving subjects
Functions to use in editing (in the recording mode)
·Watching the picture on a wide-screen TV
·Recording with the date/time
Functions to use after recording (in the playback mode)
Sunset & moon mode (p. 34)
Soft portrait mode (p. 34)
Sports lesson mode (p. 34)
---

Main Features .......................................... 4
Quick Start Guide ............................... 6
Using this manual ................................... 8
Checking supplied accessories ............ 10
Step 1 Preparing the power supply ... 11
Installing the battery pack ............ 11
Charging the battery pack ............ 12
Connecting to a wall outlet ........... 16
Step 2 Setting the date and time ........ 17
Step 3 Inserting a cassette ................... 19
Recording a picture .............................. 20
Shooting backlit subjects
­ BACK LIGHT ........................ 24
­ NightShot ............................... 24
Superimposing the date and time
on pictures ................................ 25
Connections for playback .................... 26
Playing back a tape ............................... 27
Using the wide mode ........................... 29
Using the fader function ...................... 31
­ Picture effect ................................. 33
Using the PROGRAM AE function .... 34
Adjusting the exposure manually ...... 36
Focusing manually ................................ 37
Superimposing a title ........................... 38
Making your own titles ........................ 40
Using the built-in light ......................... 42
Dubbing a tape ...................................... 45
Customizing Your Camcorder
Changing the menu settings ................ 46
Types of trouble and their solutions
........................................................... 52
Self-diagnosis display .......................... 55
Warning indicators and messages ...... 56
Usable cassettes and playback modes
........................................................... 57
About "InfoLITHIUM" battery ........... 58
Using your camcorder abroad ............ 59
Maintenance information and
precautions ...................................... 60
Specifications ......................................... 65
Identifying the parts and controls ...... 66
Index ........................................ Back cover
---