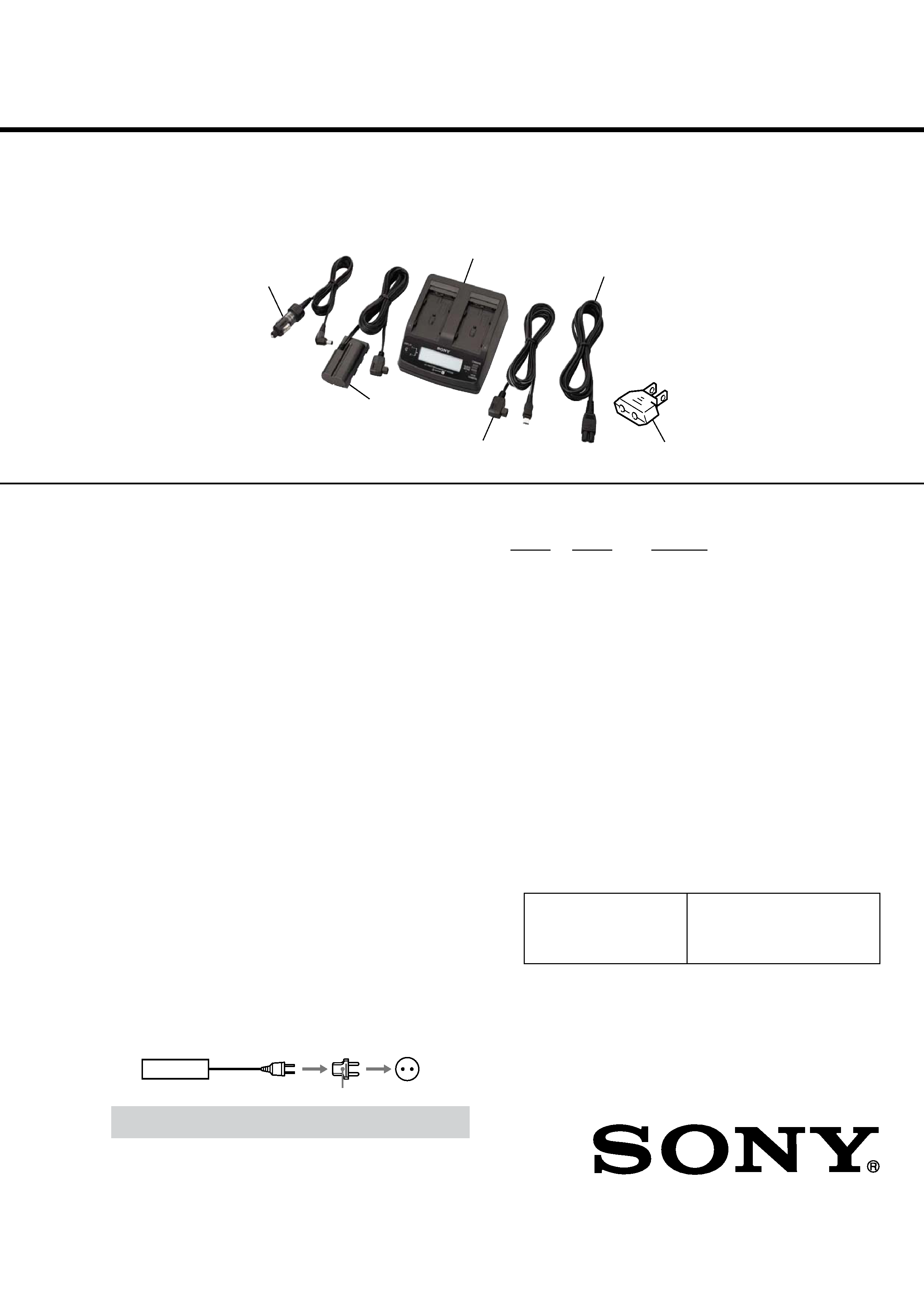 1-792-186-21 CORD, CAR BATTERY (DCC-VQ1)
1-782-361-15 CORD, CONNECTION (DK-415)
1-479-580-11 CHARGER, AC ADAPTOR (AC-VQ1050)
1-783-710-24 CORD, CONNECTION (DK-215)
1-555-074-21 CORD, POWER (AUS)
1-575-131-11 CORD, POWER (E)
1-690-827-12 CORD SET, POWER (AEP)
1-775-843-52 CORD, POWER (WITH FILTER) (UK)
1-782-476-13 CORD, POWER (CH)
1-790-107-42 CORD, POWER (US, CND)
1-776-985-11 POWER-SUPPLY CORD (KR)
1-569-008-12 ADAPTOR, CONVERSION 2P (E)
Published by DI Technical Support Department
100 V - 240 V AC 50/60 Hz 22 W
(only for negative grounded cars)
DC OUT: 8.4 V 2.0 A in operating mode
Battery charge terminal: 8.4 V 1.8 A in charge
0 °C to +40 °C (+32 °F to +104 °F)
­20 °C to +60 °C (­4 °F to +140 °F)
(4
7
/
8
× 2
1
/
8
× 5
3
/
8
inches)
AC/DC Adaptor/Charger AC-VQ1050D
AC Adaptor/Charger (AC-VQ1050) ................. (1)
Connecting cord(DK-215) ................................... (1)
(DK-415) ................................... (1)
AC Power cord ................................................... (1)
Car battery cord (DCC-VQ1) .............................. (1)
Set of printed documentation
AC Adaptor/Charger AC-VQ1050B
AC Adaptor/Charger (AC-VQ1050) ................. (1)
Connecting cord (DK-215) .................................. (1)
AC Power cord ..................................................... (1)
Set of printed documentation
Design and specifications are subject to change without notice.
The components identified by
mark 0 or dotted line with
mark 0 are critical for safety.
Replace only with part number
Les composants identifiés par une
marque 0 sont critiques pour la
Ne les remplacer que par une pièce
portant le numéro spécifié.
AC-VQ1050B is not supplied with Connecting cord (DK-415) and Car
Use a commercially available AC plug Adaptor (not supplied), if necessary,
depending on the design of the wall outlet.
Do not connect this unit to a voltage Adaptor (travel converter) for
overseas travel. This may result in overheating or other malfunction.
AC plug Adaptor (not supplied)
---

---