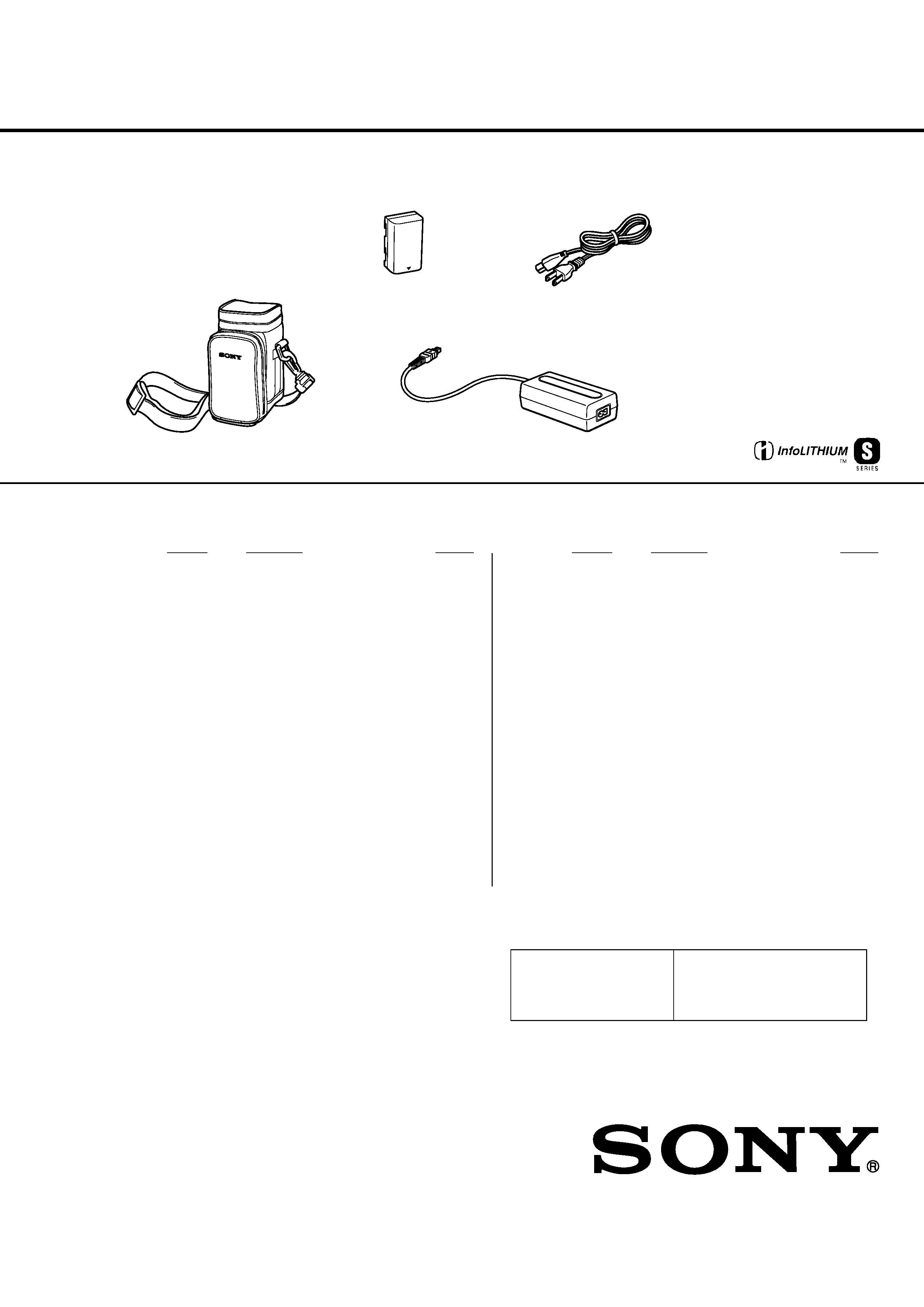 1-476-332-11 ADAPTOR, AC (AC-LS1)
1-476-332-21 ADAPTOR, AC (AC-LS1) (Chinese)
1-476-332-31 ADAPTOR, AC (AC-LS1) (Korean)
1-476-332-41 ADAPTOR, AC (AC-LS1)
1-543-798-11 FILTER, CLAMP (FERRITE CORE)
1-555-074-21 CORD, POWER (Australian)
1-569-007-11 ADAPTOR, CONVERSION 2P (Tourist)
1-569-008-21 ADAPTOR, CONVERSION 2P (E)
1-690-827-11 CORD, POWER (AEP)
1-769-608-11 CORD, POWER (E)
1-775-843-52 CORD, POWER (WITH FILTER) (UK)
1-776-985-11 CORD, POWER (Korean)
1-782-476-11 CORD, POWER (Chinese)
1-790-107-22 CORD, POWER (US, Canadian)
1-790-732-11 CORD, POWER (Tourist)
· Battery pack NP-FS11 is available as an optional accessory.
· Individual parts of AC-LS1 are not supported.
In case of failure, the main assembly must be replaced.
The components identified by
mark 0 or dotted line with
mark 0 are critical for safety.
Replace only with part num-
Les composants identifiés par une
marque 0 sont critiques pour la
Ne les remplacer que par une pièce
portant le numéro spécifié.
3-069-068-11 MANUAL, INSTRUCTION (for AC-LS1)
(ENGLISH, FRENCH, SPANISH,
SIMPLIFIED CHINESE) (EXCEPT Korean)
3-069-068-21 MANUAL, INSTRUCTION (for AC-LS1)
(GERMAN, DUTCH, ITALIAN, PORTUGUESE)
3-069-068-31 MANUAL, INSTRUCTION (for AC-LS1)
(SWEDISH, DANISH, FINNISH) (AEP)
3-069-068-41 MANUAL, INSTRUCTION (for AC-LS1)
TRADITIONAL CHINESE, KOREAN)
(AEP, E, Chinese, Tourist)
3-069-068-51 MANUAL, INSTRUCTION (for AC-LS1)
3-069-409-01 MANUAL, INSTRUCTION
(JAPANESE, ENGLISH, FRENCH, GERMAN,
SPANISH, DUTCH, SWEDISH, ITALIAN,
PORTUGUESE, DANISH, FINNISH, RUSSIAN,
ARABIC, TRADITIONAL CHINESE,
SIMPLIFIED CHINESE, KOREAN)
Published by PV Customer Center
---

---