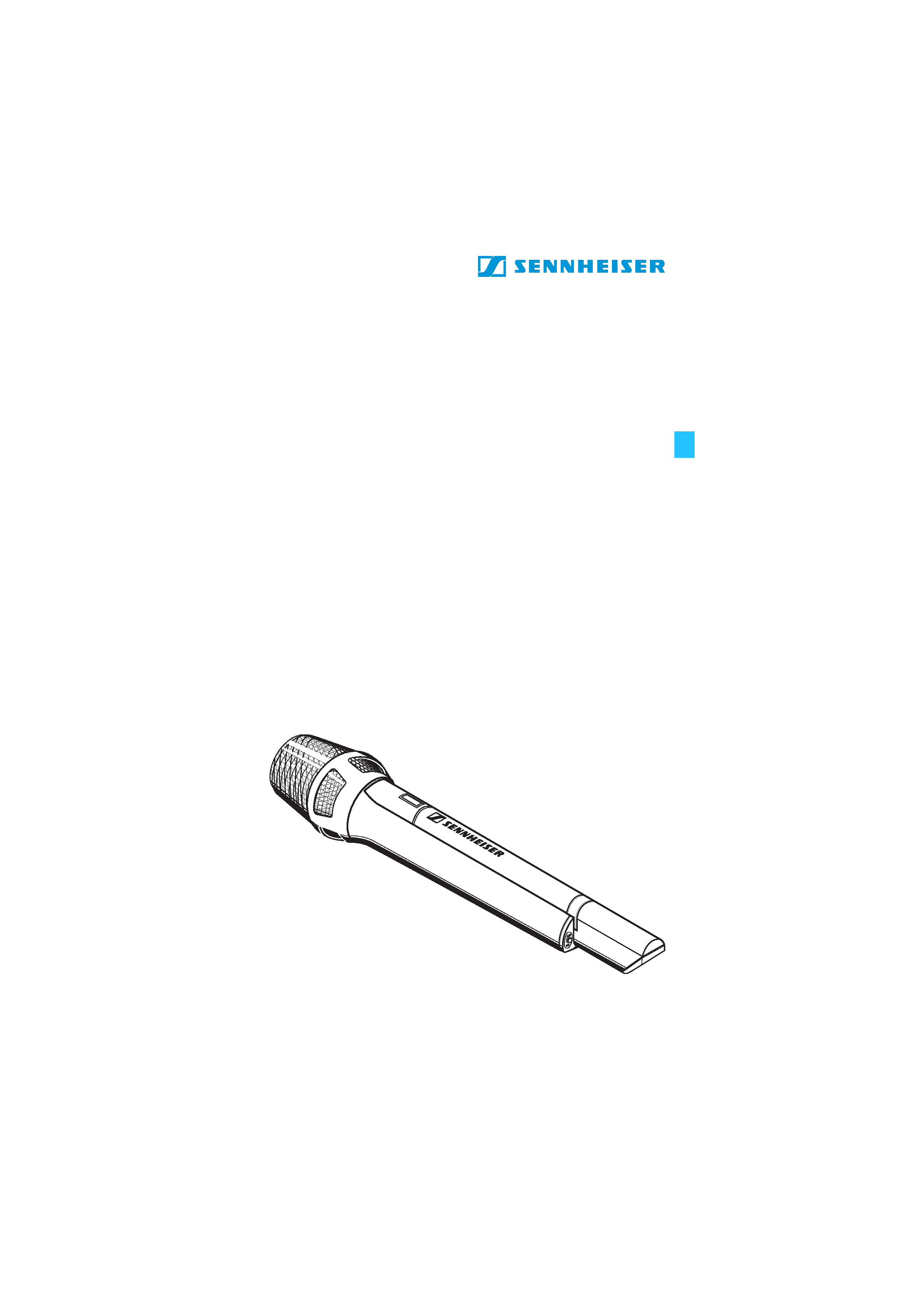 SKM 5200_512717_0506_Sp6.book Seite 3 Donnerstag, 7. Dezember 2006 3:28 15
---

Safety instructions ............................................................................... 5
Delivery includes ................................................................................... 6
The SKM 5200 radio microphone ....................................................... 6
The operating controls ......................................................................... 8
Indications and displays ............................................................... 9
Preparing the radio microphone for use ........................................ 10
Inserting, removing and changing the power pack ............... 10
Changing the microphone head ................................................ 12
Switching the radio microphone on/off .................................. 13
Doing a frequency check ............................................................. 14
The operating menu ........................................................................... 15
The buttons ................................................................................... 15
The automatic lock mode (autolock function) ....................... 16
Working with the operating menu ........................................... 17
Overview of the operating menu .............................................. 21
Adjustment tips for the operating menu ....................................... 23
Selecting a channel ­
CHAN
....................................................... 23
Selecting the frequencies to be stored in the channel bank
"VAR" ­
TUNE
............................................................................... 23
Entering a name ­
NAME
............................................................ 25
Adjusting the microphone sensitivity ­
ATTEN
..................... 25
Adjusting the low-cut frequency ­
LOWCUT
.......................... 26
Selecting the standard display ­
VIEW
.................................... 26
Loading the factory-preset default settings ­
RESET
........... 26
Activating/deactivating the automatic lock mode ­
LOCK
.. 27
Exiting the operating menu ­
EXIT
......................................... 27
If problems occur ... ............................................................................. 28
Error checklist ............................................................................... 28
Maintenance and care ........................................................................ 29
Specifications ....................................................................................... 30
Accessories ........................................................................................... 31
Manufacturer declarations ................................................................ 32
Warranty regulations .................................................................. 32
Approval ......................................................................................... 32
Batteries or rechargeable batteries .......................................... 32
WEEE Declaration ......................................................................... 32
SKM 5200_512717_0506_Sp6.book Seite 4 Donnerstag, 7. Dezember 2006 3:28 15
---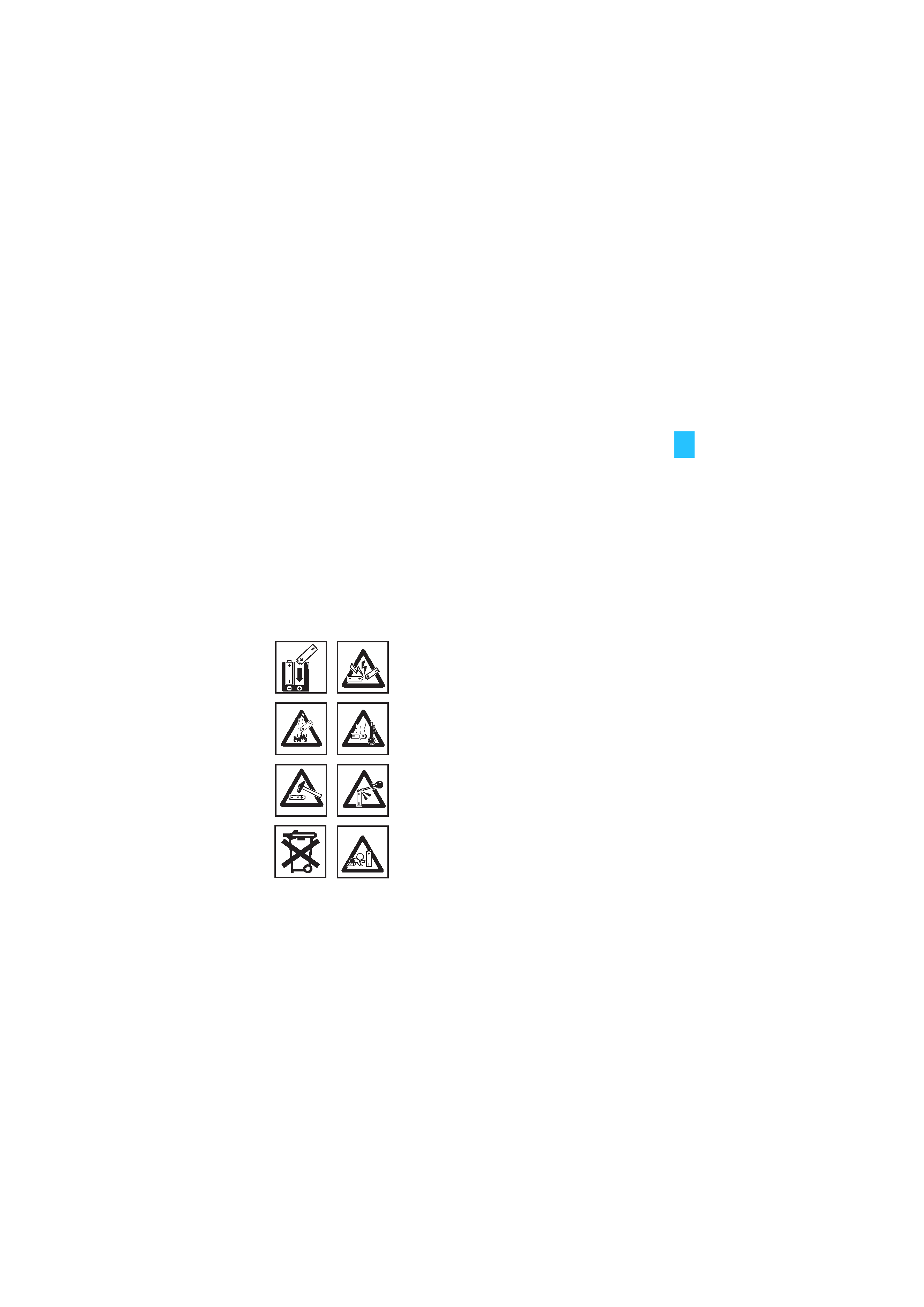 Please read these instructions carefully and completely before
using the radio microphone.
Make these instructions easily accessible to all users at all times.
Always include these instructions when passing the radio
microphone on to third parties.
Never open electronic units! If units are opened by customers in
breach of this instruction, the warranty becomes null and void.
Water entering the housing of the radio microphone can cause
a short-circuit and damage the electronics. Protect the radio
microphone from damp and wet. Only use a slightly damp cloth
to clean the radio microphone.
Safety instructions for handling rechargeable batteries
When used properly, rechargeable batteries are a safe and reliable
energy source. However, if abused or misused, rechargeable
batteries may leak and, in extreme cases, may even present an
explosion and fire hazard. Please understand that Sennheiser does
not accept liability for damage arising from abuse or misuse.
Especially observe the following safety instructions:
Observe correct polarity.
Never short-circuit rechargeable batteries.
Do not throw rechargeable batteries into
Do not expose rechargeable batteries to
Do not mutilate or dismantle rechargeable
To protect the environment, dispose of
rechargeable batteries which cannot be
recharged as special waste or return them
to your specialist dealer.
Store rechargeable batteries in a safe
place and keep them away from children.
Only charge rechargeable batteries with
SKM 5200_512717_0506_Sp6.book Seite 5 Donnerstag, 7. Dezember 2006 3:28 15
---

Intended use of the radio microphone
having read these instructions especially the chapter "Safety
using the radio microphone within the operating conditions as
described in these instructions.
Improper use of the radio microphone
Improper use is when you use the radio microphone other than
described in these instructions or when you use the radio
microphone under operating conditions different from those
described in these instructions.
1 radio microphone transmitter body
(microphone head and power pack to be ordered separately)
1 MZQ 3072 quick release clamp
9 color-coded identification markers
The SKM 5200 radio microphone
The SKM 5200 is a professional hand-held radio microphone trans-
mitter that is easy to use and is easily adaptable to a wide variety
Suitable for all-purpose use, e.g. for reporting, stage and studio
Rugged housing and intuitive, menu-assisted operation.
Screw-on condenser microphone heads with different pick-up
patterns (omni-directional, cardioid and super-cardioid) for a
wide variety of applications. A super-cardioid dynamic micro-
phone head capable of accommodating extremely high sound
pressure levels is also available.
Can be used with Neumann microphone heads for demanding
live stage work (see "Changing the microphone head" on page
Microphone sensitivity can be adjusted in steps of 1 dB.
Tunable transmission frequencies ensure high flexibility in
varying transmission situations.
SKM 5200_512717_0506_Sp6.book Seite 6 Donnerstag, 7. Dezember 2006 3:28 15
---

Can be operated either on rechargeable or standard alkaline
batteries ­ with LC display (in percent) of charging status on
HiDyn plusTM noise reduction system ensures a wide dynamic
range and low residual noise.
Color-coded identification markers for quick and unambiguous
Frequency check mode for checking the transmission frequency
without actually transmitting.
The radio microphone has two channel banks. The channels of the
channel bank "FIX" (fixed bank) have been factory pre-set to
customer-specific transmission frequencies. These frequencies
The channel bank "VAR" (variable bank) allows you to freely
select and store frequencies.
(hematite-colored housing)
EM 1046 system (or EM 203)
EM 3532, EM 3031, EM 3032
SKM 5200_512717_0506_Sp6.book Seite 7 Donnerstag, 7. Dezember 2006 3:28 15
---