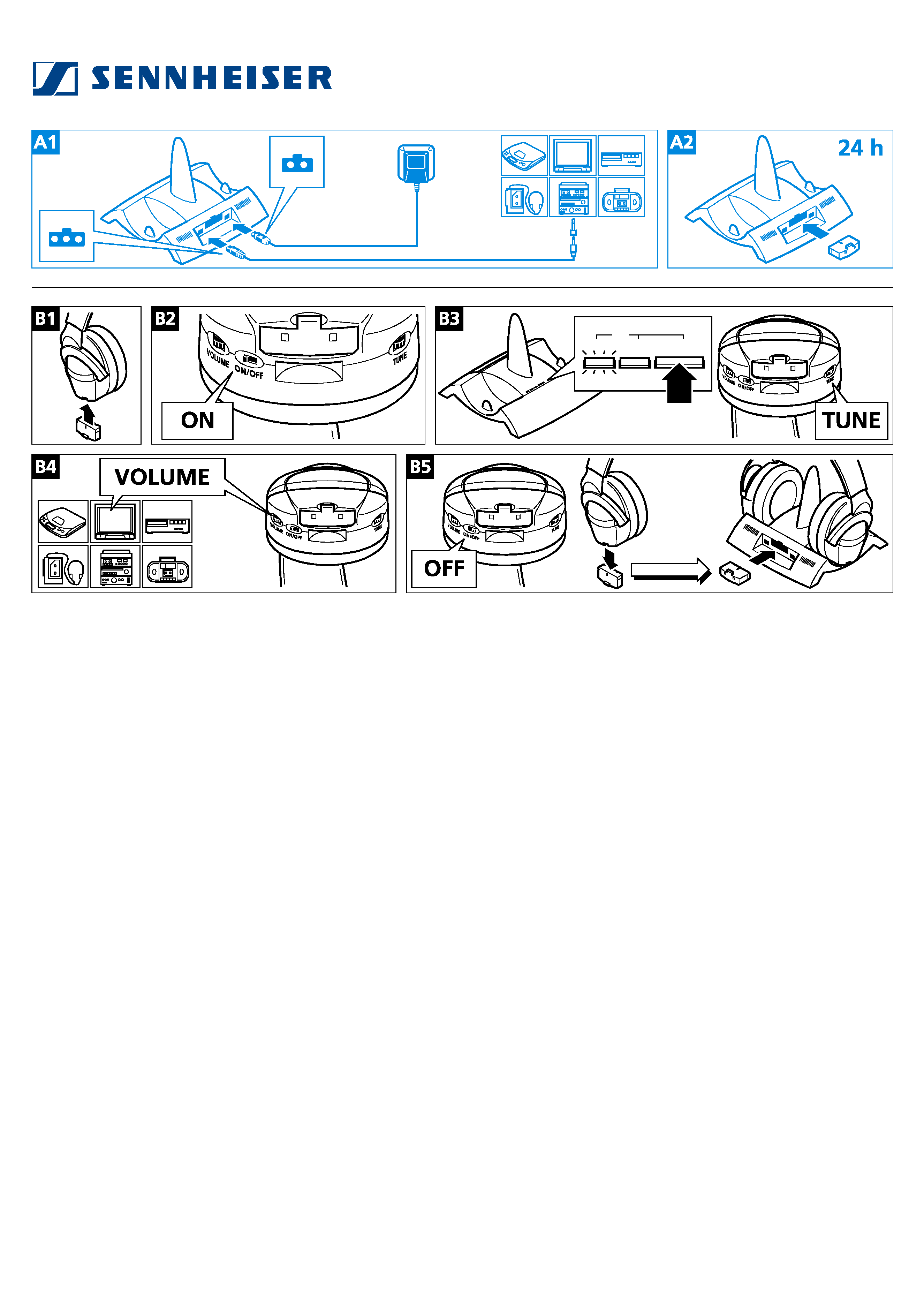 A1) Stellen Sie die Steckverbindungen her.
A2) Laden Sie den Akku vor dem ersten Betrieb für 24 Stunden.
B1) Stecken Sie den Akku in den Schacht am Hörer.
B2) Schalten Sie den Kopfhörer an der rechten Ohrmuschel auf O
N
.
B3) Drehen Sie den Regler T
UNE
an der rechten Ohrmuschel bis Sie einen
klaren Ton empfangen. Wechseln Sie bei Empfangsüberschneidungen
den Sendekanal und stellen Sie den Empfang am Kopfhörer neu ein.
B4) Stellen Sie die Lautstärke an der Tonquelle ausreichend laut ein und
passen Sie dann die Lautstärke am Hörer an.
B5) Schalten Sie den Hörer aus. Stecken Sie den Akku zum Laden in den
Schacht am Sender. Die rote LED muß leuchten. Der Sender wird
automatisch nach ca. 3 min. ausgeschaltet.
A1) Establish the necessary connections.
A2) Charge the accupack for 24 hours before you use it for the first time!
B1) Insert the accupack into the battery compartment on the headphones.
B2) Switch on the headphones by setting the switch on the right earpiece to O
N
.
B3) Turn the T
UNE
control on the right earpiece until you can hear the audio
signal loud and clear. If interference is present, select a different
transmission channel and set the headphones to the respective frequency.
B4) Set the volume on the sound source to your normal listening level, or
slightly higher. Then adjust the volume on the headphones to suit.
B5) Switch off the headphones.
For charging the accupack, insert it into the
charging compartment on the transmitter.
The red LED must light up.
The transmitter automatically switches off approx. 3 minutes after detecting
no incoming audio signal.
A1) Procédez aux raccordements utiles.
A2) Mettre en charge le pack d'accus pendant 24 heures avant toute
B1) Insérez le pack d'accus dans le compartiment prévu à cet effet sur
B2) Mettre en marche le casque en positionnant sur O
N
le commutateur placé
B3) Tourner le contrôle marqué T
UNE
situé sur l'écouteur jusqu'à ce que le
signal audio soit fort et clair. En cas d'interférence venant perturber la
réception, sélectionner un canal de transmission différent et régler le
casque sur la même fréquence.
B4) Réglez le volume de la source sonore à une valeur suffisante, et ajustez
ensuite celui du casque récepteur.
B5) Commuter le casque sur O
FF
. Pour charger le pack d'accus,
insérez-le dans le compartiment prévu sur l'émetteur. La LED rouge
doit s'allumer. L'émetteur s'éteint automatiquement après env. 3 minutes.
A1) Eseguite i collegamenti.
A2) Caricate l'accumulatore per 24 ore prima del primo utilizzo.
B1) Inserite l'accumulatore nell'apposito vano sull'auricolare.
B2) Posizionate l'interruttore sull'auricolare destro su O
N
.
B3) Ruotate il regolatore T
UNE
sull'auricolare destro finché ricevete un suono
chiaro. In caso di disturbi di ricezione cambiate il canale di trasmissione e
regolate la ricezione del segnale nella cuffia.
B4) Regolate il volume alla fonte del suono su un livello sufficientemente
elevato impostate poi il volume adatto sulla cuffia.
Spegnete la cuffia. Inserite l'accumulatore nel vano di ricarica
posizionato sul trasmettitore per la ricarica. Il LED rosso deve
essere illuminato.
La stazione viene disinserita automaticamente dopo
A1) Conecte las conexiones.
A2) Antes de utilizar el aparato por primera vez, cargue la batería durante
B1) Coloque la batería en el compartimento situado en los auriculares.
B2) Conecte los auriculares poniendo en O
N
, el botón situado en el
B3) Gire el regulador T
UNE
situado en el auricular derecho, hasta que
reciba un sonido nítido. Si se produjeran interferencias en la
recepción, cambie el canal emisor y reestablezca la recepción.
B4) Ajuste el volumen en los auriculares y en la fuente de sonido.
Desconecte los auriculares. Coloque la batería en el compartimento
situado en la estación emisora, para que se cargue de nuevo. La luz
roja, LED, deberá permanecer encendida.
El emisor se desconectará de
forma automática aproximadamente 3 minutos después.
A1) Sluit de stekkerverbindingen aan.
A2) Laad de accu voor de eerste inbedrijfstelling 24 uur lang op.
B1) Steek de accu in de schacht van de hoofdtelefoon.
B2) Zet de hoofdtelefoon op de rechter oorschelp op O
N
.
B3) Draai de regelaar T
UNE
op de rechter oorschelp totdat u een duidelijk
signaal ontvangt. Wijzig in het geval van een ontvangstoverlapping het
zendkanaal en stel de ontvangst op de hoofdtelefoon nog een keer in.
B4) Stel het volume aan de geluidsbron op een voldoende niveau en pas
dan het volume aan de hoofdtelefoon aan.
B5) Schakel de hoofdtelefoon uit. Steek de accu in de schacht van de
hoofdtelefoon om hem op te laden. De rode LED moet lichten. De zender
wordt automatisch na ca. 3 min. uitgeschakeld.
---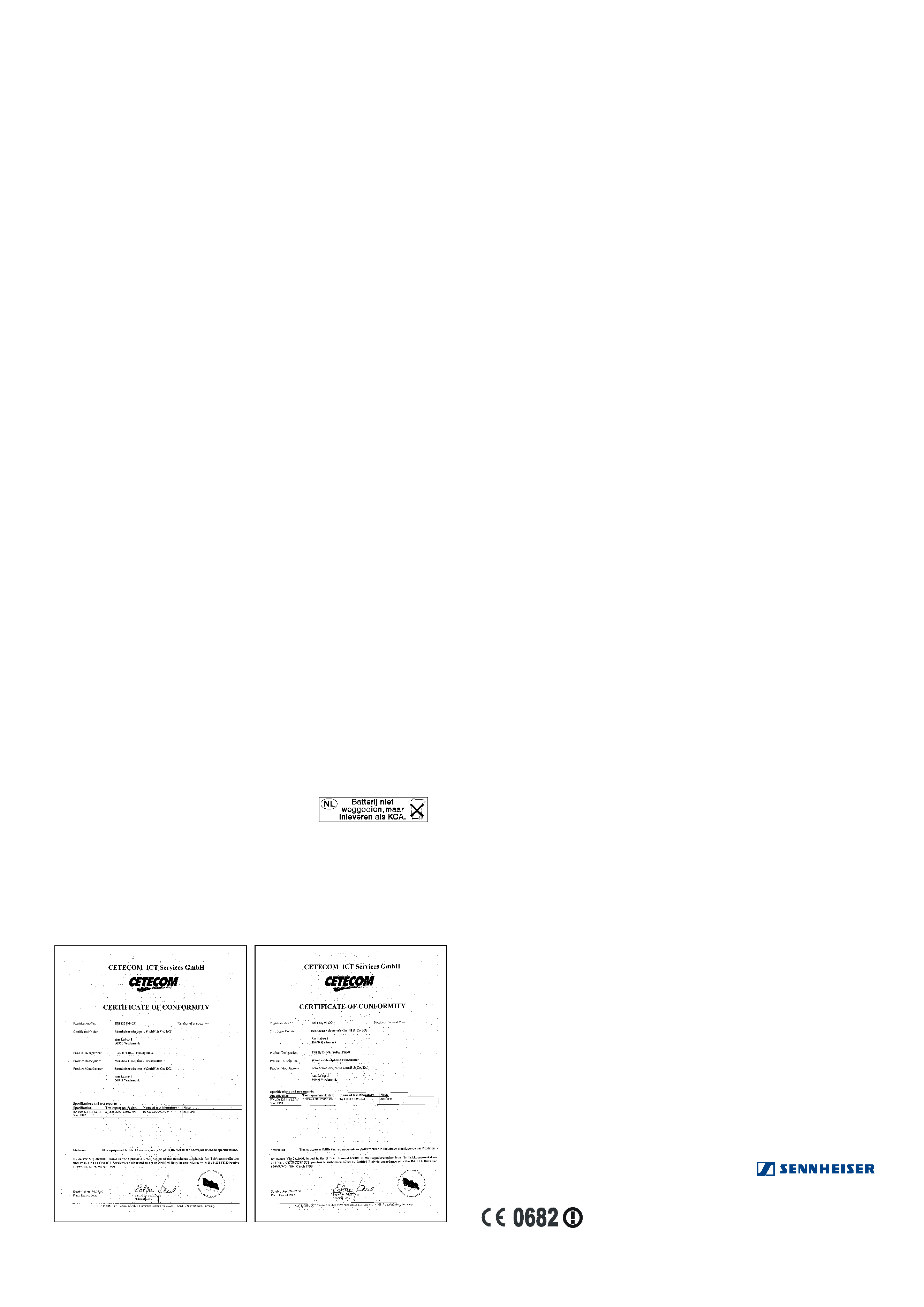 A
CHTUNG
: Zu lautes Hören kann Hörschäden verursachen!
Alte Akkus nur leer über den Fachhandel oder Batteriecontainer entsorgen.
Verwenden Sie nur Original-Sennheiser Komponenten, sonst können
Schäden am Gerät auftreten und die Garantie erlischt.
Dieses Gerät ist wie folgt zugelassen und erfüllt die anwendbaren CE Normen
A
TTENTION
: Listening at high volume levels for long periods can permanently
When eventually the accupack becomes totally exhausted and cannot be
recharged, please dispose of it as special waste. Only use original Sennheiser
spare parts and accessories. Components from other manufacturers may
cause damage to the device and will invalidate the guarantee.
This device has been type-approved to EN 300 220-1 Nov.97 and is in
compliance with the applicable CE standards and regulations.
A
TTENTION
: Ecouter a fort niveau pendant de longues periodes peut entrainer
des dommages irreversibles de l'audition.
Si le pack d'accus ne prend plus la charge, retournez-le à votre revendeur
spécialisé ou débarrassez-vous en dans un container prévu à cet effet. Utilisez
uniquement des pièces de rechange et des accessoires d'origine Sennheiser.
Les composants issus d'autres fabricants peuvent endommager l'appareil et
Ces casques sont en conformité avec les normes CE et ont les certifications
A
TTENZIONE
: l'ascolto ad un volume alto può causare danni all'udito!
Gli accumulatori vecchi devono essere eliminati solo quando sono
completamente scarichi depositandoli nei contenitori per batterie o presso i
negozi specializzati. Utilizzate esclusivamente componenti originali
Sennheiser, perché in caso contrario decade la garanzia e si rischia di
danneggiare l'apparecchio.
Questo apparecchio è certificato come qui di seguito e si attiene alle normative
e alle prescrizioni CE applicabili.
A
TENCIÓN
: ¡Un volumen demasiado alto puede ocasionar daños en el sistema
Elimine las baterías desgastadas en los contenedores especiales, o bien,
llévelas a los establecimientos especializados. Utilice únicamente repuestos
originales Sennheiser, de otro modo, se perdería la garantía y podrían
producirse daños en el aparato.
Este aparato está autorizado de la forma a continuación indicada y cumple las
normas y directrices de la CE aplicables.
O
PGELET
: Een hoog volume kan tot blijvende gehoorschade leiden!
Verwijder a.u.b. uitsluitend lege accu's (bijv.
recycling of teruggave in de vakhandel).
Gebruik uitsluitend originele Sennheiser
componenten, anders kunnen beschadigingen van het toestel optreden en de
Dit toestel is zoals volgt beschreven toegelaten en voldoet de toepasselijke
CE-normen en voorschriften.
Sennheiser electronic GmbH & Co. KG
Telefon +49 (0) 5130/600-0
Telefax +49 (0) 5130/600-300
Wenn Sie dieses Produkt innerhalb des EG-Raums, aber außerhalb des
Landes verwenden, in dem Sie das Produkt erworben haben, machen Sie
sich bitte unbedingt mit den Zulassungsbedingungen des entsprechenden
Landes vertraut. Zusätzlich sollten Sie sich informieren, ob das Gerät in dem
jeweiligen Land von der Zulassungsstelle genehmigt werden muß.
When using this product within the European Union, but outside the
country of purchase, you must inform yourself about the type approval
regulations in the country of use. You must also check whether or not
the product needs to be licensed by the national approval authorities.
Radio regulations vary from country to country and what is legal in the
country of purchase is not necessarily legal in another EU country
.
En employant ce produit au sein de l'Union européenne, mais en dehors du
pays d'achat, vous devez vous informer des clauses particulières de
réglementation applicables dans le pays d'utilisation. Vous devez aussi
vérifier si le produit doit ou non être soumis à une licence d'utilisation par
l'autorité nationale compétente. En matière de radio, les règlements varient
d'un pays à l'autre. Ce qui est légal dans le pays d'achat n'est pas
nécessairement légal dans un autre pays de l'UE.
Se utilizzate questo prodotto in ambito CE, ma in un paese diverso da
quello dove l'avete acquistato, è necessario conoscere le norme
d'omologazione vigenti in quel paese. Consigliamo anche di informarsi
se l'uso dell'apparecchio richiede un permesso specifico rilasciato dagli
Si va Ud. a emplear este producto dentro del ámbito de la CE, pero
fuera del país en que lo ha adquirido, es indispensable conocer los
requisitos de aprobación existentes en el respectivo país. Además,
deberá Ud. averiguar si en el país respectivo se precisa la autorización
del aparato, concedida por un organismo de autorización
.
Als u dit produkt binnen de EU-ruimte wilt benutten, maar buiten het
land wilt gebruiken waarin u het produkt gekocht heeft, adviseren wij dat
u zich zeer beslist met de toelatingseisen van het betreffende land
vertrouwd maakt. Informeer uzelf bovendien, of u voor het toestel in het
betreffende land een vergunning van het bureau voor de afgifte van
---