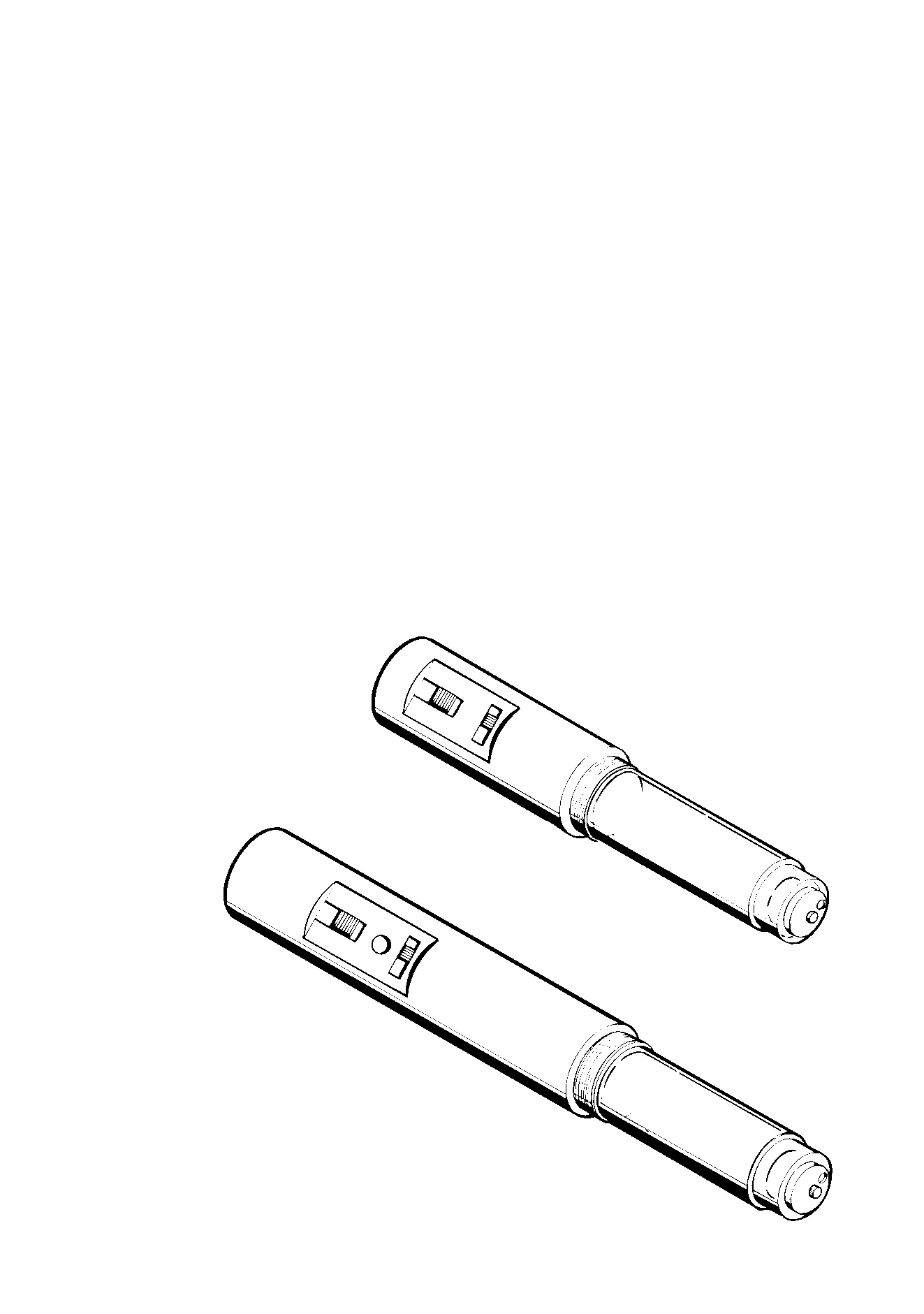 INSTRUCCIONES PARA EL USO
---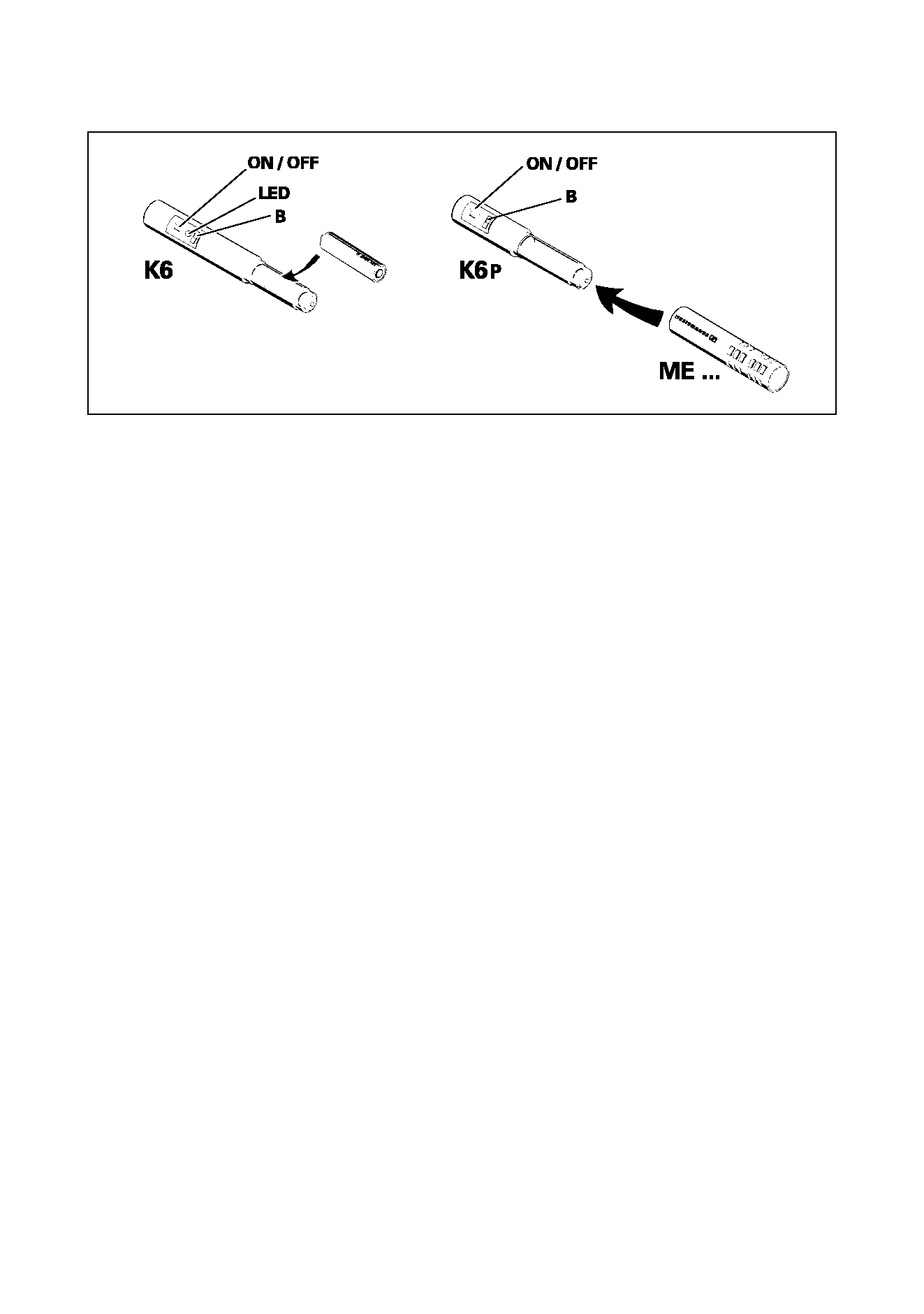 Mit den Speiseadaptern K6 und K6P werden die aufschraubbaren Mikrofonmodule
des System K6 mit Strom versorgt und an die nachfolgenden Verstärker angepaßt.
Der Speiseadapter dient auch als Griffstück. Über die vielfältigen Kombina-
tionsmöglichkeiten des Systems K6 informiert die beiliegende Systemübersicht.
Speisedapter für Batterie- und Phantomspeisung.
Schaltbarer Tiefenfilter, Ein-/Ausschalter, Batterie-Test-LED.
Speisedapter für Anschluß an Phantomspeisung.
Schaltbarer Tiefenfilter, Ein-/Ausschalter.
diese Speiseadapter werden ohne Zubehör geliefert
Wie K6, aber mit geringerer Empfindlichkeit (-18 dB)
Batterie einsetzen ( Mignon / LR 6, 1,5 V, Polarität beachten!) und
Mikrofonmodul aufschrauben.
Einschalten, dabei Batterie-Test durchführen. Blitzt die LED hell auf,
ist die Batterieleistung ausreichend. Glimmt die LED nur schwach,
Batterie umgehend erneuern!
Unnötigen Stromverbrauch vermeiden - nach Gebrauch ausschalten.
BeiPhantomspeisungwirdautomatischderBatteriebetriebausgeschaltet.
Betrieb mit Phantomspeisung ( K6 P )
Der Speiseadapter K6P bezieht die Versorgung für die Mikrofonmodule nur
über die Anschlußleitung (Phantomspeisung).
---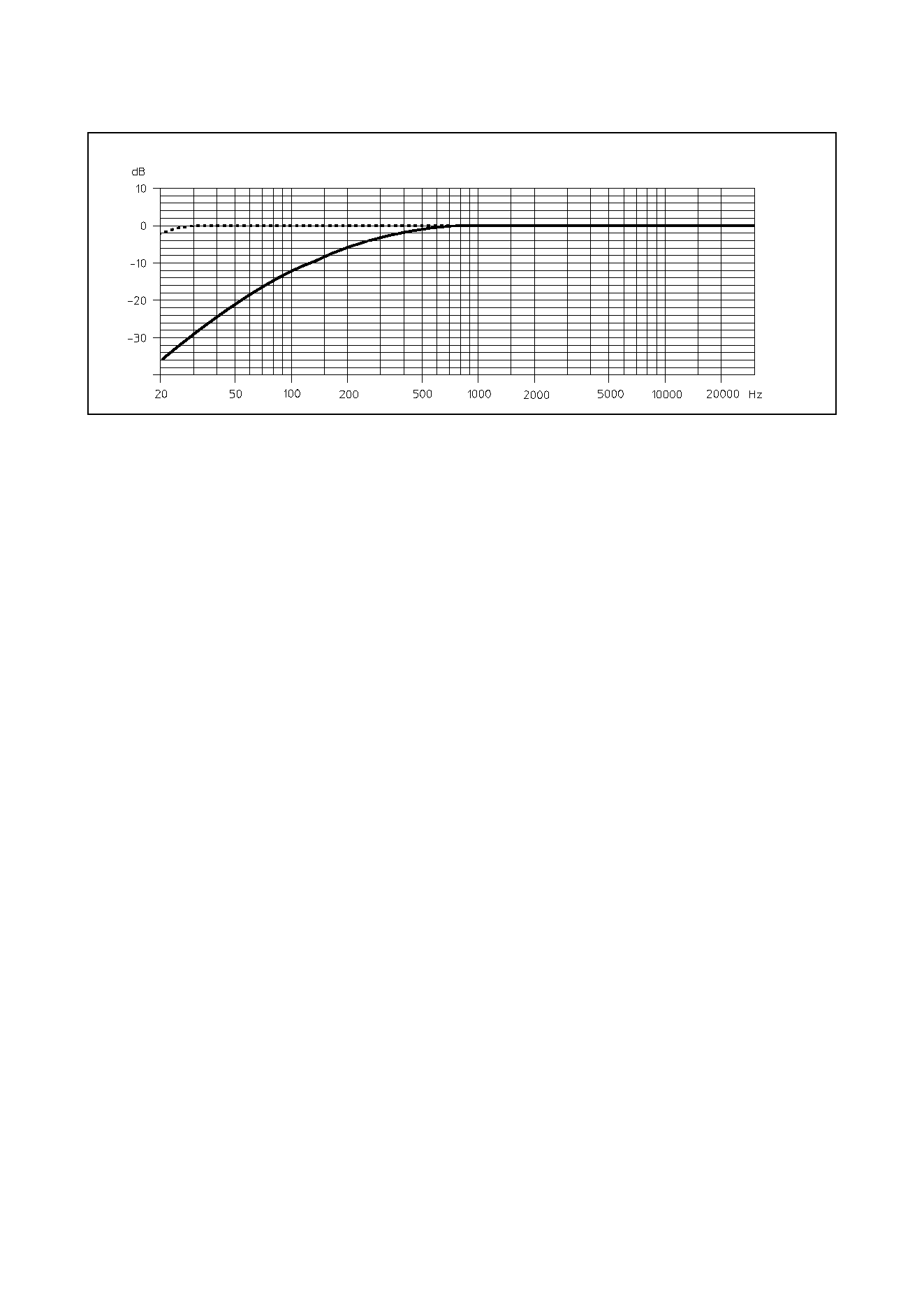 Der Tiefenfilter B unterdrückt optimal Störungen durch Körperschall,
Trittschall, Windgeräusch und Popgeräusche.
Technische Daten K6 (k6P)
Empfohlene Abschlußimpedanz
max. Leerlaufausgangsspannung
symmetrisch transformatorlos
Betriebszeit mit einer Batterie
netto: 94 x Ø 22 (K6P: 55 x Ø 22) *
brutto: 155 x Ø 22 (K6P: 112 x Ø 22)
* Dieses Maß müssen sie zur Länge des entsprechenden Mikrofon-Modules
dazuzählen, um zur Gesamtlänge des enstandenen Mikrofones zu gelangen.
Wirkung des Tiefenfilters B:
---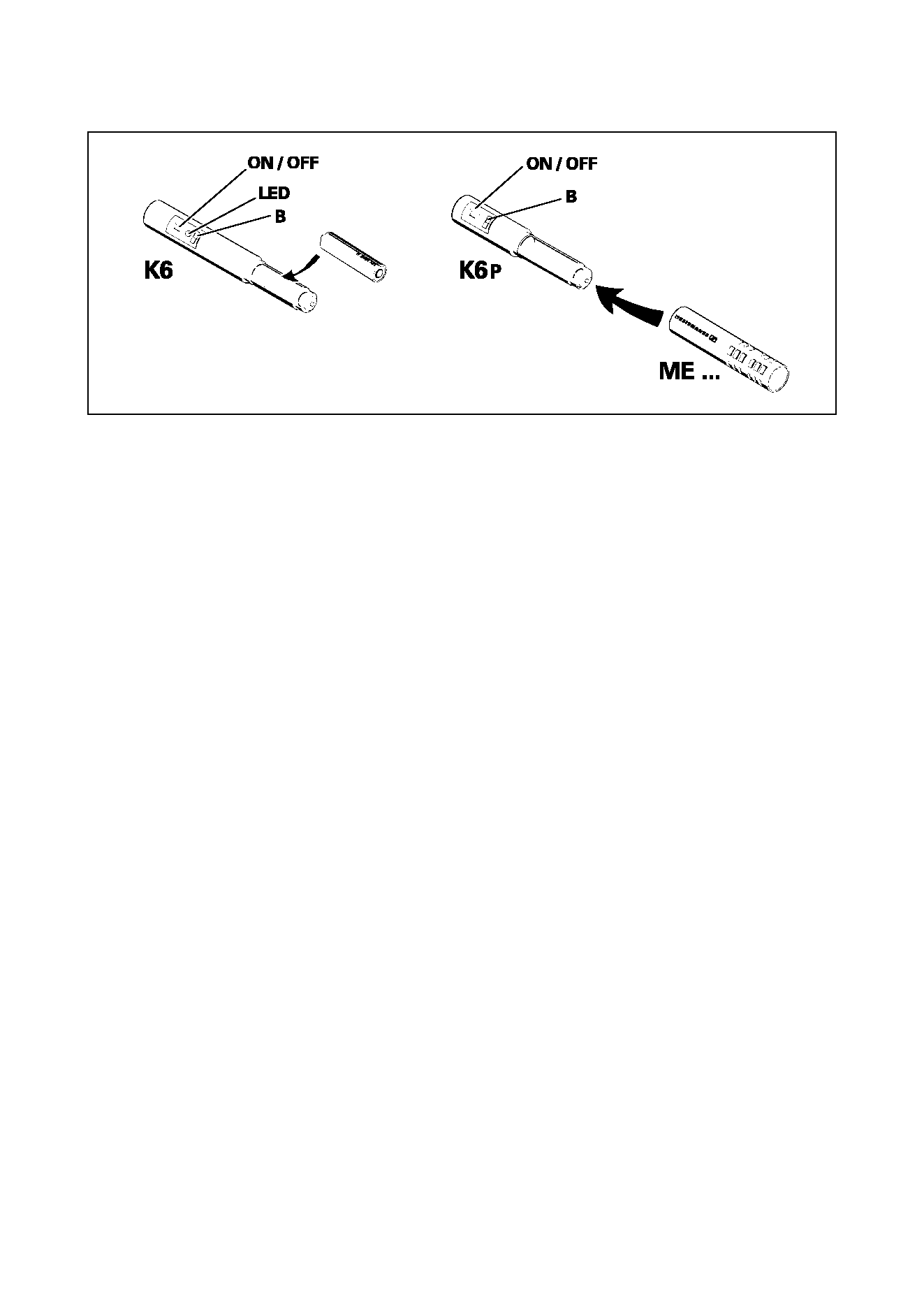 K6 / K6
P
Powering modules
The K6 and K6P powering modules power the various microphone heads of the
K6 modular microphone system and provide them with a balanced microphone
level output. The powering module is also the microphone body for the different
heads. Please refer to the enclosed system overview for possible combinations.
Powering module for battery or phantom powering. Switchable bass
roll-off filter, on/off switch with battery condition indicator.
Powering module for phantom powering only. Switchable bass roll-off
Versions supplied without accessories.
Identical to K6, but with lower sensitivity.
Battery operation (K6 only)
Insert a 1.5V AA (LR6) size battery (taking care to observe the correct
polarity) into the powering module and screw on a microphone head.
Switch the microphone on, checking the battery condition (the LED will blink
as the powering module is switched on). If the LED is bright, the battery
capacity is OK, if it is dim, the battery is low and should be replaced.
When the powering module is connected to a phantom power
source, it automatically switches from battery to phantom power
operation, thus conserving the battery.
Phantom power operation (K6 and K6P)
Both the K6 and K6P powering modules can be powered by 12-48V DC
phantom power via the connection cable (phantom powering).
---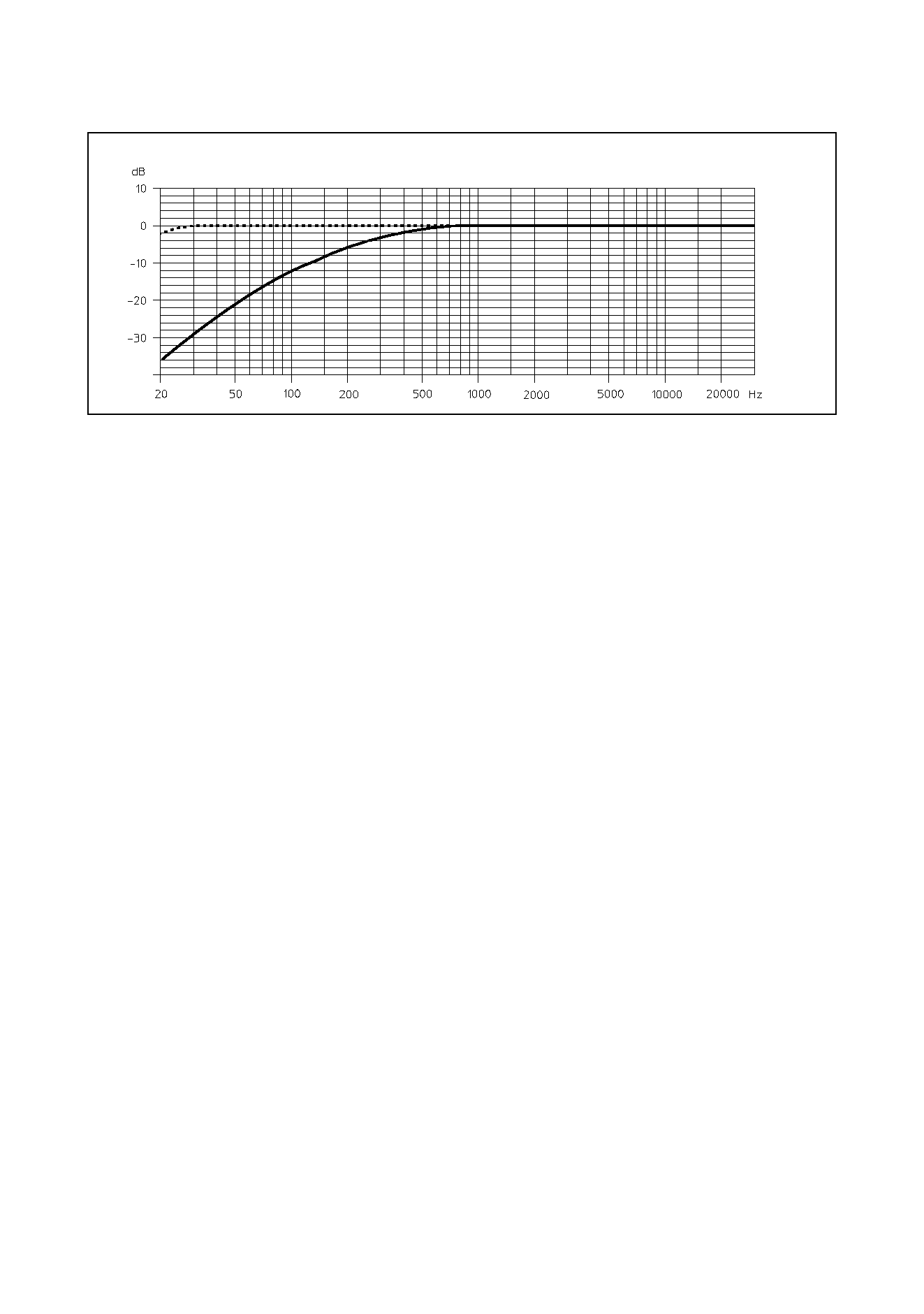 Effect of the bass roll-off filter (B)
The bass roll-off filter (B) (see drawing on previous page) effectively rejects
rumble, handling, pop and wind noises, as well as reducing the proximity effect
when used in close miking situations.
(bal.), approx. 100 (unbal.)
Min. terminating impedance
Max. output voltage (no load)
Output transformerless, balanced
Battery operating time (K6 only)
155 x Ø 22 (K6P 112 x Ø 22)
K6: 45g (without battery)
* Resultant length: this is the figure you need to add to the capsule length to give
the overall length of the complete microphone.
---