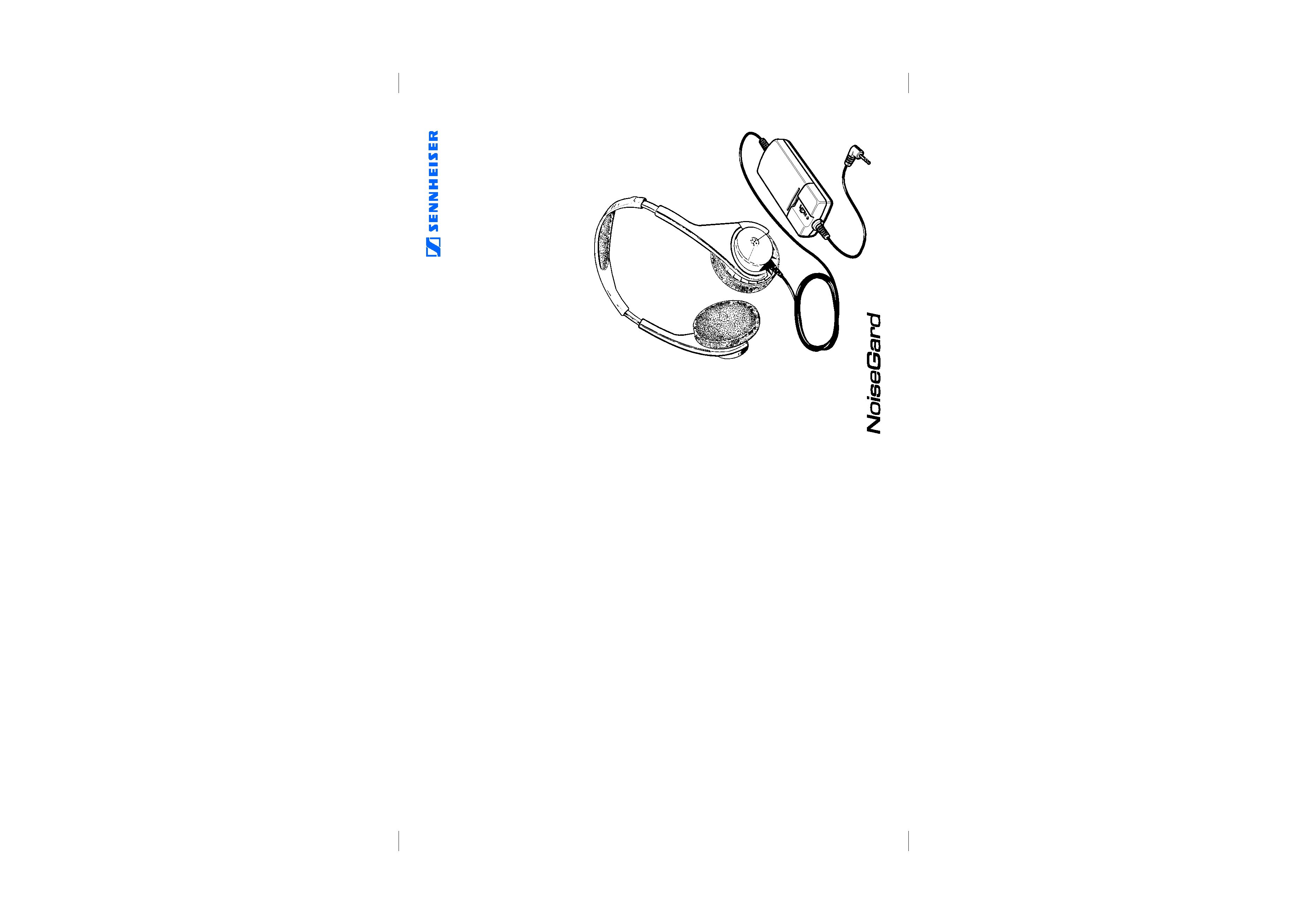 INSTRUCTIONS POUR L`USAGE
INSTRUCCIONES PARA EL USO
---

Lärm - wo begegnet er uns nicht!
Ob am Arbeitsplatz, in der häuslichen Umgebung, in öffentlichen Verkehrsmitteln,
auf Flug-, Bahn- oder Busreisen - eigentlich begleitet er uns überall.
Die negativen Auswirkungen dieser Lärmbelästigungen sind durch Studien belegt
und auch jeder von uns wird sie schon gespürt haben:
sind nur die augenscheinlichen Auswirkungen auf den Organismus. Lärm wirkt
zudem auf das vegetative Nervensystem und kann zu Dauerschäden des Gehörs
Die Quellen des Lärms sind vielfältig und nur zu oft für den einzelnen nicht
abzustellen. Daher kann nur der persönliche Schutz an einem lärmerfüllten Ort
Mit dem System
NoiseGard
TM
hat Sennheiser eine wirkungsvolle Lösung realisiert.
Das Funktionsprinzip und die Bedienung werden Ihnen in dieser Anleitung
Schallpegel von Lärmquellen
Düsentriebwerk (25m Entfernung)
Schmiedehammer, Betonwerk
Die Maßeinheit für Schallpegel ist das Dezibel (dB). Eine Lärmdämpfung um 10 dB wird allge-
mein als Halbierung der Lautstärke empfunden, weitere 10 dB Dämpfung ergeben eine um 75%
reduzierte Lärmempfindung u.s.w.
Bedienungsanleitung..........................................................................................................3
Instructions for use...........................................................................................................7
Instructions pour l´usage...............................................................................................11
Istruzioni per l`uso...........................................................................................................15
Istrucciones para el uso.................................................................................................19
Gebruiksaanwijzing........................................................................................................ 23
---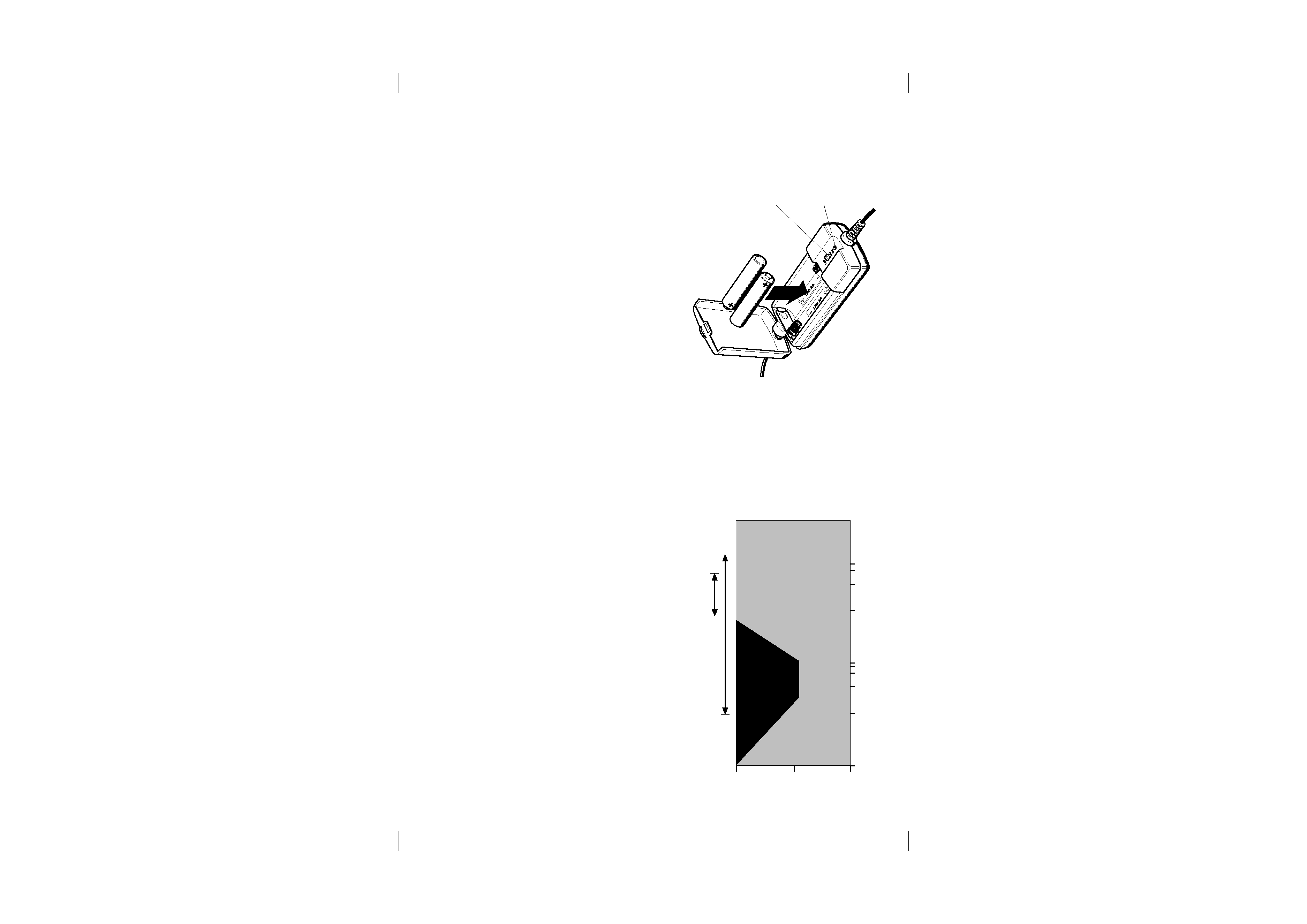 Reduzierung des subjektiv wahrgenommenen Geräuschaufkommens
sind dynamische Stereo-Kopfhörer, bei denen, zusätzlich zur Wiedergabe
eines Audiosignales, auf elektronischem Weg tieffrequenter Störschall kompensiert
wird. Diese aktive Lärmkompensation funktioniert nach dem physikalischen
Prinzip, dass sich Schall und ,,Antischall" (um 180
°phasen-verschoben) gegenseitig
Ungestörter Musikgenuss wird möglich, ohne die Lautstärke so laut einstellen zu
müssen, dass die Umweltgeräusche übertönt werden.
Die
NoiseGard
TM
-Kompensationselektronik im Kopfhörer benötigt eine eigene
Stromversorgung. Diese liefert das fest mit dem Hörerkabel verbundene Speiseteil.
Der Anschluss des Kopfhörers bleibt wie gewohnt über einen 3,5 mm Stereo-
Klinkenstecker, gegebenenfalls mit einem Adapter auf zwei 3,5 mm
Monoklinkenstecker (im Flugzeug) oder über einen 6,3 mm-Adapter (an der HiFi-
Anlage daheim). Beide Adapter werden mitgeliefert.
Geräuschkompensation mit NoiseGard
TM
Erster offener Stereo-Kopfhörer mit aktiver Lärmkompensation
NoiseGard
TM
Dieser offene Stereo-Kopfhörer mit aktiver Lärmkompensation ist mit 110 g
ausgesprochen leicht und zeichnet sich durch einen hohen Tragekomfort aus. Die
Ankopplung an das Ohr erfolgt ohraufliegend.
Beim Tragen von
NoiseGard
TM
HDC 451 bleiben Sie ansprechbar,
die Stimme Ihres Gesprächspartners wird kaum verändert, da der
Sprachfrequenzbereich von der Kompensation nahezu unbeeinflusst bleibt.
Warn- oder Notsignale bleiben hörbar.
Die Sprachverständlichkeit verbessert sich durch die Verwendung von
NoiseGard
TM
,
da die ,,Aufwärtsverdeckung" durch den tieffrequenten Schall entfällt.
EIN/AUS-Schalter für die Stromversorgung der Kompensationselektronik an der
Batteriebox. Zur Kontrolle leuchtet eine grüne LED.
Ist die Stromversorgung ausgeschaltet oder sind die Batterien erschöpft, bleibt der
KopfhörerwieeinnormalerKopfhörer ohneLärmkompensation weitereinsatzbereit.
Einlegen der Batterien im Speiseteil
Reduzierung des subjektiv
---

einseitig, Länge gesamt 2 m mit 3,5 mm ø
Stereoklinkenstecker für Audiosignal
grüne LED zur Bateriekontrolle
1 Adapter auf Doppel-Monoklinkenstecker
1 Adapter auf Stereoklinkenstecker 6,3 mm
dient der Geräuschverminderung
zur Erhöhung des Komforts.
Mit einem Kopfhörer wird gern lauter als mit
Lautsprechern gehört. Hohe Lautstärke, die
über längere Zeit auf Ihre Ohren einwirkt,
kann zu dauerhaften Hörschäden führen.
Schützen Sie Ihr gesundes Gehör, Sennheiser-
Kopfhörer klingen auch bei niedriger
Lautstärke besonders gut ...
Noise - can we ever escape it?
At work, at home, in public transport, on `plane, train or bus journeys - noise is with
Studies have verified the negative effects of noise, and every one of us will have
noticed them at one time or another:
These are only the obvious effects on the human organism. Noise also affects the
vegetative nervous system, and can permanently damage the hearing.
The sources of noise are many and diverse and, all too often, cannot simply be
turned off. So, in noisy places, personal protection is the only remedy.
With the
NoiseGard
TM
system, Sennheiser have come up with an effective solution.
These instructions explain its functioning principle and operation.
Sound level of noise sources
Jet engine (at a distance of 82 ft)
Forging hammer, concrete works
Metal die-casting machine
The unit of measurement is the decibel (dB). A noise reduction of 10 dB is generally perceived
as a halving of the noise level. If the noise is reduced by a further 10 dB, this is perceived as a
75% noise reduction, and so on.
---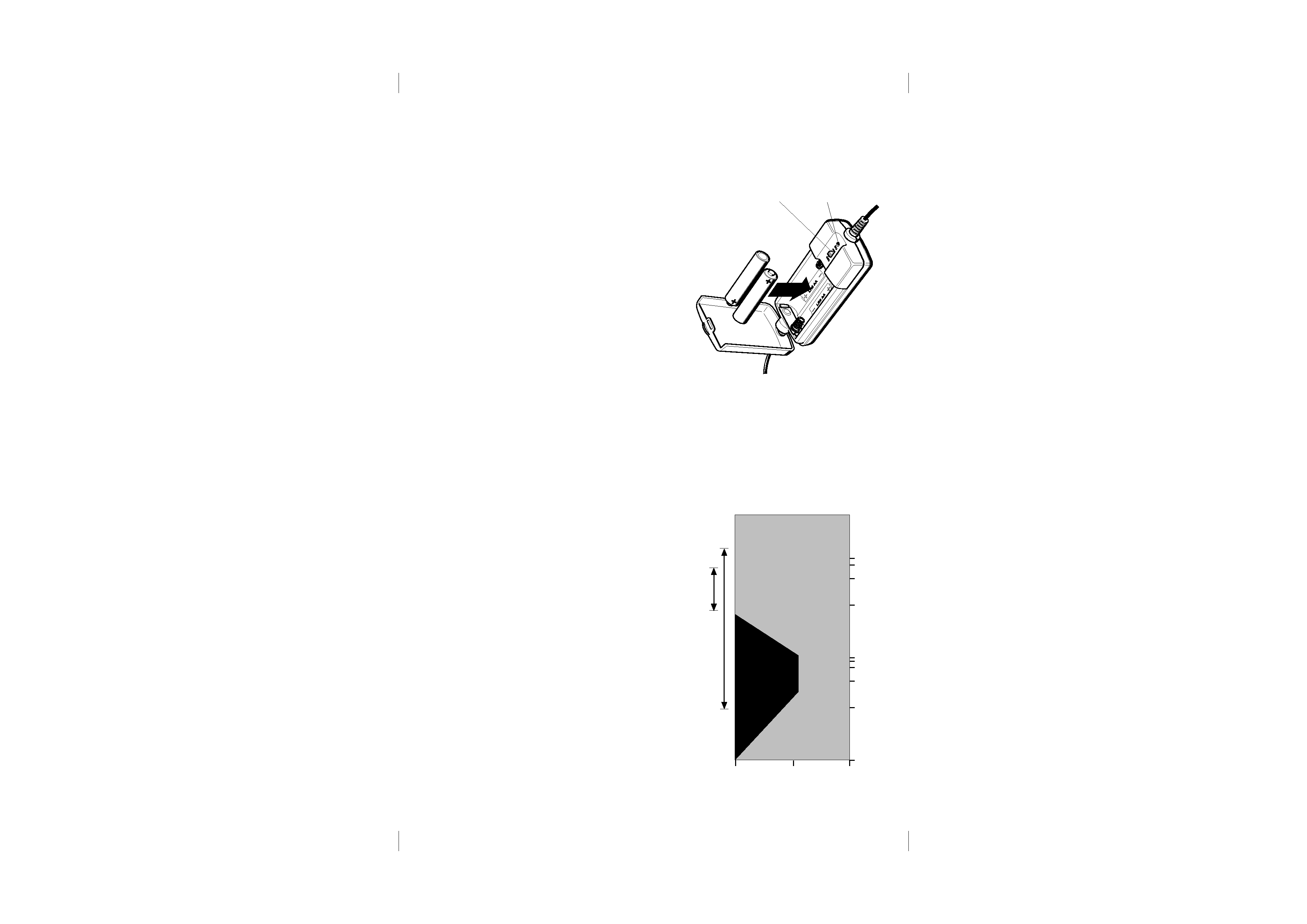 Reduction of subjectively perceived noise level
are dynamic stereo headphones which, in addition to transmitting an
audio signal, also electronically compensate low-frequency noise. This active noise
compensation functions according to the physical principle that noise and ,,anti-
noise" (exactly reversed in phase) cancel each other out.
So, now you can enjoy your music undisturbed, without having to turn the volume
up so high that surrounding noise is completely drowned out.
The
NoiseGard
TM
compensation electronics in the headphone requires its own power
supply. This is provided by the power supply unit which is fixed to the cable.
The headphone is connected in the usual manner by a 3.5-mm stereo jack plug, by
an adapter to two 3.5-mm mono jack plugs (in aircraft) or by means of a 6.3-mm
adapter (to the hi-fi unit at home). Both adapters are supplied.
Noise compensation with NoiseGard
TM
The first ,,open-air" stereo headphone with
NoiseGard
TM
active noise compensation
At just 110 g, this ,,open-air" stereo headphone with active noise compensation is
extremely light and provides excellent wearer comfort. Sound coupling to the ear
When you are wearing the
NoiseGard
TM
HDC 451 you will still be able to join
in conversation - the voice of the person talking to you is scarcely changed,
since the speech frequency is practically unaffected by compensation.
Warning or emergency signals remain audible.
Understanding speech is even improved by
NoiseGard
TM
, as ,,upward-masking"
by low-frequency sound is eliminated.
ON/OFF switch for the power supply to the compensation electronics is situated
on the battery box. A green LED lights up as a check.
If the power supply is switched off or the batteries are worn out, the headphone
can still be used as a normal headphone without noise compensation.
Inserting the batteries in the power supply unit
---