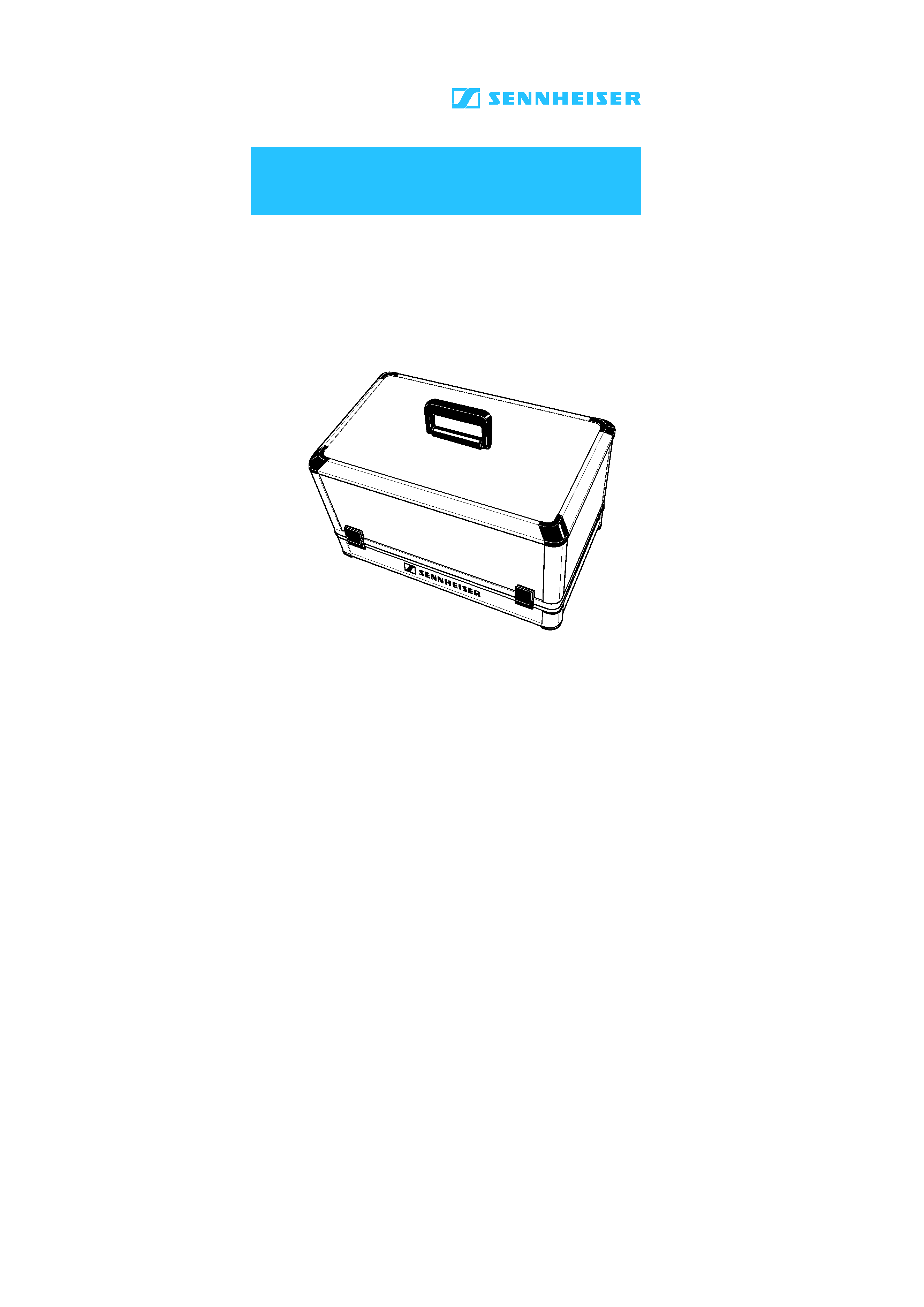 Ladekoffer für 20 HF- und IR-Kinnbügelempfänger
Charging and transport case for up to 20 tourguide receivers
Malette de rangement et de recharge pour 20 récepteurs stéthoscopiques HF
Valigetta di ricarica per 20 ricevitori HF e a staffa sottomento
Maletin de carga para 20 receptores de alta frecuencia
Laadkofer voor 20 HF- en IR-kinbeugelontvangers
Instrucciones para el uso
---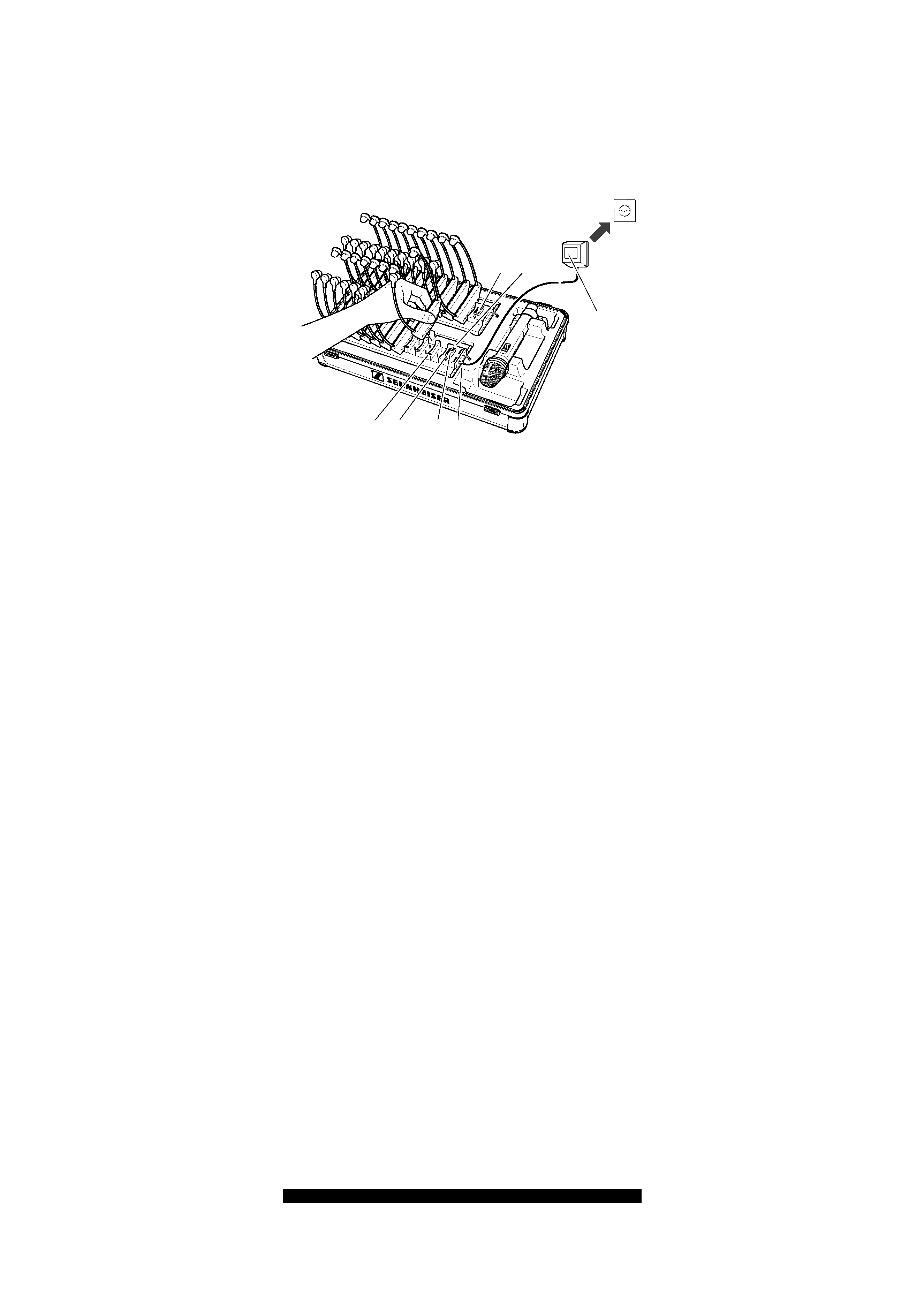 Koffer zum Aufbewahren und zum Transport von 20 HF-Empfängern
HDE 1030 (alle Versionen) und einem Mikroport-Handsender SKM 1030 mit Ladegerät
L 1032. Ebenfalls geeignet: IR-Empfänger HDI 1029 (alle Versionen). Im Ladekoffer
befinden sich 2 Ladeleisten L 1030-10, in denen insgesamt 20 Empfänger aufbewahrt
und geladen werden können.
in die Steckdose stecken. Anschluß
an eine der beiden Ladeleisten
L 1030-10 herstellen. Die beiden Ladeleisten sind untereinander elektrisch verbunden.
Nach ca. 2 Sekunden leuchtet die LED "CHARGE"
, das Gerät ist betriebsbereit.
Beim Einstecken der Stromversorgung wird automatisch auf Ladung (16 h) geschaltet,
leuchtet. Die Kontroll-LEDs
an den belegten Ladefächern
zeigen die Ladung zusätzlich an.
Zum Laden die Empfänger ausschalten und in die Ladeschächte einstecken.
Der Normal-Ladevorgang wird durch die Tasten
gestartet. Der Ladevorgang
wird durch rotes Licht der Kontroll-LEDs
an den Ladefächern und durch die
Die Ladung erfolgt automatisch (zeitgesteuert) und ist nach 16 Stunden
beendet, die LED "CHARGE"
Nach 16 Stunden Laden wird auf Erhaltungsladung umgeschaltet. Die LED "TRICKLE"
leuchtet nun. Die Akkus werden nun mit kleinem Strom (1,5 mA) weiterversorgt.
Diese Ladung ist zeitlich nicht begrenzt, sie gewährleistet, daß die Akkus auch nach
längerer Nichtbenutzung voll geladen zur Verfügung stehen.
Der Ladevorgang "CHARGE" kann nicht unterbrochen werden. Weitere
setzt die Zeitschaltung zurück, der Ladevorgang
Auch ein Netzausfall setzt die Zeitschaltung zurück, der Ladevorgang startet
Die Empfänger müssen vor dem Laden ausgeschaltet werden!
Bedienungshinweise zu HDE 1030, HDI 1029, SKM 1030 und L 1032 (inkl.
Netzteil) können Sie den entsprechenden Gebrauchsanleitungen entnehmen.
Ladestrom bei Normal-/Erhaltungsladung 4,6/1,5 mA
Gewicht ohne Empfänger und Sender
Kinnbügel-Empfänger, Handsender und
Ladegerät L 1032 sind nicht im
Akkus sollten nach jedem Gebrauch aufgeladen werden!
---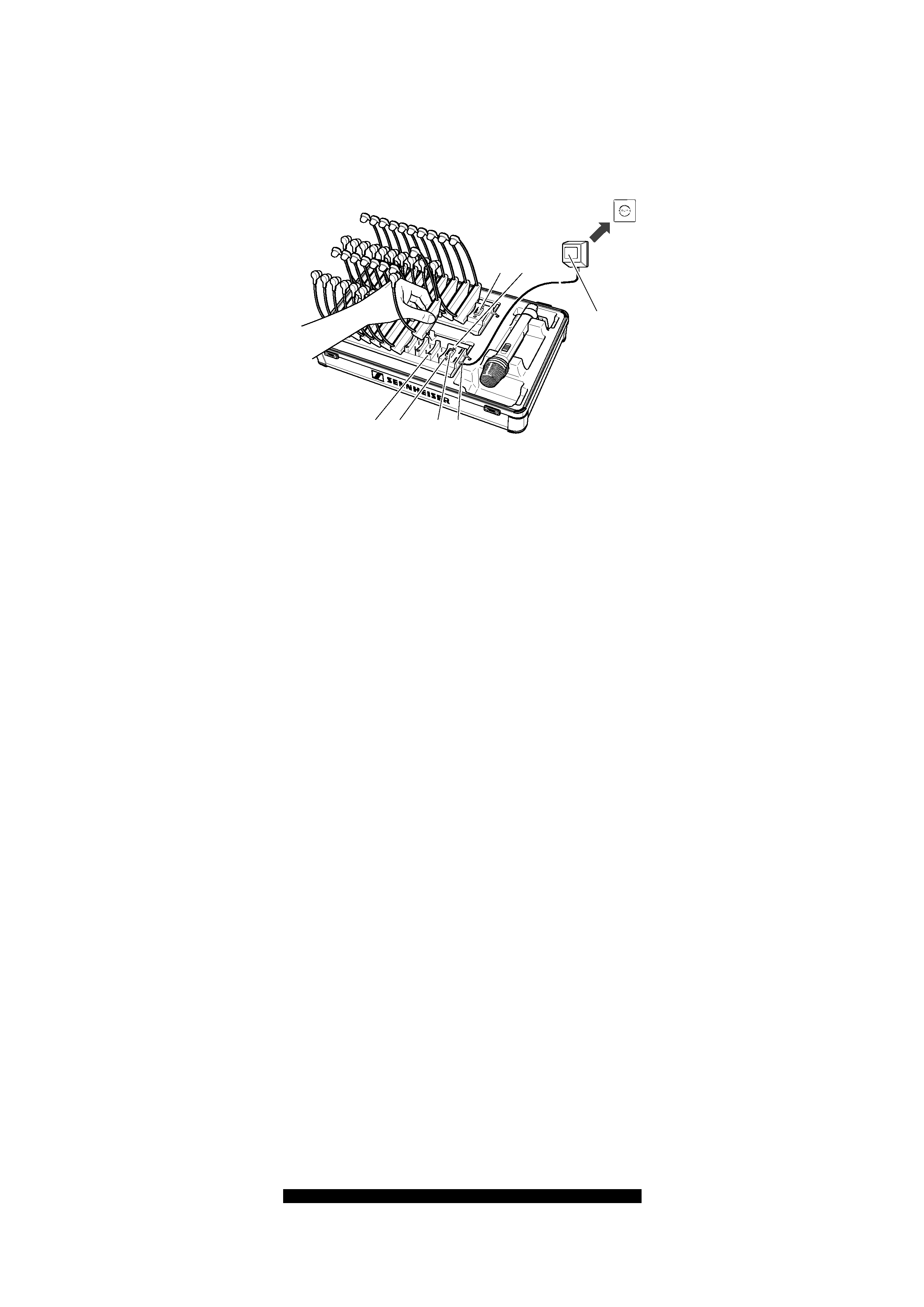 The EZL 1030-20 L charging and transport case can house up to 20 HDE 1030
tourguide receivers (all versions) and one Mikroport SKM 1030 hand-held transmitter
with the corresponding L 1032 charger (the case can also be used for HDI 1029
infrared receivers, if required). The case comes fitted with two L 1030-10 charging
units for recharging up to 20 receivers.
Putting the charging unit into operation
Plug the mains connector into the mains
, then connect the mains unit's power
supply cable to any of the two L 1030-10 charging units
. They are interconnected,
thus, the mains unit supplies both charging units. After approx. 2 seconds, the LED
lights up and the device is ready for operation.
As soon as one of the charging units is connected to the mains, the device automatically
switches to normal charging (16 hours). The red LED "CHARGE"
charging process is also indicated by the control LEDs
Switch off the receivers and and insert them into the charging compartments.
Starting the charging process
, the normal charging process begins. The charging
process is indicated by the red control LEDs
at the charging compartments
The automatic charging process (timer-controlled) will be completed after 16
After a charging time of 16 hours, the device automatically switches to trickle
charging. The LED "TRICKLE"
lights up. The accuplugs will now be supplied with a
small current (1.5 mA) to maintain their voltage. There is no time limit to this type
of charging, it will not damage the accuplugs. Trickle charging ensures that your
receivers are always ready for use, even when they have not been used for a long
The charging process "CHARGE" cannot be interrupted. By pressing button
again, the charging timer is reset and the charging process starts over again.
A power failure also resets the charging timer and the charging process starts
Switch off the receivers before starting the charging process!
For additional information on the use of the HDE 1030, HDI 1029, SKM 1030 and
L 1032 (incl. mains unit) please refer to the corresponding operating instructions.
Charging current at normal/trickle charge 4.6/1.5 mA
Always recharge the Accuplugs after use!
The stethoset receivers, the hand-held
transmitter and the L 1032 charger are not
included in the supply schedule.
---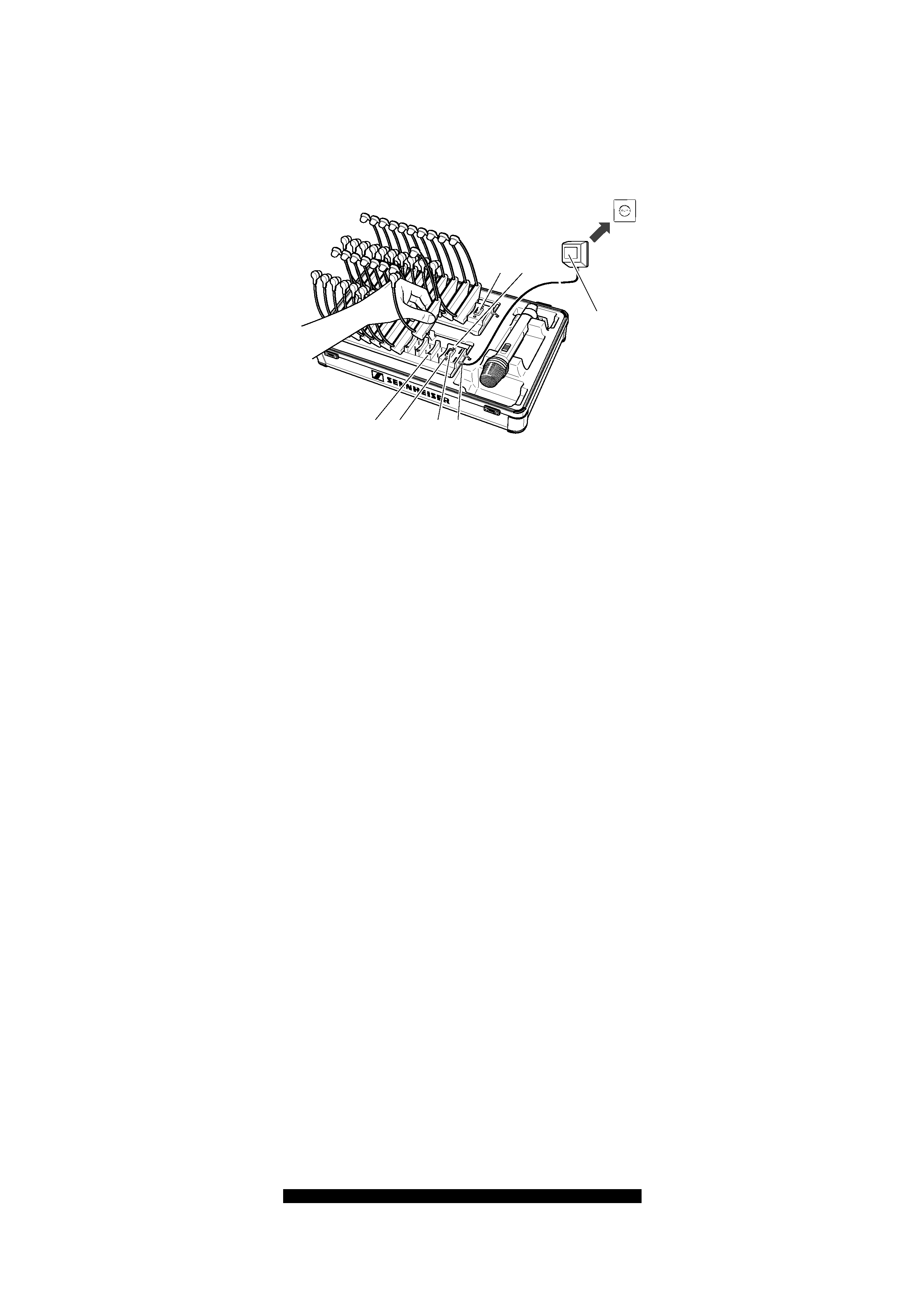 Mallette de rangement et de recharge pour jusqu'à 20 récepteurs stéthoscopiques
HDE 1030 (toutes les variantes) et un émetteur à main Mikroport SKM 1030 avec
chargeur correspondant L 1032 (en cas de besoin, la mallette peut également être
utilisée pour des récepteurs infrarouge HDI 1029). La mallette contient deux réglettes
de recharge pour recharger un nombre total de 20 récepteurs.
dans la prise secteur et établir la liaison
deux réglettes de recharge L 1030-10. Les deux réglettes sont liées, donc le bloc-
secteur alimentera les deux. Après environ deux secondes, la LED "CHARGE"
s'allume et l'appareil est prêt à fonctionner.
En branchent le bloc-secteur, l'appareil démarre automatiquement en charge (16 h)
s'allume. Le processus de recharge est également signalé
par l'allumage des LEDs de contrôle
au niveau des compartiments de recharge occupés.
Pour la recharge, éteindre les récepteurs et les enficher dans les compartiments de
pour démarrer la charge en mode "normal". Le
processus de recharge est signalé par l'allumage des LEDs rouges de contrôle
au niveau des compartiments de recharge et par la LED "CHARGE"
La recharge s'effectue automatiquement (de manière temporisée) et s'achève
au bout de 16 heures. La LED "CHARGE"
Après la recharge, l'appareil retourne automatiquement en charge d'entretien. La LED
s'allume. Un petit courant (1,5 mA) maintiendra alors la charge de vos
accus. Il n'y a pas de limite de temps pour ce type de charge, il ne peut pas
endommager les accus. La charge d'entretien assure que vos récepteurs sont toujours
prêts à être utilisés, même après des longues périodes de non-utilisation.
Le processus de recharge "CHARGE" ne peut pas être interrompu. Si vous
appuyez de nouveau sur la touche
, le fonctionnement du temporisateur est
annulé et le processus de recharge recommence à zéro.
Une panne de secteur annule également le fonctionnement du temporisateur.
Le processus de recharge recommence à zéro.
Eteindre les récepteurs lors de la recharge !
Pour de plus amples informations sur le HDE 1030, HDI 1029, SKM 1030 et
L 1032 (bloc-secteur inclus), veuillez consulter les notices d'emploi respectives.
Caracteristiques techniques
Compartiments de recharge
Courant de charge en mode normal/charge d'entretien 4,6 mA/1,5 mA
Temps de recharge des récepteurs
Blocs-secteur disponibles NT 92
RECHARGER LES ACCUS APRES CHAQUE UTILISATION !
Les recepteurs stethoscopiques,
l'emetteur a main et le chargeur
L 1032 ne sont pas inclus !
---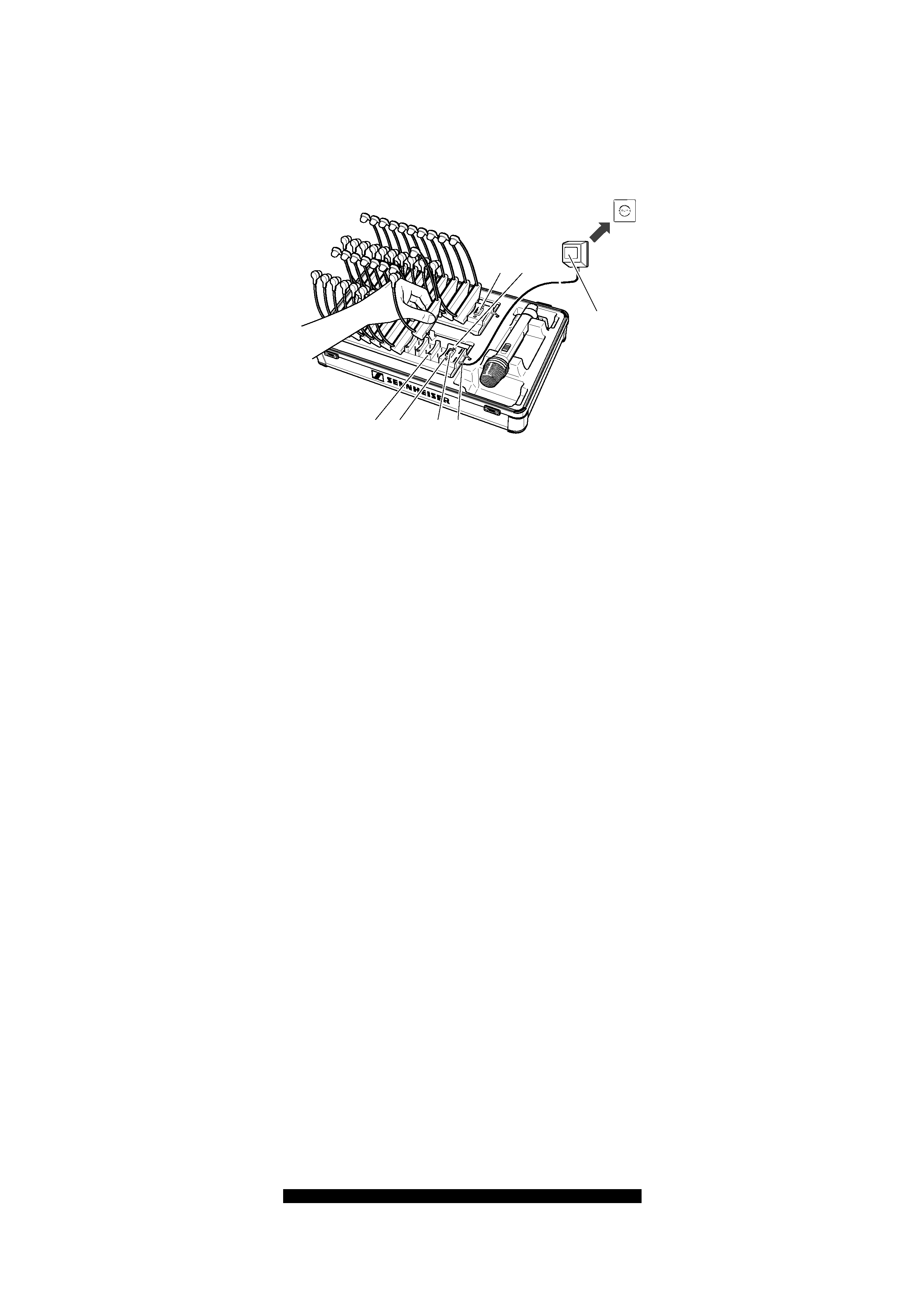 Valigetta per la custodia e il trasporto di 20 ricevitori ad alta frequenza HDE 1030
(tutte le versioni) e un trasmettitore manuale Mikroport SKM 1030 con apparecchio
di ricarica L 1032. Adatto anche: ricevitore IR HDI 1029 (tutte le versioni). Nella
valigetta di ricarica si trovano due basi di ricarica L 1030-10, nelle quali possono
essere custoditi e ricaricati 20 ricevitori in totale.
alla presa di corrente. Effetuate il collegamento
delle due basi di ricarica L 1030-10. Le due basi di ricarica sono collegate elettricamente
tra di loro. Dopo circa due secondi si accenderà il LED "CHARGE"
Con l'alimentazione viene automaticamente attivata la fase di ricarica (16 h), e il LED
si illumina. Anche i LED di controllo
dei vani di ricarica occupati
visualizzano che è in corso la ricarica.
Inserire i ricevitori spenti nei vani di ricarica della base.
La procedura normale di ricarica viene attivata attraverso i tasti
di ricarica viene indicata attraverso i LED di controllo
attraverso il LED "CHARGE"
La ricarica avviene automaticamente (regolato a tempo) e termina dopo 16 ore.
Dopo 16 ore di ricarica, viene automaticamente attivata la funzione di mantenimento
della carica. Il LED "TRICKLE"
si illumina. Gli accumulatori continuano ora ad essere
alimentati con una corrente piccola (1,5 mA). Questo tipo di ricarica non è limitato nel
tempo. Esso garantisce che i ricevitori siano a disposizione completamente carichi
anche dopo una interruzione di impiego prolungata.
La procedura di ricarica "CHARGE" non pu essere interrotta. Se viene
nuovamento premuto il tasto
, il tempo viene azzerato e la procedura di
Anche la mancanza di corrente azzera il tempo. La procedura di ricarica inizia
I ricevitori devono essere spenti prima di ricaricarli!
Per ulteriori instruzioni per l'uso relative a HDE 1030, HDI 1029, SKM 1030 e
L 1032 (incl. alimentatore), Vi preghiamo di consultare il relativo manuale delle
Numero dei vani di ricarica
Corrente di ricarica per la carica normale/di mantenimento4,6/1,5 mA
Tempo di ricarica dei ricevitori
GLI ACCUMULATORI DOVREBBERO ESSERE RICARICATI DOPO OGNI IMPIEGO!
I ricevitori sottomento, il trasmettitore
E L'apparecchio di ricarica L 1032
Non sono compresi nella fornitura.
---