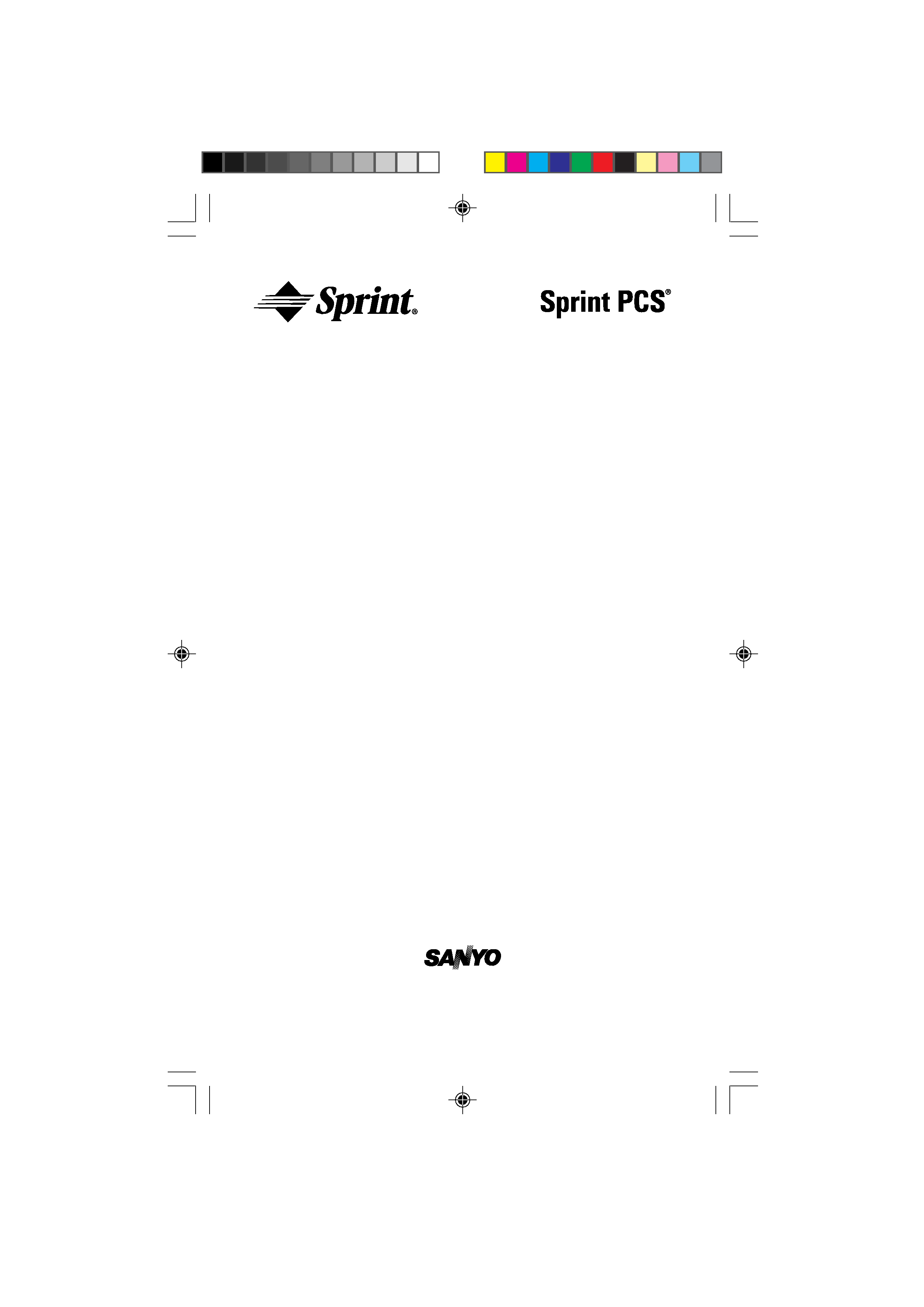 Please read this manual before operating the phone,
and keep it for future reference.
--- This phone will work only with service from Sprint PCS, which must be
purchased separately. See Sprint PCS Terms and Conditions of Service.
©1999 Sprint Spectrum L.P. All rights reserved. No reproduction in whole
or in part without prior written approval. Sprint, Sprint PCS Phone,
Sprint PCS, Sprint Personal Communication Services, Sprint PCS Wireless
Web, Sprint PCS Dialer and the diamond logo are trademarks of Sprint
Communications Company L.P. SANYO is a registered trademark of
SANYO Electric Co., Ltd. All other trademarks are the property of their
--- Sprint PCS built the only all-digital, all-PCS nationwide network
from the ground up for clearer calls. We have built our network to
give you what we believe you really want from a wireless phone:
clear sound, private conversation and time saving features.
But Sprint Personal Communication Service
potential to do something even more far-reaching­simplify your
Our advanced technology is designed to grow with your
communications needs so that one day, you will be able to rely
almost entirely on your Sprint PCS Phone
TM
to stay in touch.
This guide will introduce you to our technology and your new
Sprint PCS Phone through easy-to-follow instructions.
For additional help, just stop by any Sprint PCS Center or call
Sprint PCS Customer Care by pressing
Thank you for choosing Sprint PCS.
--- Read this before you do anything else.
Determine if your phone is pre-activated
If you received your Sprint PCS Phone
TM
in the mail or purchased
it at a Sprint PCS Center, your phone is already activated and
simply needs to be unlocked. See "How to unlock your phone" on
How to activate your phone
There are two ways to activate your phone.
1. The fastest way is to call from your new Sprint PCS Phone.
Fully charge your battery. (See "Using the battery" section
Turn on your Sprint PCS Phone.
Service Area. You will be connected to a Sprint PCS
Customer Advocate who will guide you through the
2. Another option is to call Sprint PCS Customer Care from any
phone other than your new Sprint PCS Phone. Call us toll-free
--- What you should know before you call
The call typically takes about 30 minutes, but may take longer at
peak times. Your Sprint PCS Phone will be ready for use
approximately one to three hours after this call is complete.
What you should have handy
Your new Sprint PCS Phone
The original packaging for your new phone
Your Social Security number or Tax ID number
Your driver's license number
Pen and paper to write down your new Sprint PCS Phone
During this call, a Sprint PCS Customer Advocate will collect your
information and help you select your Sprint PCS Service Plan.
Once you have made all your selections, they will guide you
through the activation process.
If you received your phone in the mail, you need to unlock it
before you can begin making calls. Just follow these simple steps:
1. Press
POWER
to turn on the phone.
---