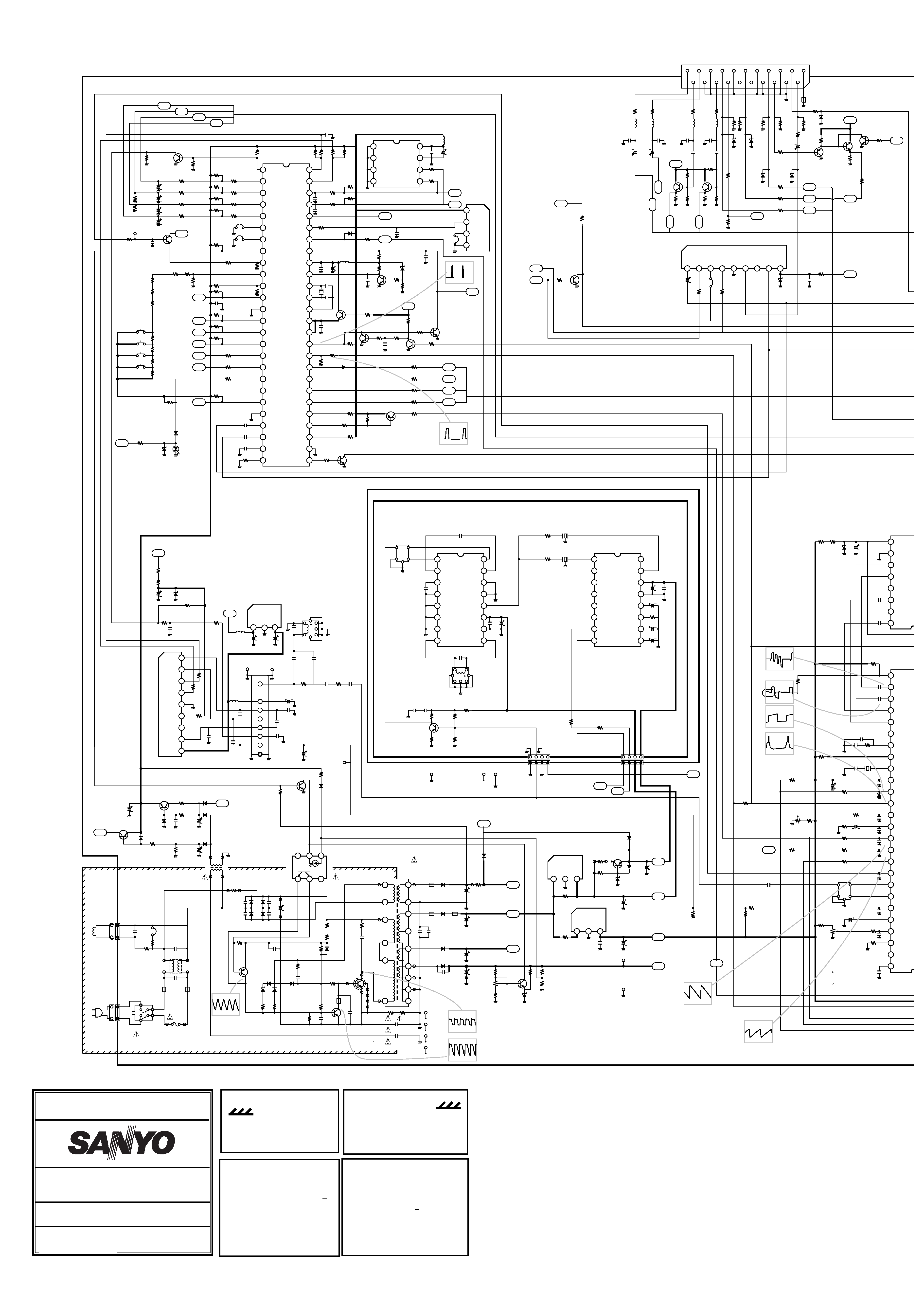 The area enclosed by this line
) is directly connected with
AC mains voltage. When servicing the
area, connect an isolating transformer
between TV receiver and AC line to
eliminate hazard of electric shock.
NOTIZIE SULLA SICUREZZA DI FUN-
Ogni sotituzione di componenti va fatta
tenendo conto della sicurezza di funzion-
amento. I componenti indicati sollo
schema con il simbolo /!\ hanno partico-
lare importanza per il sicuro funziona-
I suddetti componenti devono essere
sostituti esclusivamente con quelli indi-
L'area inclusa in questa linea (
è collegata direttamente con la tensione
della rete CA quando si serve l'area col-
legare un trasformatore isolante tra il
ricevitore TV e la linea CA per eliminare
il pericolo di scossa elettrica.
Product safety should be considered
when a component replacement is
made in any area of a receiver.
Components indicated by a mark /!\ in
this circuit diagram show components
whose values have special signifi-
cance to product safety. It is particu-
larly recommended that only parts
specified on the part service manual
be used for components replacement
Note sul diagramma di circuito :
1. Tutte i valori di resistenza sono in ohm,
2. Tutte le resistenze nominali watt sono di
1/6 a meno che sia specificato altrimenti.
3. Eccetto per i condensatori elettrolitici, tutti
i valori di capacitanza di meno di sono
espressi in µF, e di piu di 1 sono in pF. I
varoli di capacitanza elettrolitici sono in
4. Tutti volt di capacitanza nominali sono di
50V a meno cha sia indicato altrimenti.
5. Tutti valori di inductanza sono in µH.
6. I valori letti del voltaggio presi con un
"VTVM" proven gono dal punto indicato
sulla massa del chassis, i valori di voltag-
gio presi usando un segnale di barre col-
ore sono con tutti i controlli alle loro
posizioni normali ed il commutatore AFC in
posizione "OFF". Il voltaggio puo variare
con l'intensita del segnale.
7. Le forme di onda furono prese con il seg-
nale di barre colore e i controlli regolati
oppure le forme di onda di immagine nor-
male furono prese usando un oscillatore a
larga banda ed una sonda bassa capasità.
8. Rispetto a quando indicato su questo
schema possono essere state introdotte
9.s I diodo 1S1555 possono essere sostitutti
con 1S2473, 1S2076 oppure DS472 a
meno che sia specificato altrimenti.
s I transistori possono essere sostitutti con
2SC536(Q,R,S), 2SC1740(Q,R,S),
2SC1815(G,O,Y) a meno che sia speci-
s Il transistore 2SA608(E,F) puo essere
sostituito con 2SA933(Q,R),
2SA564(QA,RA), oppure 2SA1015(O,Y)
a meno che sia specificato altrimenti.
1. All resistance values are in ohms,
2. All resistance rated wattages are 1/6W
3. Excepting electrolytic capacitors, all
capacitance values of less than 1 are
expressed in µF and more than 1 are pF.
4. All capacitance rated voltages are 50V
5. All inductance values are in µH.
6. Voltage readings taken a digital voltmeter
are from point indicated chassis ground.
Voltage readings taken by using a colour
bar signal are with all controls at normal
position. Some voltages may vary with
7. Waveforms were taken with colour bar
and controls adjusted for normal picture.
Waveforms were taken by using a wide
band oscilloscope and a low capacity
---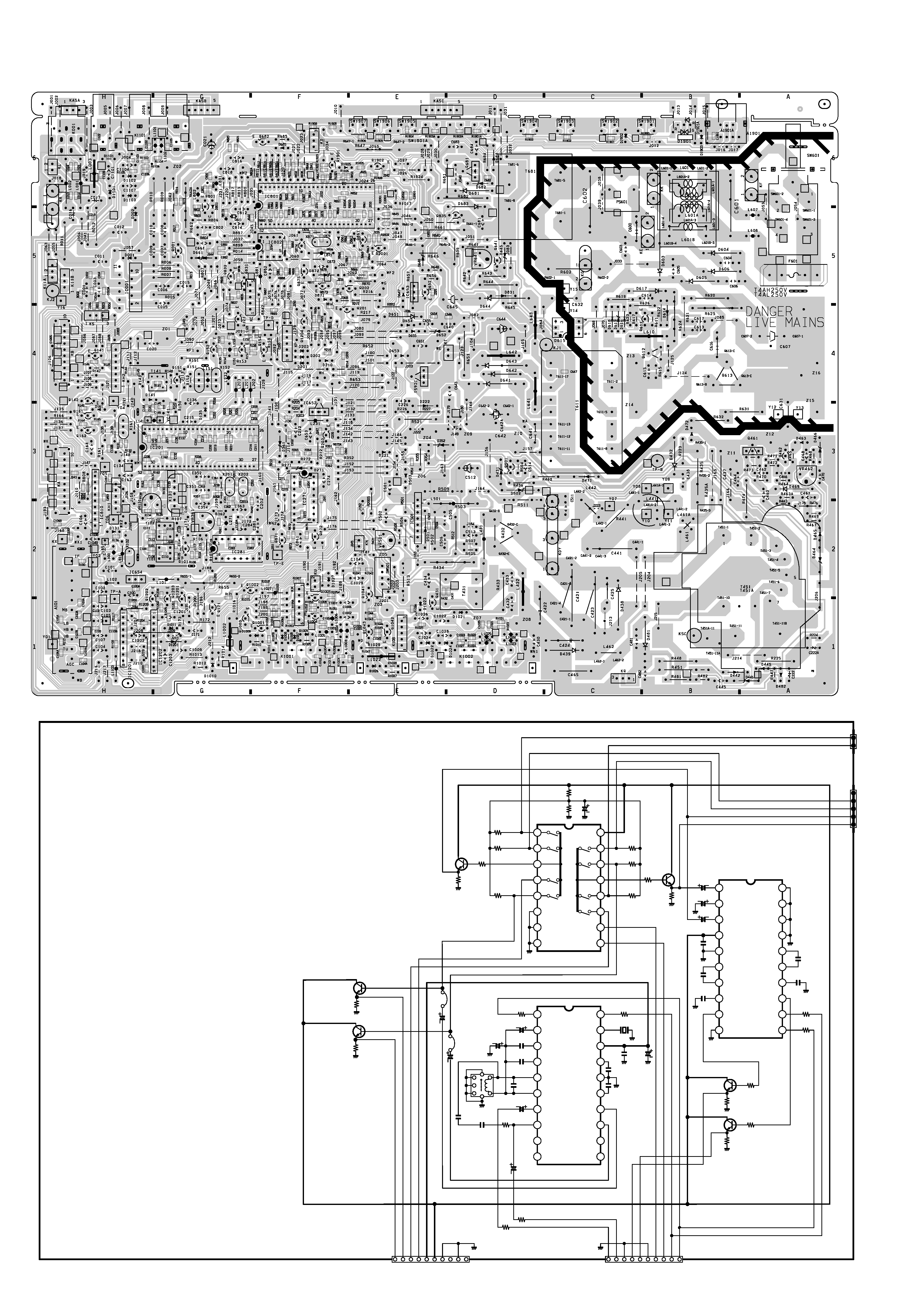 Main Board /Pannello Principal
Circuit side/Lato del Circuito
---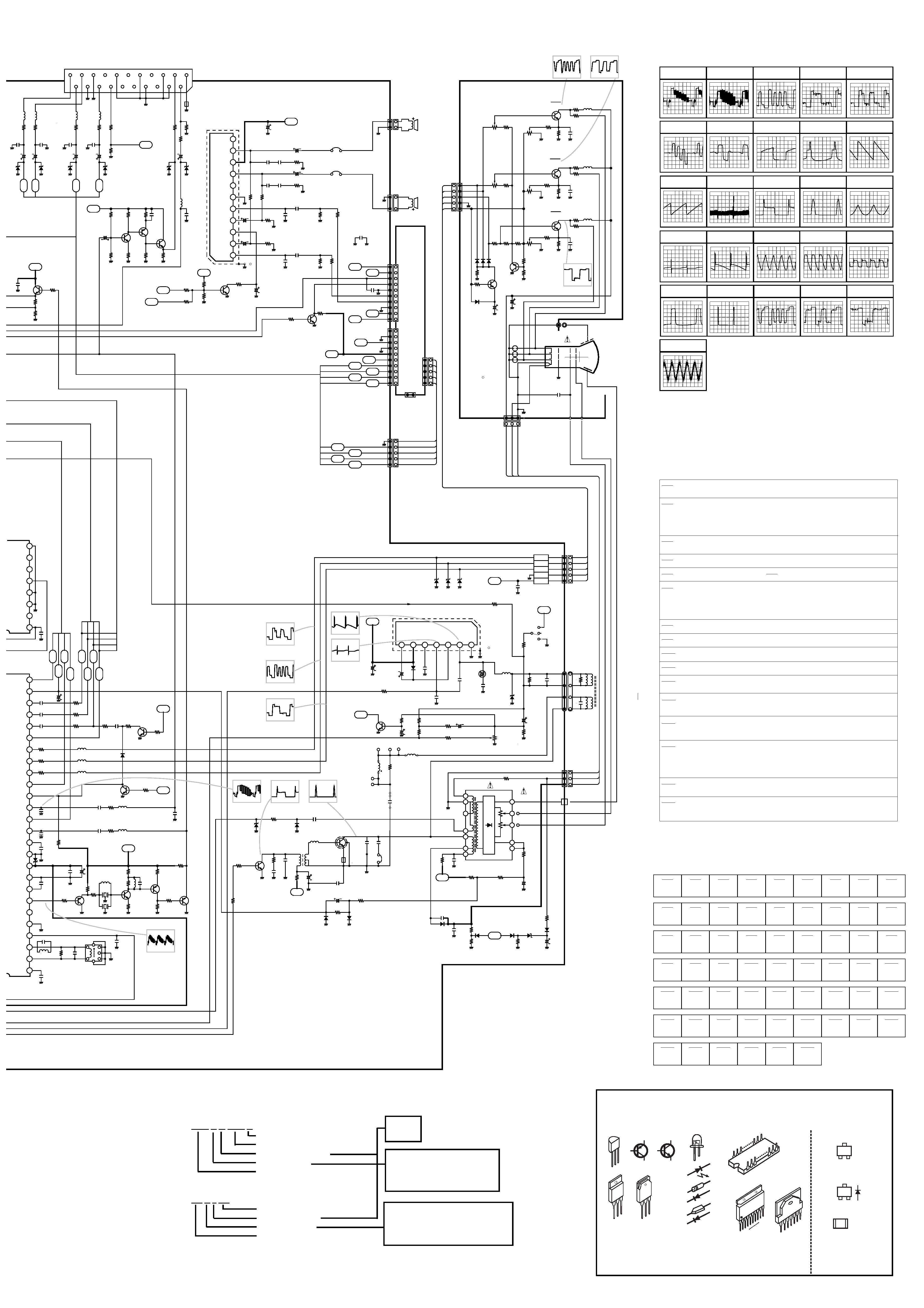 8. This circuit diagram covers a basic or rep-
resentative chassis only. There may be
some components or partial circuit differ-
ences between the actual chassis and
9. s Diode 1S1555 may be replaced with
1S2473, 1S2076 or DS472 unless oth-
s Transistor 2SC536(Q,R,S),
2SC1740(Q,R,S), 2SC945A(Q,R,P) or
2SC1815(G,O,Y) unless otherwise
s Transistor 2SA608(E,F) may be
replaced with 2SA933(Q,R),
2SA564(QA,RA), or 2SA1015(O,Y)
Expression of capacitance and resistance in circuit diagram.
Capacitance value (220pF)
T, A, U, D : Electrolytic
Waveforms on ICs and Transistors
Waveforms&Voltages(Nicam&A2) : EB4 Chassis
---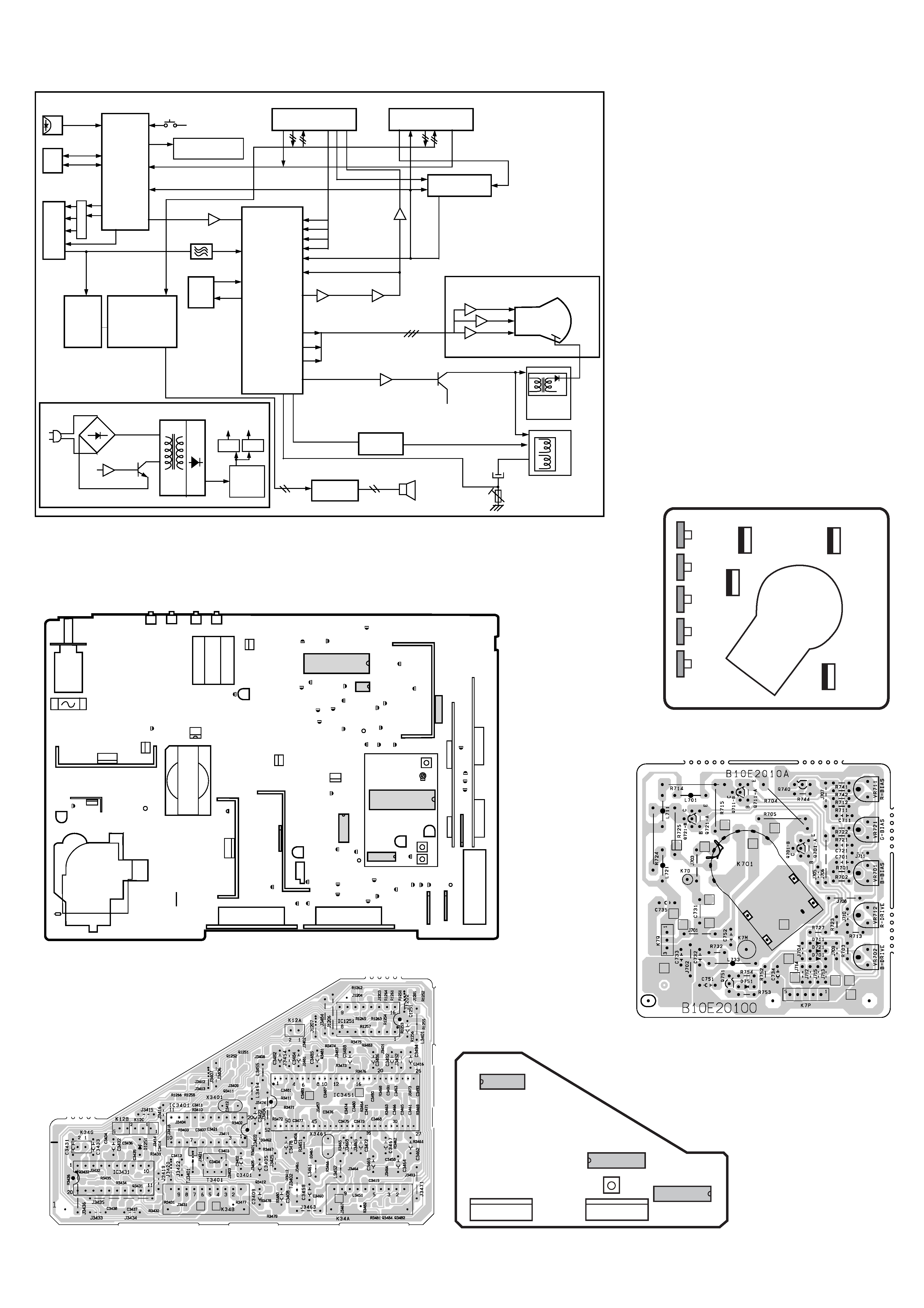 Main Board /Pannello Principal
Component Location/Lato del Componente
GENERAL BLOCK DIAGRAM FOR EB4 CHASSIS
CRT Board /Pannello Cinescopio
Audio Board /Pannello Audio
Component Location/Lato del
Circuit side/Lato del Circuito
Circuit side/Lato del Circuito
---