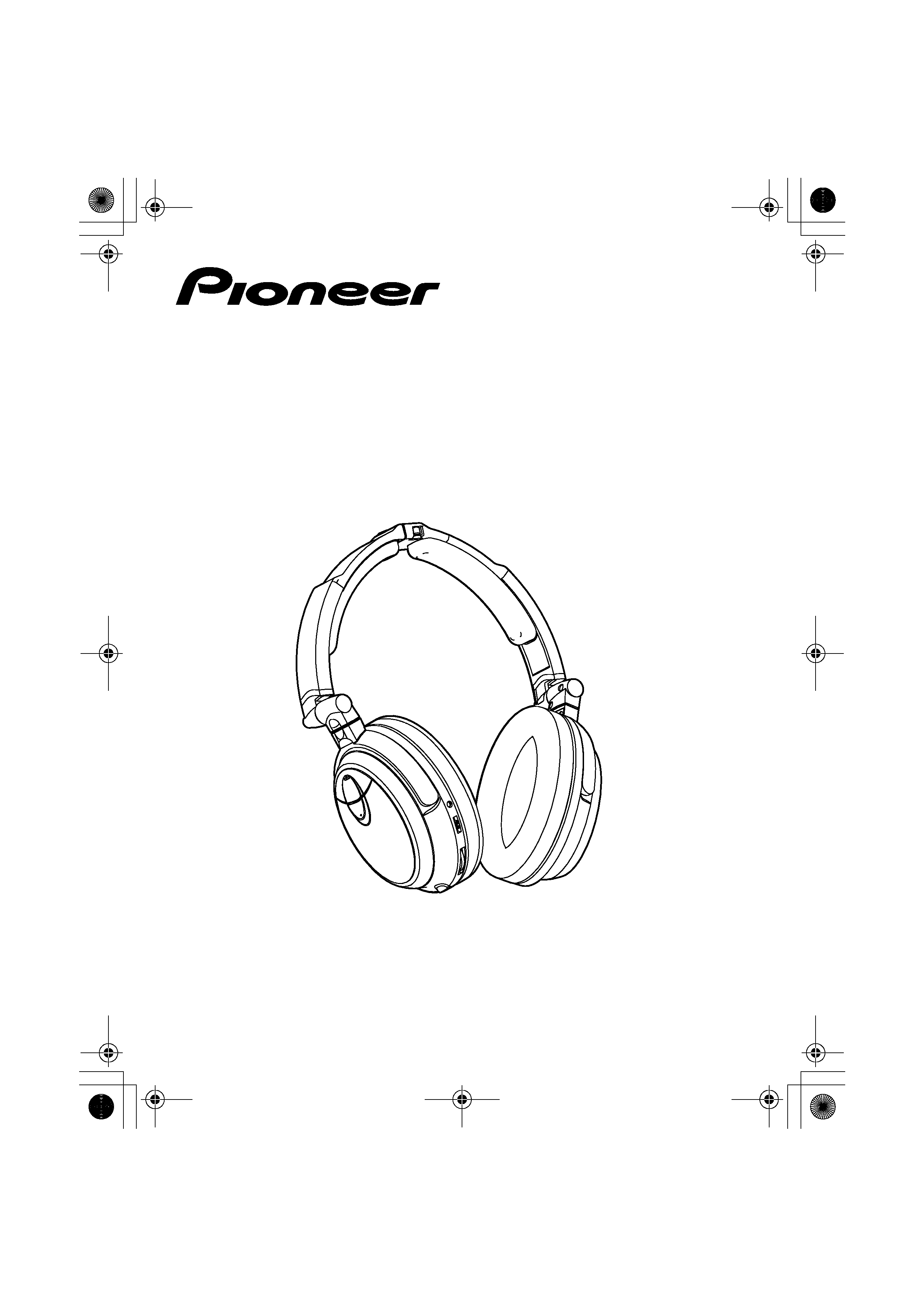 --- This product complies with the EMC Directive
If you want to dispose this product, do not mix it with general household waste. There is a separate collection system for used
electronic products in accordance with legislation that requires proper treatment, recovery and recycling.
Private households in the member states of the EU, in Switzerland and Norway may return their used electronic products free of charge to
designated collection facilities or to a retailer (if you purchase a similar new one).
For countries not mentioned above, please contact your local authorities for the correct method of disposal.
By doing so you will ensure that your disposed product undergoes the necessary treatment, recovery and recycling and thus prevent potential
negative effects on the environment and human health.
This product is for general household purposes. Any
failure due to use for other than household purposes
(such as long-term use for business purposes in a
restaurant or use in a car or ship) and which
requires repair will be charged for even during the
Alteration or modifications carried out without appropriate authorization may invalidate the user's right to operate
Do not use or store batteries in direct sunlight or
other excessively hot place, such as inside a car or
near a heater. This can cause batteries to leak,
overheat, explode or catch fire. It can also reduce
the life or performance of batteries.
When disposing of used batteries, please comply
with governmental regulations or
environmental public instruction's rules that
apply in your country/area.
Operating environment temperature and humidity:
+5 ºC to +35 ºC (+41 ºF to +95 ºF); less than 85 %RH
(cooling vents not blocked)
Do not install this unit in a poorly ventilated area, or in
locations exposed to high humidity or direct sunlight (or
To prevent a fire hazard, do not place any naked
flame sources (such as a lighted candle) on the
This equipment is not waterproof. To prevent a fire
or shock hazard, do not place any container filed
with liquid near this equipment (such as a vase or
flower pot) or expose it to dripping, splashing, rain
is a registered trademark of SRS Labs, Inc.
SRS Headphones technology is licensed from SRS Labs, Inc.
---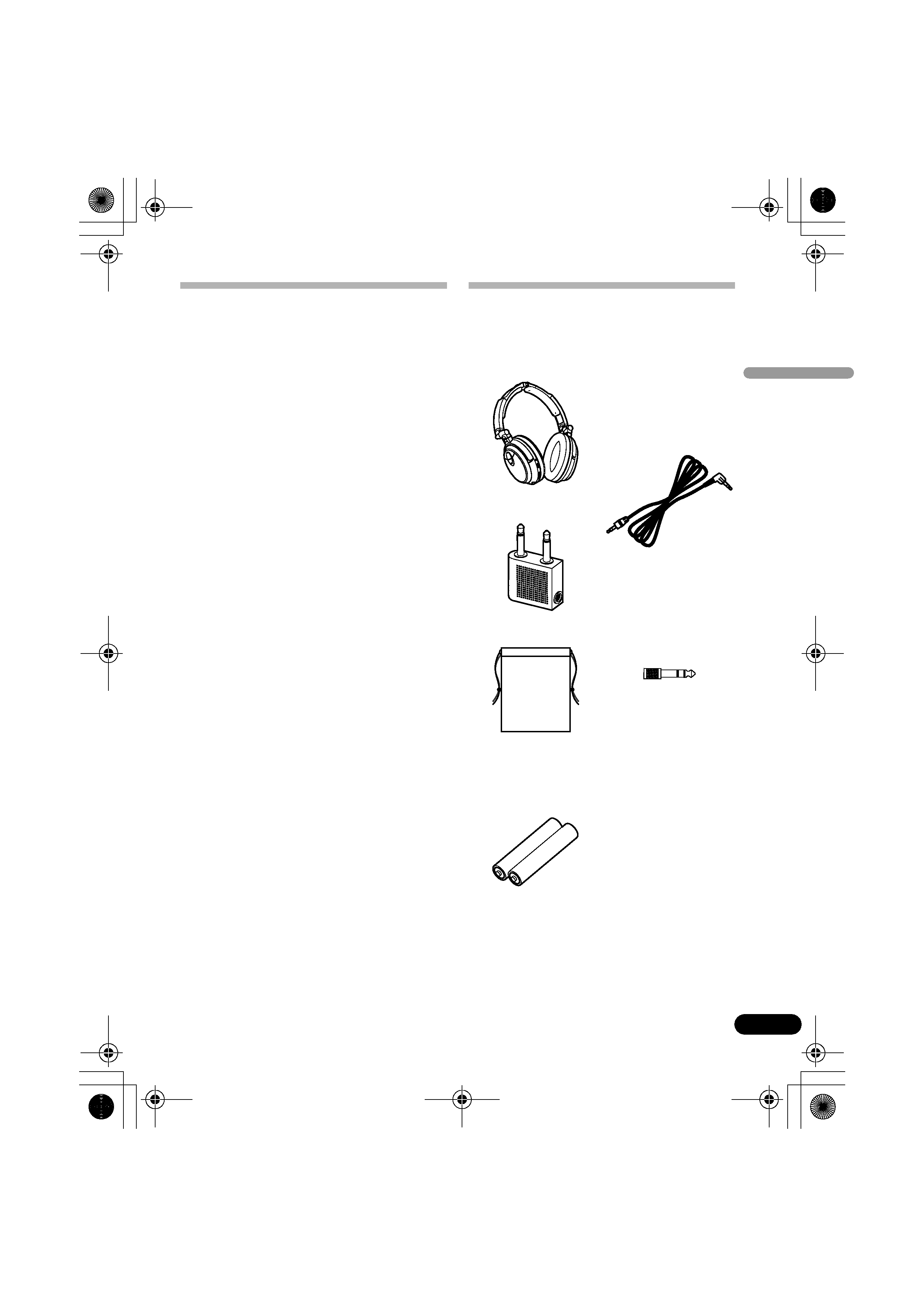 Supports noise canceling + surround to
enjoy a wide range of sound sources,
· Equipped with active noise canceling
function to reduce noise to 1/5th (300 Hz)
· Equipped with SRS Headphone surround
function, optimum for watching in-flight
Switchable between "noise canceling"
and "noise canceling + surround"
· Power can also be turned off for use as
Large-diameter unit closed type
headphones for powerful sound
· 40 mm large-diameter unit with high-
coercivity rare-earth magnets.
Easy-to-use, easy-to-store design
· Fold-up design for easy storage in a
· Includes volume control
· Supports detachable one-side cord
· ø 6.3 mm 3P plug adapter
· Detachable 1.5 m single-sided cable. 3.5 m
Regarding noise-canceling
This feature reduces ambient noise (in-flight
airframe noise, bus or other vehicular noise,
indoor air-conditioner noise, etc.) to 1/5th
normal levels, allowing high-quality sound
even in such ambient noises. As a result, the
need to raise sound volume to excessive levels
Confirm the presence of all parts and
---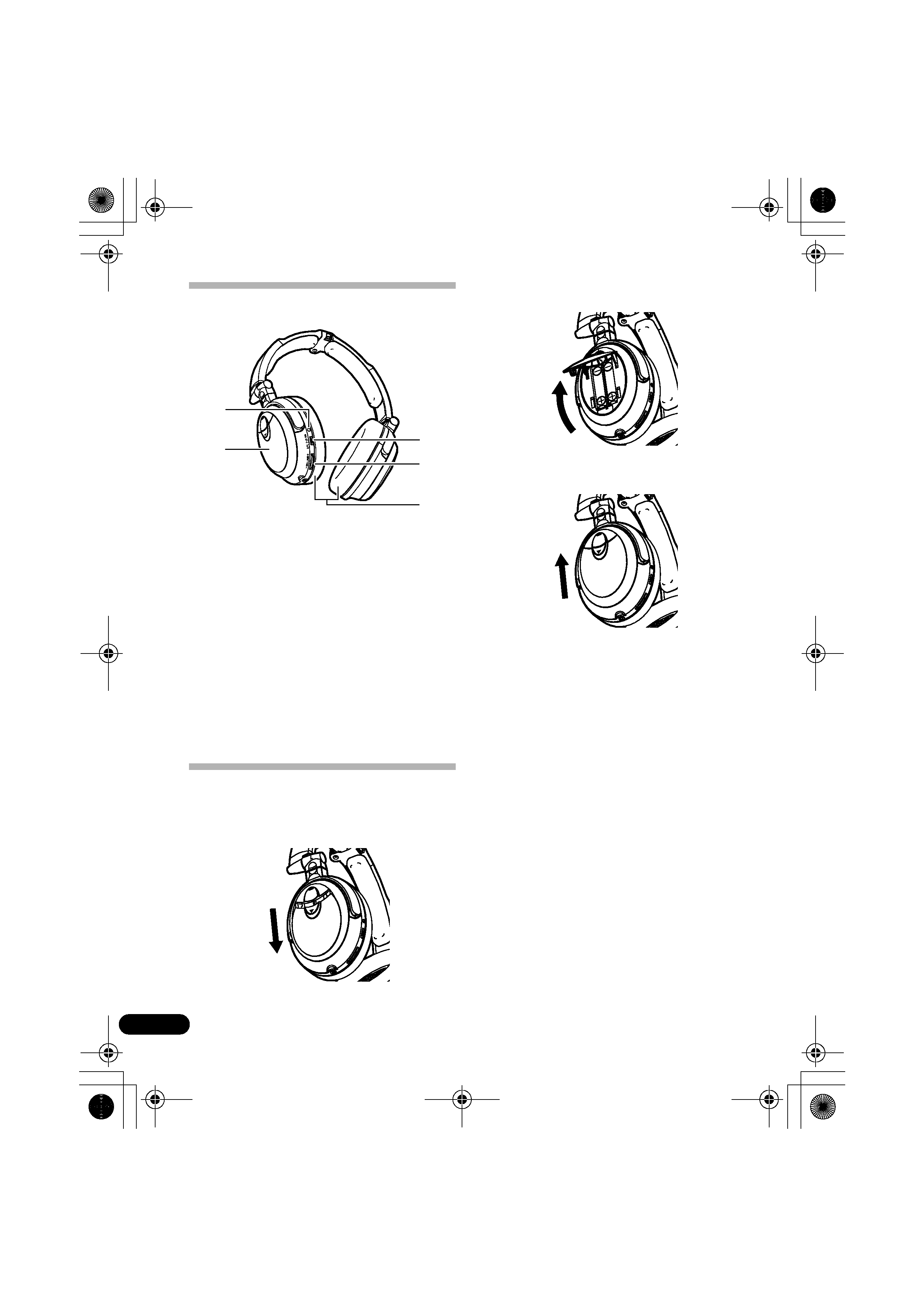 Names and Functions of Parts
Lights when power is turned on.
Provided with three positions:
OFF, ON1 (noise canceller on), ON2 (noise
canceller + SRS surround on)
Rotate to adjust sound volume.
Press and slide open the battery cover
on the left headphone cover as shown in
Insert batteries, taking care to align
and polarities correctly.
Close the battery cover and slide back
to its original position.
When to replace batteries
When batteries become expended, the power
indicator will become darker, and sound will
appear distorted, with greater than normal
amounts of noise. Always replace both
batteries simultaneously. When the
headphones are in continuous operation,
nominal battery life will be as follows:
AAA Alkaline batteries: About 20 hours
AAA Manganese batteries: About 8 hours
(Battery life may vary depending on
surrounding temperatures and other
---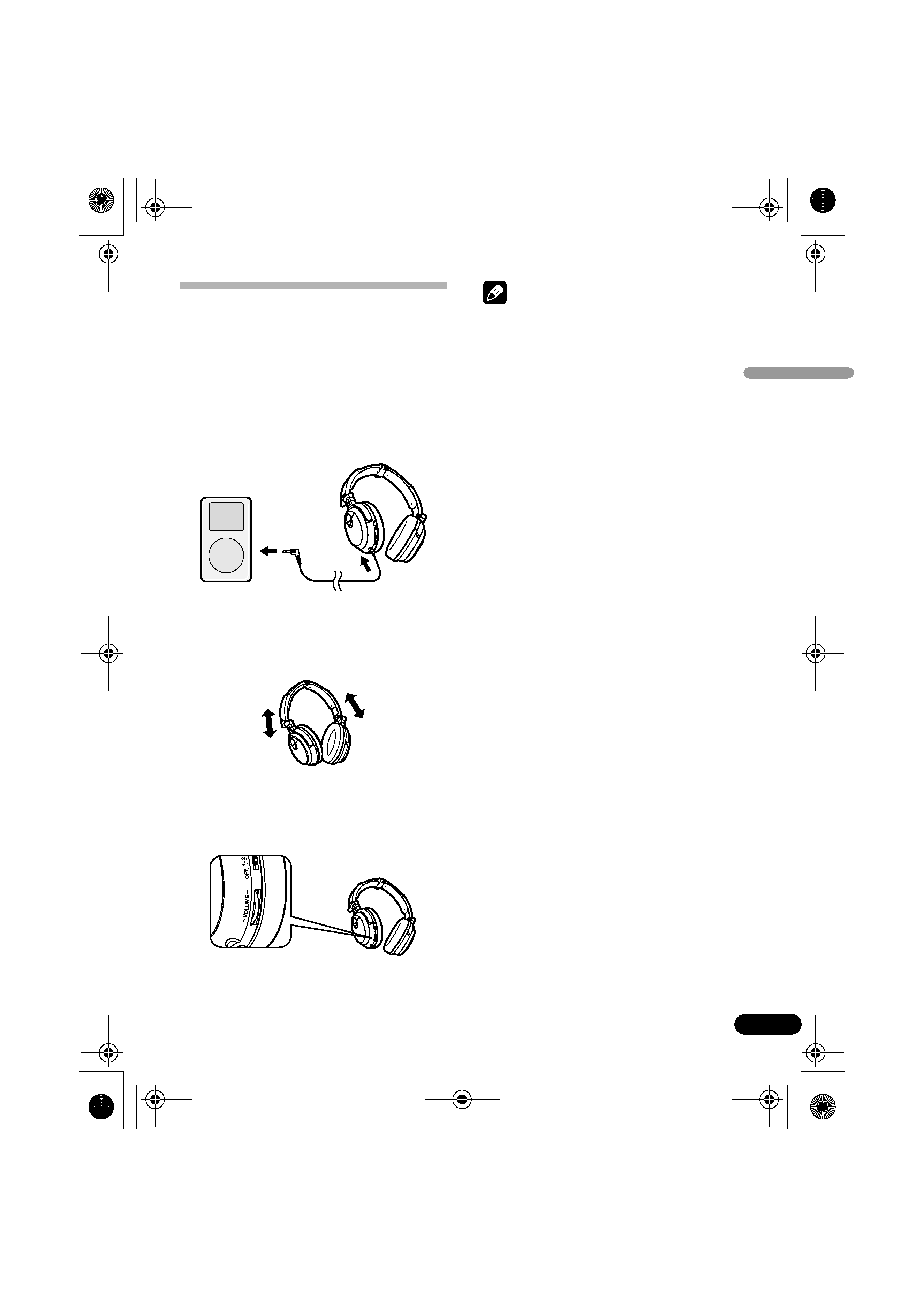 To protect your ears from damage, always
rotate the volume dial of the headphones or
your music device to its lowest position before
Attach one end of the furnished
connection cord to the headphones, and
the other end to your music playback
Adjust the length of the headband as
you place the headphones over your head.
Place the (R) housing over your right ear, and
the (L) housing over your left ear.
Use the VOLUME control dial to adjust
The sound volume can be adjusted even when
the power switch is set to OFF.
· When disconnecting the cord, pull on the
· When connecting the headphones to an
airline onboard audio system, use the
supplied plug adapter (the adapter may not
comply with the systems used on some
· Do not use with airline onboard sound
systems under the following conditions:
­ Whenever the cabin crew announces
that electronic devices are prohibited.
­ When the use of privately owned
headphones is prohibited inside the
· When not using the headphones, set the
Set the headphones' power switch to
Music can be heard even when the power
switch is set to OFF. Sound will be produced in
conventional 2-channel stereo playback, but
the noise-canceller and SRS surround effects
Set the headphones' power switch to
The green power indicator will light, and sound
will be heard in 2-channel stereo playback. The
noise canceller function will operate, reducing
the effect of environmental noise and allowing
you to listen at a sound volume lower than that
used when the power switch is set to OFF.
---