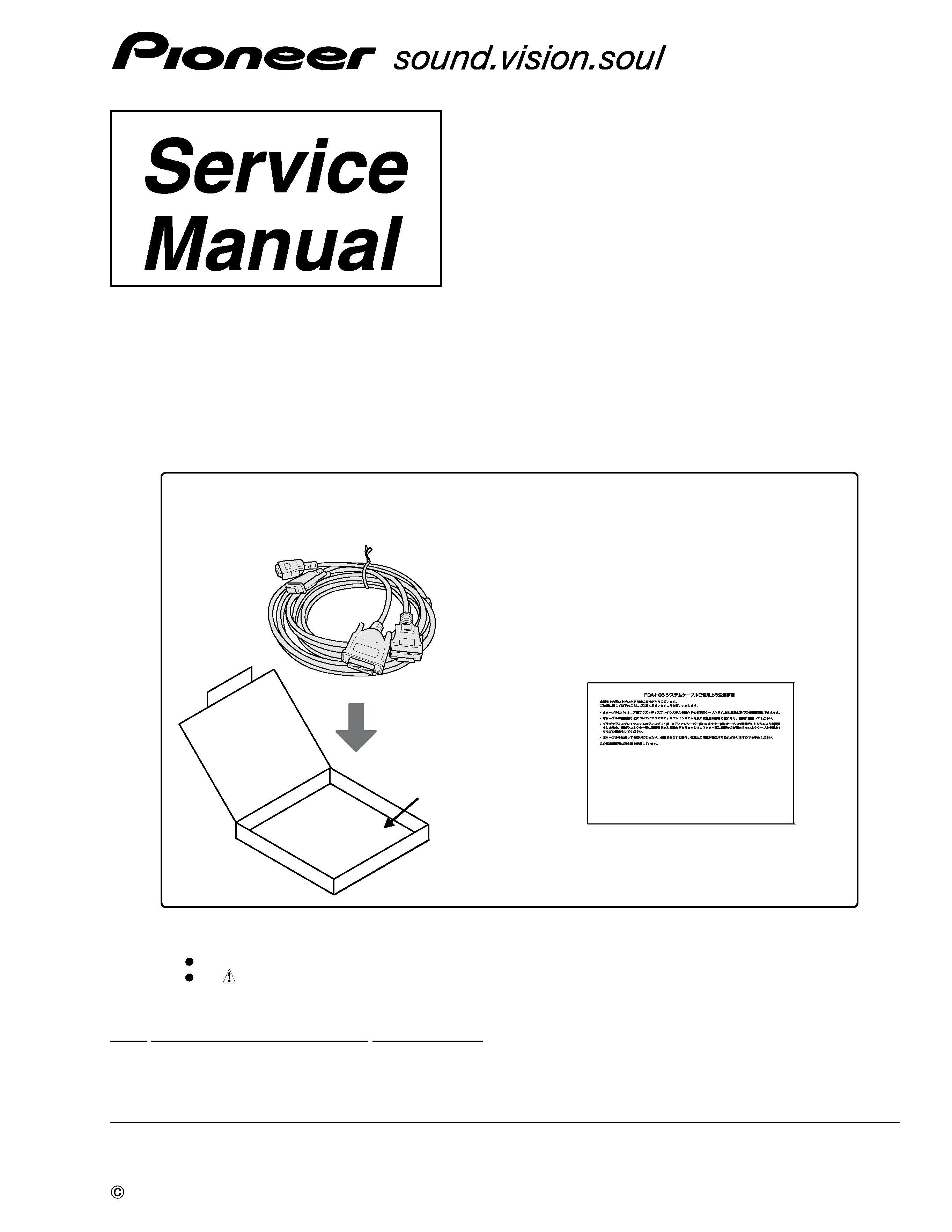 PIONEER CORPORATION
4-1, Meguro 1-chome, Meguro-ku, Tokyo 153-8654, Japan
PIONEER ELECTRONICS (USA) INC. P.O. Box 1760, Long Beach, CA 90801-1760, U.S.A.
PIONEER EUROPE NV Haven 1087, Keetberglaan 1, 9120 Melsele, Belgium
PIONEER ELECTRONICS ASIACENTRE PTE. LTD. 253 Alexandra Road, #04-01, Singapore 159936
T ­ ZZR OCT. 2005 Printed in Japan
7 Checking the Enclosed Parts
Parts marked by "NSP" are generally unavailable because they are not in our Master Spare Parts List.
mark found on some component parts indicates the importance of the safety factor of the part.
Therefore, when replacing, be sure to use parts of identical designation.
Precautions for Use of PDA-H03 System Cable
Thank you for purchasing this product.
Take care of the following points when using this product.
· The cable has been designed exclusively for use in operation of the Pioneer plasma display systems. Do not connect it to or use it
· For the correct connection method and other information on the cable, read the instruction manual for your plasma display system.
· I f the cable is installed in a way that may apply the cable weight on the connector of the display or medium receiver unit of the
plasma display system, the unit or connector may be damaged. If such an excessive load to the connector(s) is expected, takea
proper load-prevention measure by clamping the cable somewhere, etc.
· T o prevent problems in operation or performance, do not attempt to extend or disassemble the cable.
WARNING: Handling the cord on this product or cords associated with accessories sold with the product will expose you to
lead, a chemical known to the State of California and other governmental entities to cause cancer and birth defects
or other reproductive harm.
ash hands after handling.
Printed on recycled paper.
---