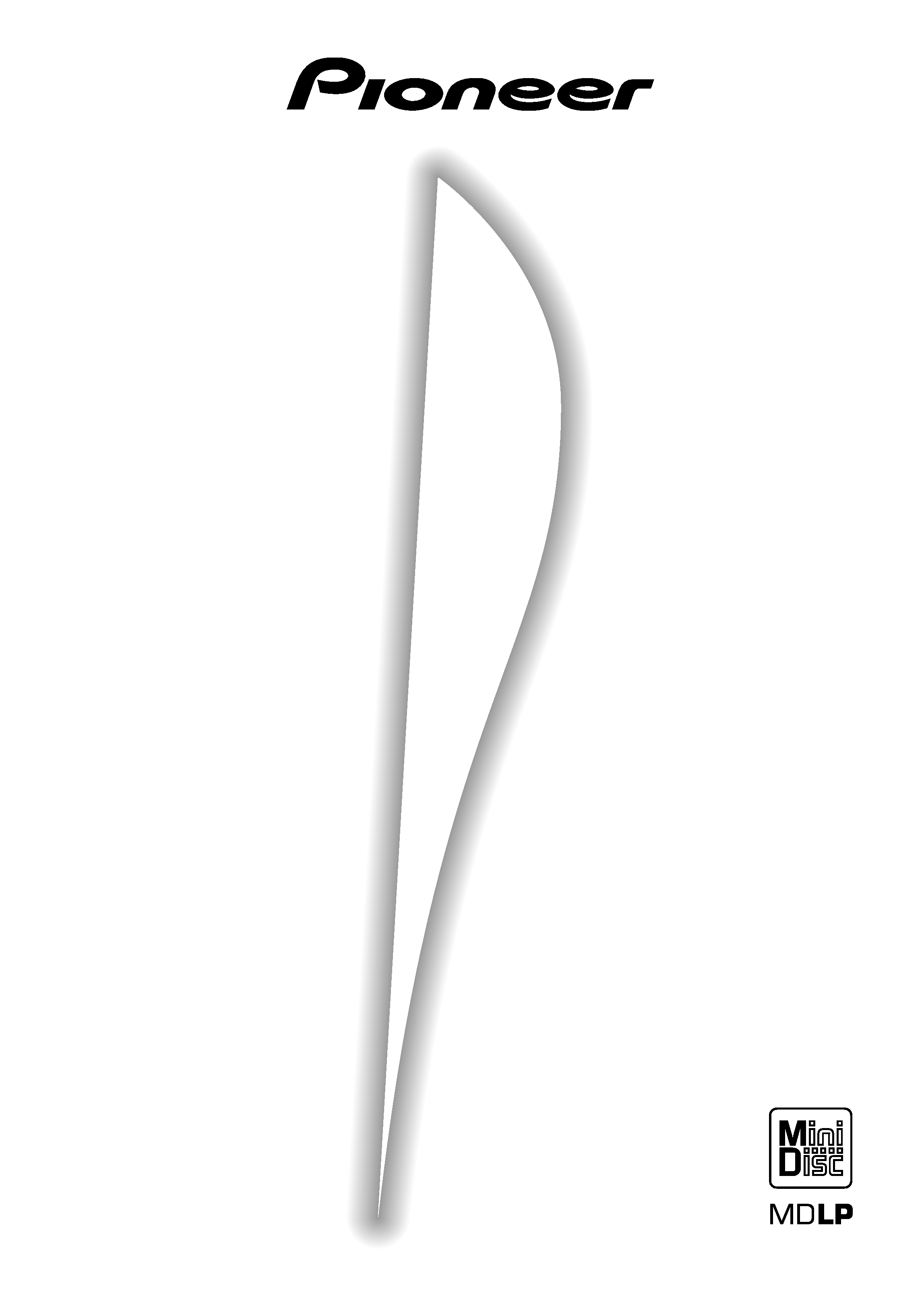 ---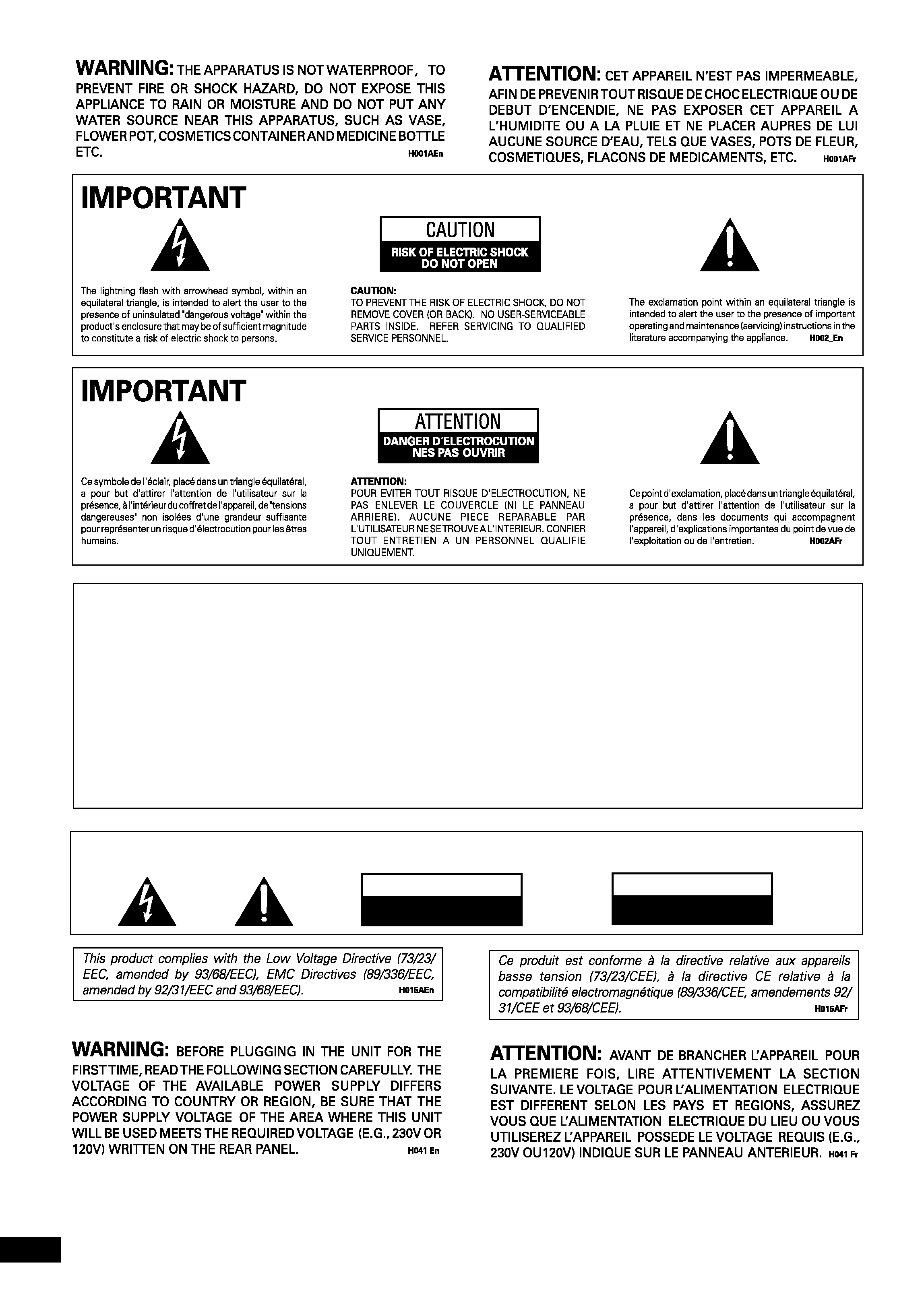 Ces étiquettes se trouvent sur le fond de l'appareil.
The wires in this mains lead are
coloured in accordance with the
If the plug provided is unsuitable for
your socket outlets, the plug must be
cut off and a suitable plug fitted.
The cutoff plug should be disposed of and must
not be inserted into any 13 amp socket as this
can result in electric shock. The plug or adaptor
of the distribution panel should be provided
with a 5 amp fuse. As the colours of the wires
in the mains lead of this appliance may not
correspond with coloured markings identifying
the terminals in your plug, proceed as follows:
The wire which is coloured blue must be
connected to the terminal which is marked with
the letter N or coloured black.
The wire which is coloured brown must be
connected to the terminal which is marked with
the letter L or coloured red.
Do not connect either wire to the earth
terminal of a three-pin plug.
After replacing or changing a fuse, the
fuse cover in the plug must be replaced
with a fuse cover which corresponds to
the colour of the insert in the base of the
plug or the word that is embossed on the
base of the plug, and the appliance must
not be used without a fuse cover. If lost,
replacement fuse covers can be obtained
Only 5 A fuses approved by B.S.I. or
A.S.T.A. to B.S. 1362 should be used.
These labels can be found on the unit's rear
---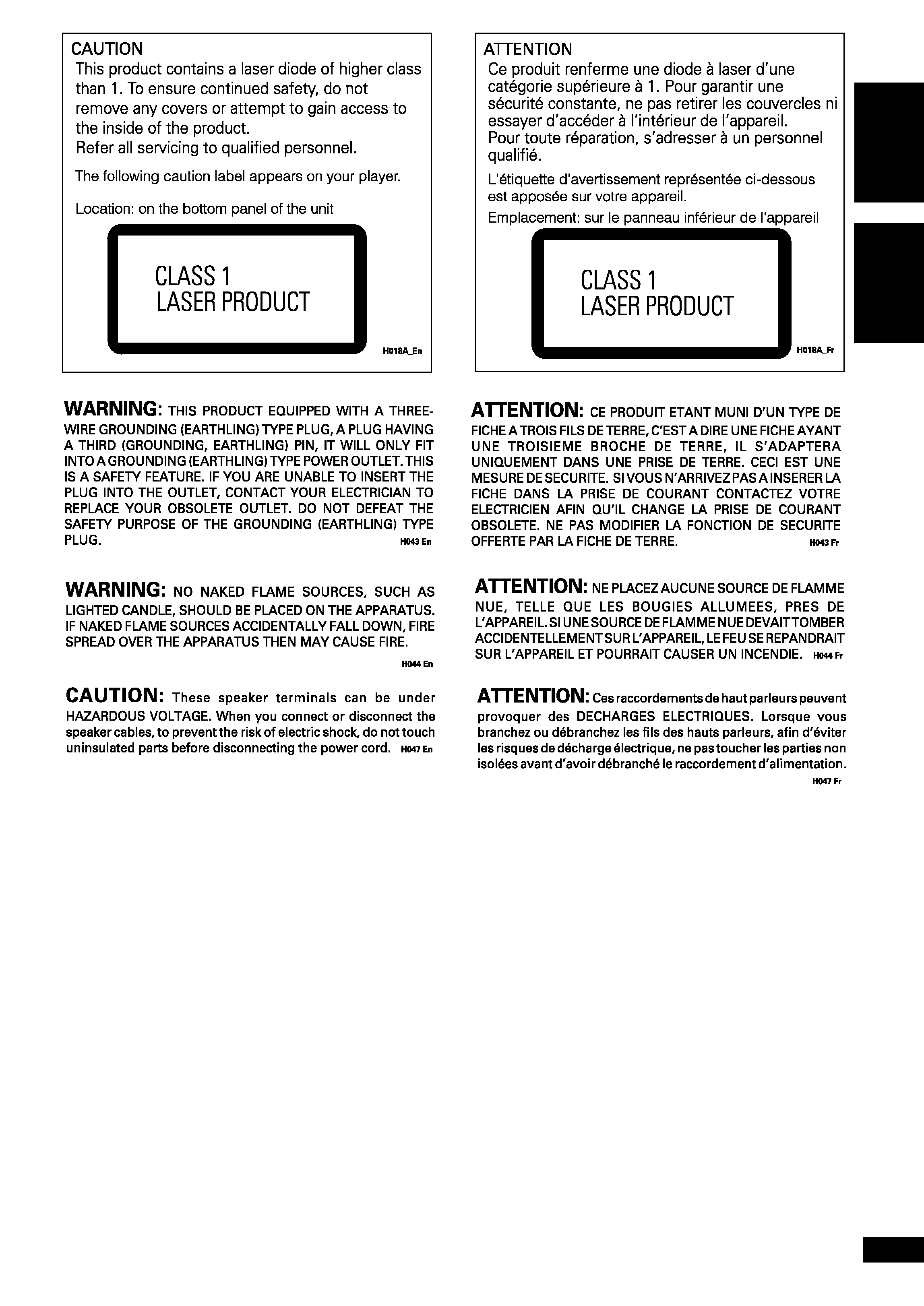 VENTILATION:
Lors de l'installation de cet
appareil, veillez à ménager un espace suffisant autour
de ses parois de manière à ce que la chaleur puisse se
dissiper aisément (au moins 30 cm à l'apartie
supérieure, 15 cm à l'arrière et 15 cm de chaque côté).
ATTENTION:
Les évents et les ouvertures dans
la structure sont prévus pour la ventilation et pour
assurer le bon fonctionnement du produit et pour la
protéger des risques de surchauffe, et des risques
d'incendie, les ouvertures ne doivent jamais etre
bloquées ni couvertes par des matériaux tels que
journaux, nappes, rideaux, etc. De meme, ne pas
positionner l'appareil sur un tapis épais, lit, canapé ou
tout meuble possédant un rembourrage épais.
VENTILATION:
When installing this unit, make
sure to leave space around the unit for ventilation to
improve heat radiation (at least 30 cm at top, 15 cm at
rear, and 15 cm at each side).
WARNING:
Slot and openings in the cabinet are
provided for ventilation and to ensure reliable
operation of the product and to protect it from
overheating, to prevent fire hazard, the openings
should never be blocked and covered with items, such
as newspapers, table-cloths, curtains, etc. Also do not
put the apparatus on the thick carpet, bed, sofa, or
fabric having a thick pile.
Operating Environment
H045 En
Operating environment temperature and humidity:
°
C ­ +35
°
C (+41
°
F ­ +95
°
F); less than 85%RH (cooling
Do not install in the following locations
Location exposed to direct sunlight or strong artificial
Location exposed to high humidity, or poorly ventilated
Conditions de Fonctionnement
H045 Fr
Tempéraure et humidité ambiante lors du fonctionnement:
°
C ­ +35
°
C (+41
°
F ­ +95
°
F); inférieur à 85%RH (events
Ne pas installer dans les lieux suivants
Lieux exposés à la lumière direct du soleil ou lumière
Lieux exposés à une forte humidité ou lieux peu
---

This component cannot be operated alone, please use in
combination with the XC-L11 CD (or XV-DV77/DV88 DVD/CD)
Opening the box .......................................................... 6
Using this manual ......................................................... 6
Hints on installation .................................................... 7
Avoiding condensation problems ....................................... 7
About minidiscs ........................................................... 8
About MiniDisc Long Play (MDLP) ..................................... 8
Different kinds of MD available .......................................... 9
Handling MDs ...................................................................... 9
Storing and labelling MDs ................................................ 10
Avoiding accidental erasure ............................................... 10
Analog and digital recording ............................................. 11
Copying restrictions ........................................................... 11
About the Table of Contents (TOC) ................................. 12
About MD system limitations ............................................ 12
Connecting the XC-L11 CD (or XV-DV77
/DV88 DVD/CD) tuner ............................................. 15
Connecting the power ............................................... 16
Front panel ................................................................. 17
Display ........................................................................ 17
Playing an MD ............................................................ 18
Basic playback controls ...................................................... 19
Changing the display ................................................ 20
When an MD is stopped .................................................... 20
When an MD is playing ..................................................... 21
When recording an MD ..................................................... 21
Introduction to recording MDs ................................ 22
Recording levels ................................................................. 22
Track numbering ................................................................ 22
Automatically recording from a CD ......................... 23
Automatically recording from the optional
tape deck (CT-L11) ................................................... 25
Using the menu system ............................................. 27
The MD menu functions ................................................... 28
Using Groups ............................................................ 29
Making a group .................................................................. 30
Selecting a group .............................................................. 31
Using Group Mode .................................................... 31
Editing a group .................................................................. 32
Canceling groups ............................................................... 33
Programming the track order ................................... 34
Checking the playlist order .............................................. 35
Deleting the playlist .......................................................... 35
Using repeat play .......................................................36
Using random play .................................................... 37
6 More Recording Features
Recording options .................................................... 38
Numbering tracks ..................................................... 38
Recording extra-long material .................................. 39
Adjusting the digital volume ...................................... 41
Manually recording from a source ........................... 42
Recording via the analog inputs ............................... 43
Recording over unwanted material .......................... 44
Setting up a future recording ................................... 45
Cancelling the record timer .............................................. 47
About MD editing ..................................................... 48
Naming a disc ............................................................ 49
Naming a track ........................................................... 51
Naming a group of tracks ......................................... 52
Dividing a track into two ........................................... 53
Combining two tracks into one ................................ 54
Moving tracks on a disc ............................................ 55
Erasing tracks on a disc ............................................. 57
Erasing all tracks on the disc ............................................ 57
Erasing individual tracks .................................................... 58
Undoing a mistake .................................................... 59
Understanding error messages ................................ 60
Troubleshooting ........................................................ 62
Specifications ............................................................ 66
---

Ce appareil ne peut pas fonctionner seul, il doit être utilisé en
combinaison avec le tuner CD XC-L11 CD (ou le lecteur de
Vérification du contenu de la boîte ............................. 6
Utilisation de ce mode d'emploi ................................. 6
Conseils d'installation ................................................. 7
Prévention des problèmes dus à la condensation ............. 7
Minidisques .................................................................. 8
Minidisques longue durée (MDLP) ..................................... 8
Types de minidisques disponibles ...................................... 9
Manipulation des MD .......................................................... 9
Rangement et étiquetage des MD ..................................... 10
Pour éviter tout effacement accidentel ............................ 10
Enregistrement analogique ou numérique ........................ 11
Limitations aux droits de copie ......................................... 11
Table des matières du disque (TOC) ................................. 12
Aperçu des limites du système d'enregistrement de MD ... 12
Branchement au tuner CD XC-L11 (ou au lecteur
de DVD/CD XV-DV77/DV88) ................................... 15
Branchement à la source d'alimentation .................. 16
3 Commandes et fenêtre d'affichage
Panneau avant ............................................................ 17
Fenêtre d'affichage .................................................... 17
Lecture d'un MD ........................................................ 18
Commandes de lecture de base ........................................ 19
Changement de l'affichage ....................................... 20
Lorsque le MD n'est pas en cours de lecture ................... 20
Lorsque le MD est en cours de lecture ............................. 21
Lors de l'enregistrement d'un MD .................................... 21
Introduction à l'enregistrement des MD ................. 22
Niveaux d'enregistrement ................................................. 22
Numérotation des plages .................................................. 22
Enregistrement automatique à partir d'un CD ....... 23
Enregistrement automatique à partir de la platine à
cassettes en option (CT-L11) ................................... 25
Utilisation du système de menus ............................. 27
Fonctions du menu MD ..................................................... 28
5 Autres fonctions de lecture
Utilisation des groupes ............................................. 29
Création d'un groupe ........................................................ 30
Sélection d'un groupe ....................................................... 31
Utilisation du mode de groupes ................................ 31
Edition d'un groupe .......................................................... 32
Suppression de groupes .................................................... 33
Programmation de l'ordre de lecture des plages .... 34
Vérification de l'ordre de lecture de la playlist ................ 35
Annulation de la playlist ................................................... 35
Mode de lecture répétée .......................................... 36
Mode de lecture aléatoire ......................................... 37
6 Autres fonctions d'enregistrement
Options d'enregistrement ......................................... 38
Numérotation des plages .......................................... 38
Enregistrement ultra-long ........................................ 39
Réglage du volume numérique .................................. 41
Enregistrement manuel ................................................ 42
Enregistrement via les entrées analogiques ............. 43
Enregistrement avec effacement des données
préalables .................................................................. 44
Réglage de programmation d'un enregistrement
ultérieur ..................................................................... 45
Annulation du programmateur d'enregistrement ............ 47
Edition de MD ........................................................... 48
Attribution d'un nom au disque ............................... 49
Attribution d'un nom à une plage ............................. 51
Attribution d'un nom à un groupe de plages .......... 52
Division d'une plage en deux parties ........................ 53
Combinaison de deux plages en une seule .............. 54
Déplacement des plages sur un disque ................... 55
Effacement des plages d'un disque ........................... 57
Effacement de toutes les plages du disque ...................... 57
Effacement de plages individuelles ................................... 58
Annulation d'une erreur ........................................... 59
8 Informations complémentaires
Signification des messages d'erreur ......................... 63
Dépannage ................................................................ 65
Spécifications ............................................................ 66
---