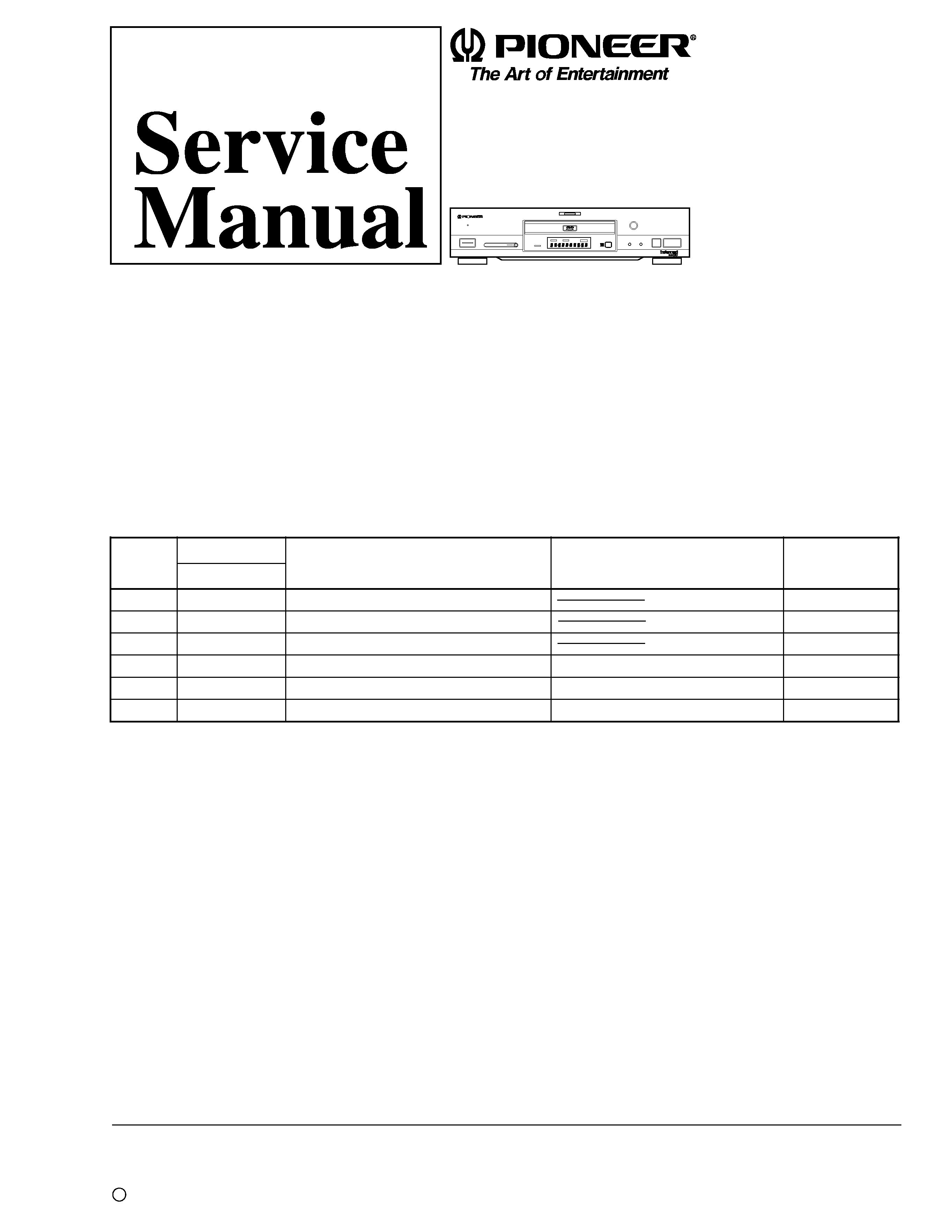 1. SAFETY INFORMATION ...................................... 2
2. EXPLODED VIEWS AND PARTS LIST ................ 3
3. SCHEMATIC DIAGRAM ..................................... 10
4. PCB CONNECTION DIAGRAM .......................... 24
5. PCB PARTS LIST ............................................... 33
6. ADJUSTMENT .................................................... 38
7. GENERAL INFORMATION ................................ 46
7.1 DISASSEMBLY ........................................... 46
7.2 BLOCK DIAGRAM ........................................ 47
8. PANEL FACILITIES AND SPECIFICATIONS .... 48
THIS MANUAL IS APPLICABLE TO THE FOLLOWING MODEL(S) AND TYPE(S).
T - IZM DEC. 1997 Printed in Japan
PIONEER ELECTRONIC CORPORATION
4-1, Meguro 1-Chome, Meguro-ku, Tokyo 153, Japan
PIONEER ELECTRONICS SERVICE, INC. P.O. Box 1760, Long Beach, CA 90801-1760, U.S.A.
PIONEER ELECTRONIC (EUROPE) N.V. Haven 1087, Keetberglaan 1, 9120 Melsele, Belgium
PIONEER ELECTRONICS ASIACENTRE PTE. LTD. 501 Orchard Road, #10-00 Lane Crawford Place, Singapore 0923
PIONEER ELECTRONIC CORPORATION 1997
· Refer to the service guide RRV1896 for DV-505.
IC information is described in the service guide.
---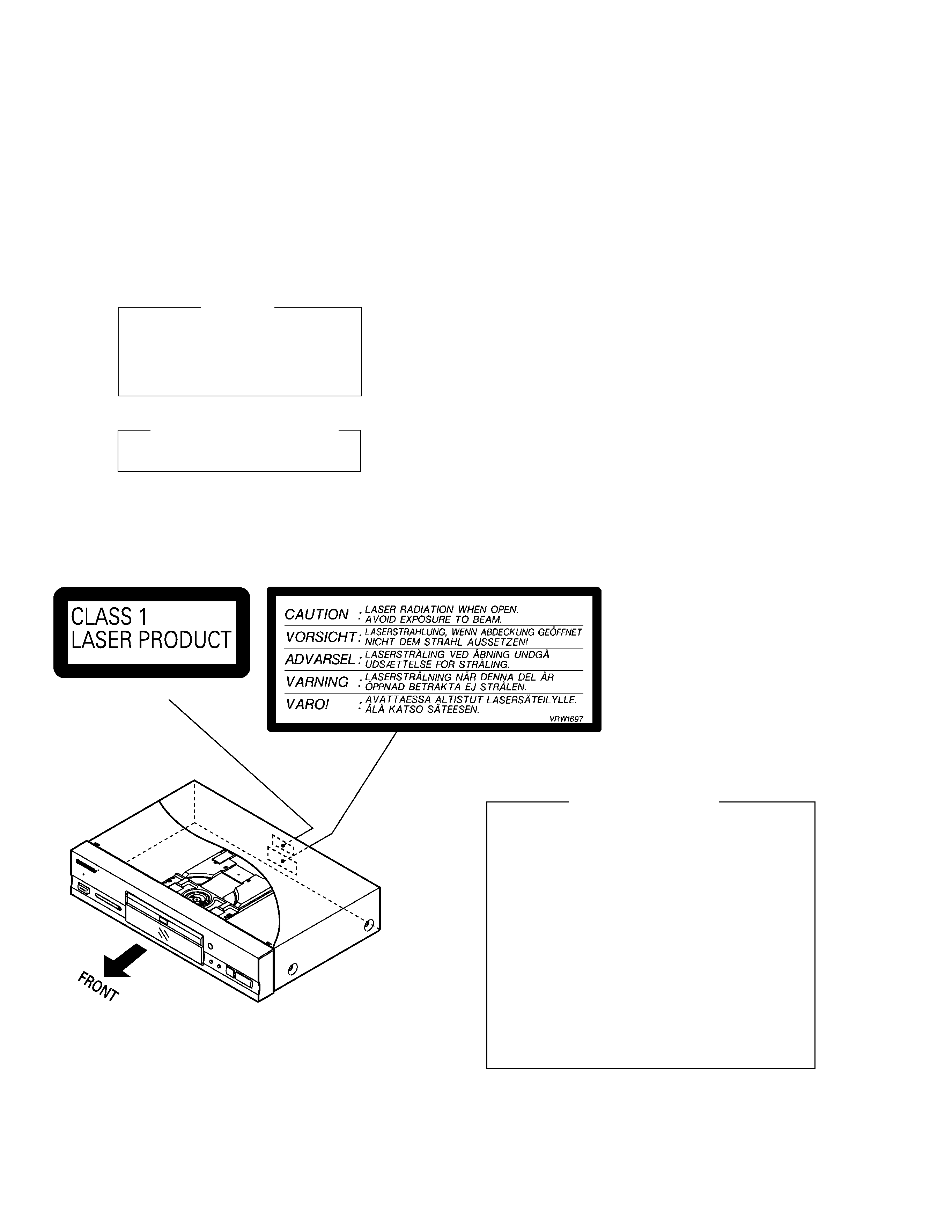 THIS PIONNER APPARATUS CONTAINS
SERVICING OPERATION OF THE APPARATUS
SHOULD BE DONE BY A SPECIALLY
LASER DIODE CHARACTERISTICS
MAXIMUM OUTPUT POWER : 7 mw
1. Inside detection switch (S201 on the INSB assy) and loading-
status detection switch (S301 on the LOSB assy) are detected
by the microprocessor (IC501 in the DVDM assy).
· To permit the laser diode to oscillate, it is required to set the
inside detection switch for the inside position (S201 : ON) and to
set the loading-status detection switch for the clamp position (the
center terminal of S301 is shorted to +5V). The laser diode
oscillation will continue if pin 13 of IC101 is shorted to +5V (fault
condition) in the DVDM assy.
, the laser diode oscillates when microproces-
sor detects a PLAY signal, or when the PLAY key is pressed
(S107 ON in the FLKB assy), with the above requirements satis-
2. When the cover is open, close viewing through the objective lens
with the naked eye will cause exposure to the laser beam.
(Printed on the Rear Panel)
This service manual is intended for qualified service technicians ; it is not meant for the casual do-it-
yourselfer. Qualified technicians have the necessary test equipment and tools, and have been trained
to properly and safely repair complex products such as those covered by this manual.
Improperly performed repairs can adversely affect the safety and reliability of the product and may
void the warranty. If you are not qualified to perform the repair of this product properly and safely, you
should not risk trying to do so and refer the repair to a qualified service technician.
---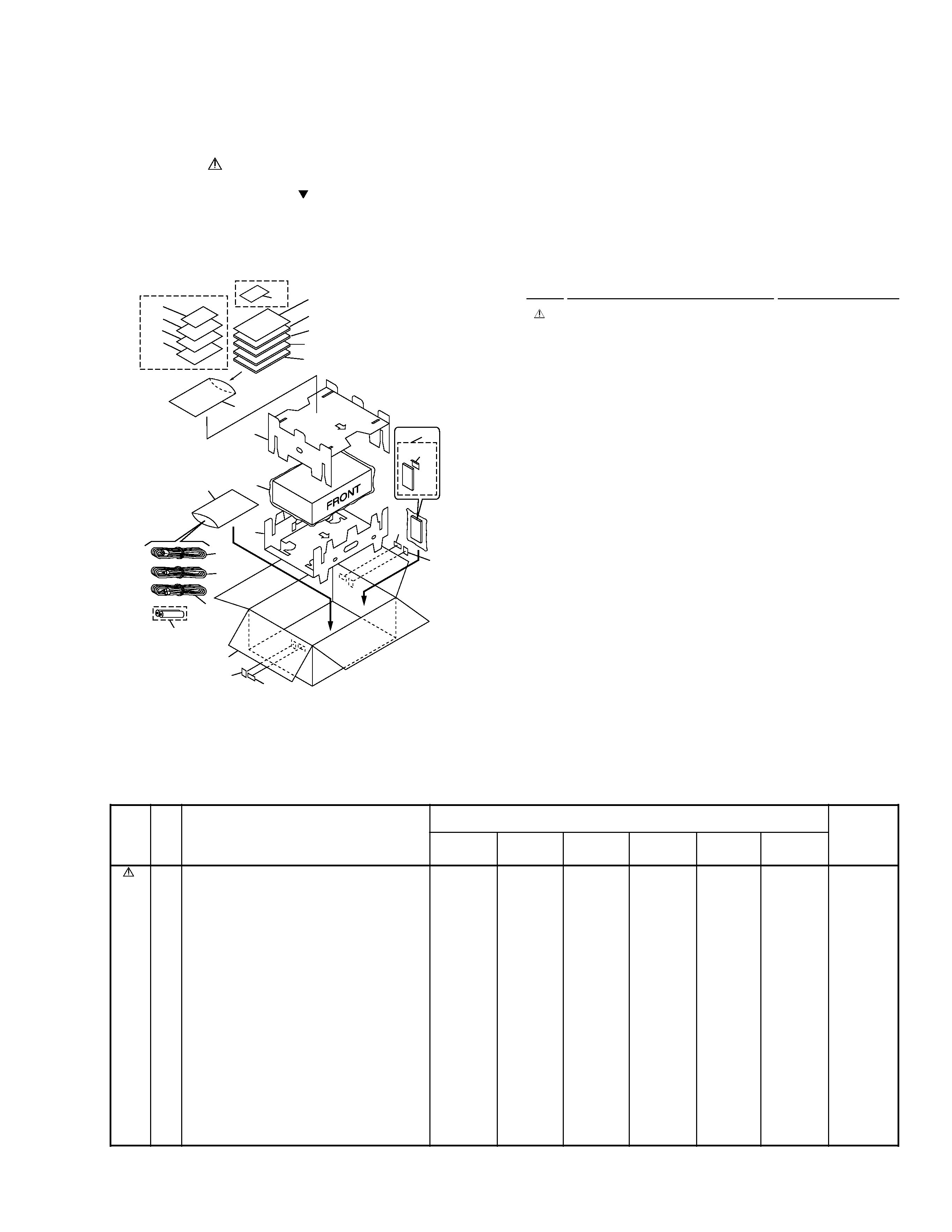 (English/French/German/Italian))
Dry Cell Battery (R6P, AA)
(Spanish/Portguese/Dutch/Swedish)
Card
(Information Center Tel. No.)
See Contrast table (2)
2. EXPLODED VIEWS AND PARTS LIST
·
Parts marked by "NSP" are generally unavailable because they are not in our Master Spare Parts List.
·
The mark found on some component parts indicates the importance of the safety factor of the part.
Therefore, when replacing, be sure to use parts of identical designation.
·
Screws adjacent to mark on the product are used for disassembly.
WY, WY/RD, WYW/SP, RD/RC, RAM and RL types are constructed the same except for the following :
---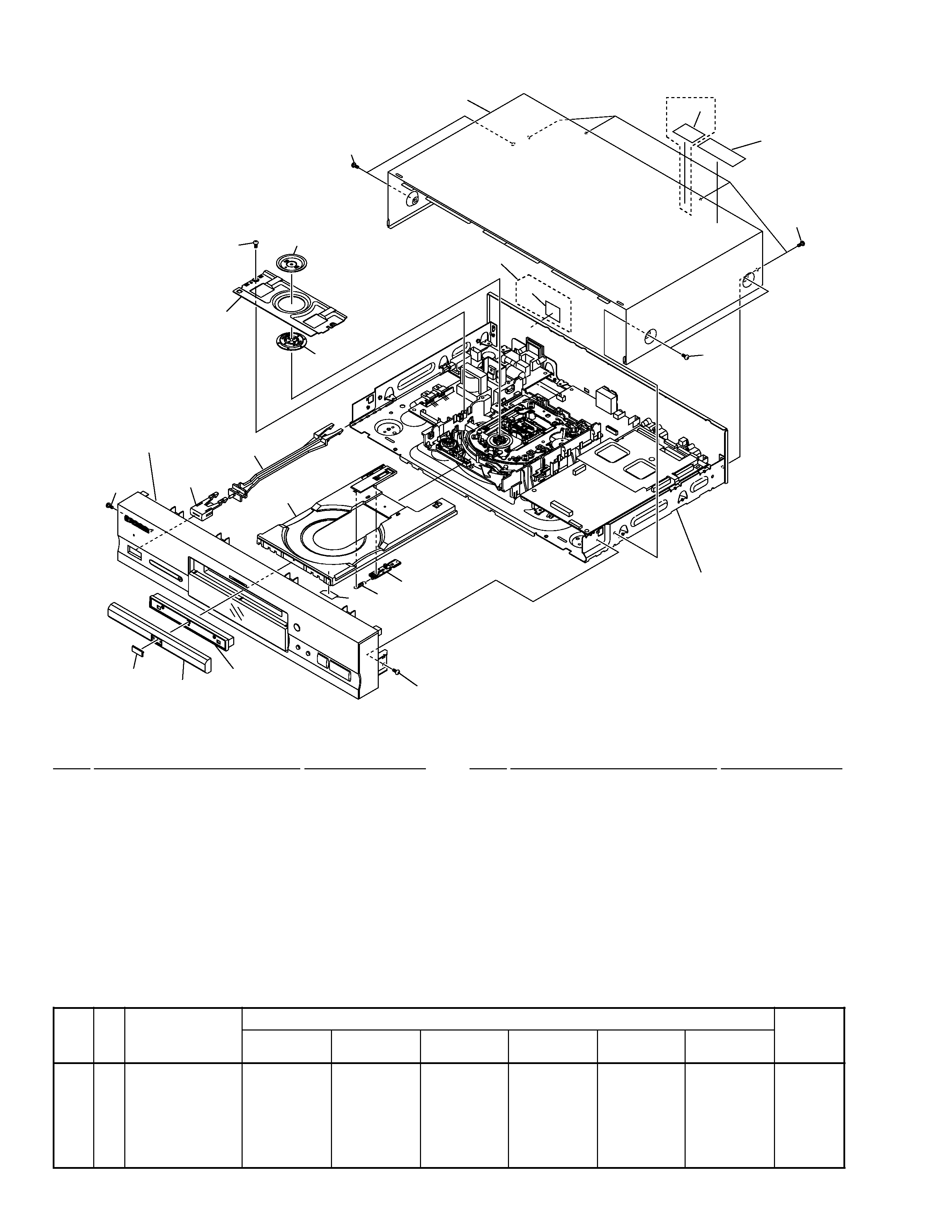 (1) EXTERIOR SECTION PARTS LIST
WY, WY/RD, WYW/SP, RD/RC, RAM and RL types are constructed the same except for the following :
"2.4 BOTTOM VIEW SECTION"
---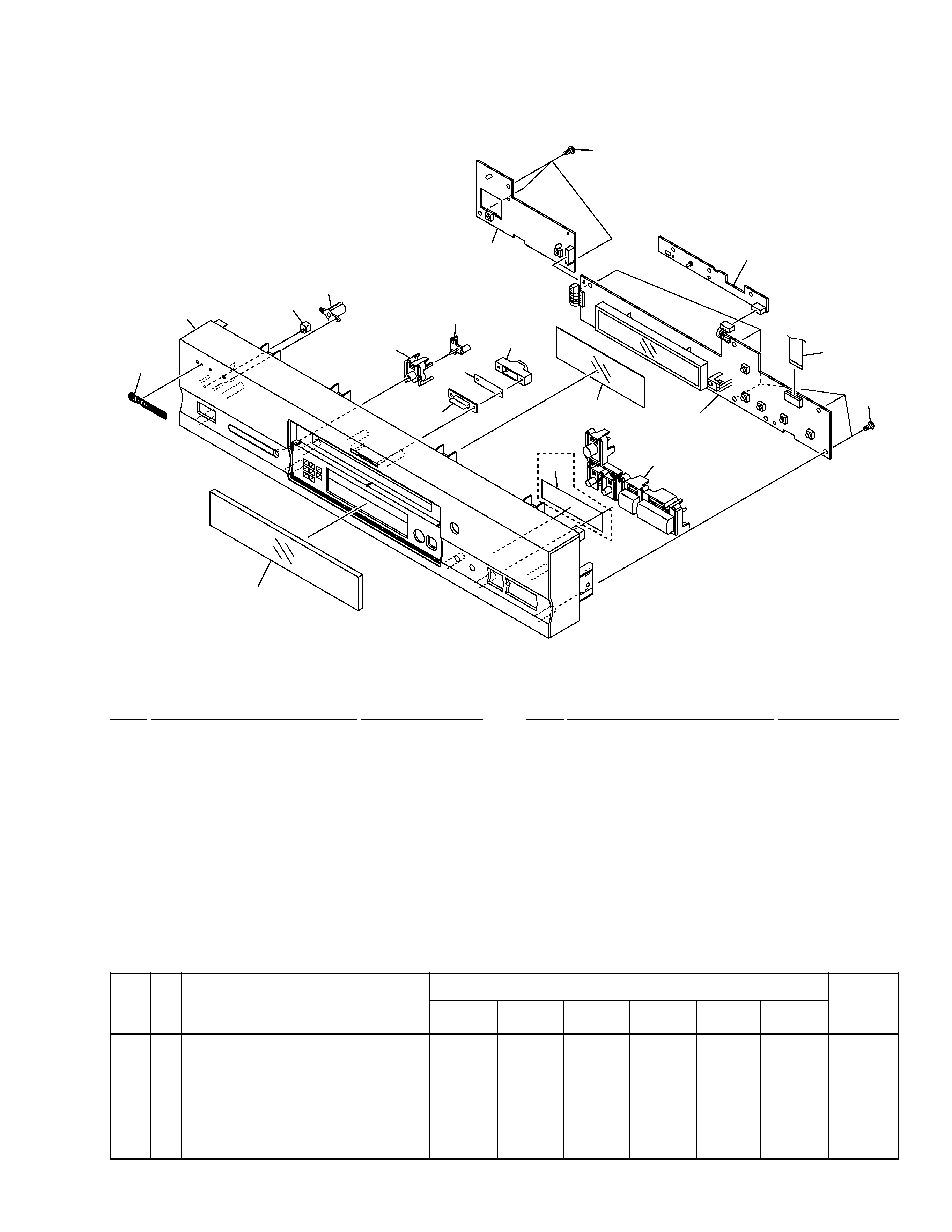 (1) FRONT PANEL SECTION PARTS LIST
(FLKB CN101 ­ DVDM CN105)
WY, WY/RD, WYW/SP, RD/RC, RAM and RL types are constructed the same except for the following :
---