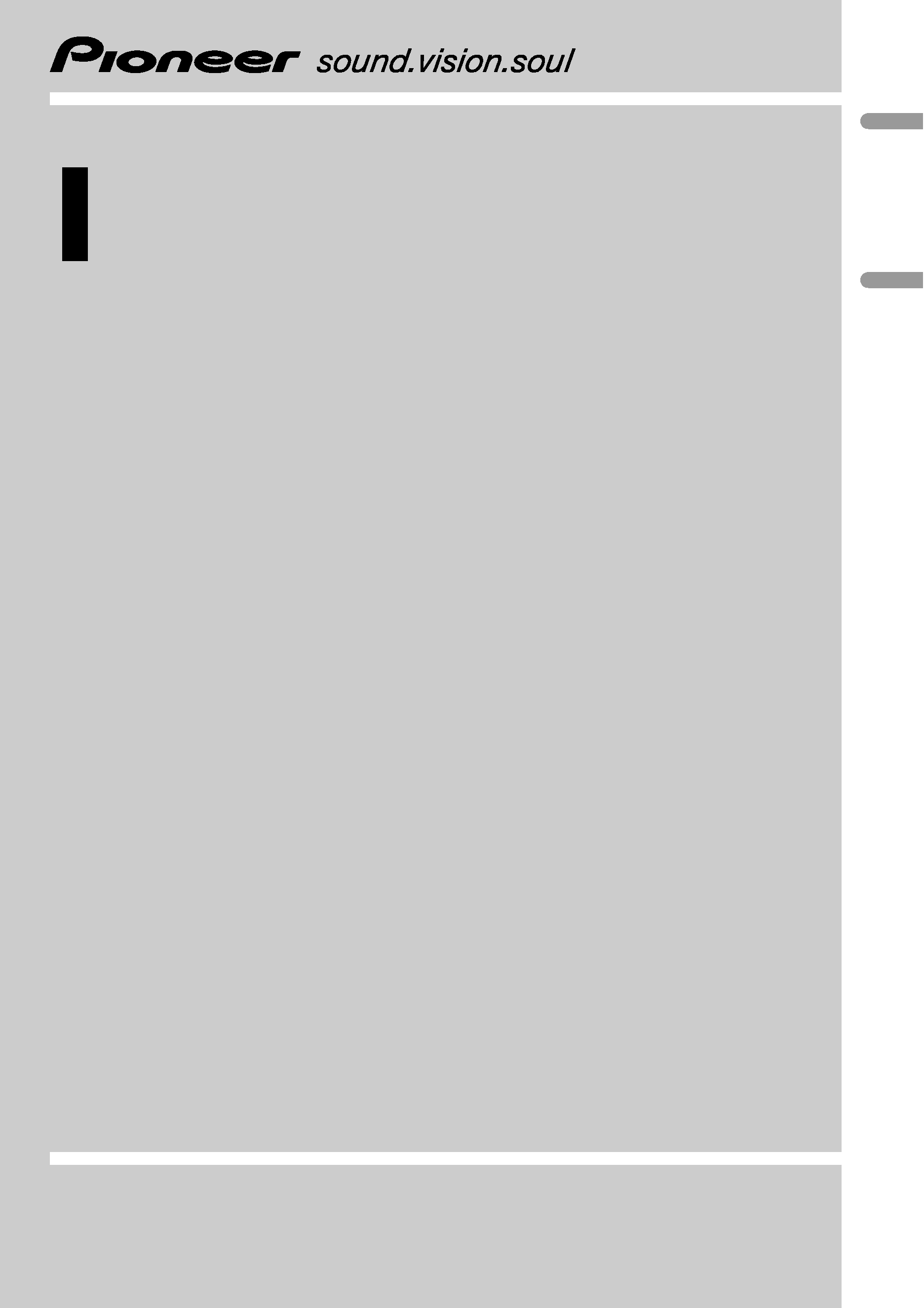 Reproductor de CD con receptor RDS
---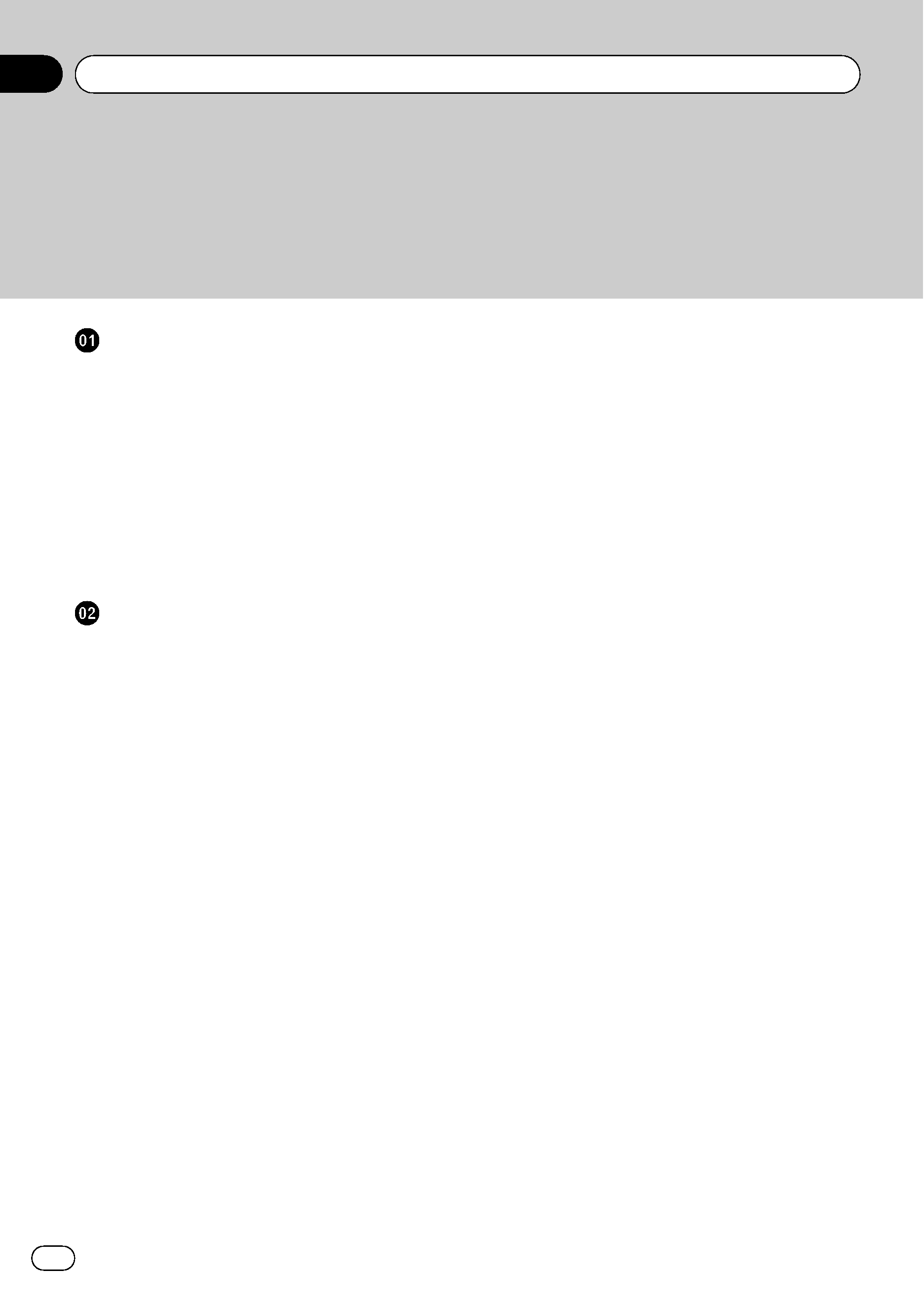 Thank you for buying this Pioneer product.
Please read through these operating instructions so you will know how to operate
your model properly. After you have finished reading the instructions, keep this man-
ual in a safe place for future reference.
Protecting your unit from theft
­ Removing the front panel 5
­ Attaching the front panel 6
Use and care of the remote control
­ Installing the battery 6
­ Using the remote control 6
­ Storing and recalling broadcast
­ Introduction of advanced
­ Storing the strongest broadcast
­ Tuning in strong signals 11
­ Selecting alternative frequencies 11
­ Receiving traffic announcements 12
­ Switching the RDS display 12
­ Introduction of advanced
­ Selecting a repeat play range 14
­ Playing tracks in random order 14
­ Scanning folders and tracks 14
­ Pausing disc playback 14
­ Using compression and BMX 14
­ Searching every 10 tracks in the current
­ Using disc title functions 15
­ Displaying text information on disc 15
­ Displaying text information on
­ Introduction of advanced
­ Playing songs in a random order
­ Playing all songs in a random order
­ Introduction of audio adjustments 18
­ Using balance adjustment 19
­ Using subwoofer output 20
­ Using the high pass filter 21
­ Front image enhancer (F.I.E.) 21
­ Adjusting source levels 21
­ Adjusting initial settings 22
­ Setting the date and clock 22
­ Turning the off clock display on or
­ Setting the FM tuning step 23
­ Switching Auto PI Seek 23
­ Switching the warning tone 23
---

­ Switching the auxiliary setting 23
­ Switching the dimmer setting 23
­ Setting the rear output and subwoofer
­ Multi language display setting 24
­ Switching the feature demo 24
­ Switching the Ever Scroll 25
­ Using the AUX source 25
Playing songs on USB portable audio player/
­ Introduction of advanced
­ Displaying text information of an audio
­ Introduction of advanced
­ Using disc title functions 31
­ Using CD TEXT functions 31
­ Introduction of advanced
­ Storing and recalling broadcast
­ Storing the strongest broadcast
Understanding error messages
Handling guideline of discs and player
­ Example of a hierarchy 36
­ Compressed audio compatibility 36
---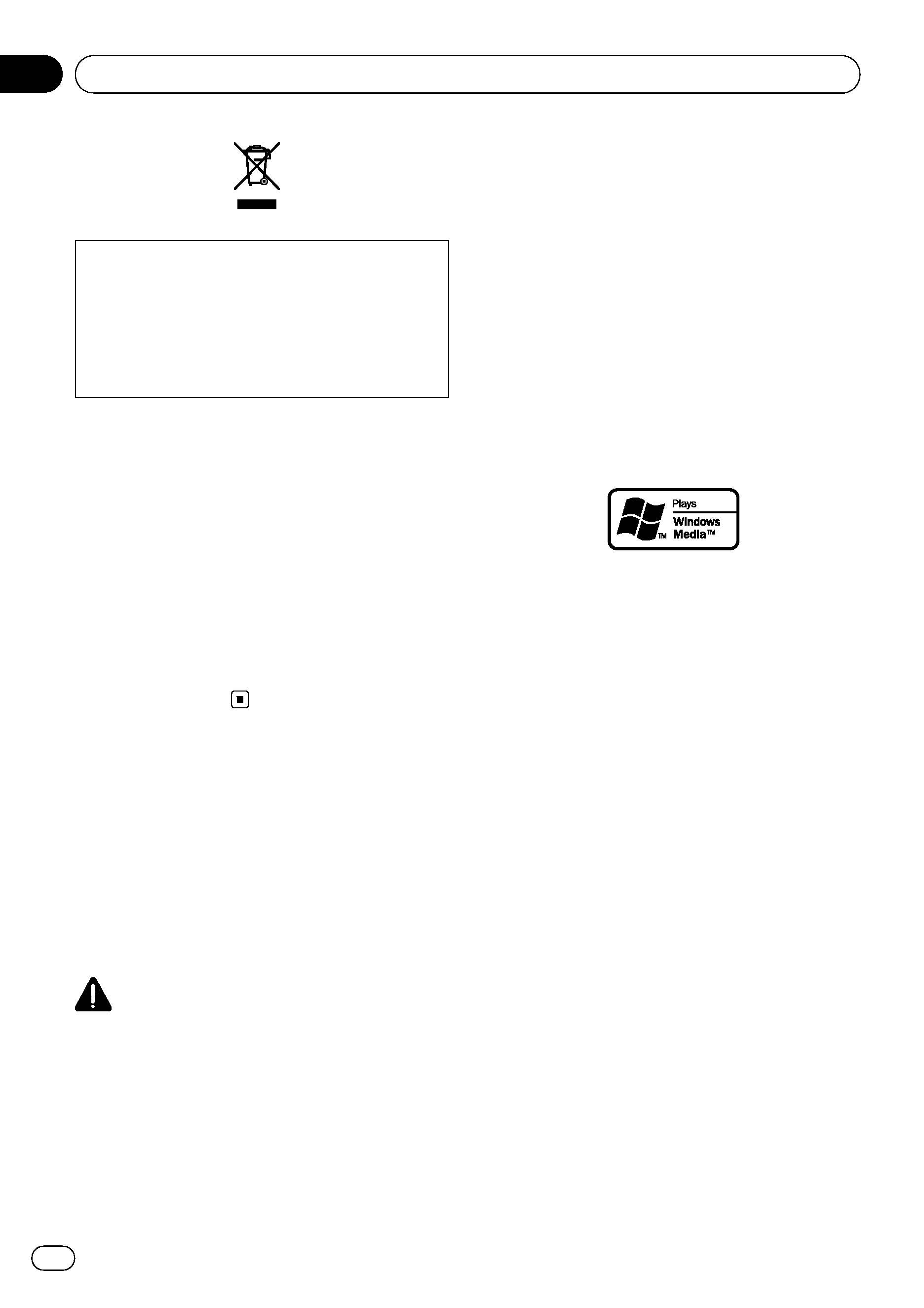 If you want to dispose this product, do not mix
it with general household waste. There is a se-
parate collection system for used electronic
products in accordance with legislation that re-
quires proper treatment, recovery and recy-
Private households in the 25 member states of
the EU, in Switzerland and Norway may return
their used electronic products free of charge
to designated collection facilities or to a retai-
ler (if you purchase a similar new one).
For countries not mentioned above, please
contact your local authorities for the correct
By doing so you will ensure that your disposed
product undergoes the necessary treatment,
recovery and recycling and thus prevent po-
tential negative effects on the environment
The tuner frequencies on this unit are allo-
cated for use in Western Europe, Asia, the
Middle East, Africa and Oceania. Use in other
areas may result in poor reception. The RDS
(radio data system) function operates only in
areas with FM stations broadcasting RDS sig-
! Do not allow this unit to come into contact
with liquids. Electrical shock could result.
Also, this unit damage, smoke, and overheat
could result from contact with liquids.
! "CLASS 1 LASER PRODUCT"
This product contains a laser diode of higher
class than 1. To ensure continued safety, do
not remove any covers or attempt to gain ac-
cess to the inside of the product. Refer all ser-
vicing to qualified personnel.
! The Pioneer CarStereo-Pass is for use only in
! Keep this manual handy as a reference for op-
erating procedures and precautions.
! Always keep the volume low enough so that
you can hear sounds from outside the vehicle.
! Protect this unit from moisture.
! If the battery is disconnected or discharged,
the preset memory will be erased and must be
TM logo printed on the box
indicates that this unit can play back WMA
WMA is short for Windows Media Audio and
refers to an audio compression technology
that is developed by Microsoft Corporation.
WMA data can be encoded by using Windows
Media Player version 7 or later.
Windows Media and the Windows logo are tra-
demarks or registered trademarks of Microsoft
Corporation in the United States and/or other
! This unit may not operate correctly depend-
ing on the application used to encode
---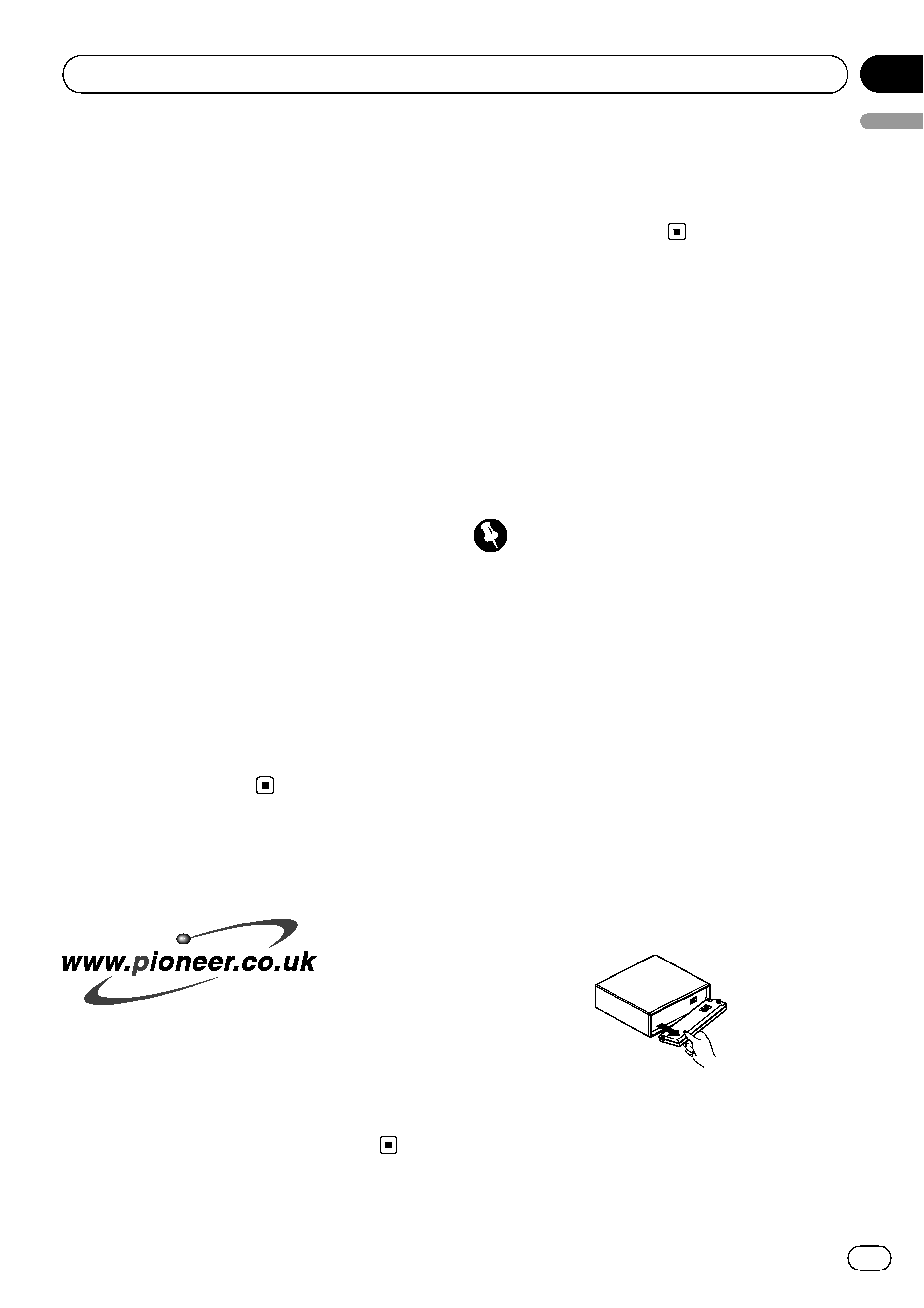 Supply of this product only conveys a license
for private, non-commercial use and does not
convey a license nor imply any right to use
this product in any commercial (i.e. revenue-
generating) real time broadcasting (terrestrial,
satellite, cable and/or any other media), broad-
casting/streaming via internet, intranets and/
or other networks or in other electronic con-
tent distribution systems, such as pay-audio or
audio-on-demand applications. An indepen-
dent license for such use is required. For de-
http://www.mp3licensing.com.
This unit can control and listen to songs on an
! iPod is a trademark of Apple Computer,
Inc., registered in the U.S. and other coun-
! This unit supports only an iPod with Dock
! This unit does not support software ver-
sions prior to iPod update 2004-10-20. For
supported versions, consult your nearest
! Operations may vary depending on the soft-
Visit us at the following site:
! Register your product. We will keep the de-
tails of your purchase on file to help you
refer to this information in the event of an
insurance claim such as loss or theft.
! We offer the latest information about
Pioneer Corporation on our website.
Should this product fail to operate properly,
contact your dealer or nearest authorized
Protecting your unit from
The front panel can be detached to deter theft.
! If the front panel is not detached from the
head unit within five seconds of turning off
the ignition, a warning tone will sound.
! You can turn off the warning tone. See
Switching the warning tone on page 23.
! Handle gently when removing or attaching
! Avoid subjecting the front panel to excessive
! Keep the front panel out of direct sunlight and
Press OPEN to open the front panel.
Grip the left side of the front panel and
Take care not to grip it too tightly or to drop
the front panel and protect it from contact
with water or other fluids to prevent perma-
Put the front panel into provided pro-
tective case for safe keeping.
---