PIONEER ELECTRONIC CORPORATION
4-1, Meguro 1-Chome, Meguro-ku, Tokyo 153-8654, Japan
PIONEER ELECTRONICS SERVICE INC.
P.O.Box 1760, Long Beach, CA 90801-1760 U.S.A.
PIONEER ELECTRONIC [EUROPE] N.V.
Haven 1087 Keetberglaan 1, 9120 Melsele, Belgium
PIONEER ELECTRONICS ASIACENTRE PTE.LTD. 501 Orchard Road, #10-00, Wheelock Place, Singapore 238880
C PIONEER ELECTRONIC CORPORATION 1998
K-ZED. FEB. 1998 Printed in Japan
STEERING REMOTE CONTROL UNIT
This warning is stated on the product or
in the operating instructions. When replac-
ing the lithium batteries, follow the note
Dispose of the used battery promptly.
Keep away from children. Do not disas-
semble and do not dispose of in fire.
The battery used in this device may present
a fire or chemical hazard if mistreated. Do
not recharge, disassemble, heat above
100°C or incinerate. Replace only with the
same Part Number. Use of another battery
may present a risk of fire or explosion.
Note: The lithium battery installation po-
sition is shown in the exploded
Denne advarsel or angivet på produktet
eller i brugsvejledningen. Ved udskiftning
af lithium batterierne følges nedenstående
Batterierne må kun udskiftes med batteri-
er af samme type og mærke.
Denna varning finns på apparaten eller i
bruksanvisningen. Följ nedanstående an-
visningar vid byte av litiumbatterier.
Batterierna får endast bytas ut mot litium-
batterier av samma typ och fabrikat.
Explosionsfara vid felaktigt batteribyte.
Använd samma batterityp eller en ek-
vivalent typ som rekommenderas av ap-
parattillverkaren. Kassera använt batteri
enligt fabrikantens instruktion.
Lithiumbatteri -- Eksplosionsfare ved
fejlagtig håndtering. Udskiftning må kun
ske med batteri af samme fabrikat og
type. Levér det brugte batteri tilbage til
Lithium batteries. Danger of explo-
sion. Replacement must be done by
qualified personnel and only by fol-
lowing the instructions given in the
---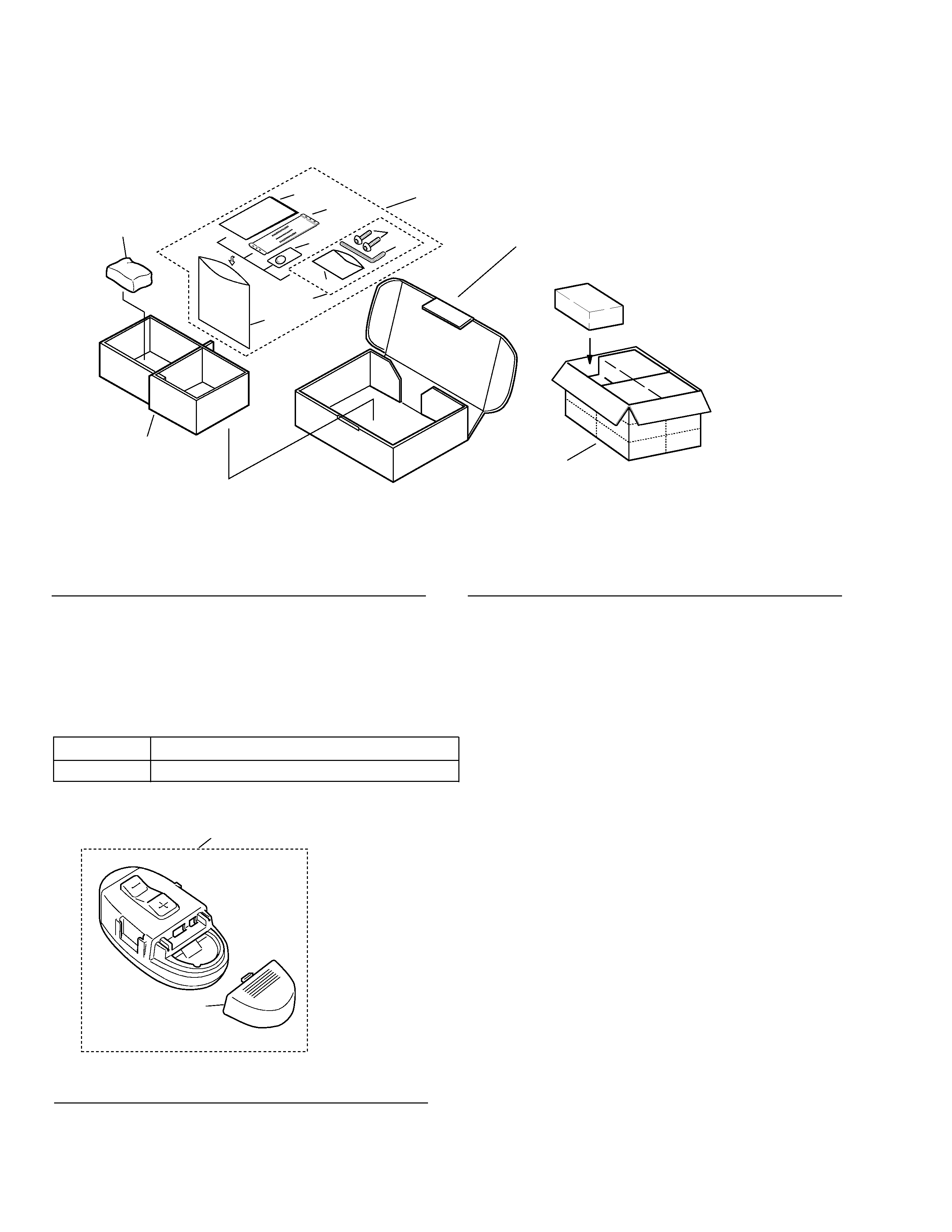 - PACKING SECTION PARTS LIST
EXPLODED VIEWS AND PARTS LIST
- PACKING SECTION PARTS LIST
English, Spanish, German, French, Italian
- Parts marked by "*"are generally unavailable because they are not in our Master Spare Parts List.
Ñ mark on the product are used for disassembly.
---