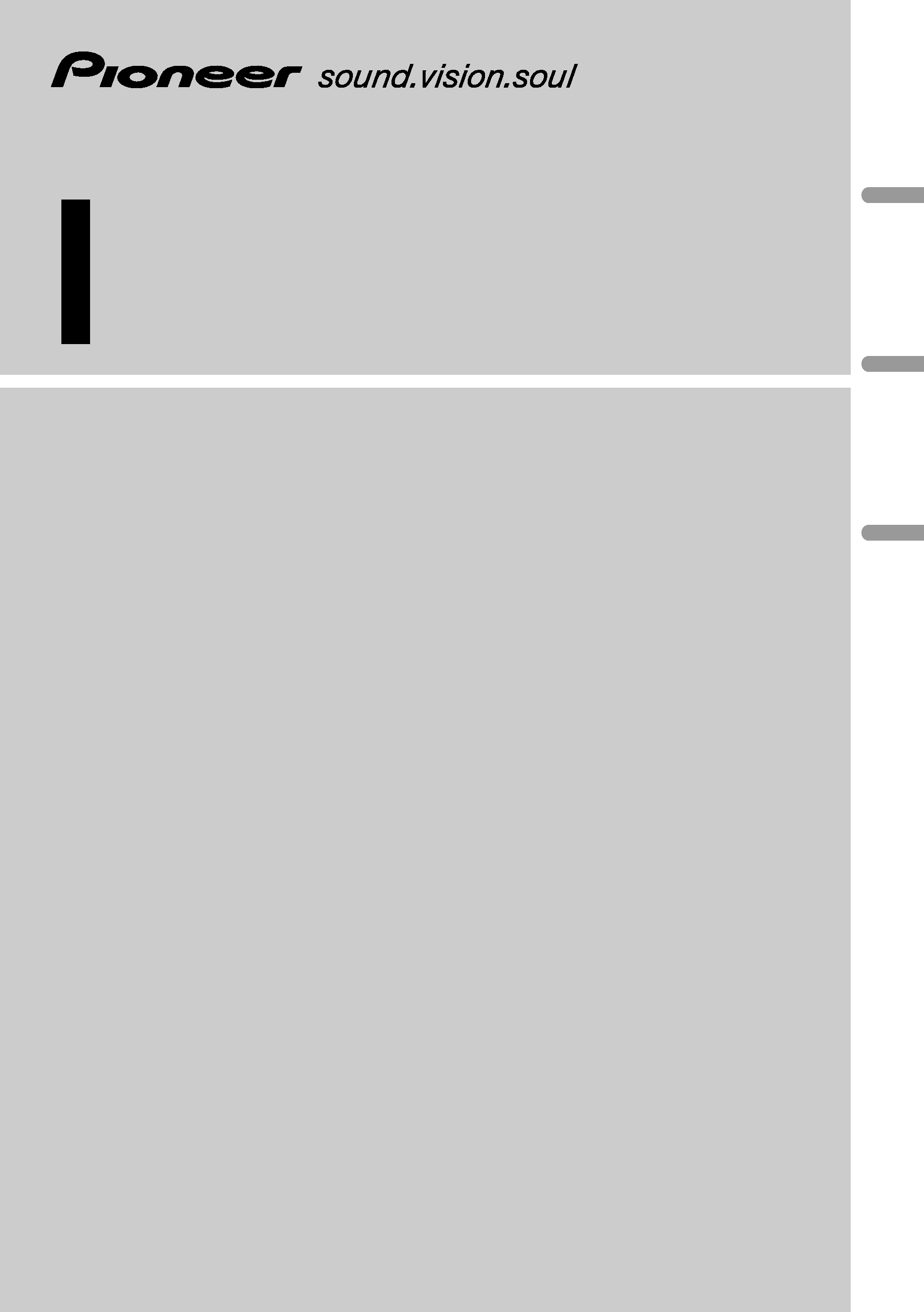 AV Receiver / CD Player with 6.5 inch Wide Display
AV Receiver with 6.5 inch Wide Display
---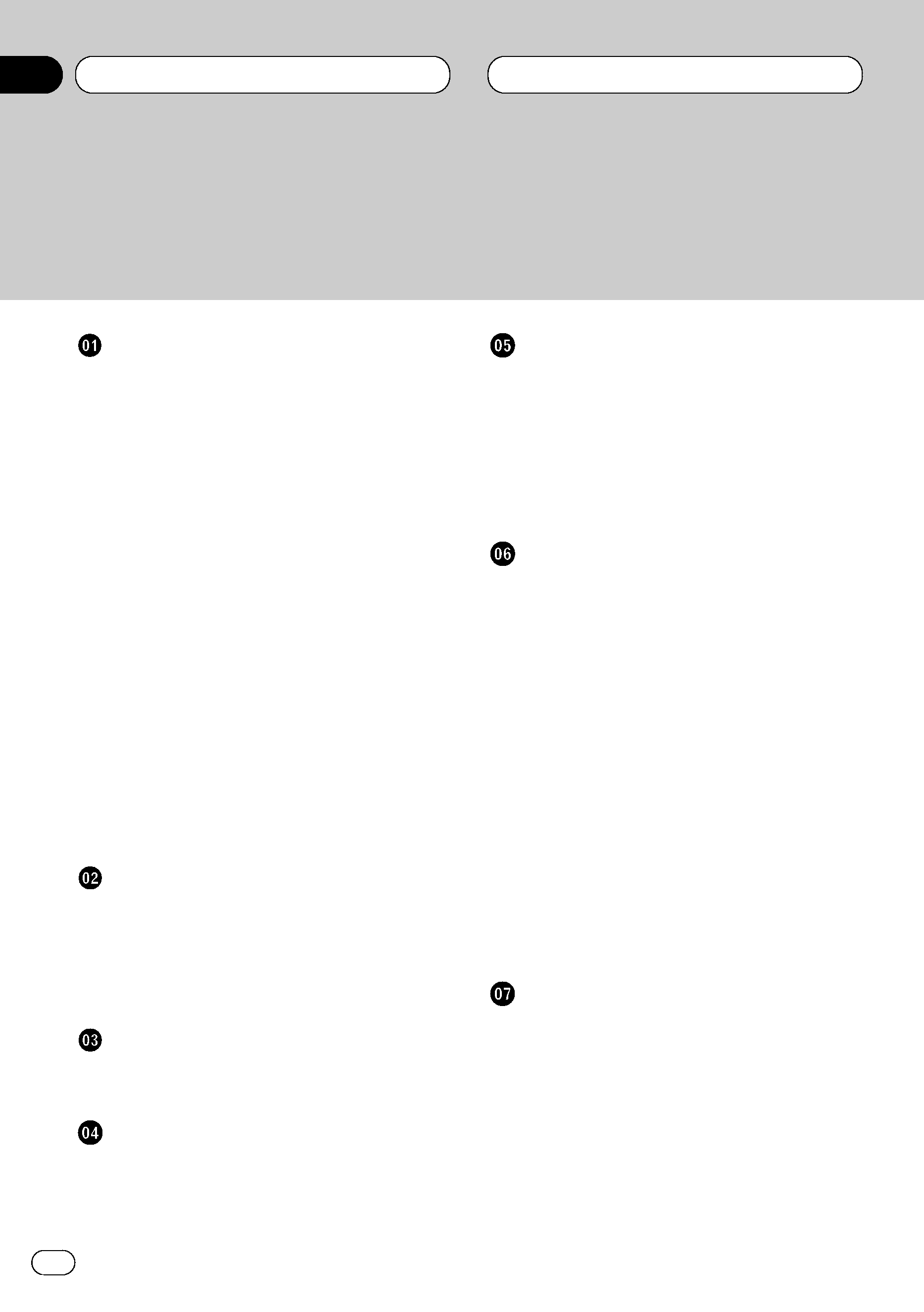 · When Using a Display connected to
CD playback (Only AVH-P6400CD) 6
To avoid battery exhaustion 7
To protect the LCD screen of the display 7
When viewing is difficult, use BRIGHT and
Remote control and care 7
Protecting your unit from theft 8
· Removing the operation panel 8
· Attaching the operation panel 9
Resetting the Microprocessor 9
Screen Angle Adjustment 13
Displays menus (e.g., Tuner) 15
Changing the wide mode 16
Listening to the radio 19
Introduction of advanced tuner
Storing broadcast frequencies 20
Tuning in strong signals 21
Storing the strongest broadcast
Introduction of RDS operation 22
Selecting alternative frequencies 23
· Using Auto PI Seek for preset
· Limiting stations to regional
Receiving traffic announcements 24
· Responding to the TP alarm 24
· Searching for a RDS station by PTY
· Using news program interruption 25
· Receiving PTY alarm broadcasts 25
· Displaying radio text 26
Playing a CD (Only AVH-P6400CD) 28
Introduction of advanced built-in CD player
operation (Only AVH-P6400CD) 29
Playing tracks in a random order 29
Scanning tracks of a CD 30
Playing back from the track list 30
Using disc title functions 30
· Entering disc titles 31
· Displaying titles on CD TEXT discs 32
Thank you for buying this Pioneer product.
Please read through these operating instructions so you will know how to oper-
ate your model properly. After you have finished reading the instructions, put them
away in a safe place for future reference.
---
50-disc multi-CD player 33
Introduction of advanced multi-CD player
Playing tracks in a random order 35
Scanning CDs and tracks 35
Playing back from the track list 35
Using compression and bass emphasis 36
· Creating a playlist with ITS
· Erasing a track from your ITS
· Playback from your ITS playlist 37
· Erasing a CD from your ITS playlist 38
Using disc title functions 38
· Entering disc titles 38
· Displaying disc titles 39
Using CD TEXT functions 39
· Displaying titles on CD TEXT discs 39
Display and indicators 40
· Displaying dynamic label 41
Switching the road traffic flash and
transport flash on or off 41
Canceling road traffic flash and transport
flash interruptions part way through 42
Switching the News Flash on or off 42
Introduction of advanced DAB tuner
Setting the announcement support
Selecting services from the available
Searching the available PTY 43
Service component function 44
Service Follow Function 44
Service Follow Function (FM) 44
· When the "NET" indicator flashes 44
P.CH RECALL/MEMORY Function 45
Display and indicators 46
Storing broadcast stations 46
Recalling broadcast stations 47
BSSM (Best Station Sequential Memory) 47
Selecting the country group 48
Selecting channels from the preset
Display and indicators 48
Introduction of advanced DVD player
About Remote Control Operation mode
Information indications are displayed 50
Chapter and Track Advance/Return 51
Returning to the Previous Chapter/Track 51
Specifying Title/Chapter/Track
Disc Fast Forward/Reverse 53
---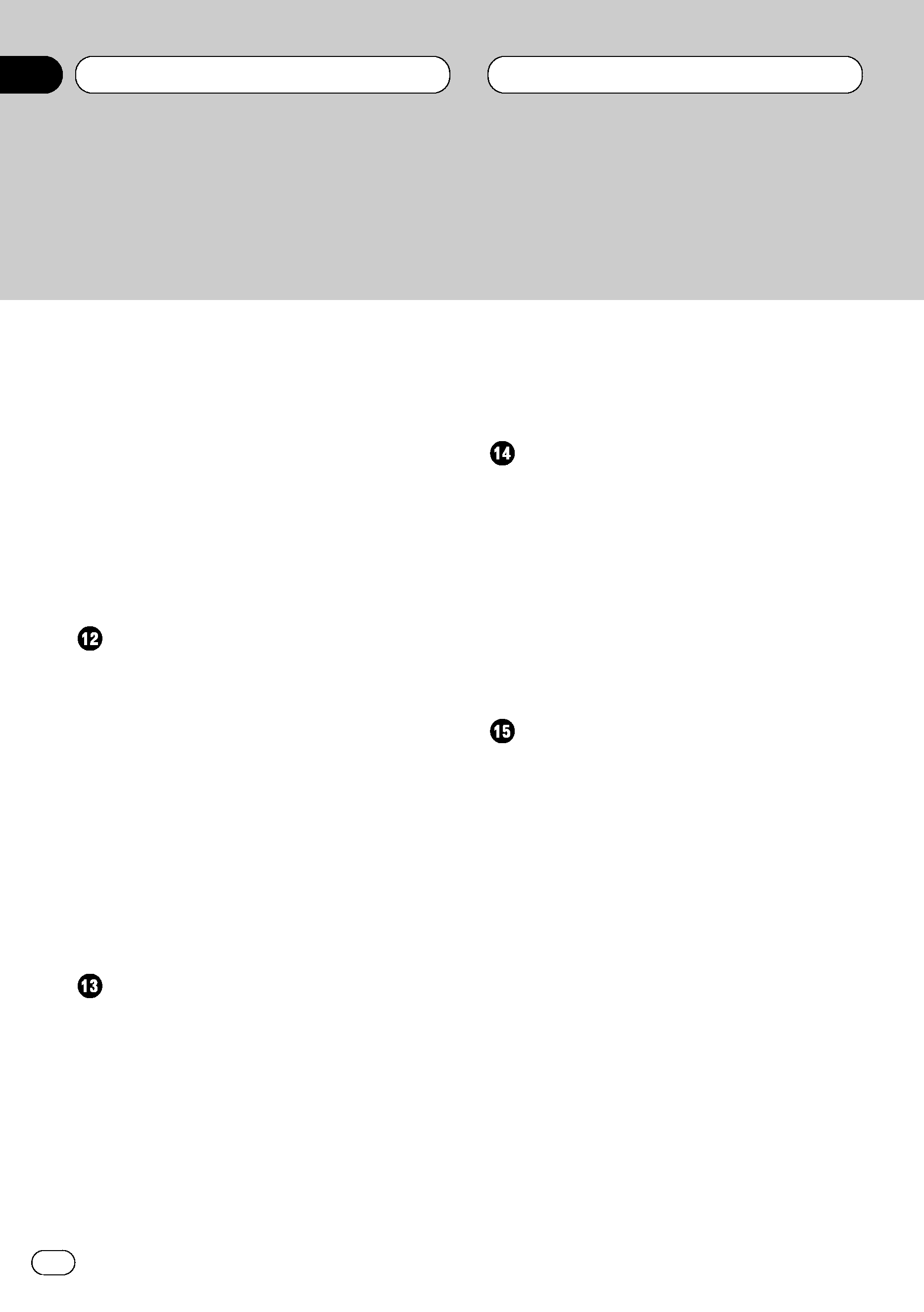 Still, Frame-by-Frame and Slow Motion
· Frame-by-Frame Playback 54
· Slow Motion Playback 54
Operating using Information Display 1 55
· Switching audio, subtitle and angle 56
Operating with Information Display 2 56
· Switching Repeat play range 56
Introduction of audio adjustments 57
Setting the sound focus equalizer 58
Using balance adjustment 58
· Recalling equalizer curves 59
· Adjusting equalizer curves 59
Using subwoofer output 61
Using non fading output 61
Using the high pass filter 62
Adjusting source levels 62
Adjusting initial settings 63
Setting the FM tuning step 63
Setting the DAB Priority Function 63
Switching Auto PI Seek 64
Switching the warning tone 64
Switching the auxiliary setting 64
Selecting the illumination color 65
Setting the rear output and
Setting remote control code type 66
Using different entertainment audio
· Selecting AUX as the source 67
· Setting the AUX title 67
Introduction of set up 68
Setting the automatic open mode 69
CD player and care (Only AVH-P6400CD) 70
Understanding built-in CD player error
messages (Only AVH-P6400CD) 71
Using the Display Correctly 71
· Handling the Display 71
· About the Liquid Crystal Display (LCD)
· Keeping the Display in Good
· About the Small Fluorescent Tube 72
---

Please read all of these instructions regarding
your display and retain them for future refer-
1 Read this manual fully and carefully
before operating your display.
2 Keep this manual handy for future refer-
3 Pay close attention to all warnings in this
manual and follow the instructions carefully.
4 Do not allow other persons to use this
system until they have read and understood
the operating instructions.
5 Do not install the display where it may (i)
obstruct the driver's vision, (ii) impair the
performance of any of the vehicle's operating
systems or safety features, including air bags,
or (iii) impair the driver's ability to safely
6 As with any accessory in your vehicle's
interior, the display should not divert your
attention from the safe operation of your vehi-
cle. If you experience difficulty in operating
the system or reading the display, please park
safely before making adjustments.
7 Do not attempt to install or service your
display by yourself. Installation or servicing
of the display by persons without training and
experience in electronic equipment and auto-
motive accessories may be dangerous and
could expose you to the risk of electric shock
8 Please remember to wear your seat belt at
all times while operating your vehicle. If you
are ever in an accident, your injuries can be
considerably more severe if your seat belt is
The tuner frequencies on this unit are allocated
for use in Western Europe, Asia, the Middle
East, Africa and Oceania. Use in other areas
may result in improper reception. The RDS func-
tion operates only in areas with FM stations
broadcasting RDS signals.
· Do not use with vehicles that do not feature
This unit features a number of sophisticated
functions ensuring superior reception and oper-
ation. All the functions have been designed for
the easiest possible use, but many are not self-
explanatory. This operation manual will help you
benefit fully from this product's potential and to
maximize your listening enjoyment.
We recommend that you familiarize yourself
with the functions and their operation by read-
ing through the manual before you begin using
this product. It is especially important that you
read and observe precautions on next page and
This manual explains head unit operation. You
can perform the same operations with the
This product complies with the EMC
Directives (89/336/EEC, 92/31/EEC) and
CE Marking Directive (93/68/EEC).
---