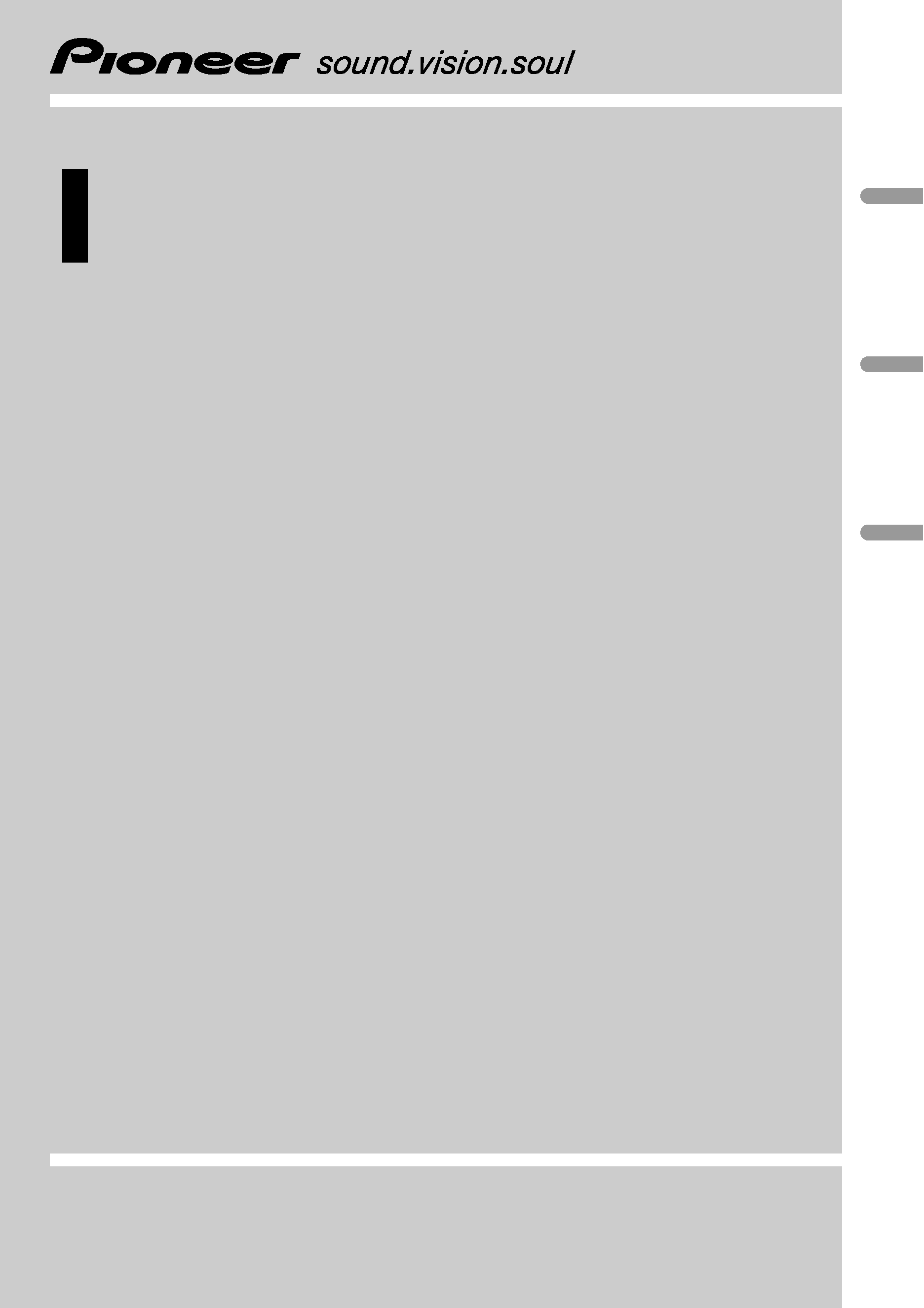 Vehicle Dynamics Processor
---

Thank you for buying this Pioneer product.
Please read through these operating instructions so you will know how to operate
your model properly. After you have finished reading the instructions, keep this man-
ual in a safe place for future reference.
Resetting the microprocessor 6
Displaying the V.D.P. image 7
Touch panel key basic operation 8
Using a peak hold function 13
Customizing the Appearance
Introduction of appearance settings 14
Selecting the background display 14
Switching the indicators on or off 15
Setting the level indicator 16
Setting the distance alert 17
Selecting the vehicle type 17
Introduction of the running record
Replaying stored running records 19
Editing the list names 19
Deleting a stored running record 19
Deleting all stored running records 20
Introduction of GPS locator operation 21
Setting the destination 21
Checking the Vehicle Dynamics
Introduction of information functions 25
Checking the connections of cables and the
installation positions 26
Checking the sensor learning status and the
Introduction of setup adjustments 28
Setting the volume level 28
Setting your vehicle weight 28
Setting units and scales 29
Selecting the video format 30
Positioning technology 32
---

Before using your Vehicle Dynamics Pro-
cessor, be sure to read and fully understand
the following safety information.
1 Read this manual fully and carefully be-
fore operating your Vehicle Dynamics
2 Keep this manual handy as a reference for
operating procedures and safety informa-
3 Pay close attention to all warnings in this
manual and follow the instructions care-
4 Do not allow other persons to use this sys-
tem until they have read and understood
the operating instructions.
5 Do not install the display where it may (i)
obstruct the drivers vision, (ii) impair the
performance of any of the vehicles oper-
ating systems or safety features, includ-
ing air bags, hazard lamp buttons or (iii)
impair the drivers ability to safely oper-
6 As with any accessory in your vehicles in-
terior, the display should not divert your
attention from the safe operation of your
vehicle. If you experience difficulty in op-
erating the system or reading the display,
please park safely before making adjust-
7 Do not attempt to install or service your
Vehicle Dynamics Processor by yourself.
Installation or servicing of the Vehicle Dy-
namics Processor by persons without
training and experience in electronic
equipment and automotive accessories
may be dangerous and could expose you
to the risk of electric shock or other ha-
zards and can cause damage to the sys-
tem that is not covered by warranty.
8 Please remember to wear your seat belt at
all times while operating your vehicle. If
you are ever in an accident, your injuries
can be considerably more severe if your
seat belt is not properly buckled.
9 To promote safety, certain functions are
disabled unless the parking brake is ap-
10 The Data Recording functionality of this
product is intended to capture vehicle in-
formation into its internal memory to be
reviewed at a later time when the vehicle
is not in motion, and parked in a safe
place. Only use the Data Recording func-
tionality if it is safe to do so. Do not use
this feature if doing so in any way will di-
vert your attention from the safe operation
of your vehicle. Always observe safe driv-
ing rules and follow all existing traffic reg-
11 The GPS Locator functionality utilizes the
GPS and Gyrosensor in the AVG-VDP1 to
provide information about your current lo-
cation. It is not intended to be any kind of
guidance or navigation device.
---

! LIGHT GREEN LEAD AT POWER CON-
NECTOR IS DESIGNED TO DETECT
PARKED STATUS AND MUST BE CON-
NECTED TO THE POWER SUPPLY SIDE
OF THE PARKING BRAKE SWITCH. IM-
PROPER CONNECTION OR USE OF
THIS LEAD MAY VIOLATE APPLICABLE
LAW AND MAY RESULT IN SERIOUS IN-
! Always observe safe driving rules and follow
all applicable traffic laws. Do not use the fea-
tures of this unit if conditions are unsafe. Al-
ways use proper care, judgment and
attentiveness when driving.
! To avoid the risk of accident and the potential
violation of applicable laws, certain functions
of this unit should never be used while the ve-
hicle is being driven. Also, rear displays
should not be in a location where it is a visible
distraction to the driver.
! In some countries or states the viewing of
images on a display inside a vehicle even by
persons other than the driver may be illegal.
Where such regulations apply, they must be
When using a video recorder
Through this units VIDEO OUT enables you to
record on a video recorder.
! In the following cases, images may not be
displayed properly on the display/VCR:
When not displaying the V.D.P. image
outputted from this unit on the front dis-
play. (Refer to Displaying the V.D.P.
When connecting the display/VCR
which has incompatible video output
format with this units VIDEO OUT.
(Refer to Selecting the video format on
---

This Vehicle Dynamics Processor features a
variety of entertainment functions enabling
you to maximize your enjoyment while driving.
! Indications of this unit may be different
from the actual value, so never use this
unit instead of the meters of your vehicle.
! For safety reasons, certain functions of
this unit are not available while driving.
To enable these functions, you must park
the vehicle in a safe place and apply the
parking brake before operating these
Do not allow this unit to come into contact with li-
quids. Electrical shock could result. Also, this
unit damage, smoke, and overheat could result
from contact with liquids.
Touch panel key operation
It is possible to operate this unit by using
Vehicle dynamics displays
It is possible to display five enhanced modes
from analog to vehicle status.
It is possible to show the current location of
your vehicle and also register your favorite lo-
It is possible to record your runs and replay it.
Cause of incorrect indications
! Tachometer and torque meter of this unit
cannot work if you do not perform the RPM
calibration. And also, the other meters can-
! In the following cases, the indications of
this unit are different from the actual value:
Speedometer, accelerometer and horse-
power meter do not work properly while
the vehicle is wheel-spinning.
Tiltmeter does not work properly when
the vehicle is accelerating with the
Lateral accelerometer does not work
properly while the vehicle is donut-turn-
Speedometer and tiltmeter do not work
properly while the brake is locked.
This unit features a number of sophisticated
functions ensuring superior reception and op-
eration. All the functions have been designed
for the easiest possible use, but many are not
self-explanatory. This operation manual will
help you benefit fully from this units potential
and to maximize your listening enjoyment.
We recommend that you familiarize yourself
with the functions and their operation by read-
ing through the manual before you begin
using this unit. It is especially important that
you read and observe WARNINGs and CAU-
Should this product fail to operate properly,
contact your dealer or nearest authorized Pio-
---